Features
Cat® C15 Engine with ACERT Technology
The C15 engine provides a full-rated gross power (SAE J1995) of 403 kW (540 hp) at 2000 rpm with a torque of 2356 Nm (1738 lb/ft). The combination of large displacement and high torque allow the RM500 to propel through the toughest materials.
Mechanically Actuated Electronically Controlled Unit Injection (MEUI)
The MEUI fuel system is a unique system that combines the technical advancement of an electronic control system with the simplicity of direct mechanically controlled unit fuel injection. The MEUI system excels in its ability to control injection pressure over the entire engine operating speed range. These features allow the C15 to have complete control over injection timing, duration and pressure.
Multiple Injection Fuel Delivery
Multiple injection fuel delivery involves a high degree of precision. Precisely shaping the combustion cycle lowers combustion chamber temperatures, which generates fewer emissions and optimizes fuel combustion, translating into more work output for your fuel cost.
C15 Cylinder Block
The cylinder block is a one-piece, grey iron block that features generous ribbing for stiffness and heavy bearing bulkheads for rigidity and strength as the crankshaft turns. This new design supports the engine's higher compression ratios and increases its power density. The incorporation of straight-thread, o-ring connection points reduces the loss of engine oil and fluids.
High Cylinder Pressures
High cylinder pressures combined with tightly controlled tolerances promote extremely efficient fuel burn, less blow by and lower emissions.
Service, Maintenance and Repair
Easier service, maintenance and repair is accomplished by monitoring key functions and logging critical indicators. Advanced electronic diagnostic capabilities are possible using Cat Electronic Technician.
Turbocharged and Air-to-Air Aftercooling (ATAAC)
The turbocharged air-to-air aftercooling system provides high horsepower with increased response time while keeping exhaust temperatures low for long hours of continuous operation.
Air-to-Air Aftercooling
Air-to-air aftercooling keeps air intake temperatures down and in concert with the tight tolerance combustion chamber components, maximizes fuel efficiency and minimizes emissions. New turbocharger, unique cross-flow head, single, front driven, overhead cam and a more efficient intake manifold generate significant improvements in air flow. This generates significant improvements in efficiency and reduced emissions.
ADEM™ A4 electronic Control Module
The ADEM A4 electronic control module manages fuel delivery, valve timing and airflow to get the most performance per gallon (liter) of fuel used. The control module provides flexible fuel mapping, allowing the engine to respond quickly to varying application needs. It keeps track of engine and machine conditions while keeping the engine operating at peak efficiency.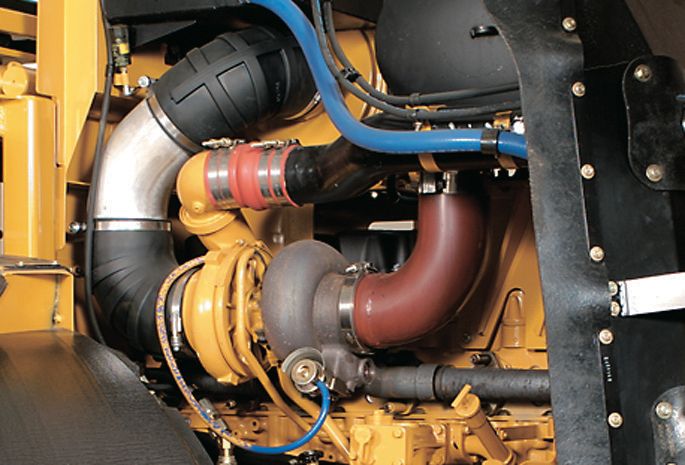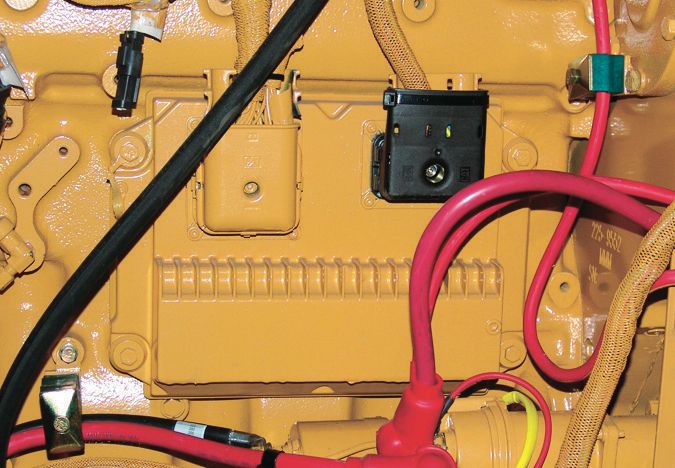 Hydraulically Assisted Sliding Platform
Hydraulically assisted sliding platform allows the operator to position the platform to any desired position to provide good visibility to both sides of the machine. Platform can be accessed from either side of the machine.
Comfortable and Durable Seat
Comfortable and durable seat has adjustable fore/aft positioning, bottom cushion height, suspension stiffness and flip-up arm rests. Seat and side control console rotates to seven positions to enhance operator comfort.
Controls
Controls are conveniently located for easy one-handed control while seated. Propel lever with center detent allows forward/reverse operation and variable machine speed.
Adjustable Steering Column
Adjustable steering column offers telescoping and tilt features to provide a comfortable operating position for the operator.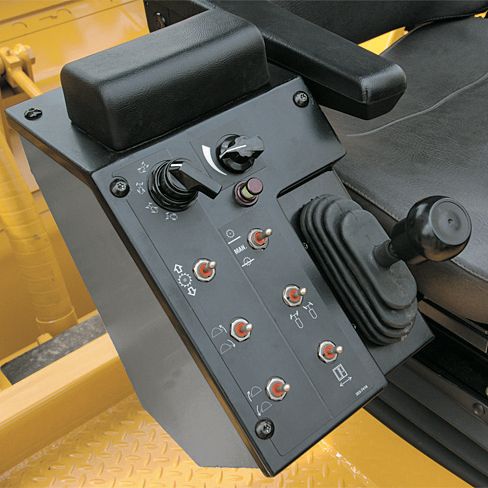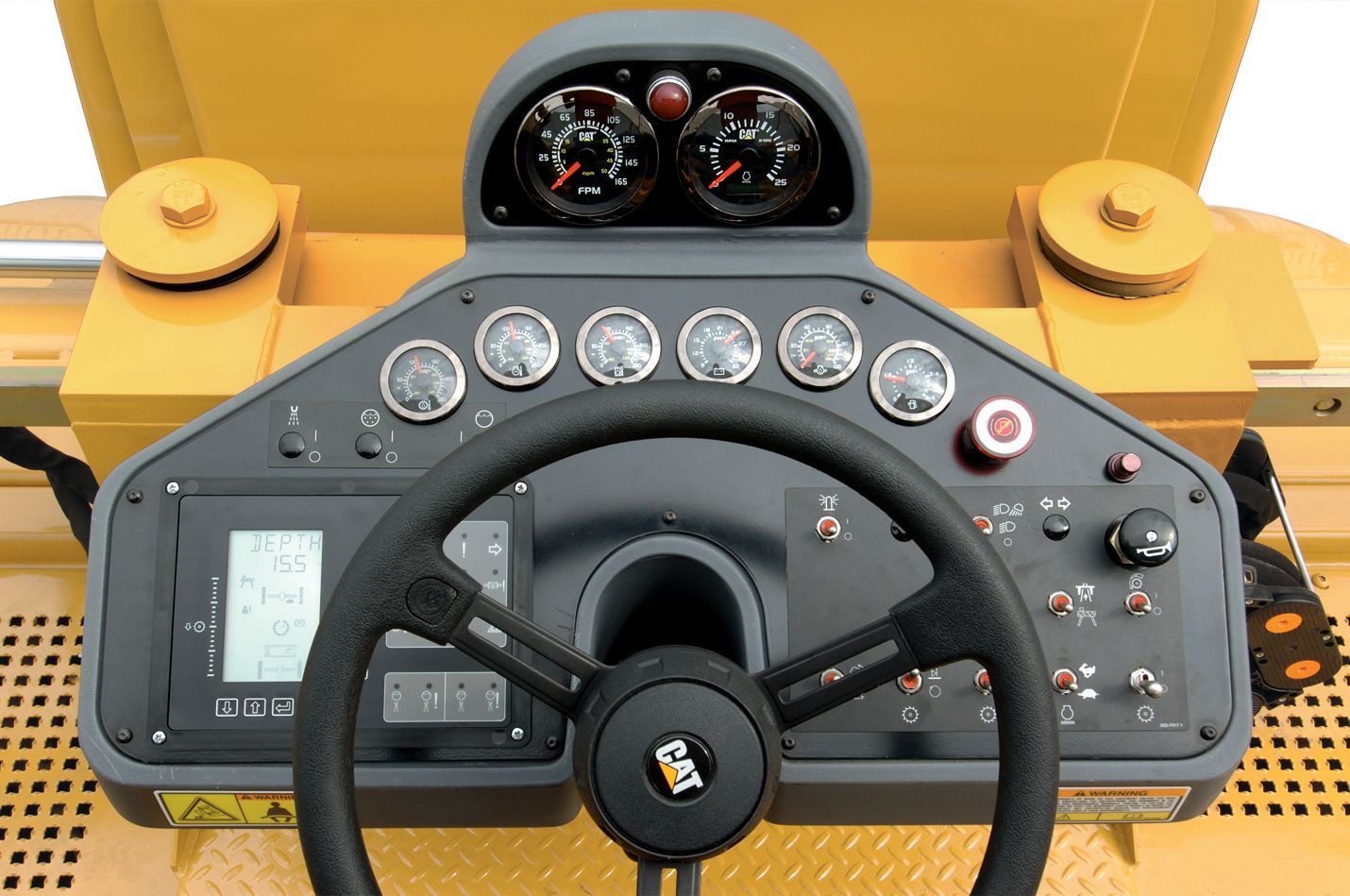 Clear Instrumentation
Clear instrumentation includes gauges for engine oil pressure, engine coolant temperature, rotor drive transmission oil temperature, hydraulic oil temperature, charging system voltage and fuel level.
Analog Gauges
Large analog gauges display propel ground speed, engine rpm, engine hour meter and fault codes.
Electronic Monitoring System
Electronic Monitoring System constantly monitors input signals from sensors and switches in various machine systems and alerts the operator if a problem does occur.
Load Control Selection Switch
Load control selection switch to control propel speed manually or automatically by the ECM.
Automatic Steering Control
Automatic steering control provides four steering modes for maneuvering in tight quarters: front steer only, crab steer, coordinated steer and rear steer only.
Iso-mounted Cab is Pressurized
Iso-mounted cab is pressurized to keep noise, dust and the elements out and comfort in.
Items Included with Cab
The following features further enhance operator comfort: 1) Heating/air conditioning controls. 2) Left and right access doors. 3) Rotating cloth seat. 4) Sound absorbing headliner. 5) Tinted glass. 6) Windshield wipers. 7) Cushioned floor mat. 8) Dual front mounted speakers. 9) Radio-ready mount. 10) Heavy-duty isolation mounts. 11) Air Conditioning (optional)
Additional Operator Comforts
Additional operator comforts include two cup holders and a 12-volt power receptacle. The cab is also radio-ready and includes a power converter, antenna with cable, two speakers and a headliner location for mounting radio.
Cab Offers Exceptional Viewing Area
The cab offers an exceptional viewing area to the front tire edge, mixing chamber and to the rear wheels.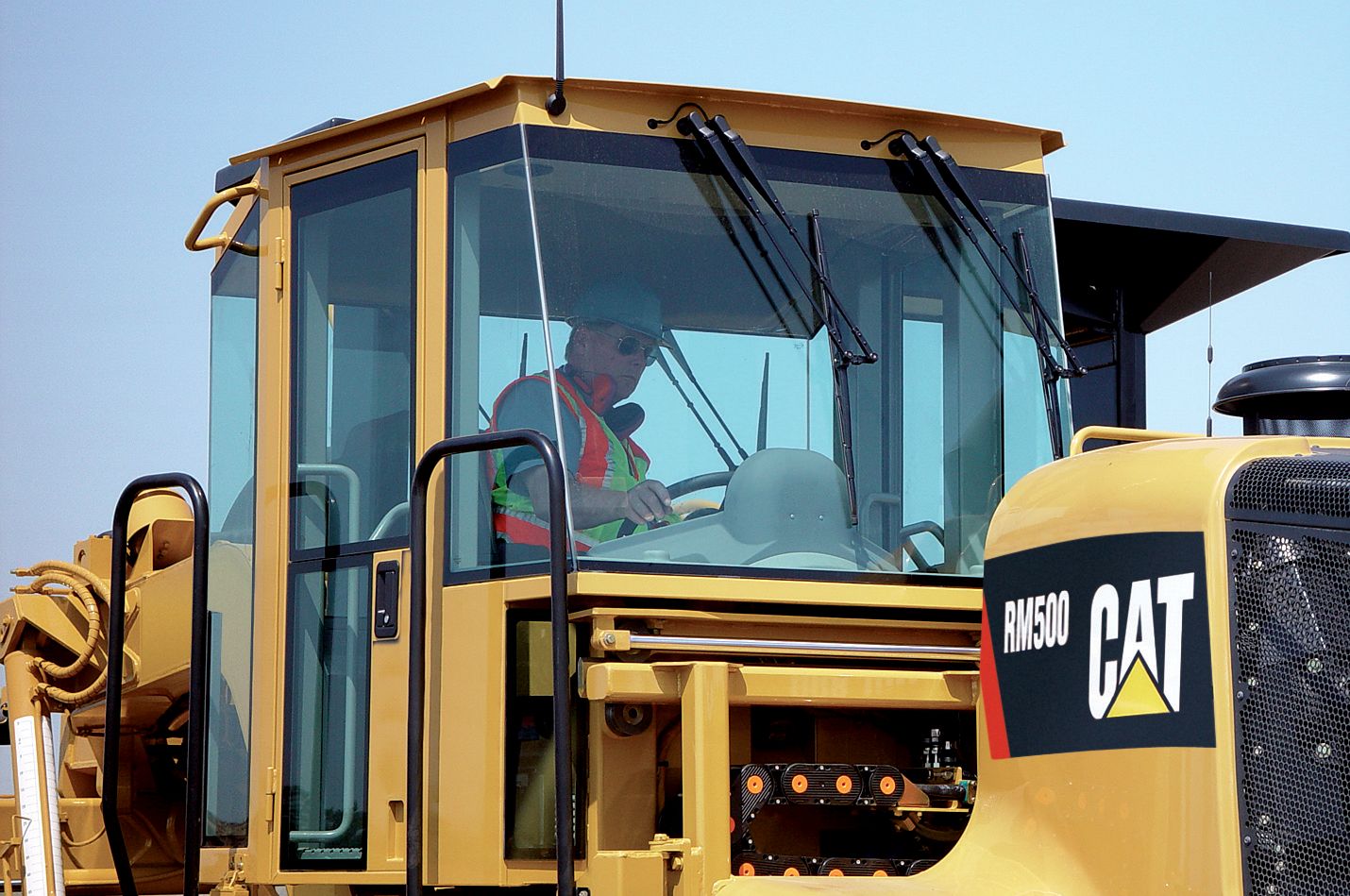 Reliable Field-proven Technology
Reliable field-proven technology provides maximum productivity and simplifies troubleshooting.
Electronic Control Modules (ECM)
Electronic Control Modules (ECM) receive input signals from sensors in the engine, propel, steering and rotor drive systems which monitor current operating conditions.
Self-diagnostics
Self-diagnostics provide information for troubleshooting and alerts the operator about potential system problems.
Automatic Load Control
Automatic load control adjusts propel speed so that engine speed does not drop below 1900 rpm. Machine always works at peak efficiency for maximum output.
Automatic Rotor Depth Control
Automatic rotor depth control provides consistent quality and performance.
Dual Propel Pumps
Dual propel pumps provide separate, balanced flow to the front drive motors and rear drive motors. Provides superior tractive effort in soft underfoot conditions.
Load Sensing System
Load sensing system controlled by the ECM, matches propel speed to load on the engine.
Two Speed Ranges
Two speed ranges allow the machine to operate at either maximum torque to propel the machine through the toughest conditions, or a faster speed for moving around the job site.
Infinitely Variable Machine Speeds
Infinitely variable machine speeds determined by the propel lever and speed control dial.
Dual Flow Divider Control Valves
Dual flow divider control valves provide equal traction to the front and rear drive motors independently to propel the machine with true four wheel drive.
Dual Propel Pump System
Dual propel pump system: one pump is dedicated to drive the front wheels, while the second propel pump is dedicated to drive the rear wheels.
Increased Tractive Effort
Increased tractive effort for those tough soil or reclamation jobs.
Separate Flow Divider Control Valve
A separate flow divider control valve directs hydraulic flow to each rear wheel to provide balanced tractive effort in slippery conditions.
High Torque Drive Motors andPlanetaries
High torque drive motors and planetaries on rear wheels makes this a true four-wheel drive machine.
Large Rear Tires
Large rear tires with an aggressive tread and large footprint propel the machine easily in the most severe applications.
Cat Powershift Transmission
A Cat powershift transmission drives the rotor and is sized to handle tough cutting and deep mixing.
Heavy-duty Gear Reducers
Heavy-duty gear reducers with four planetary carriers provide excellent rotor drive reliability.
Rugged Drive Chains
Rugged drive chains provide efficient, continuous power to the rotor. Single strand heavy-duty chain resists breakage.
Three Rotor Speeds
Three rotor speeds for maximum performance in a variety of materials and cutting depths. First speed is used primarily for pulverizing the material. Second and third rotor speeds can be used as blending or mixing passes.
High Capacity
High capacity rotor driveshafts and maintenance-free universal joints.
Heavy-duty Shear Disc or OptionalTorque Limiter
Heavy-duty shear disc or optional torque limiter protects rotor drive components from torsional stress and shocks loads.
Mixing Chamber
Mixing chamber allows the rotor to move independently so that the capacity of the chamber actually increases in deeper cuts to allow better material mixing.
Mid-machine Rotor
Mid-machine rotor uses total machine weight to help keep rotor steady in the cut for uniform depth control.
Bi-directional Mixing
Bi-directional mixing capability increases machine efficiency.
Large Heavy-duty Breaker Bars
Large heavy-duty breaker bars help achieve uniform sizing.
Hydraulically Adjustable Rear Door
Hydraulically adjustable rear door for optimum control of gradation and material uniformity.
Hydraulically Adjustable Front Door
Hydraulically adjustable front door allows more precise sizing control when operating in the reverse direction.
Side Access Doors
Side access doors enable quick and simple replacement of cutting tools on rotor ends.
Hydraulically Operated Front Door
Hydraulically operated front door allows the operator to control the opening of the front door from the operator's station.
Dual Hydraulic Cylinders
Dual hydraulic cylinders offer increased lifting force and precise control of the front door.
Front Door Raises Parallel
The front door raises parallel to the cutting surface to prevent the door from plowing material in harsh soil stabilization conditions.
Forward or Reverse Operation
Forward or reverse operation increases machine versatility in soil stabilization.
Visual Site Gauge
Visual site gauge on rotor hood displays door position and allows the operator to precisely control the opening of the front door.
Universal Rotor 41 cm (16") for Asphalt
Designed to produce maximum breakout force, the Universal Rotor 41 cm (16") performs well in severe asphalt cuts. It also cuts existing soil cement.
Universal Rotor 46 cm (18") for Soil
The Universal Rotor 46 cm (18") is designed to provide maximum mixing depth and has lower breakout force compared to the Universal Rotor 41 cm (16"). This rotor meets European 45 cm mixing depth requirements while providing the highest level of material pulverization and gradation.
Rotor Specs
Maximum cutting depths: 41 cm (16") or 46 cm (18")
Chevron-pattern bit arrangement
Bolt-on Breakaway bit holders
200 carbide-tipped bits
Abrasion-resistant steel kicker paddles on every stand-off
19 mm (3/4") shank bit holders
Combination Rotor
Designed for deep-cut soil mixing where pulverization and gradation is of lesser importance than higher working speeds. Performs well in cohesive soils and has a secondary application of surface mining for non-engineered substances such as coal, shale, or limestone.
Rotor Specs
Maximum cutting depth: 51 cm (20")
Replaceable end rings (weld-on bit holders only)
Chevron-pattern bit arrangement
Bolt-on Breakaway bit holders
114 carbide-tipped bits
22 mm (7/8") shank bit holders
Soil Rotor
An ideal choice for mixing additives with semi-cohesive or granular materials where soil gradation is critical. Also can handle light reclamation applications where the asphalt layer is thin and deteriorated.
Rotor Specs
Maximum cutting depth: 51 cm (20")
Replaceable end rings (weld-on bit holders only)
Chevron-pattern bit arrangement
238 carbide-tipped bits
Cast, one-piece stand-offs with bit holders, replaced with weld-on bit holders
19 mm (3/4") shank bit holders
Cooling Package is Single Plane
Cooling package is single plane design for easy access during cleaning and service. A modular, stacked cooling system provides more efficient cooling of individual systems and makes replacement and routine cleaning easier. Electronically controlled on-demand variable speed cooling fan provides the lowest overall noise levels and high ambient operation capability.
Hydraulic Rotor Hood Tilt
Hydraulic rotor hood tilt rotates hood forward for convenient access to rotor for inspection and tool maintenance.
Hinged Service Doors
Hinged service doors open wide on sides of engine, rotor hood and on top deck for access to power train and rotor drive components.
Self-lubricating Rotor Drive Chains
Self-lubricating rotor drive chains in sealed chain cases partially filled with oil.
Electronic Control Module (ECM)
Electronic Control Module (ECM) monitors machine systems and provides self-diagnostics for operator or service personnel.
Three warning levels alert operator to conditions on the machine that require attention. Encourages repair before major failure.
Level One - a flashing gauge indicator and a flashing alert indicator light.
Level Two - level one warning plus the warning action lamp flashing.
Level Three - level two warning plus the warning action horn sounds.
Visual Indicators
Visual indicators allow easy check of engine coolant, hydraulic oil level, rotor bearing reservoir and air restriction indicator.
Quick-connect Hydraulic Test Ports
Quick-connect hydraulic test ports simplify system diagnostics.
Ecology Drains
Ecology drains provide an environmental method to drain fluids. They are included on the radiator, engine oil pan, hydraulic and fuel tank.
S•O•SSM Ports
S•O•SSM ports allow for simple fluid collection of engine oil, engine coolant and hydraulic oil.
Secure Hose Routing
Secure hose routing with polyethylene routing blocks to reduce rubbing and increase service life.
Nylon Braided Wrap and All-weatherConnectors
Nylon braided wrap and all-weather connectors ensure electrical system integrity. Electrical wiring is color-coded, numbered and labeled with component identifiers to simplify troubleshooting.
Maintenance-free Cat Batteries
Maintenance-free Cat batteries are mounted on the side of the machine and are accessible from ground level. Cat batteries are specifically designed for maximum cranking power and protection against vibration.
Machine is Product Link Wire-ready
Machine is Product Link wire-ready. The Cat Product Link System (PLS) ensures maximum uptime and minimum repair costs by simplifying tracking of equipment fleets. Provides automatic machine location and hour updates. Can be obtained through your local Cat dealer.