MOVE MORE WITH LESS FUEL
Up to 30% more fuel efficient than the D7R2.
Productive – moves 10% more material per hour.
Better fuel economy plus greater productivity means you can move upto 35% more material per gallon/liter of fuel.
Fewer moving parts, less fuel and fluid and longer service intervals help reduce lifetime owning and operating costs.

Note: All comparisons to D7R2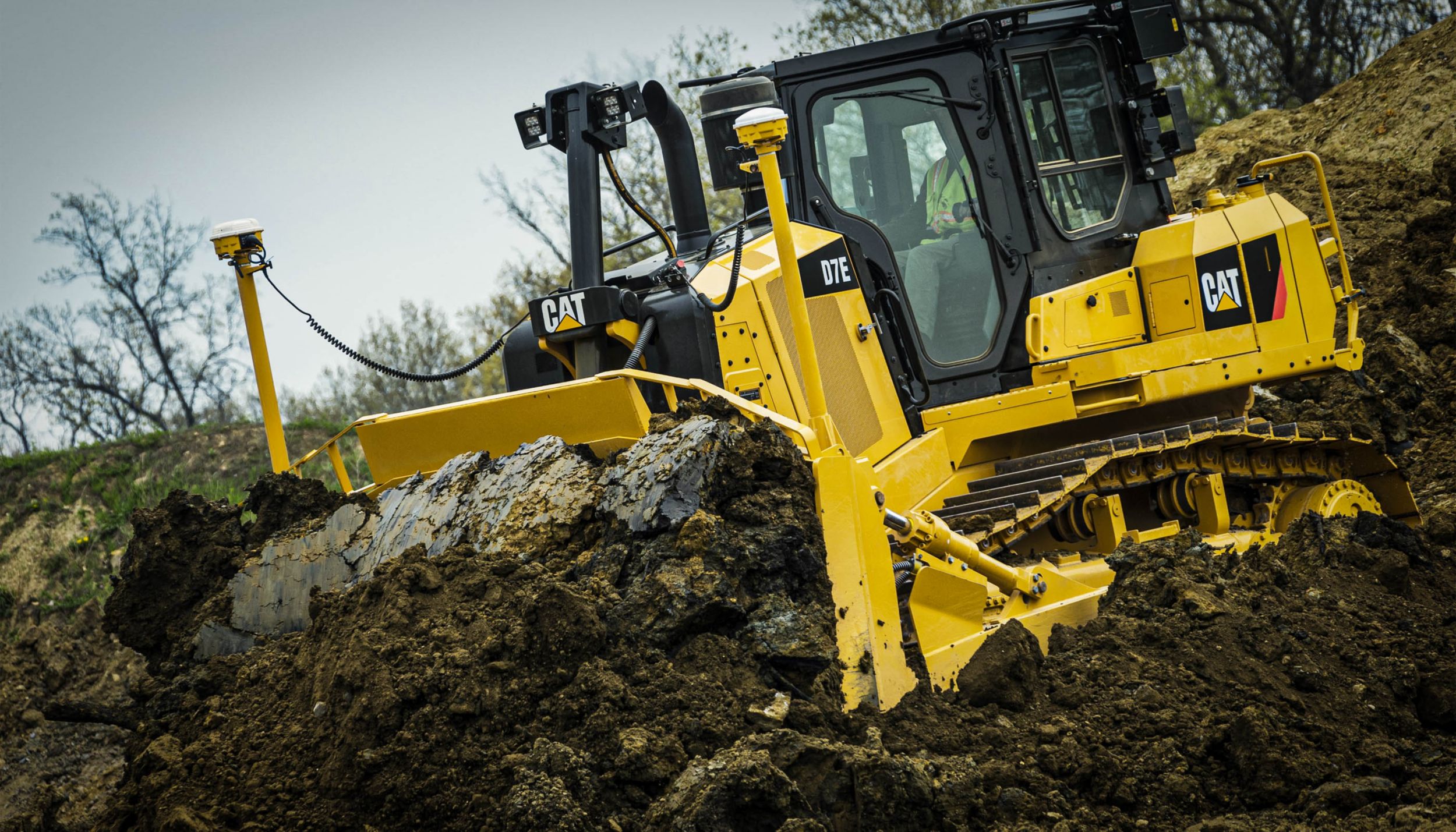 OPERATOR COMFORT AND CONTROL
Spacious cab with center-post design gives you outstanding visibility all around the machine for increased confidence and safely.
Added comforts include manually adjustable armrests and a heated/ventilated seat option.
Add Grade Control display to put working information conveniently in front of the operator.
Heating, ventilation and air conditioning (HVAC) system is self contained.
Ergonomic implement and steering controls are fully adjustable and offer low-effort comfort.
Switches and controls for machine systems are located within easy reach.
Speed Recall allows operators to pre-set the desired forward and reverse travel speed, and then resume that speed with the press of a button.
Implement Lock-Out prevents inadvertent operation of hydraulic attachments.
TECHNOLOGY THAT GETS WORK DONE
Standard Stable Blade Control complements operator input to automatically make instantaneous adjustments for smoother grading results with less effort.
In-cab main fall/cross slope display shows you real-time grade percentage during slope work.
Traction Control reduces track slip for improved productivity, more fuel efficiency and reduced undercarriage wear.
When in use, Economy Mode automatically adjusts engine speed when machine is not under load to save you even more fuel.
Product Link™ collects machine data that can be viewed online through web and mobile applications.
Access information anytime, anywhere with VisionLink® – and use it to make informed decisions that boost productivity, lowercosts, simplify maintenance, and improve safety and security on your job site.
The Cat App helps you manage your assets – at any time – right from your smartphone. See fleet location and hours, get critical required maintenance alerts, and even request service from your local Cat dealer.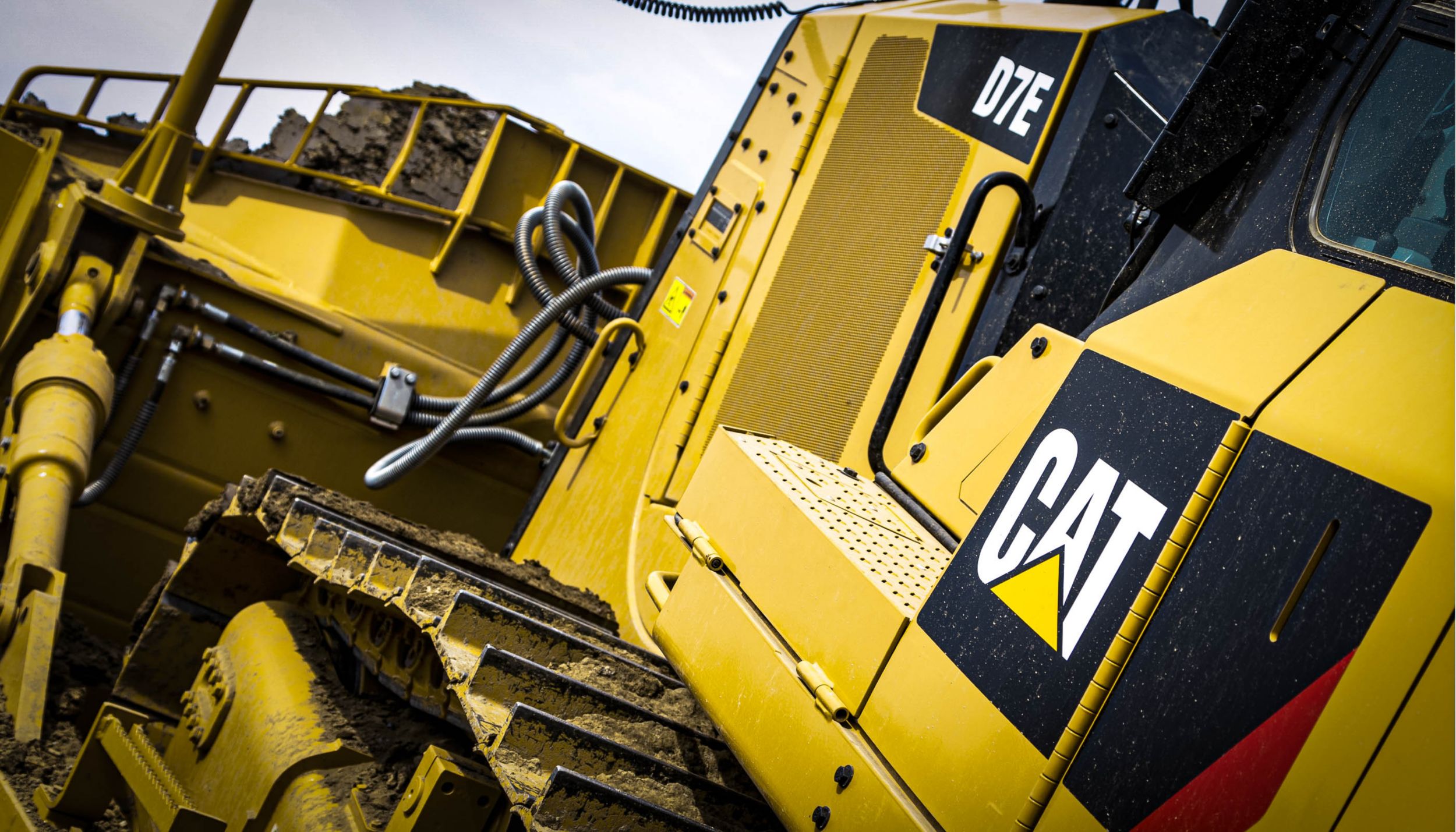 BUILT TO PERFORM
Differential steering combines with electric drive to make the D7E so maneuverable that it can perform both uninterrupted power turns under load and "locked-track" pivot turns.
The electric drive system is highly efficient at delivering engine power to the ground, and an infinitely variable speed control means smooth operations with no gears to shift.
A robust, single lift cylinder design and L-shaped push arms give you an advantage over diagonal brace designs by bringing the blade closer to the machine. Provides better balance, stability, maneuverability and blade penetration.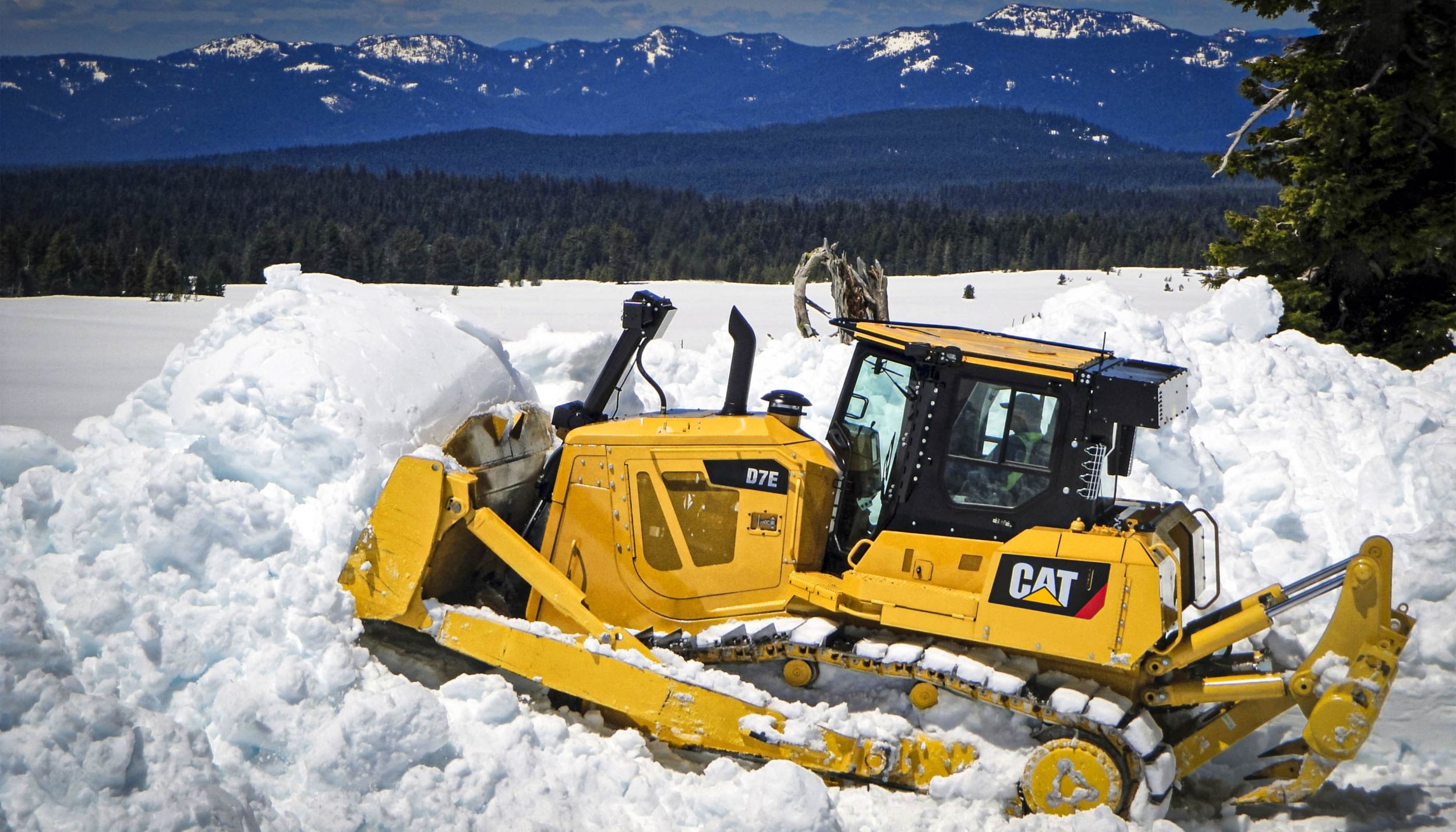 LOWER MAINTENANCE COSTS
Easy access to service points, fewer moving parts and longer service intervals, add up to significantly lower owning and operating costs.
Tilt cab allows easy access to major modular components: generator, propulsion module, power electronics and hydraulics.
Heating, ventilation and air conditioning (HVAC) system is self contained for improved performance, increased service intervals and ease of serviceability.
Service points are grouped on the left side of the machine for quick and easy routine maintenance.
Ground-level sight gauges let you inspect fluid levels at a glance.
Modular final drives are easily accessed for maintenance.
Optional high-speed oil change attachment makes servicing even faster.
Shovel mounting bracket on the back of the machine means quick undercarriage cleanouts on the go.
Ground level service center on the left fender offers easy access to the battery disconnect, hour meter, remote engine shutdown and access light switches. It also houses an LED warning indicator showing that the power train and accessory systems are energized. When the systems are de‑energized and safe for maintenance, the indicator turns off.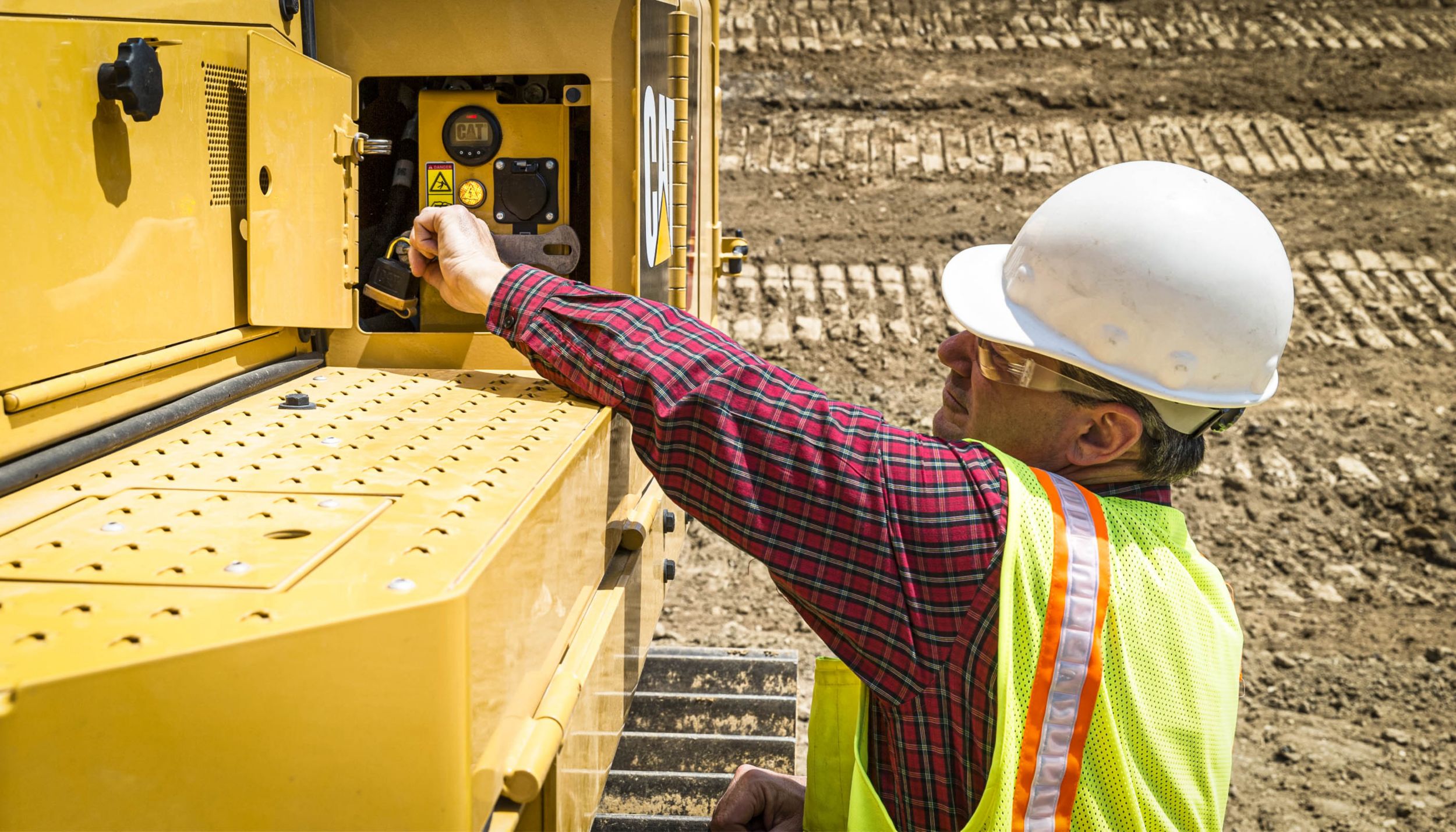 BUILT-IN SAFETY FEATURES
Pull-down ladder provides convenient access for fueling and to the back of the machine.
Seat belt indicator registers a fault code through Product Link if the operator fails to buckle up, helping to improve your job site safety.
Center-post cab with angled doors offers excellent visibility to help operators work more safely.
Rear vision camera is available to enhance visibility behind the machine.
Operator Presence detection system allows the machine to idle when the operator is not seated, but locks out the power train and front implements to avoid unintentional movement.
Convenient steps and handles help you get on and off the tractor with greater ease. Access lighting can be turned on from a ground level switch.
WASTE HANDLING PERFORMANCE
Specialized guarding, striker bars and seals help protect the machine from impact and airborne debris.
Purpose-built heavy duty final drive guarding help prevent wire, cables, rope and debris from wrapping into the final drive seals.
Heavy duty sealed bottom guards protect the engine and power train system.
Reversing fan and single plane cooling cores with 6 fins per inch are ideal for high debris environments. Easy access clean out.
Insulated Clean Emissions Module for thermal protection.
Lights are mounted up and away from main debris area for protection, while still giving you plenty of light on the work area.
Specialized air handling features help deliver cleaner air to the machine and to the cab.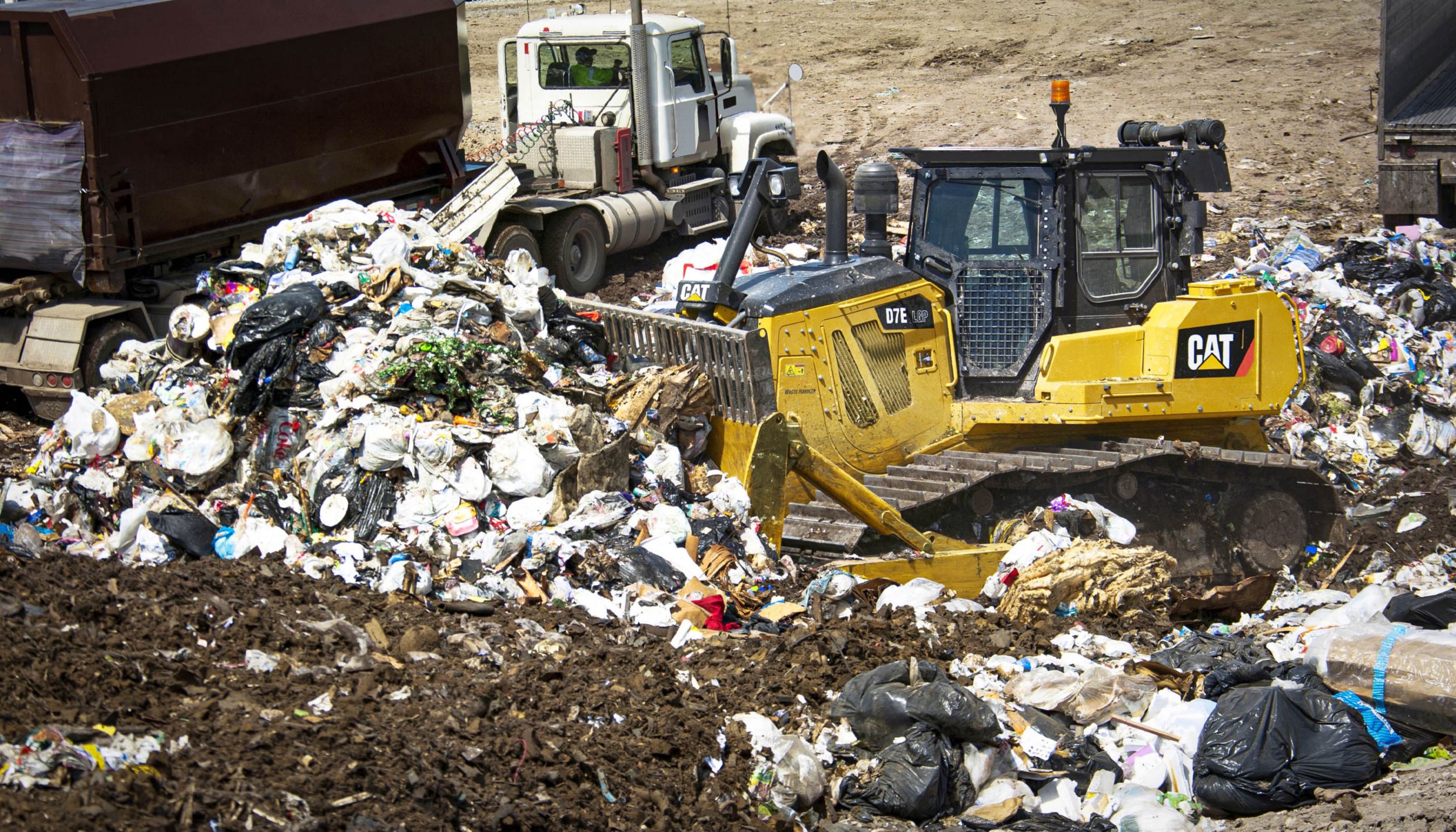 D7E Standard Equipment
POWER TRAIN
Aftercooler, Air to Air
Air Cleaner, Precleaner with Strata
Tube Dust Ejector
C9.3 Engine: – Tier 4 Final/Stage IV/Japan 2014 (Tier 4 Final) – Certified Engine with Aftertreatment
Coolant, Extended Life
Differential Steering
Ecology Drains (Engine Oil, Coolant, Hydraulic Oil, Fuel Tank, Power Train Case)
Electronic Air Cleaner Service Indicator
Fan, Hydraulically Driven Demand
Final Drives, Double Reduction
Generator, AC
Parking Brake
Power Inverter
Propulsion Module, Transmission, Continuously Variable
Prescreener
Radiator, Core, Aluminum Bar Plate
Separate Circuit Core, Aluminum Bar Plate
Starting Aid, Ether
Transmission, Continuously Variable
Turbocharger, Wastegated
Water Separator, Primary Fuel Filter
UNDERCARRIAGE
Guards, End Track Guiding
Heavy Duty Track (610 mm/24" Moderate Service)
Master Link
Rollers and Idlers, Lifetime Lubricated
Sprocket Rim Segments, Replaceable
Track Adjusters, Gas Spring Recoil
Undercarriage, Heavy Duty
ELECTRICAL
Accessory Power Converter (APC)
Alarm, Backup
Batteries, Maintenance Free (1,000 CCA)
Converter, 24V to 12V, 10 Amp
Heater, Engine Coolant, 120V
Horn, Forward Warning
Starter, Heavy Duty
OPERATOR ENVIRONMENT
Armrest, Adjustable
Bidirectional Shift Switch
CB Ready
Cab, Center Post, Integral ROPS/FOPS
Continuously Variable Speed Control
Controls, Electro-Hydraulic, Pilot
Operated with Electronic Deactivation Switch
Foot Supports, Dash
Hour Meter, Electronic
Machine Isolation
Mirror, Rearview
Modular HVAC, Cab Mounted
Monitoring System, Electronic, with Coolant, Power Train Oil, and Hydraulic Oil Temperature, Fuel Gauge, Tachometer, Gear Indicator and Diagnostic Functions
Operator Presence
Pedal, Travel Control
Radio Ready, 12V
Seat Belt, Retractable, 76 mm (3 in)
Seat, Cloth, Air Suspension
Speed Recall Button
Throttle Dial, Electronic with Eco Reverse
Wipers, Intermittent
OTHER STANDARD EQUIPMENT
CD ROM Parts Book
Cab, Tilt
Engine Enclosures, Perforated
Front Tow Hook
Ground Level Hour Meter
Ground Level Engine Shutdown
Guards, Hinged Bottom
Guard, Final Drive Flange
Hood, Perforated
Hydraulics, Load Sensing, Dozer Lift and Tilt
Oil Cooler, Hydraulic
Oil Cooler, Power Train
Product Link
Radiator Doors, Louvered, Double Hinged
Screen, Grill Door Fan
S·O·S Sampling Ports
Vandalism Protection for Fluid Compartments and Battery Box
D7E Optional Equipment
POWER TRAIN
Final Drive: – Cold Weather (STD, LGP) – Clamshell (STD, LGP)
Engine: – Sound Suppressed, Basic – Thermal Shield – Sound Suppressed and Thermal Shield
High Speed Oil Change System
Precleaner, with Screen
Fuel Group, Heater
Fast Fill Fuel System
Heavy Duty Battery
Cold Weather Fluids
Arctic Engine Coolant (–51° C/–60° F)
UNDERCARRIAGE
Track: – 610 mm (24 in): - Extreme Service - Extreme Service Rotating Bushing Track - Moderate Service - Moderate Service Rotating Bushing Track - Extreme Service Trapezoidal - Moderate Service Trapezoidal – 660 mm (26 in): - Extreme Service - Moderate Service - Extreme Service Trapezoidal – 915 mm (36 in): - Extreme Service - Extreme Service Trapezoidal - Self Cleaning
Undercarriage (STD, LGP): – MS Guide – Full Guide – Guarded – Arctic
ELECTRICAL
Lights: – Basic – Premium – Premium, Rear Screen – Sweeps – Sweeps, Rear Screen
Converter, 24V to 12V
Receptacle, Jump Start
Strobe Light Warning
OPERATOR ENVIRONMENT
Enhanced Cab Air Cleaner, Roof Mounted
Heated Seat
Heated and Ventilated Seat
Sliding Rear Window
Single Camera Visibility Arrangement
GUARDING
Fast Fuel
Lights: – Basic – Premium – Screen
Fuel Tank
Fuel Tank, Waste
Bottom, Sealed
Screen: – Rear – Rear and Side – Screen or Sweeps Ready
Sweeps
Door: – Screen – Half Screen
Final Drive Flange
BLADES
Single Tilt or Single Tilt Guarded (STD, LGP)
Dual Tilt or Dual Tilt Guarded (STD, LGP)
S (Straight)
S LGP Landfill
SU (Semi-Universal)
U (Universal)
A (Angle)
SU Wear Plate
SU Rock Guard and Wear Plate
TECHNOLOGY
Installation, AccuGrade Ready
Mounting, AccuGrade Receivers (STD, LGP)
HYDRAULICS
Hydraulics, Dual Tilt
Auto Reversing Hydraulic Fan
Hydraulic Implement Towing Arrangement
Hydraulics, Ripper
PA90 Winch, Variable Speed
ATTACHMENTS
Ladder Group: – Standard – Waste
Multi Shank Ripper
Drawbar, Rigid
Ripper with Striker Bar
Counterweight Box, Rear
Striker Bar, Box
Additional Ripper Tooth