DESIGNED FOR OPERATORS
Comfortable cab, with an integrated Roll Over Protection Structure (ROPS), gives operators greater all around visibility to enhance safety and productivity.
Quiet interior is pressurized to help keep dust out for a cleaner operating environment.
Instrument panel is easy to read.
Single twist tiller control for direction/gear selection is easy to operate and helps operators work more precisely inclose areas.
Electronically controlled Planetary Power Shift transmission for smoothershifting.
Optional AutoShift mode gives you two additional gear speeds and enables the machine to automatically down shift to the mostefficient gear based on load. This helps you save fuel andincrease productivity.
Optional bi-directional control allows the operator to dial to preselected forward/reverse gears for reduced operator effort andimproved efficiency.
PERFORMANCE AND PRODUCTIVITY
Cat C9 engine gives you the power youneed to doze through tough material.
Differential Steering increases the speed of one track while slowing the other one down to give you exceptional turning, evenwith a full blade load.
Two-pump hydraulic system means you can count on simultaneous blade response and steering performance. This gives you more precision and maneuverability that is especially beneficial when working in close quarters or land clearing.
Load Sensing Hydraulics continuously adjusts hydraulic power tomaximize your efficiency.
A larger fan and updated aluminum bar plate cooling system is more efficient than the previous model and gives you better cooling capability to handle high ambient conditions.
Forestry, Waste and Cold Weather arrangements offer added features and guarding to take on especially harsh environments.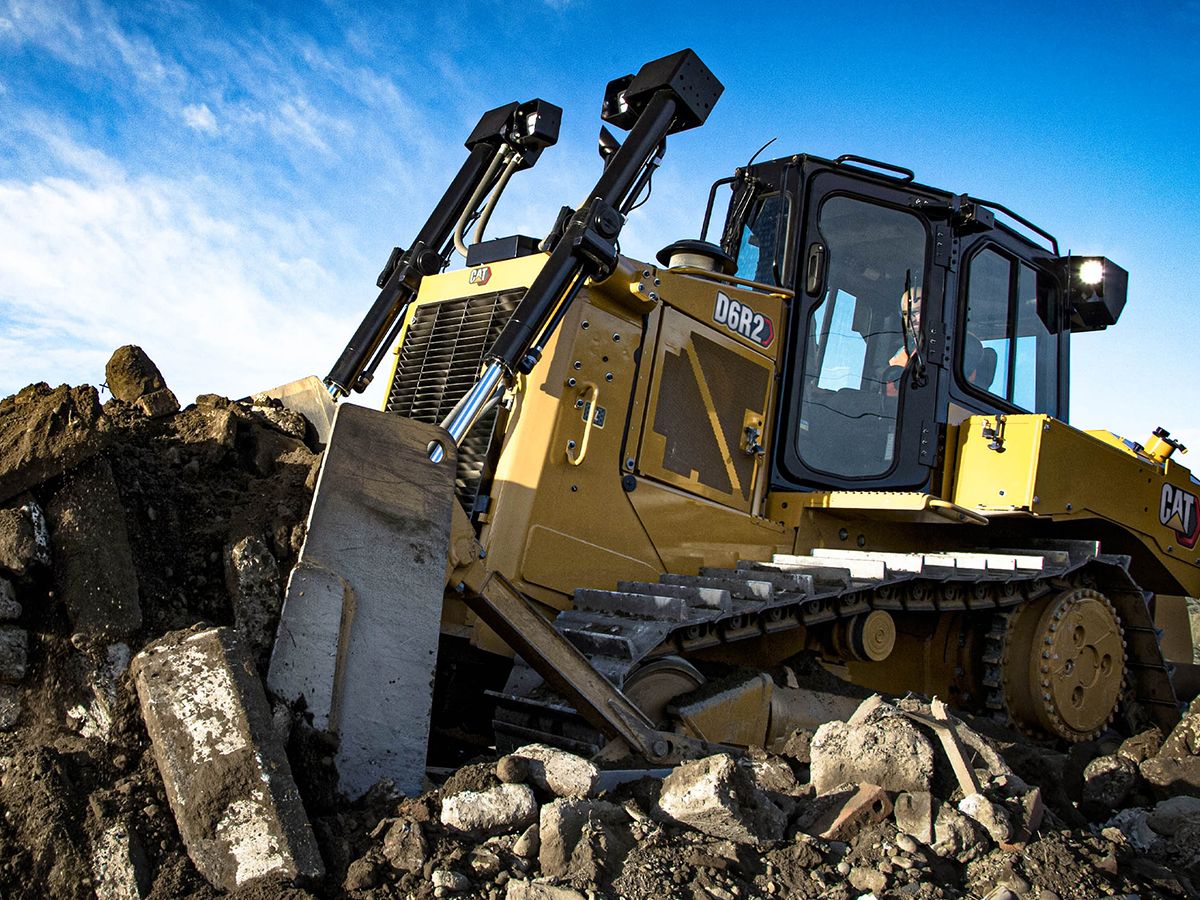 BUILT FOR LONG TERM PRODUCTION
Caterpillar elevated sprocket design isolates final drives from ground induced impacts.
Choose Standard, XL or LGP configuration to best match conditions and applications.
Choice of Heavy Duty or SystemOne™ undercarriage to optimize foryour application.
High efficiency fuel filters with water-in-fuel sensors add to fuel system robustness.
Updated design places the alternator in an elevated location foradded protection, especially in wet, sandy conditions.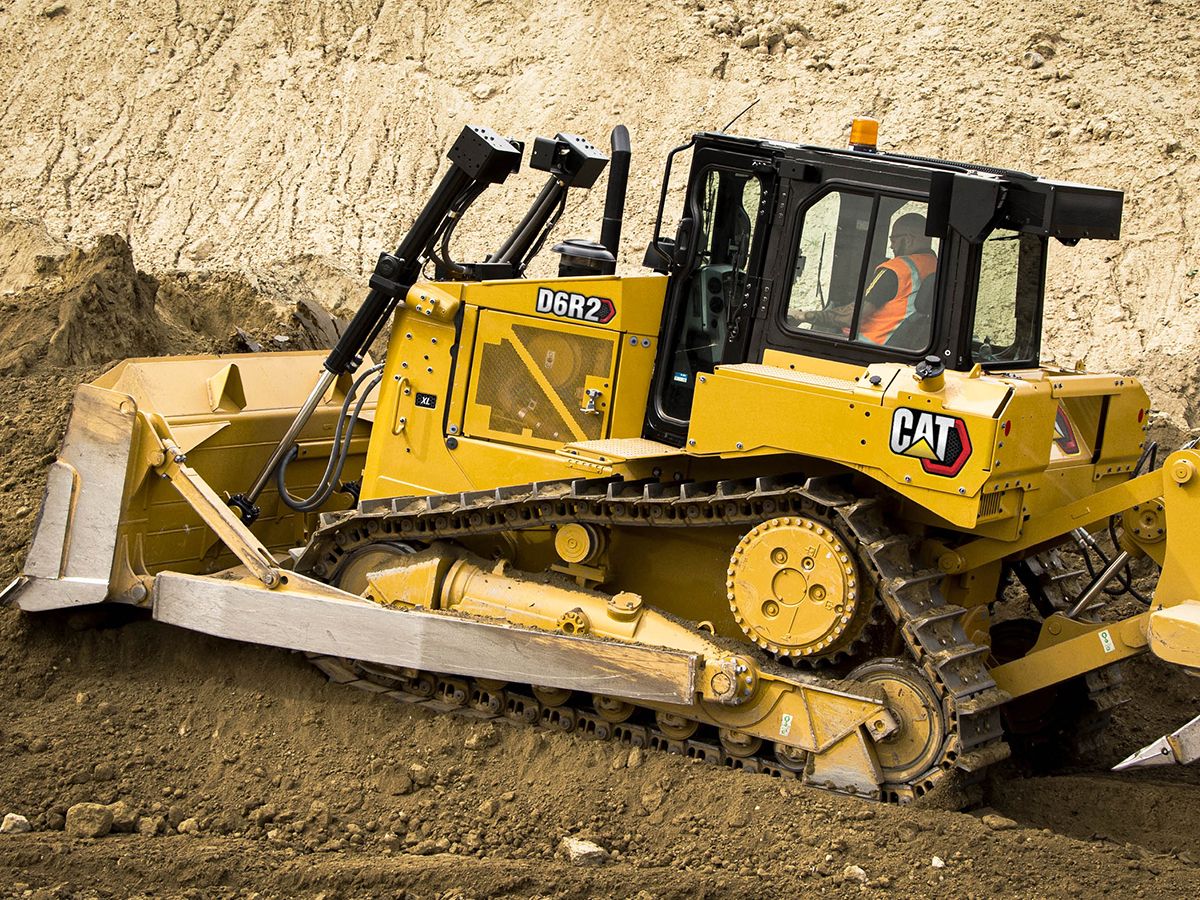 BECAUSE UPTIME COUNTS
Designed for ease of repair and maintenance. You spend less time on service and more time on the job.
Service points are grouped and sight gauges let you inspect fluid levels at a glance.
High efficiency fuel filters have water sensors to enhancing uptime.
Air conditioning condenser package mounted on top of the cab, increasing capability, while improving engine cooling and serviceability.
Cat remanufactured parts and Cat certified rebuilds to give a second or even third life to your machine. They incorporate the latest engineering updates so you end up with a like-new dozer and a new machine warranty.
Product Link™ collects machine data that can be viewed online through web and mobile applications.
Access information anytime, anywhere with VisionLink® and use it to make informed decisions that boost productivity, lower costs, simplify maintenance, and improve safety and security on your job site.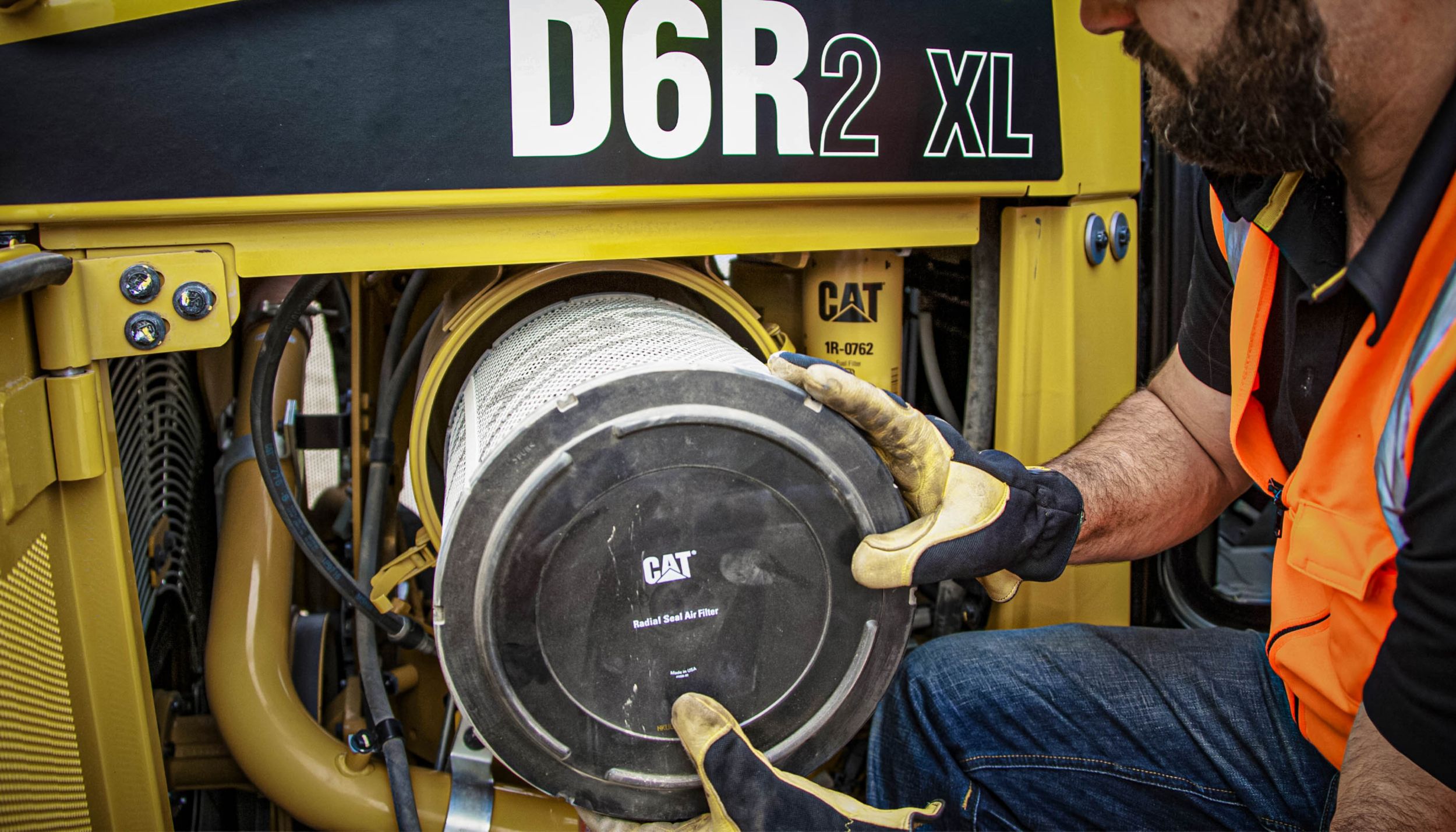 PURPOSE BUILT SPECIALTY MODELS
Forestry Arrangement is available with optional machine protection like sweeps, screens and added guarding to help protect the machine in harsh conditions. Cooling system is designed for high debris environments, with easy access for cleanout.
Cold Weather package features reversible fan and heavy-duty battery/alternator for cold starting. Arctic cab with dual pane glass, as well as optional heated suspension seat, offer greater operator comfort in extreme cold. Solid hood gives added protection against snow and ice, and oils and final drive seals are designed tostand up to cold conditions.
Waste Handler/LandfillArrangement offers specialized guarding, striker bars and seals help protect the machine from impact and airborne/wrapping debris. Cooling is designed for high debris environments and easy cleanout. Specialized air handling features help deliver cleaner air to the machine. Landfill blades and center-hole track shoes help optimize your waste handler for the job.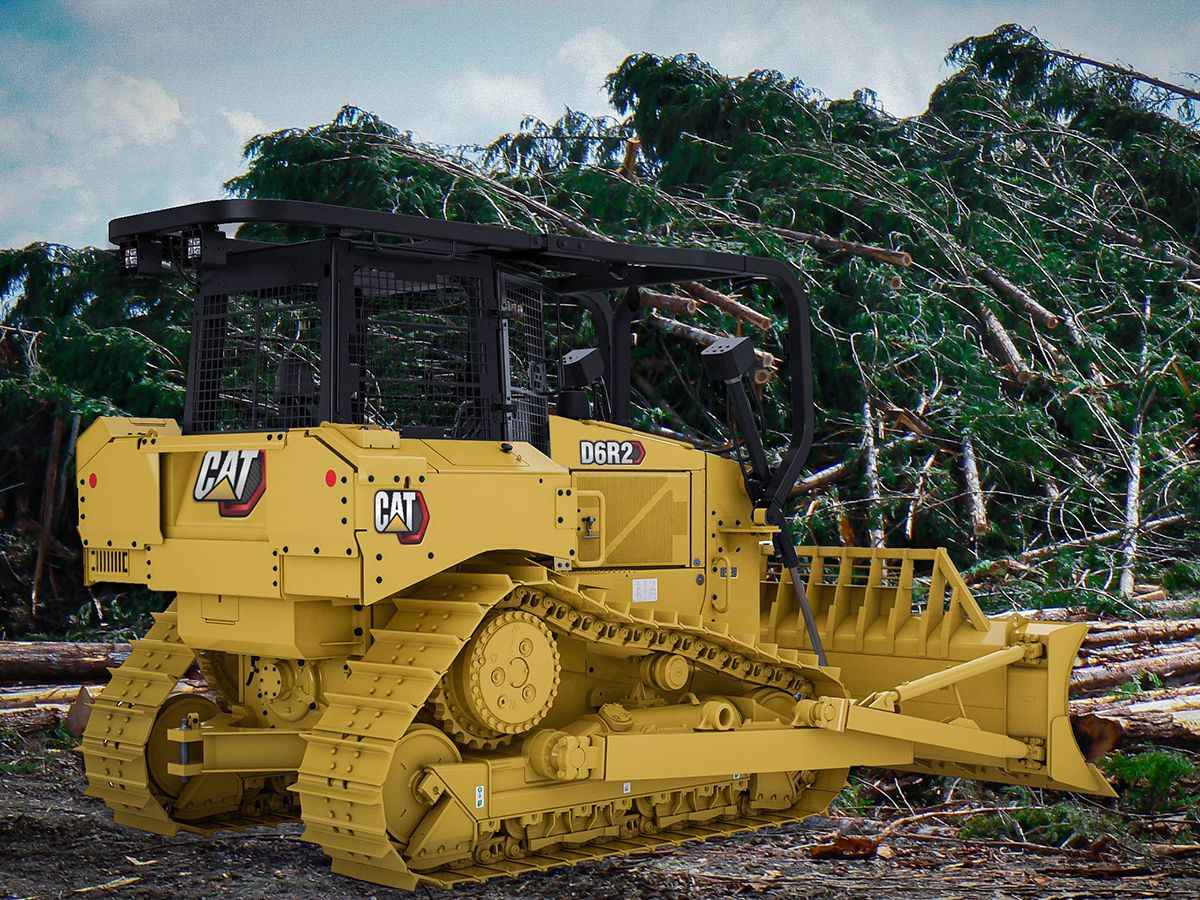 D6R2 Standard Equipment
TRACTOR CONFIGURATIONS
D6R2
D6R2 XL
D6R2 LGP (Low Ground Pressure)
POWER TRAIN
Cat C9 Turbocharged Direct Injection diesel engine. Meets equivalent of non-current U.S. EPA Tier 2 or EU Stage II emission standards. Certified to China Nonroad II emission standards.
Aluminum bar plate radiator
Air cleaner, precleaner with strata tube dust ejector
Air filter with electronic service indicator
Aluminum bar plate Air to Air After-Cooler (ATAAC)
Extended life coolant
Fan, blower, direct drive
Final drives, 3-planet single reduction planetary
Fuel filter with water in fuel sensor/indicator
Fuel priming pump, electric
Muffler with mitered stack
Parking brake, electronic
Planetary transmission, electronic power shift 3F/3R speeds
Prescreener
Torque converter/divider
UNDERCARRIAGE
Carrier rollers, lifetime lubricated (XL and LGP models)
Carrier roller ready (STD model)
Equalizer bar
Guards, end track guiding
Idlers, lifetime lubricated
Pivot shafts, pinned
Sprocket rim segments, replaceable
Track rollers, lifetime lubricated
Track roller frames, tubular
Track adjusters, hydraulic
Track, heavy duty, sealed and lubricated
ELECTRICAL
Alarm, backup
Alternator (115 Amp)
Batteries, 2 maintenance free 12V (24V system)
Converter, 12V, 10 Amp with 1 outlet
Connector, diagnostic
Electric start, 24V
Horn, forward warning
Lights, halogen (4)
OPERATOR ENVIRONMENT
Armrest, adjustable
Decelerator pedal
Differential steering tiller-bar control
Cab, Integrated ROPS
Caterpillar monitoring system: – coolant temperature – hydraulic oil temperature – power train oil temperature – fuel level – engine speed, tachometer – service hour meter – system warning lamps
Foot pads, dash mounted
Hydraulic controls, pilot operated with electronic deactivation switch
Mirror, rearview
Seat, adjustable contour suspension
Seat belt, retractable 76 mm (3 in)
Throttle switch, electronic rotary dial
OTHER STANDARD EQUIPMENT
Cat Product Link ready
Engine cover with perforated hood and side enclosures
Front pull device
Guards, bottom
Radiator door, louvered
Mounting, lift cylinder
Lift cylinders with lines
Hydraulics, load sensing, dozer lift and tilt
Oil cooler, hydraulic
Sampling ports: – engine oil – engine coolant – power train oil – hydraulic oil
Vandalism protection: – cap locks fitted to battery box and fuel tank drain – provision for cap locks for fluid compartments and engine enclosures
D6R2 Optional Equipment
POWER TRAIN
Drains, ecology, power train
Engine thermal shielding with water-cooled turbocharger
Final drives, STD, XL or LGP, arctic fluids
Final drives, XL or LGP, guarded seals
Fuel system, heated
Heater, engine coolant, 240V
Oil change system, high speed
Precleaner, raised
Precleaner, turbine with screen
Radiator core protector
Radiator fan, reversible (cold weather)
Radiator fan, ejector
Radiator fan, increased speed (high ambient)
Sound suppression, exterior
Starting aid, ether
Trash resistant radiator
UNDERCARRIAGE
SystemOne (XL or LGP)
Track guiding, center (STD, XL and LGP)
Track guiding, full length (STD, XL and LGP)
Track shoe, 560 mm (22.0 in), Moderate Service (STD and XL)
Track shoe, 560 mm (22.0 in), Extreme Service (STD and XL)
Track shoe, 560 mm (22.0 in), Extreme Service with trapezoidal hole (XL)
Track shoe, 610 mm (24 in), Moderate Service (STD and XL)
Track shoe, 610 mm (24 in), Extreme Service, SystemOne, (XL)
Track shoe, 610 mm (24 in), Extreme Service with trapezoidal hole (XL)
Track shoe, 915 mm (36.0 in), Moderate Service (LGP)
Track shoe, 915 mm (36.0 in), Extreme Service, SystemOne (LGP)
Track shoe, 915 mm (36.0 in), Extreme Service with trapezoidal hole (LGP)
Track shoe, 990 mm (39 in), self-cleaning (LGP)
Waste handing/landfill (XL and LGP)
ELECTRICAL
Alternator, 150 Amp, heavy duty
Alternator, 150 Amp, ducted
Battery, heavy duty
Lights, halogen (6)
Lights, LED (6)
Lights, halogen (4 – sweep)
Lights, halogen (8 – sweep)
OPERATOR ENVIRONMENT
Cab, Arctic, integrated ROPS
Canopy, integrated ROPS
Mirror, additional
Screen, rear, cab or canopy
Screens, side, cab or canopy
Screens, door/front, cab or canopy
Suspension seat, vinyl cover with 76 mm (3 in) retractable seat belt
Suspension seat, cloth cover with 76 mm (3 in) retractable seat belt
Suspension seat, cloth cover, heated and ventilated with 76 mm (3 in) retractable seat belt
TECHNOLOGY PRODUCTS
Cat Product Link, Satellite, Pro-Series
Cat Product Link, Cellular, Pro-Series
Cat Product Link, Dual Mode, Pro Series and Elite Series
OTHER ATTACHMENTS
Drawbar, rigid
Counterweight, rear
Hydraulics, ripper
Ripper, multi-shank, straight or curved shanks (3)
Striker bar, rear (XL or LGP)
Striker bars, front (XL or LGP)
GUARDS
Enclosure, engine, solid hood
Guard, bottom, heavy duty
Guard, fuel tank
Guards, hydraulic blade tilt lines
Guards, land clearing
Guard, radiator, heavy duty
Guard, transmission
Sweeps, forward protection
BULLDOZERS
Angle, hydraulic or mechanical tilt (STD and XL)
Angle, hydraulic or mechanical tilt, land clearing (XL)
Semi-Universal, hydraulic tilt (STD and XL)
Semi-Universal, hydraulic tilt, landfill (XL)
Semi-Universal, hydraulic tilt, land clearing (STD and XL)
Straight, hydraulic tilt (STD and LGP)
Straight, hydraulic tilt, landfill (LGP)