BETTER COMFORT AND CONTROL
Cab attaches to the frame with viscous rubber mounts, dampening vibrations and sound levels while enhancing comfort.
Suspension seat provides a variety of adjustments to accommodate a wide range of operators. The seat includes a reclining back, upper and lower seat slide adjustments, and height and tilt adjustments to fit any operator.
Monitor has full color and can display information in 28 languages.
Low-effort pilot-operated joystick controls match your natural wrist and arm position.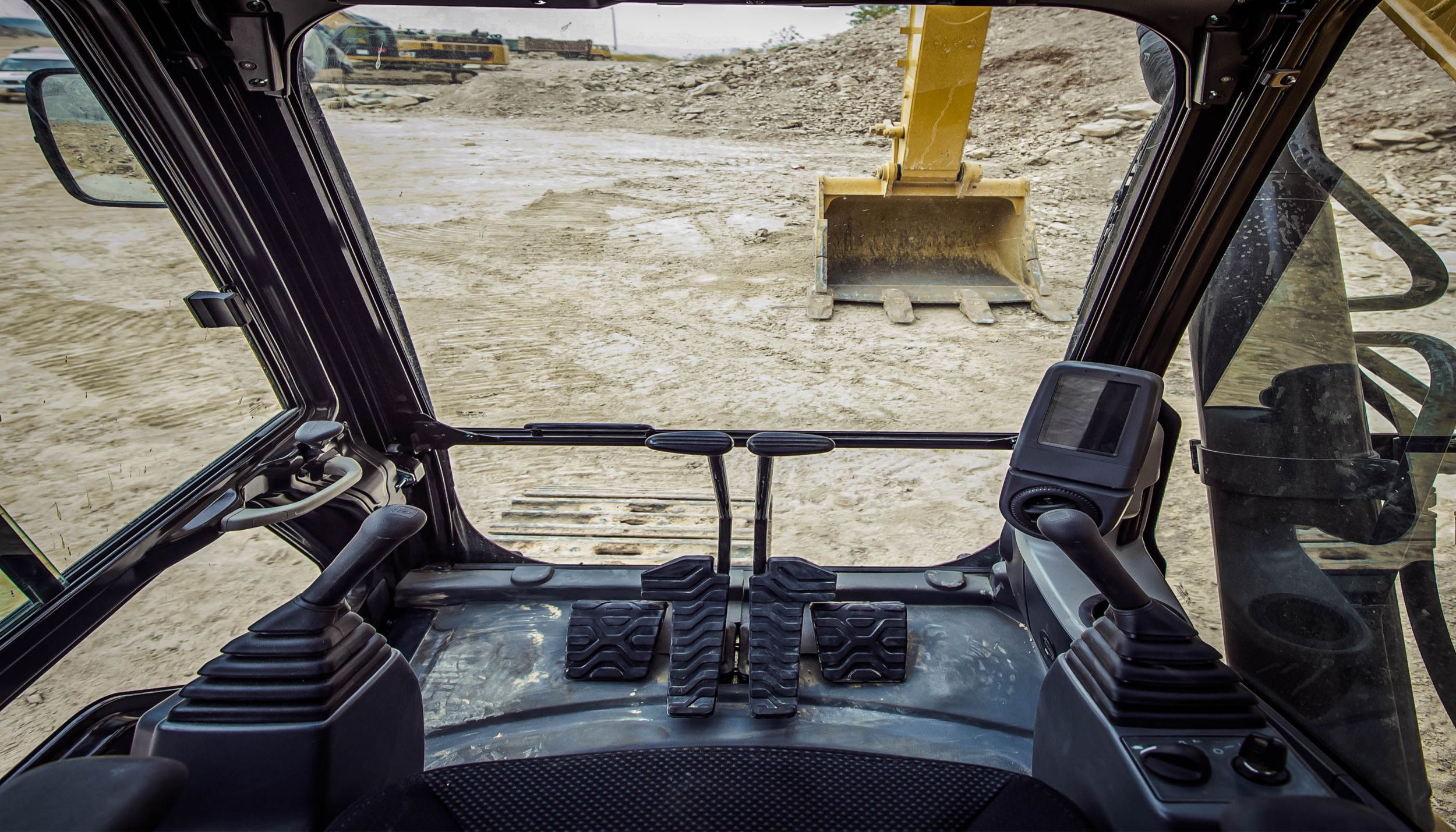 EFFICIENCY AND PRODUCTIVITY
Cat C13 engine has been designed to meet U.S. EPA Tier 2, EU Stage II, and China Tier 2 emission standards.
Electronic control helps manage fuel delivery to get the best performance per unit of fuel used.
Radial seal air filter features a double-layered filter core for more efficient filtration; A warning is displayed on the monitor when dust accumulates above a preset level.
Rubber isolating engine mounts provide optimum sound and vibration reduction.
Hydraulic system design provides the highest level of system efficiency; Main pumps, control valve, and hydraulic tank are located as close to each other as possible to reduce friction losses and pressure drops.
The hydraulic cross sensing system utilizes each of two hydraulic pumps to 100 percent of engine power under all operating conditions. This improves productivity with faster implement speeds and quicker, more powerful pivot turns.
Hydraulically operated stick regeneration circuit saves energy and improves multi-function performance during the stick-in operation; it also improves cycle times and fuel efficiency and enhances productivity and operating costs.
Snubbers on boom and stick cylinders cushion shocks and sound for smooth operation and longer machine life.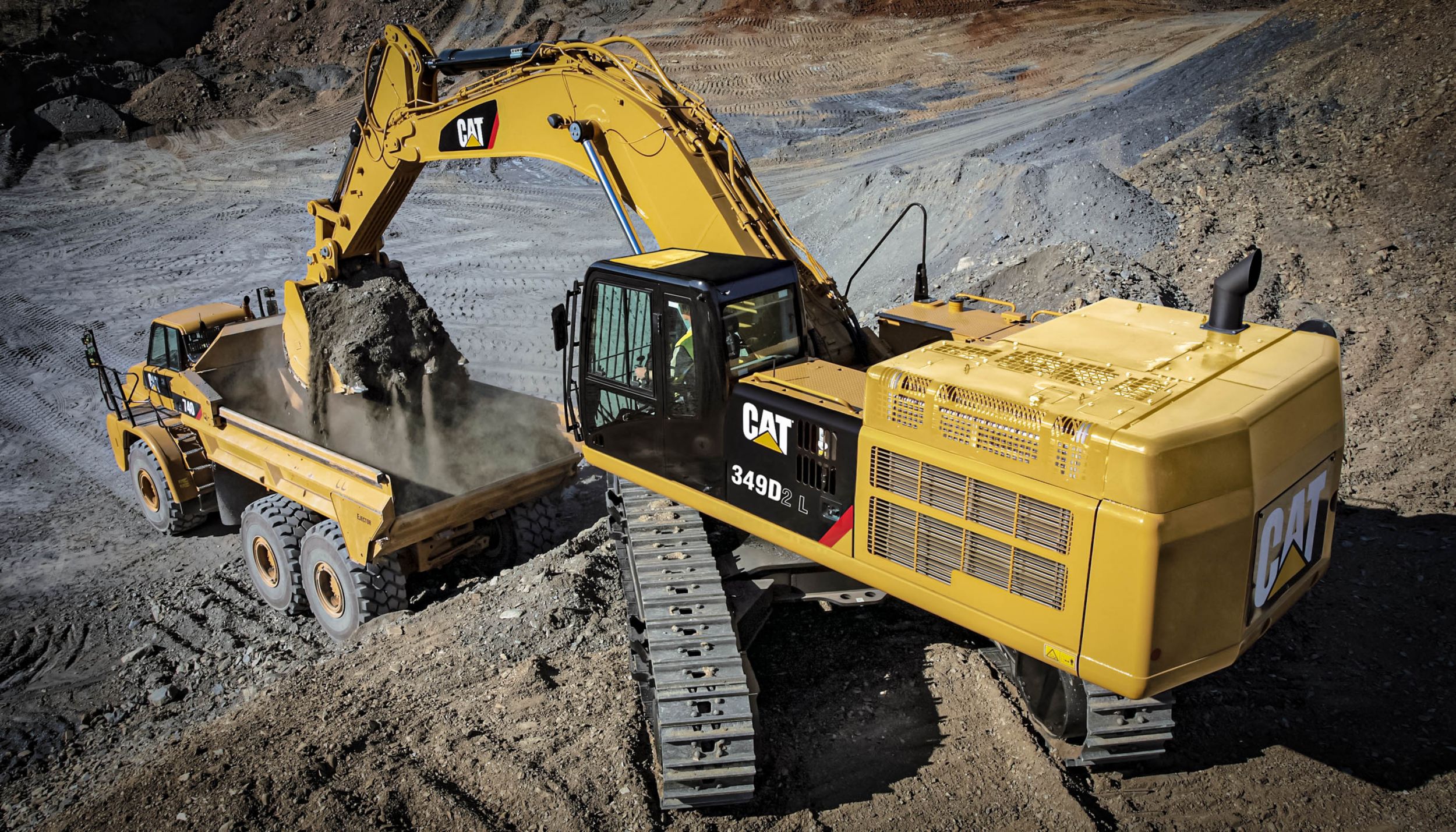 LONG-TERM VALUE AND DURABILITY
Rugged main frame performs in the toughest applications. The X-shaped, box-section carbody provides excellent resistance to torsional bending, and press-formed, robot-welded track roller frames provide exceptional strength and durability.
Undercarriage options both deliver outstanding stability and durability.
Sealed and lubricated track rollers, carrier rollers, and idlers provide excellent service life to keep your machine in the field and working longer.
Track roller frame is made of press-formed, pentagonal section that is robot welded for consistency and quality. The track frame has a steep angle to help prevent accumulation of mud and debris.
The 9.0 mt (9.9 t) counterweight enables large lifting capacity and excellent stability; it bolts directly to the main frame for extra rigidity.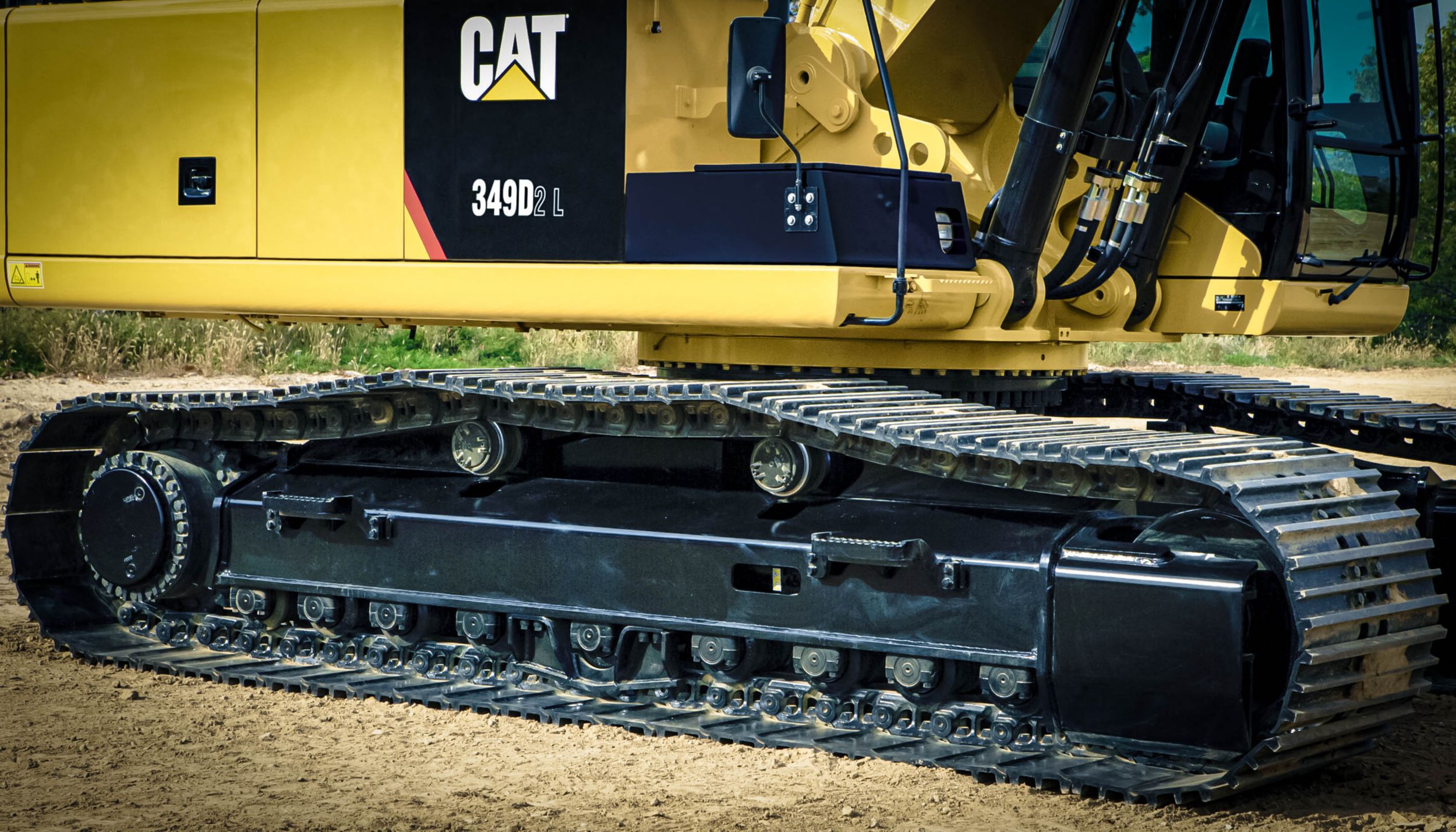 ATTACHMENTS TO MEET YOUR NEEDS
349D2is offered with a range of booms and sticks -- each built with internal baffle plates and stress-relieved for added durability.
Large box-section structures with thick, multi-plate fabrications, castings, and forgings are used in high-stress areas such as the boom nose, boom foot, boom cylinder, and stick foot to improve durability.
Reach front linkage is designed to balance reach and digging force bucket capacity to excel at digging, loading, trenching and more.
Mass excavation front linkage maximizes machine performance through superior digging forces and larger bucket capacity.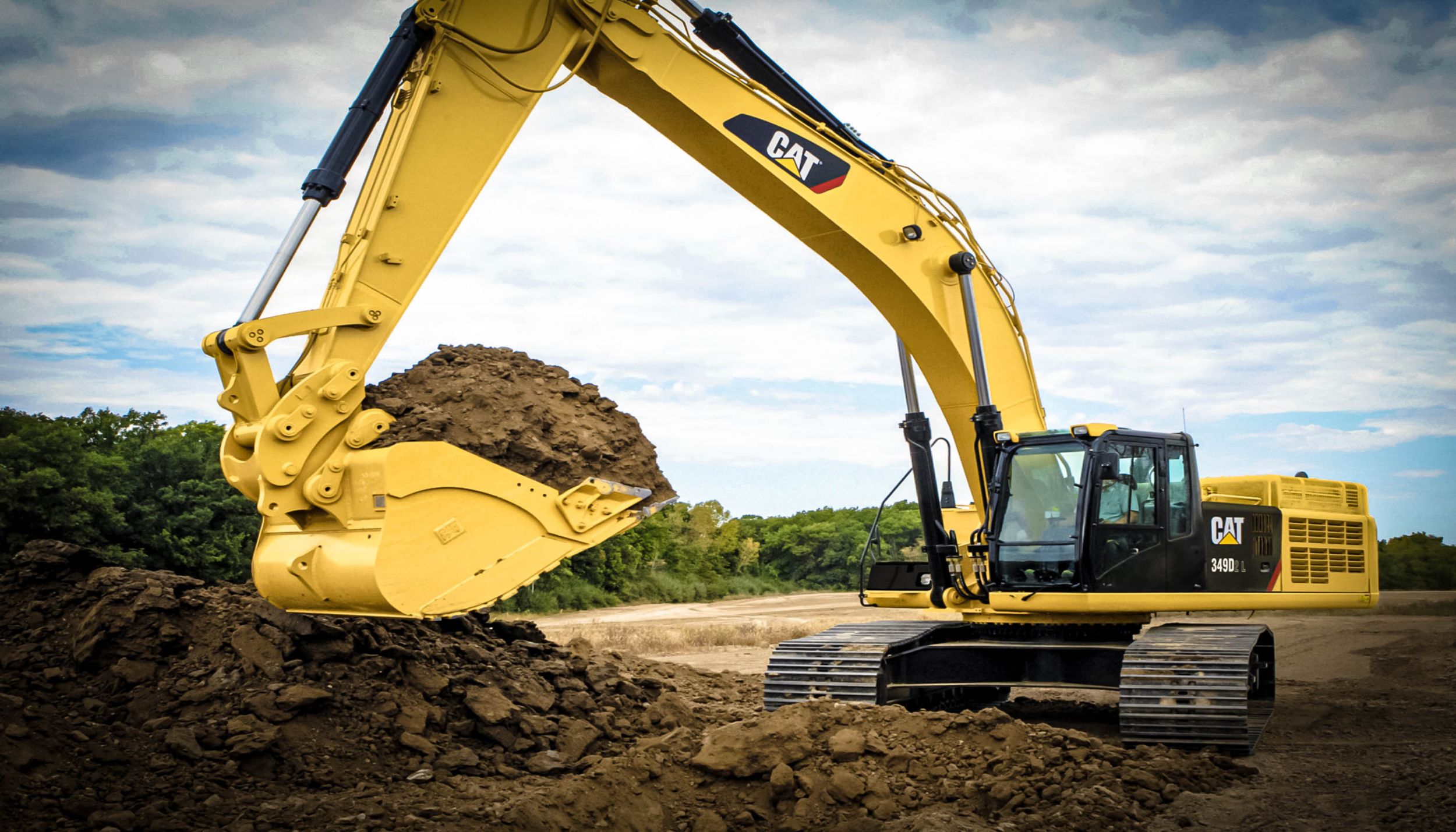 REDUCED MAINTENANCE COSTS
Extended service and maintenance intervals for engine oil and filters increase machine availability.
Hydraulic return capsule filters are removable without spilling hydraulic oil.
Pilot hydraulic filter keeps contaminants from the pilot system.
Radial seal main air cleaner with pre-cleaner has a double-layered filter element for more efficient filtration.
Water separator has a primary fuel filter element and is located in the air cleaner compartment for easy access from the ground.
Service points are centrally located to facilitate quick and easy maintenance.
Oil sample and pressure ports provide easy checking of machine condition and are standard on every machine.
Concentrated remote greasing block on the boom delivers grease to hard-to-reach locations.
Cat dealers utilize a worldwide computer network to find in-stock parts to minimize machine downtime.
Save money with our line of remanufactured components.
Cat dealers can provide specific recommendations with detailed comparisons of the Cat machines you are considering before you buy. Get the right machine and appropriate work tools that best match all of your application needs.
Repair programs guarantee the cost of repairs up front. Condition monitoring services and diagnostic programs such as scheduled oil sampling, coolant sampling, and technical analysis help avoid unscheduled repairs.
Cat dealers offer a variety of product support agreements tailored to meet your specific needs. These plans can cover the entire machine – including attachments – to help protect your investment.
Repair, rebuild, or replace? Your Cat dealer can help you evaluate the costs involved so you can make the right choice.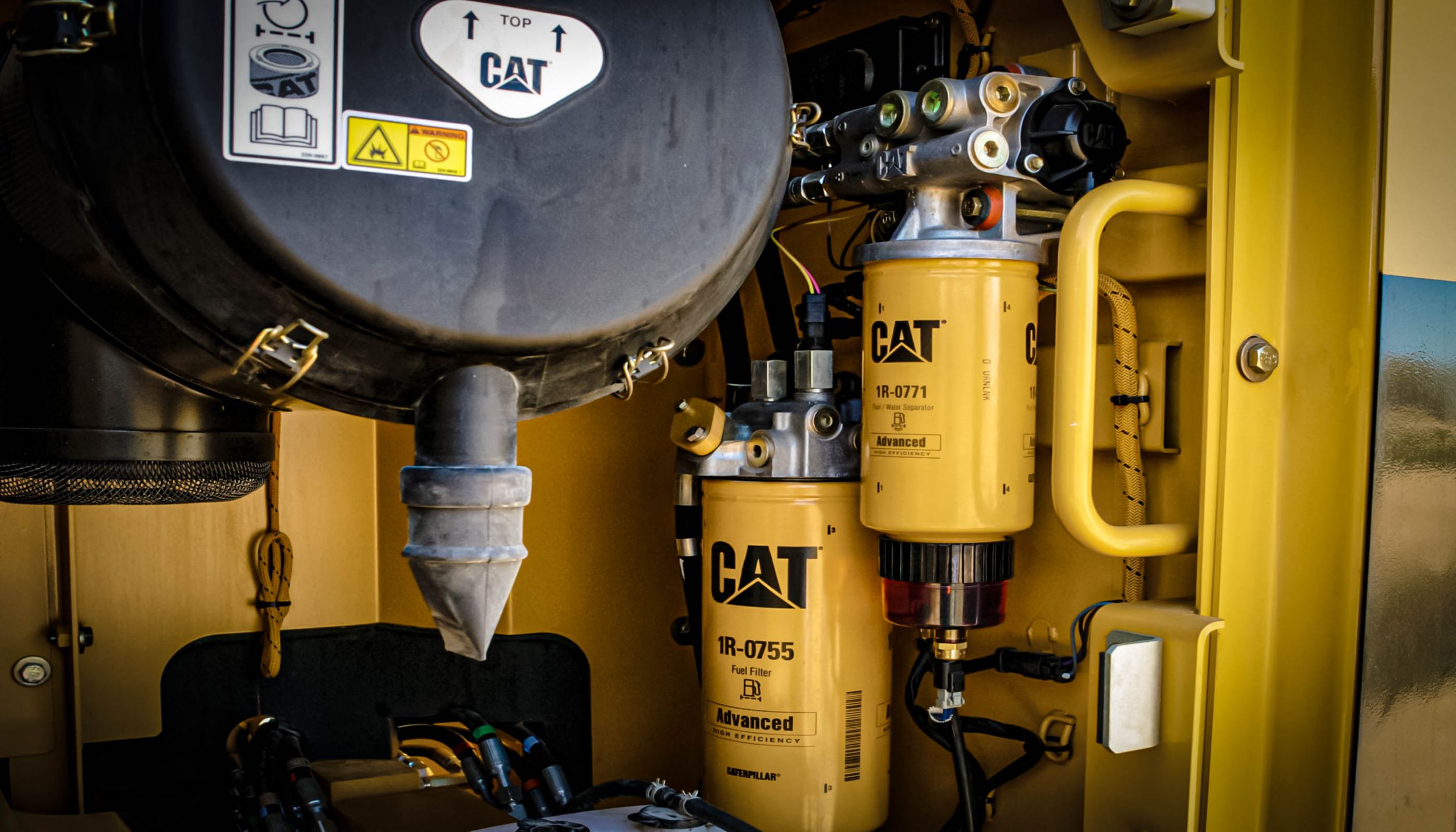 TECHNOLOGY THAT GETS WORK DONE
Cat technology can improve your job site efficiency. Using data from the machine, you'll get more information and insights than ever before.
LINK technologies wirelessly connect you to your equipment, giving you essential information to run your business at its best.
GRADE technologies combine digital design data, in-cab guidance, and automatic machine control to help operators hit target grade faster and finish jobs more quickly, accurately, and in fewer passes.
DETECT technologies combine safety features, functionalities, and alerts to enhance job site awareness and keep people and assets safe.

Note: Availability may vary by region. Please consult your Cat dealer for details.
349D2 L Standard Equipment
ENGINE
Cat C13 engine
Meets Tier 3, Stage IIIA equivalent emission standards
2300 m (7,500 ft) altitude capability
Radial seal air filters (primary and secondary filter)
Glow plugs (for cold weather start)
Automatic engine speed control with one touch low idle
High ambient cooling package 52° C (125° F)
Water separator with water level indicator sensor
Waved fin radiator with space for cleaning
Two speed travel
Electric priming pump
Fuel pressure differential gauge
ECO and HHP
HYDRAULIC SYSTEM
Regeneration circuits for boom and stick
Auxiliary hydraulic valve
Reverse swing damping valve
Automatic swing parking brake
Boom drift reducing valve
Boom lowering device for back-up
Stick drift reducing valve
Straight travel hydraulic circuit
High performance hydraulic return filters
CAB
Pressurized ROPS cab
Fully adjustable mechanical suspension seat
Adjustable armrest
Seat belt, retractable (76 mm [3 in] width)
70/30 split front windshield
Laminated upper front windshield and tempered other windows
Sliding upper door window
Openable front windshield with assist device
Pillar mounted upper windshield wiper and washer
Bi-level air conditioner (automatic) with defroster (pressurized function)
Color LCD display with warning, filter/fluid change, and working hour information
Control lever joysticks
Hydraulic activation control lever (lock out for all controls)
Travel control pedals with removable hand levers
Radio mounting (DIN size)
Radio ready
12V – 2× maximum 10A power supply
Two stereo speakers
Beverage holder
Coat hook
Openable roof hatch
Washable floor mat
UNDERCARRIAGE
Idler and center section track guiding guard
Towing eye on base frame
Grease lubricated track
ELECTRICAL
Batteries (2 × 750 CCA)
75 amp alternator
24V – 7.5 kW starter motor
LIGHTS
Left boom working light
Right working light mounted in the storage box
Interior lighting
SAFETY & SECURITY
Cat one key security system
Door and compartment locks
Signaling/warning horn
Rearview mirrors
Fire wall between engine and pump compartment
Emergency engine shutoff switch
Emergency exit rear window
Battery disconnect switch
Rearview camera
COUNTERWEIGHT
9.0 mt (9.9 t) counterweight
TECHNOLOGY
Product Link
Cat Electronic Technician data link
349D2 L Optional Equipment
ENGINE
Starting kit, cold weather, –32° C (–25.6° F), ether or block heater
Air prefilter
HYDRAULIC SYSTEM
Auxiliary hydraulics options
Hammer circuit, foot pedal operated
Two way combined circuit, foot pedal operated
Two way combined circuit, joystick operated
Two way combined circuit with medium pressure, joystick operated
Auxiliary hydraulic lines for booms and sticks
UNDERCARRIAGE AND GUARDS
600 mm (24 in) double grouser shoes
600 mm (24 in) triple grouser shoes
750 mm (30 in) double grouser shoes
750 mm (30 in) triple grouser shoes
900 mm (35 in) triple grouser shoes
Full length track guiding guard (2 pieces)
Guard package
LIGHTS
Cab mounted working lights
Right mounted boom light for reach boom
TECHNOLOGY
AccuGrade Ready Option (ARO)
FRONT LINKAGE
Booms:
– Reach 6.9 m (22'8")
– Mass 6.55 m (21'6")
Sticks:
– Reach 2.9 m (9'6")
– Reach 3.35 m (11'0")
– Reach 3.9 m (12'10")
– Mass 2.5 m (8'2")
– Mass 3.0 m (9'10")