POWERFUL EFFICIENCY
Powerful, efficient Cat® C4.4 engine.
Low pressure fuel system with an electrically controlled mechanical governor allows the engine to be more robust to low quality fuel.
Highly efficient hydraulic pumps deliver superior power for best in class performance.
ECO mode offers up to 15% lower fuel consumption with no loss in lifting and digging forces.
Best in class ground clearance and low ground pressure allows for excellent performance in forestry and agricultural applications.
OPTIONS TO MEET YOUR NEEDS
Multiple stick options available to meet all application needs. 2.5 m (8'2") heavy duty and 3.0 m (9'10") sticks are offered to Asia market and 2.5 m (8'2") heavy duty stick is offered to Latin America market.
Multiple undercarriage options are available. 790 mm (2'7") triple grouser and 960 mm (3'2") single grouser are offered to Asia market and 600 mm (2'0") triple grouser is offered to Latin America market.
Multiple work tools available to meet your application.
Caterpillar designed upper structure and cab guards are available to allow maximum protection in the toughest applications.
Heavy duty high wide x-frame structure provides high ground clearance for forest application.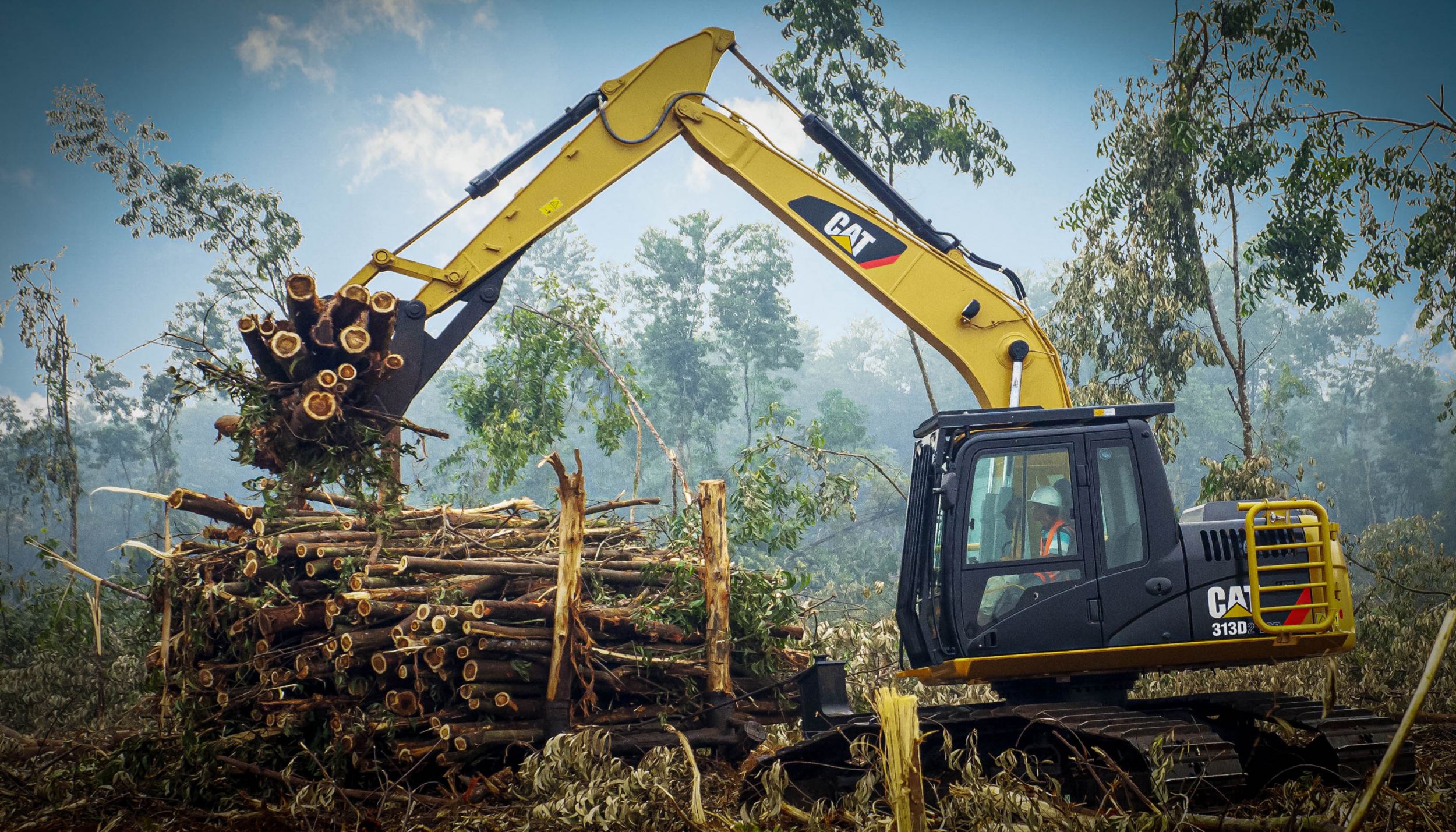 BUILT-IN SAFETY FEATURES
Cab and upper machine structure are guard ready.
Hydraulic activation lever safely locks out all hydraulic functions.
Anti-skid plating and countersunk bolts reduce slipping in severe conditions during routine checks.
Full length firewall separates the pump compartment from the engine.
Ground level fuel cut off switch shuts down the engine in an emergency.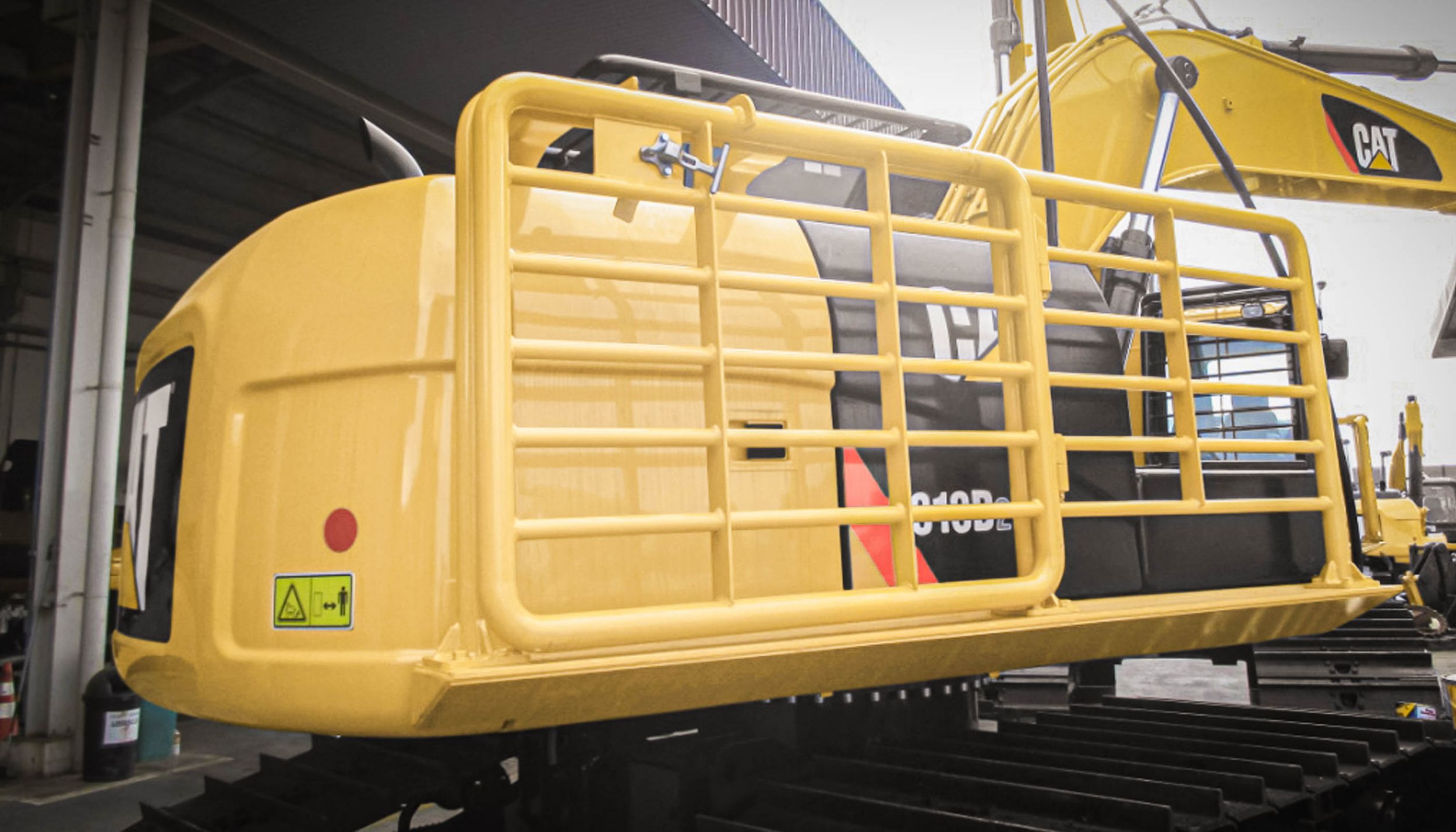 BUILT TO PERFORM
Heavy duty High Wide modified X-frame structure provides superior clearance, drawbar pull and durability.
Robotically welded heavy duty boom is standard.
Grease Lubricated Tracks (GLT) provides longer life.
Three-piece track guiding guards protect the track rollers from the impact of large rocks and logs.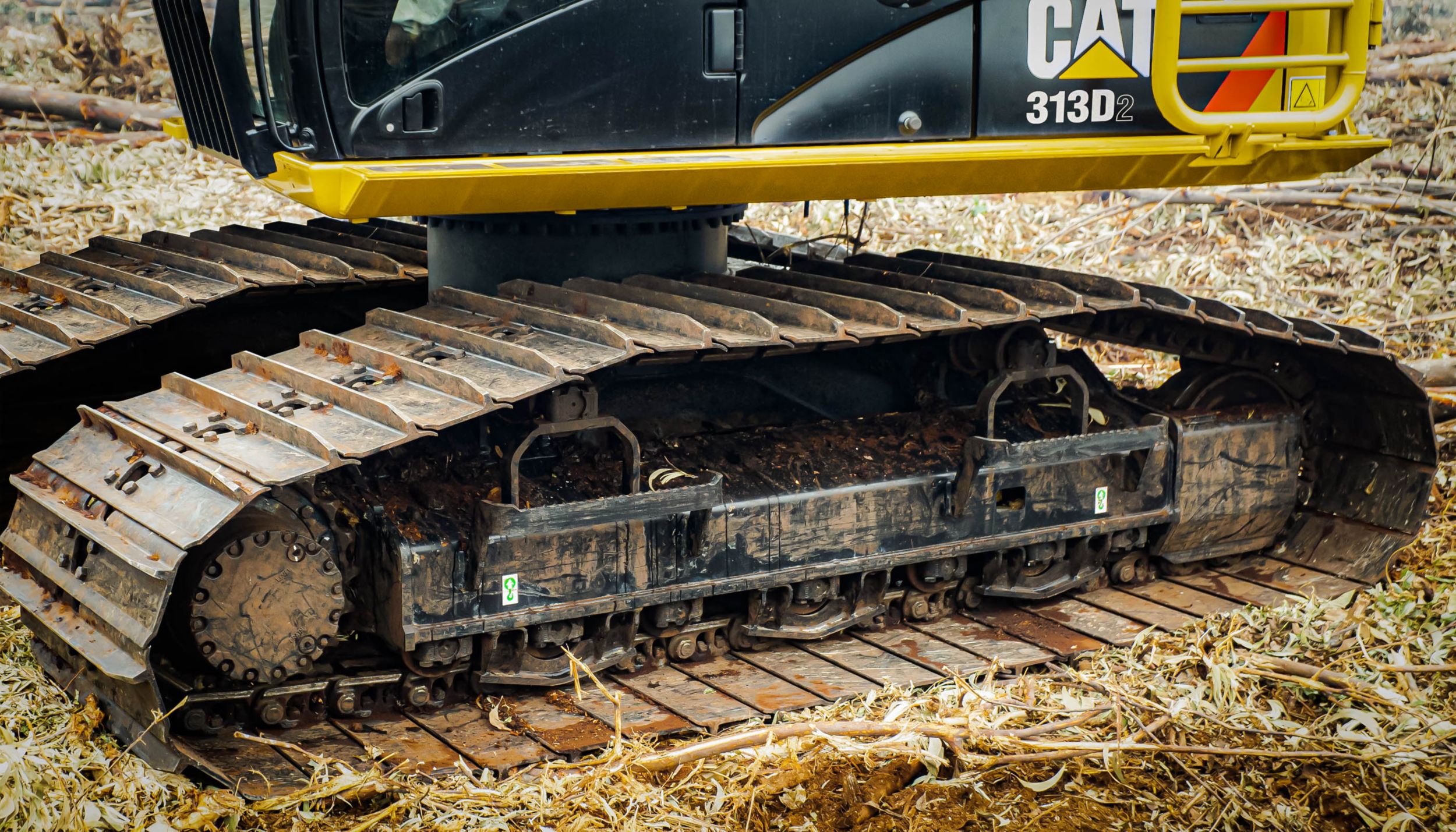 DESIGNED FOR OPERATORS
Ergonomically designed cab with easy to operate controls.
Multiple seat and armrest adjustment options enhance comfort.
Excellent work site visibility from the cab enhances productivity and safety.
Optimized low effort joystick controls reduces operator fatigue.
Automatic climate control system maximizes comfort.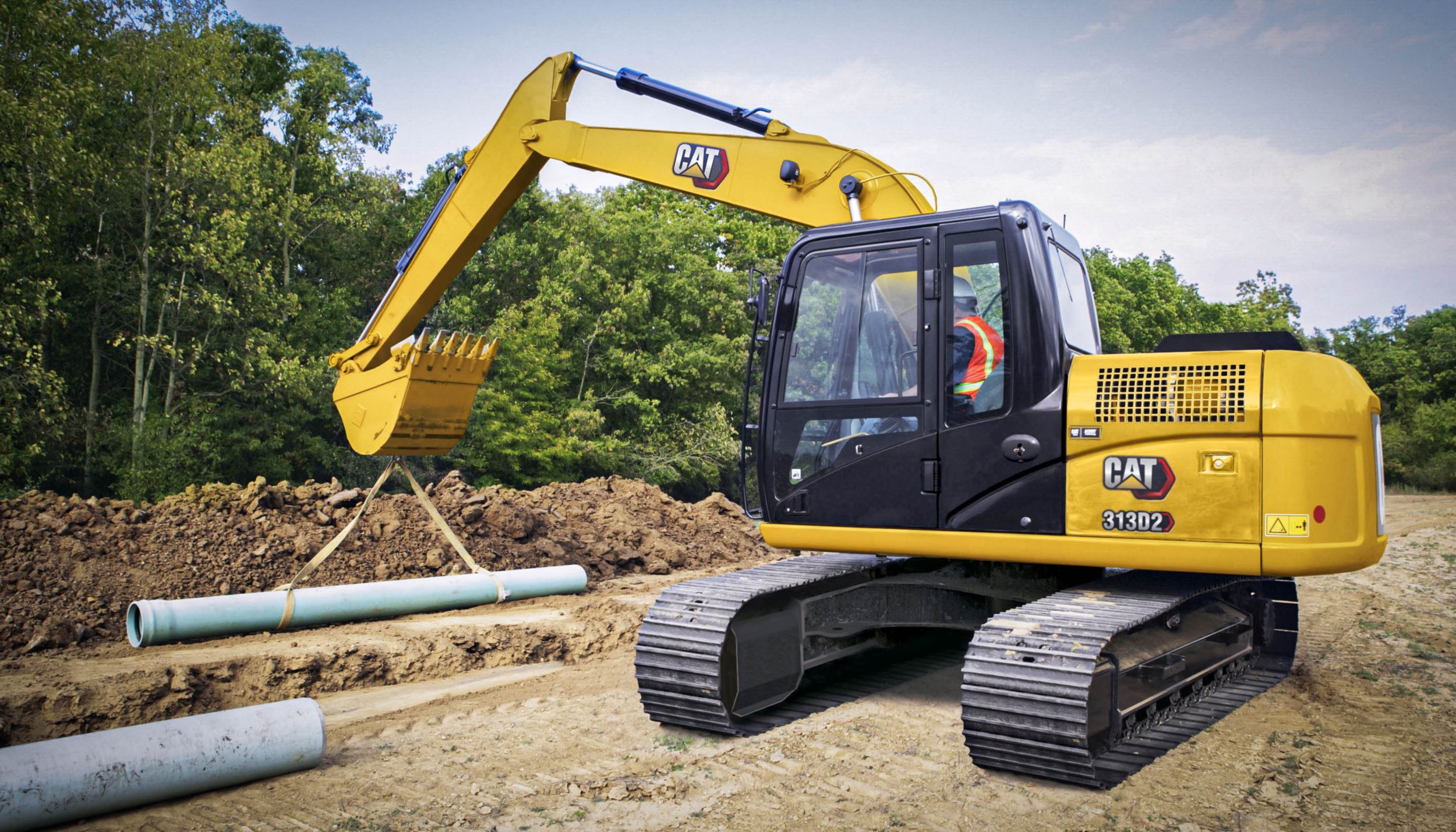 REDUCED MAINTENANCE TIME
Most service locations can be accessed at ground level.
Remote mounted filters reduce the time taken to service the machine.
Pressure taps and S·O·S ports help maximize uptime.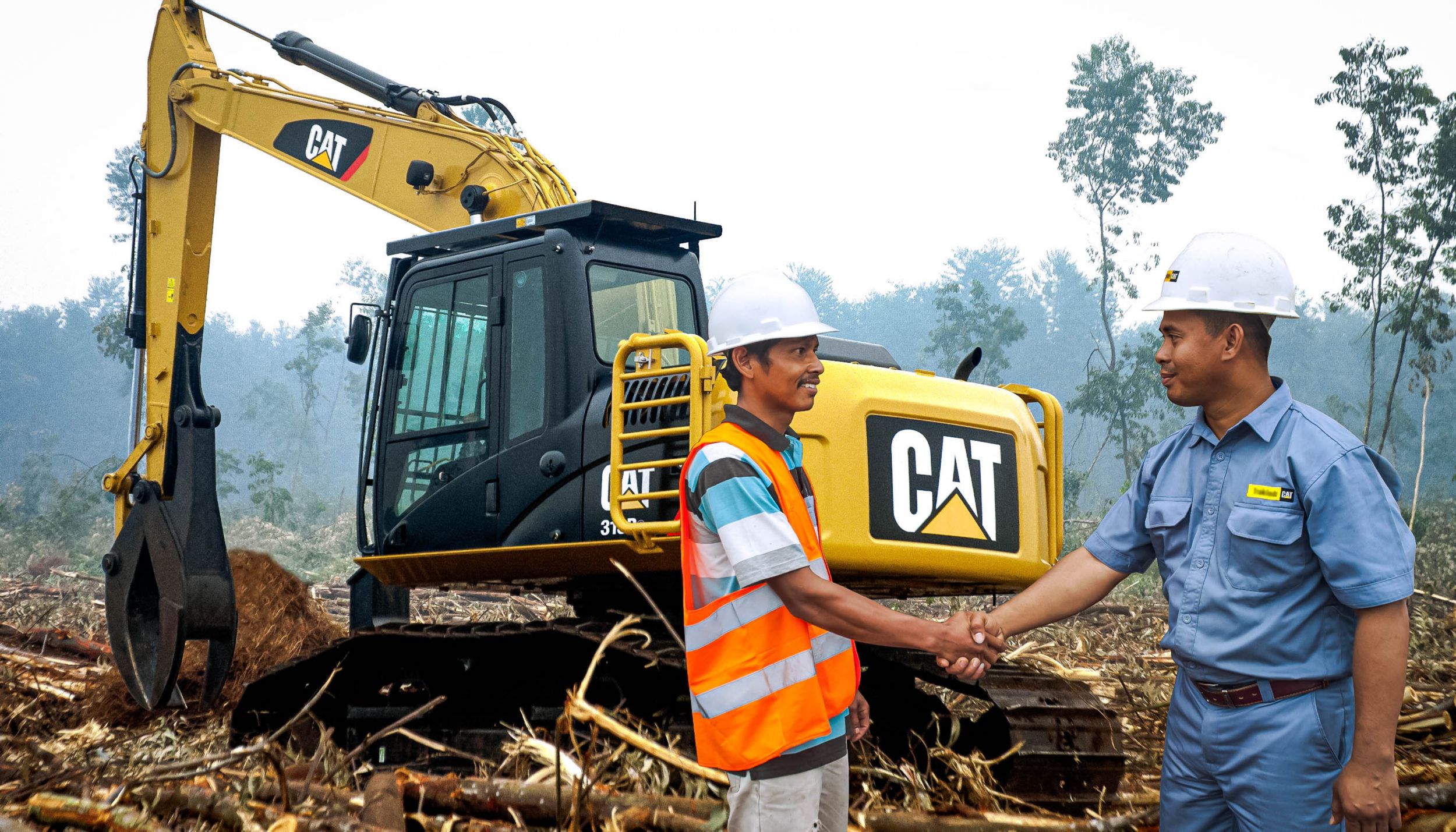 PRODUCTIVITY WITH TECHNOLOGY
Cat Connect technology solutions increase production and minimize operating costs.
Optional Link Technologies wirelessly connects you to your job site providing essential business information (VisionLink®, Product Link™).