Performance
Programmable Autoshift option simplifies operation by allowing transmission to be programmed to shift at optimal points to match application.
Power Shift Countershaft Transmission matches to engine, maximizing power to the ground.
Electronic Throttle Control helps improve productivity by providing best match of horsepower and torque for application demands.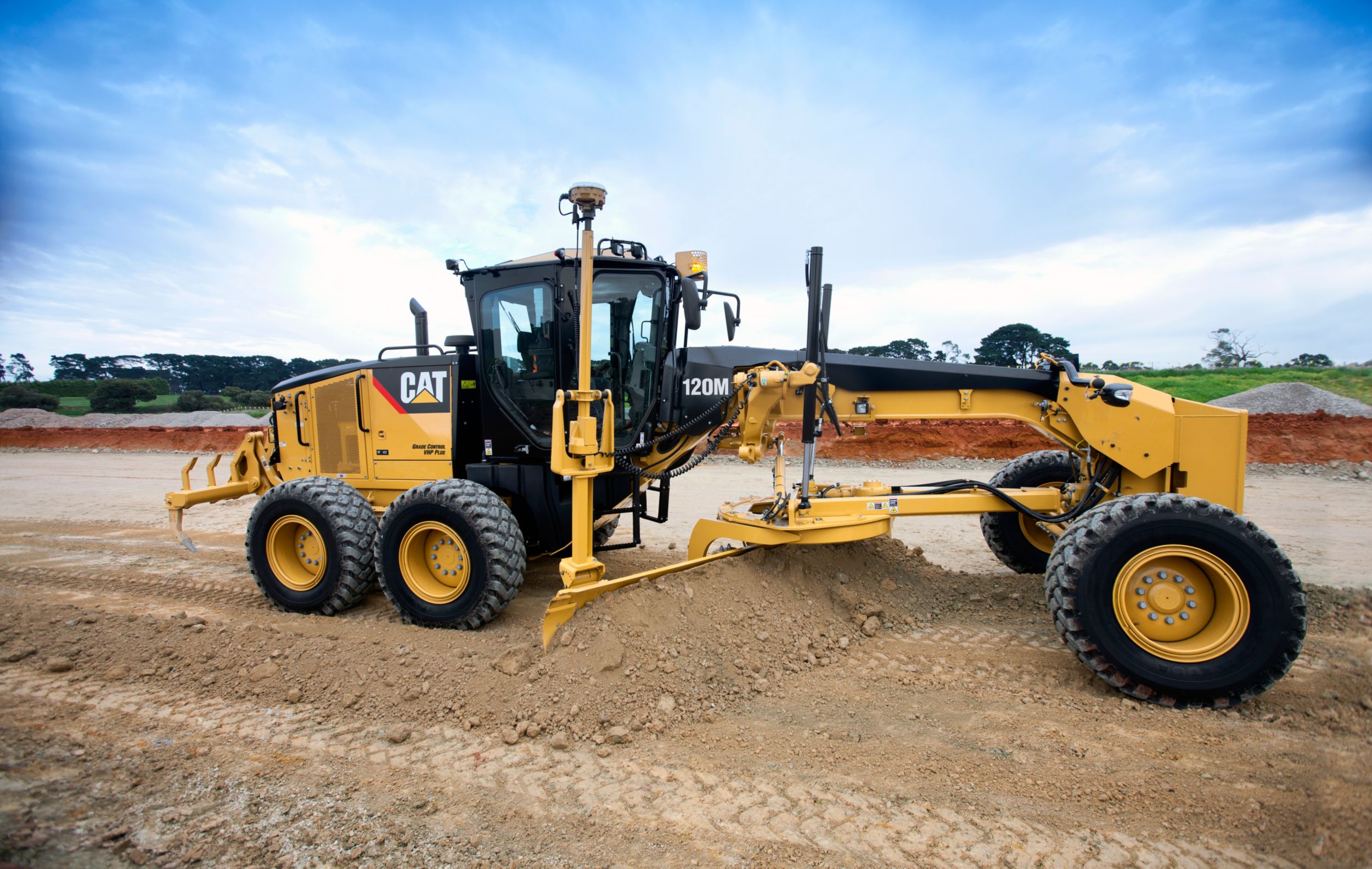 Efficiency
    
Aggressive blade angle, optimized moldboard curvature and large throat clearance allow material to roll more freely along blade, increasing efficiency.
    
Hydraulic demand fan automatically adjusts speed according to cooling requirements resulting in more power to the ground and improved fuel efficiency. 
    
Engine idle shutdown is available to shut down engine after a set period of time saving fuel and helping reduce emissions.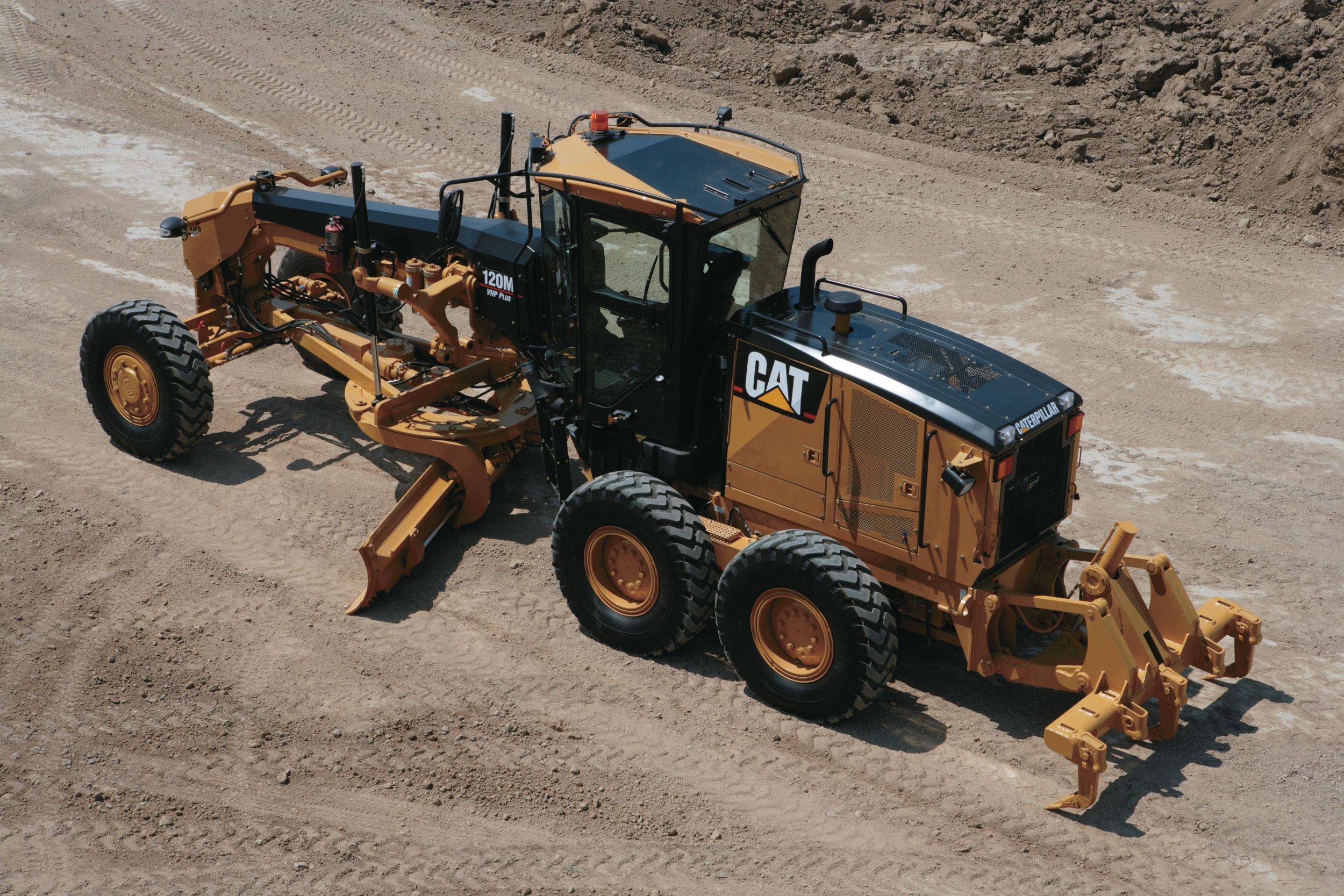 Ease of Operation
    
Selectable blade lift modes - Fine, Normal, or Coarse - allow you to choose the blade lift modulation mode that best fits your application in operating style.
    
Joystick controls with electronically adjustable control pods reduce hand and arm movement by 78%, helping reduce operator fatigue.
    
Left joystick controls steering, articulation, return-to-center, wheel lean, gear selection, left moldboard lift cylinder and float.
    
Right joystick controls drawbar, circle and moldboard functions as well as electronic throttle control and manual differential lock/unlock.
    
Articulation Return-to-Center automatically returns machine to a straight frame position from any angle with the touch of a button.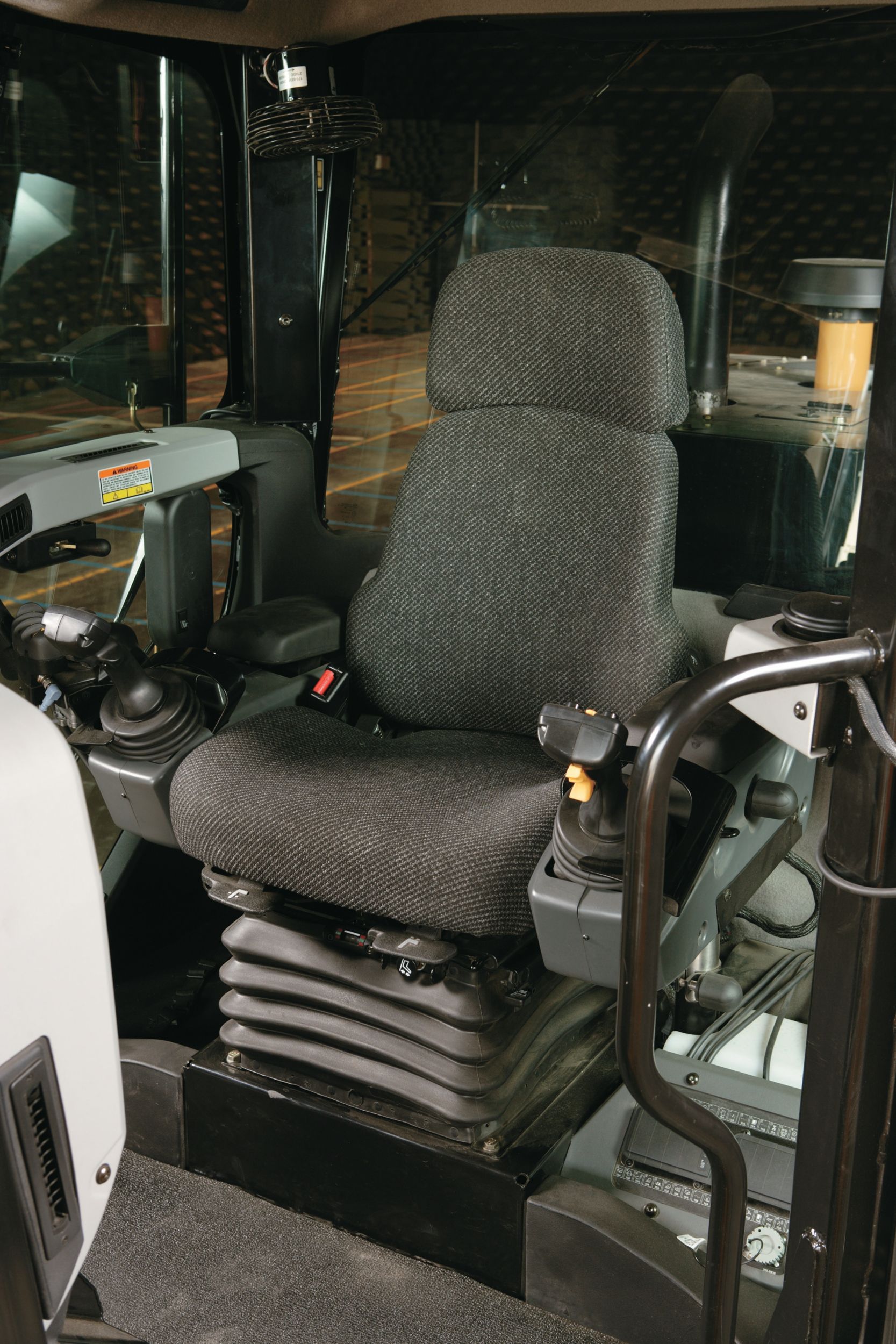 Safety
    
Angled cab doors, tapered engine enclosure and sloped rear window increase visibility.
    
Optional rear vision camera enhances sight to rear of machine.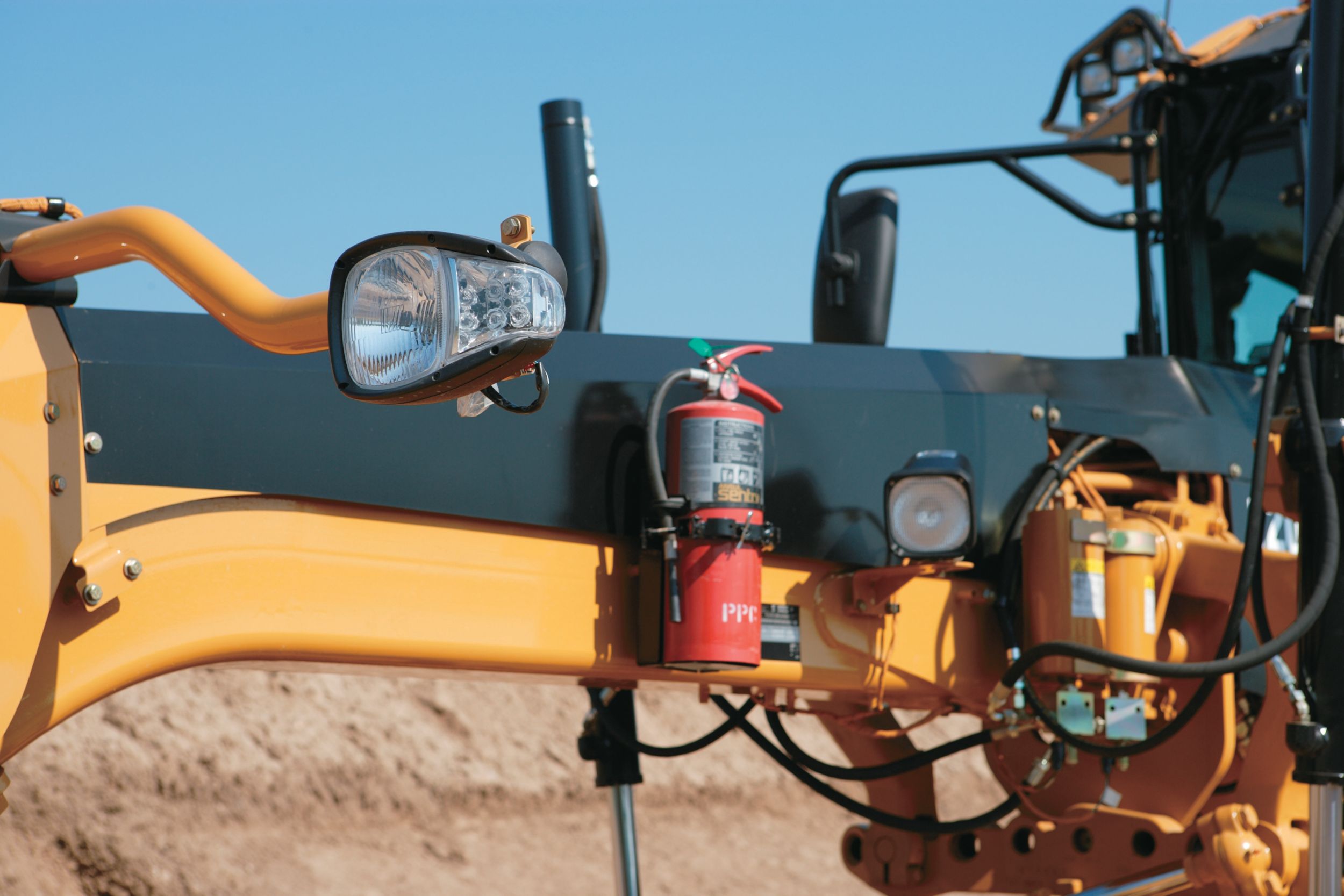 Serviceability
    
Convenient access from the top of the circle to the patented top-adjust wear strips and inserts make them easy to add or replace.
    
Shimless Moldboard Retention System uses vertical and horizontal adjusting screws to keep moldboard wear strips aligned for reduced blade chatter and precise blade control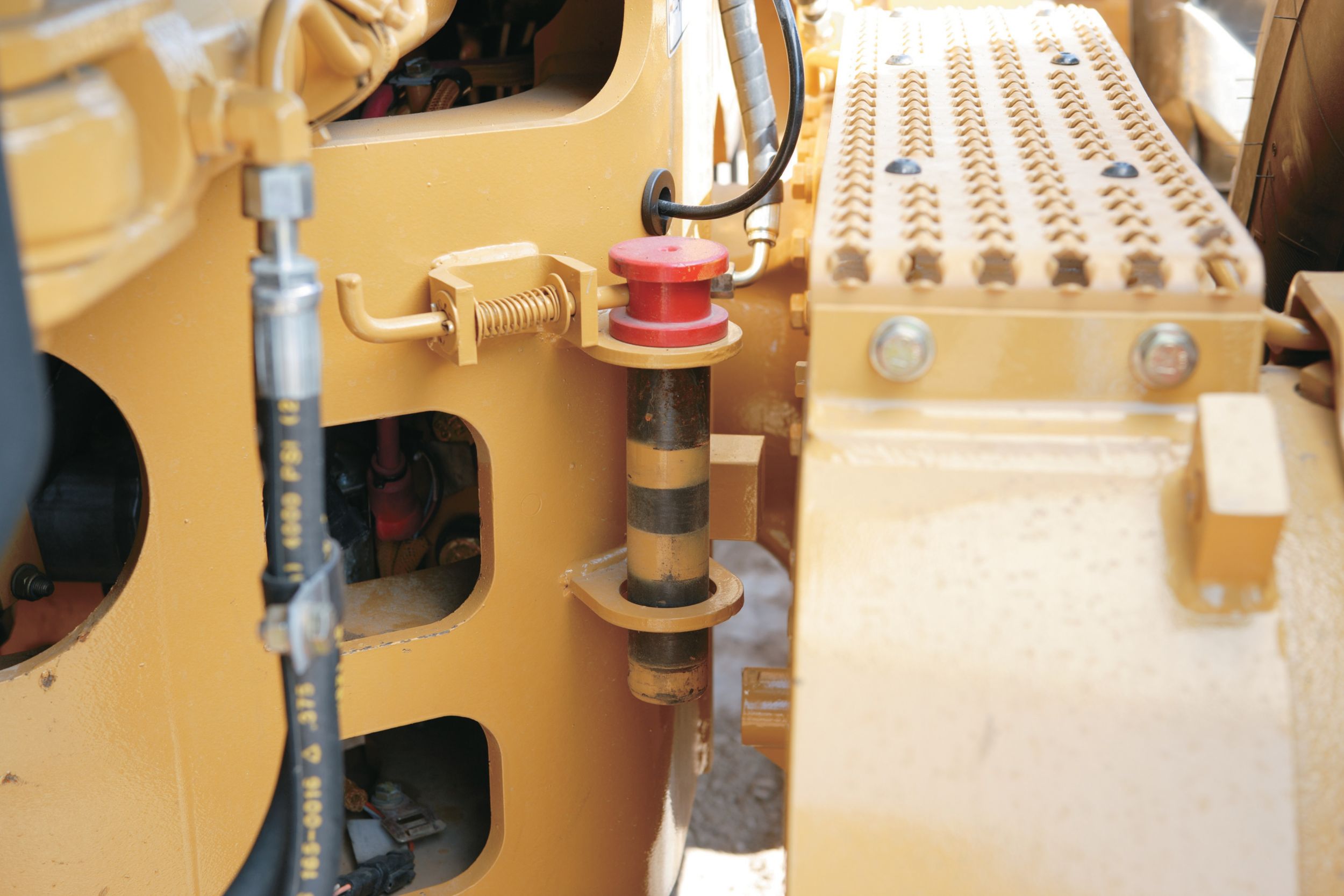 Comfort
    
Control pods can be adjusted electronically, making it easy to set to ideal operating position. 
    
Standard Cat Comfort Series suspension seat is fully adjustable.
    
High capacity Heating, Ventilation, and Air Conditioning (HVAC) system dehumidifies and pressurizes cab, sealing out dust, and helps keep windows clear.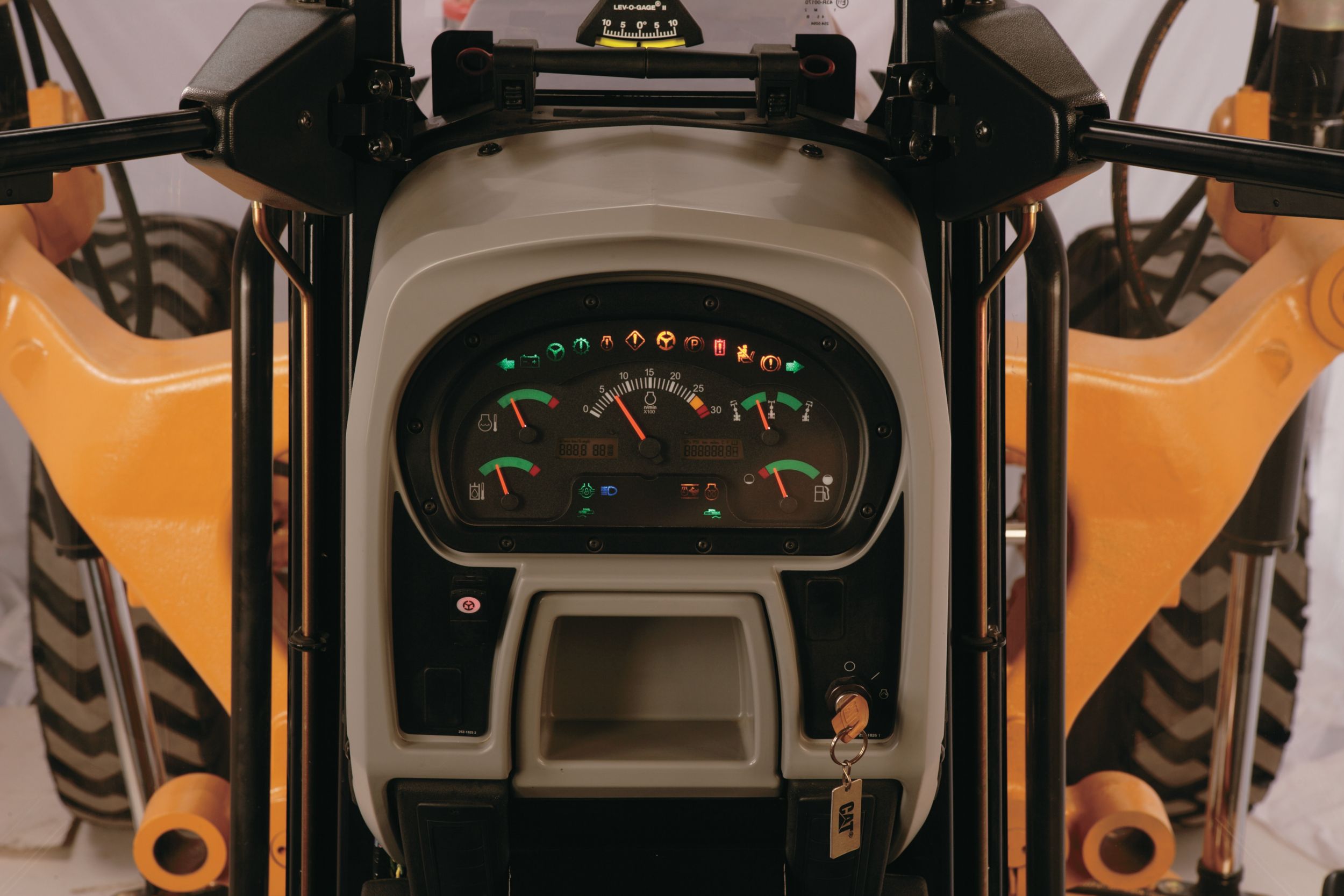 Technology
    
Shuttle Shift allows smooth, fast direction shifts without requiring you to manipulate the throttle or inching pedal.
    
Cat Product Link™ aids your equipment management with remote monitoring capabilities.
    
Optional Stable Blade improves grading by decreasing engine speed at 15 percent intervals when machine bounce is detected then increases engine rpm systematically when grader stabilizes.
    
Optional Auto Articulation allows you to articulate automatically while steering in tight spaces or around curves, obstacles, and turnarounds. 
    
Optional Cat GRADE with Cross Slope helps maintain desired cross slope by automatically controlling oneside of the blade.
    
Optional Cat AccuGrade™ uses positioning and guidance technologies, machine sensors, and automatic blade control to help get to grade faster, easier and more efficiently.
    
Optional Cat Advanced Control Joysticks allow you to control automated grading solutions efficiently and safely without removing your hands from the joysticks.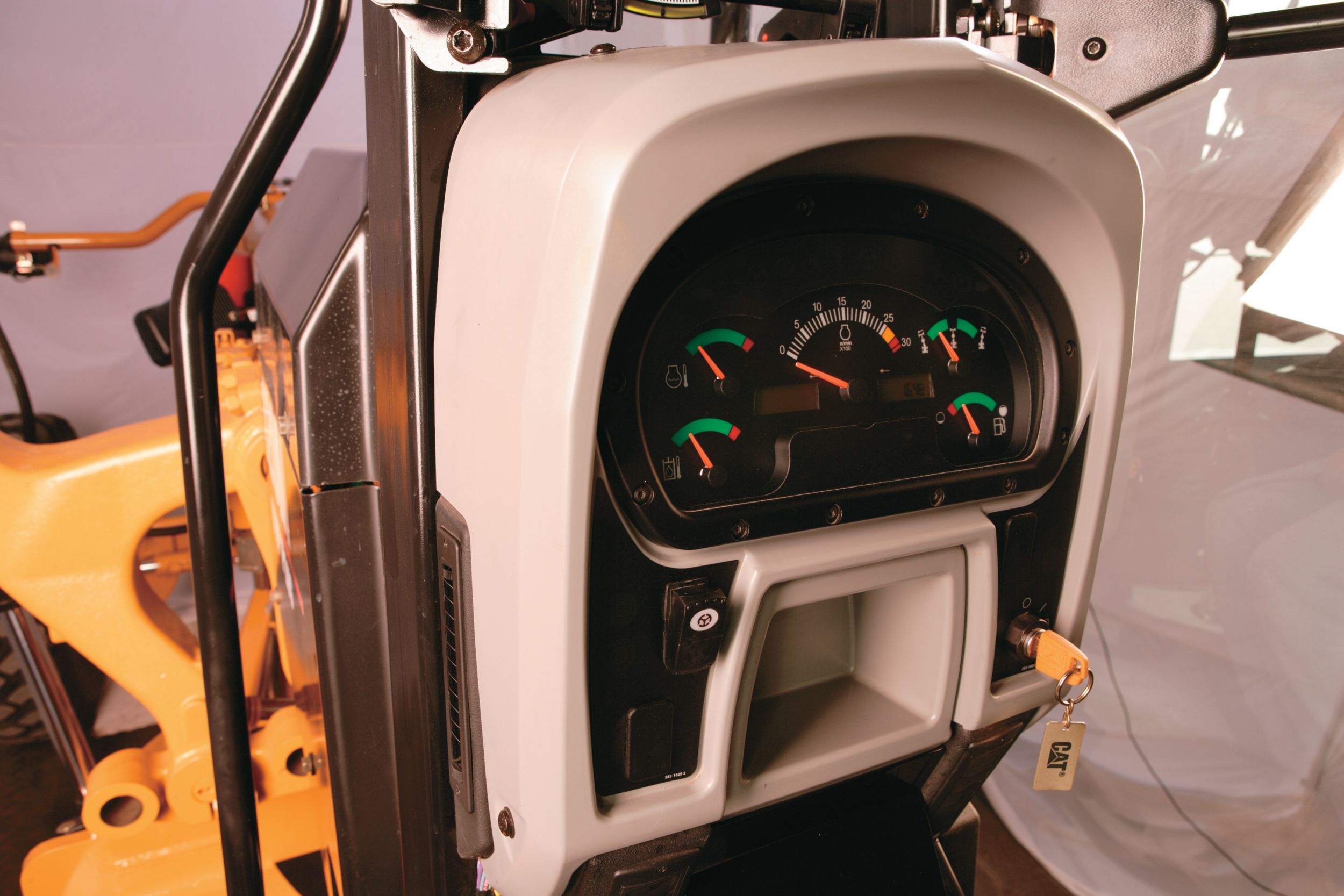 120M/120M AWD Standard Equipment
POWER TRAIN
Air cleaner, dual stage, dry type, diesel, with automatic engine derate and automatic dust ejector, service indicator through Cat Messenger
Air-to-air after cooler (ATAAC)
Belt, serpentine, automatic tensioner
Brakes, oil disc, four-wheel, hydraulic
Demand fan, hydraulic
Differential Lock/Unlock, Automatic
Drain, engine oil, ecology
Electronic over speed protection
Engine Cat C6.6 with ACERT Technology, diesel, with automatic engine derate and idle control.
Fuel tank, 341 L (90 gal), ground level access and sediment drain
Muffler, underhood
Parking brake - multi disc, sealed, oil-cooled
Priming pump, fuel
Rear axle, modular
Sediment drain, fuel tank
Tandem drive
Transmission, 8F/6R, power shift, direct drive
VHP Plus (Variable Horsepower Plus)
ELECTRICAL
Alarm, back up
Alternator, 80 ampere, sealed
Batteries, maintenance free, heavy duty, 1,125 CCA
Breaker panel, ground accessible
Cab harness and electrical hydraulic valves
Electrical system, 24V
Grade Control Ready - Cab harness, software, electrical hydraulic valves, bosses and brackets
Lights, roof-mounted roading, reversing, LED stop and tail
Product Link
Starter, electric
OPERATOR ENVIRONMENT
Accelerator
Air conditioning with heater
Arm and wrist rest, electronically adjustable
Articulation, automatic Return-to-Center
Cat Messenger operator information system
Centershift pin indicator
Coat hook
Cup holder
Display, digital speed and gear
Doors, left and right side with wiper
Gauge, machine level
Gauge cluster (analog) - fuel, articulation, engine coolant temp, engine RPM, hydraulic oil temp
Hour meter, digital
Joystick hydraulic controls right/left blade lift with float position, circle drive, blade sideshift and tip, centershift, front wheel lean, articulation and steering
Joystick, adjustable armrests
Joystick gear selection
Joystick hydraulic power steering
Ladders, cab, left and right side
Lights, night time cab
Mirror, inside rearview, wide angle
Power port, 12V
Radio Ready, Entertainment
ROPS cab, sound suppressed
Seat, cloth-covered, comfort suspension
Seat belt, retractable 76 mm (3 in)
Storage area for cooler/lunchbox
Throttle control, electronic
Windows, laminated glass: fixed front with intermittent wiper; side and rear (3)
FLUIDS
Antifreeze
Extended Life Coolant to -35 degrees C (-30 degrees F)
TIRES, RIMS AND WHEELS
Partial allowance for tires on 229 x 607 mm (9 x 24 in) single-piece rims is included in the base machine price and weight
OTHER STANDARD EQUIPMENT
Accumulators, brake, dual certified
Anti-glare paint
Bumper, rear, integrated with hitch
CD ROM Parts Book
Clutch, circle drive slip
Cutting edges: 152 x 16 mm (6 x 5/8 in); curved DH-2 steel; 19 mm (3/4 in) mounting bolts
Doors (3), engine compartment, locking
Drawbar - 4 shoes, replaceable wear strips
Electrical hydraulic valves, hydraulic lines for base 8 functions
Endbits: 16 mm (5/8 in) DH-2 steel; 19 mm (3/4 in) mounting bolts
Fluid check, ground level
Frame, articulated, with safety lock
Ground level engine shutdown
Ground level fueling
Hammer (emergency exit)
Horn, electric
Hydraulic lines for base functions
Horn, electric
Hydraulic lines for base functions
Lockout, hydraulic implement (for roading and servicing)
Moldboard - 3658 x 610 x 22 mm (12 ft x 24 in x 7/8 in)
Mounting, cab roof accessories
Pump, hydraulic, high capacity, 98 cm� (6 in�)
Radiator, cleanout access
Secondary steering
Serviceability, left-hand side
SOS ports: engine, hydraulic, transmission, coolant, fuel
Tandem walkway/guards
Tool box
Tow hitch
120M/120M AWD Optional Equipment
POWER TRAIN
Precleaner, snow/debris
Transmission, autoshift
ELECTRICAL
Alternator, 150 ampere
Batteries: extreme duty, 1,400 CCA
Converter, communication (CB)
Lights: Headlights, high; Headlights, low; Working lights, basic; Working lights, plus; Warning: beacon or strobe; Mounting for warning light
GUARDS
Articulation guard
Axle hose guard
Fenders, front
Fenders, rear
Sound guard (bottom)
Transmission guard
OPERATOR ENVIRONMENT
Deluxe CD radio with MP3 and Blueooth technology
Fan, defroster, rear window
Mirrors, outside: heated 24V, mounted
Precleaner, HVAC
Radio ready, AM/FM
Seat, air suspension, cloth
Shade, sun
Wiper/washer, rear
OTHER ATTACHMENTS
AccuGrade ARO
Accumulators, blade lift
Camera, rearview
Cat Grade Control Cross Slope
Cat Product Link 522 (Cellular)
Cat Product Link 321 (Satellite)
Compressor/tank, air
Heater, engine coolant: 120V, 240V
Hydraulic arrangements with one or more additional hydraulic valves are available for ripper, dozer, snow wings, front lift group, mid-mount scarifier
Security system
Snow wing mounting, frame ready
Sound suppression
Starting aid, ether
WORK TOOLS/GROUND ENGAGING TOOLS
Blade extension, left hand, 610 mm (2 ft)
Endbits, overlay
Front lift group, mounting
Front lift group
Mid-Mount Scarifier, Package
Mid-Mount Scarifier, Mounting
Moldboard - 3658 x 610 x 22 mm (12 ft x 24 in x 7/8 in)
Push plate
Ripper, mounting
Ripper, rear
Ripper tooth
Scarifier, front
MACHINE ARRANGEMENTS