M320D2 Standard Equipment
ELECTRICAL
Alternator, 75 ampere
Lights: – Halogen working lights

Cab mounted: two front, one rear
Boom

– Roading lights

Halogen front lights
LED rear lights

– Halogen interior light
Main shut-off switch
Two Cat maintenance free heavy-duty batteries
Signal/warning horn
ENGINE
Cat C7.1 meets China III Nonroad emission standards and meets Tier 3/Stage IIIA equivalent emission standards
Automatic engine speed control, including one touch low idle
Automatic starting aid
Power mode selector (Eco and standard)
Altitude capability: 3000 m
Fuel/water separator with level indicator, fuel priming pump, water level switch and a visual restriction indicator
HYDRAULICS
Cat XT-6 ES hoses
Adjustable hydraulic sensitivity
Oil cooler
Anti-drift valve for bucket cylinder
Hydraulic mineral oil, Cat HYDO™ Advanced 10 oil
Heavy lift mode
Load-sensing hydraulic system
Separate swing pump
Stick regeneration circuit
OPERATOR STATION
Reinforced cab structure compliant with 2006/42/EC (tested according to ISO 12117-2:2008) (Not available in all markets. Available only for Africa, Middle East and Eurasia. Please contact your Cat dealer for details.)
Washer bottle for wipers
Interior lighting
Joysticks, pilot operated
Literature compartment behind the seat
Mounting provisions for radio and speakers
Adjustable armrests
Air conditioner, heater and defroster with automatic climate control
Ash tray with cigarette lighter (24 volt)
Beverage cup/can holder
Bolt-on guards capability
Bottle holder
Bottom mounted, intermittent, parallel wiping system that covers the upper and lower windshield glass
Camera mounted on counterweight displays through cab monitor
Coat hook
Floor mat, washable, with storage compartment
Instrument panel and gauges, with full color monitor display: – Information and warning messages in local language – Gauges for fuel level, engine coolant and hydraulic oil temperature – Filters/fluids change interval – Indicators for headlights, turning signal, low fuel, engine dial setting – Clock with 10-day backup battery
Laminated front windshield
Left side console, tiltable, with lock out for all controls
Literature holder in right hand cab panel
Mobile phone holder
Parking brake
Positive filtered ventilation, variable speed
Power supply, 12V-7A
Rear window, emergency exit
Retractable seat belt, 51 mm
Skylight
Sliding door windows
Steering column, tiltable
Storage area suitable for a lunch box
Sunshade for windshield and skylight
Travel speed lock
UNDERCARRIAGE
Hydrostatic transmission, two speeds
Creeper speed
Full hydraulic steering with emergency capability
Four wheel drive
Two-piece drive shaft
Heavy Duty axles, with advanced disc brake system and travel motor with adjustable breaking force
Oscillating front axle, lockable, with remote greasing point
Steps, wide, left and right
Toolbox, left and right
OTHER EQUIPMENT
Automatic swing brake
Counterweight, 4000 kg
Mirrors, frame and cab
Cat Product Link
Capability to add other auxiliary hydraulic circuits
Caterpillar Datalink and Electronic Technician capability
Door locks and cab locks with Caterpillar one-key security system
S∙O∙S quick sampling valves for engine oil, hydraulic oil and coolant
M320D2 Optional Equipment
AUXILIARY CONTROLS AND LINES
Auxiliary boom and stick lines
Basic control circuits: – Medium pressure

Two-way, medium pressure circuit, for rotating or tilting of work tools

– Tool control/multi function

One/two-way high pressure for hammer application or opening and closing of a work tool
Programmable flow and pressure for up to 10 work tools – selection via monitor
Quick coupler control

Pattern changer
FRONT LINKAGE
Booms: – One-piece boom, 5350 mm – VA boom (two piece), 5260 mm
Bucket linkage with diverter valve (Standard for Africa, Middle East and Eurasia)
Sticks: – 2500, 2800 mm
HYDRAULICS
Overload warning device (Standard for Africa, Middle East and Eurasia)
Boom and stick lowering control devices (Standard for Africa, Middle East and Eurasia)
ELECTRICAL
Travel alarm with or without three selectable modes
Refueling pump
Lights: – Rotating beacon on cab
OPERATOR STATION
Front and top guards
CD/MP3 Radio (12V) at rear location including speakers and 12V converter
Windshield: – One piece – 70/30 split, openable, with visor for rain protection
Seats: – Vertical mechanical suspension with manual weight adjustment and mechanical lumbar support – Vertical air suspension, horizontal suspension, automatic weight adjustment, mechanical lumbar support, passive climate system, seat cushion length and angle adjustment and a seat heater
Auxiliary high pressure pedal
UNDERCARRIAGE
Undercarriages: – Blade front/outriggers rear – Outriggers front/blade rear – Outriggers front and rear (Not available in all markets. Please contact your Cat dealer for details.)
Tires: – Pneumatic 10.00-20 dual – Solid rubber 10.00-20 dual (Not available in all markets. Please contact your Cat dealer for details.) – Spacer rings for tires – Fenders (Not available in all markets. Please contact your Cat dealer for details.)
OTHER EQUIPMENT
Cat Machine Security System (MSS)
Uppercarriage access steps with integrated tool box
Cab protecting guards, front and top
PERFORMANCE AND PRODUCTIVITY
Cat C7.1 engine meets EU Stage IIIA equivalent emission standards.
Engine fuel system designed to manage world-wide fuel quality and provide outstanding low fuel consumption during both working and traveling applications.
One-Touch Low Idle Control and Automatic Engine Speed Control reduces engine speed if no operation is performed, reducing fuel consumption and sound levels.
Three working modes: Power mode, Eco Mode and Travel mode.
Constant Power Strategy, providing a quick response to changing loads, while delivering the same amount of power.
Choice of various booms and sticks provides the right balance of reach and digging forces for all applications.
Dedicated Swing Pump allows faster and smoother combined movements when using the implements while swinging.
EXPAND YOUR CAPABILITIES
Multiple configurations meet all your applications needs, with a choice of booms, sticks, blade and/or stabilizer undercarriages.
Highly mobile, the M320D2 can travel up to 37 km/h.
Standard one-way high pressure hydraulics allow customers to install attachments like hammers without adding other lines.
Ten hydraulic pump flow and pressure settings can be preset within the monitor allowing quicker and easier attachment (optional).
A lifting eye into the bucket linkage, the heavy lift mode and the overload warning signal allow operators to safely lift heavy loads.
Wide range of Cat attachments to handle any job at hand.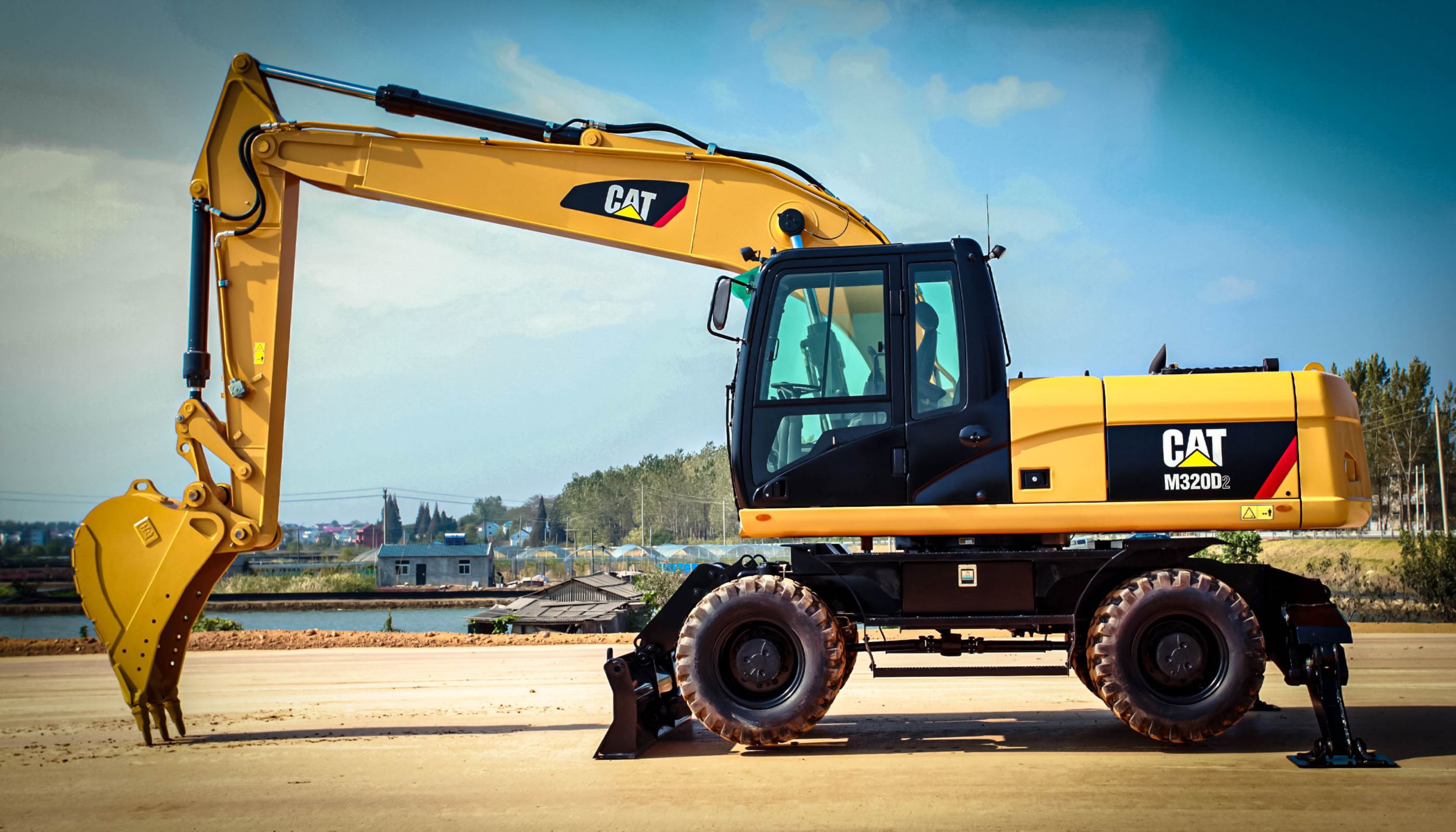 OPERATOR COMFORT AND SAFETY
ROPS cab structure and Operator Protective Structure (top and front guards) are available.
Ergonomically designed cab with controls kept to a minimum, conveniently located and easy to operate.
The optional air-suspension seat, with automatic weight adjustment and heated cushions enhance comfort and productivity.
Safety is enhanced by the all-round visibility provided by large glass areas and skylight and the standard rear-mounted camera image displayed on the full color monitor.
Low sound levels, as a result of the variable fan speed and remote cooling system enabling.
LOWER MAINTENANCE COSTS
500 hours fuel filter replacement (reduced to 250 hours if fuel quality is sub-standard) allows reduced maintenance cost.
All daily maintenance points are accessible from ground level.
Clean design, with colored and numbered electrical wires, protected by thick braiding for ease of service.
Greasing points are centralized and kept to a minimum.
Cat XT™-6 ES hoses are resistant and durable, which reduce the risk of leaks that can reduce the performance of the machine.
Rigidity and long life with effective transmission protection and heavy duty axle.
Standard heavy duty batteries for improved cold start capability.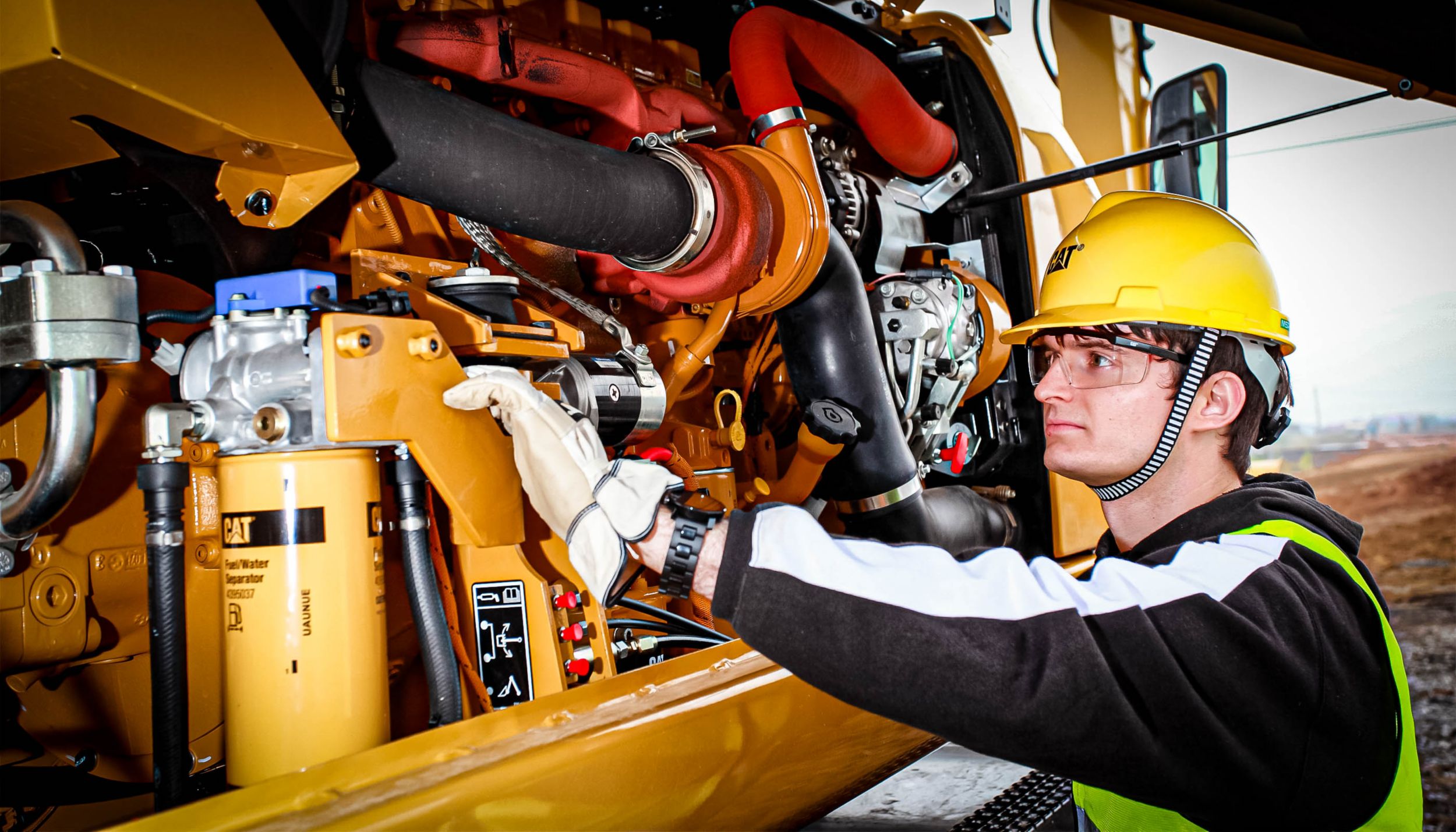 INTEGRATED CAT TECHNOLOGIES
Cat Connect technology solutions increase production and minimize operating costs. Link technologies wirelessly connect you to your job site, providing machine location, hours, fuel usage, idle time
and event codes.