ONE MACHINE, MANY JOBS
Largest track loader in the industry provides the power, breakout force and capacity to take on tough construction utility, forestry and quarry jobs.
Specialized Steel Mill configuration factory equipped to withstand high temperatures and steel mill conditions – handle hot slag with ease and safety.
Purpose-built Waste Handler features added guarding and seals, specialized air handling, plus a choice of track shoes and buckets to take on the challenges of landfill and transfer station work.
Quick coupler option adds versatility by allowing easy use of forks, buckets, etc. from wheel loaders and other machines.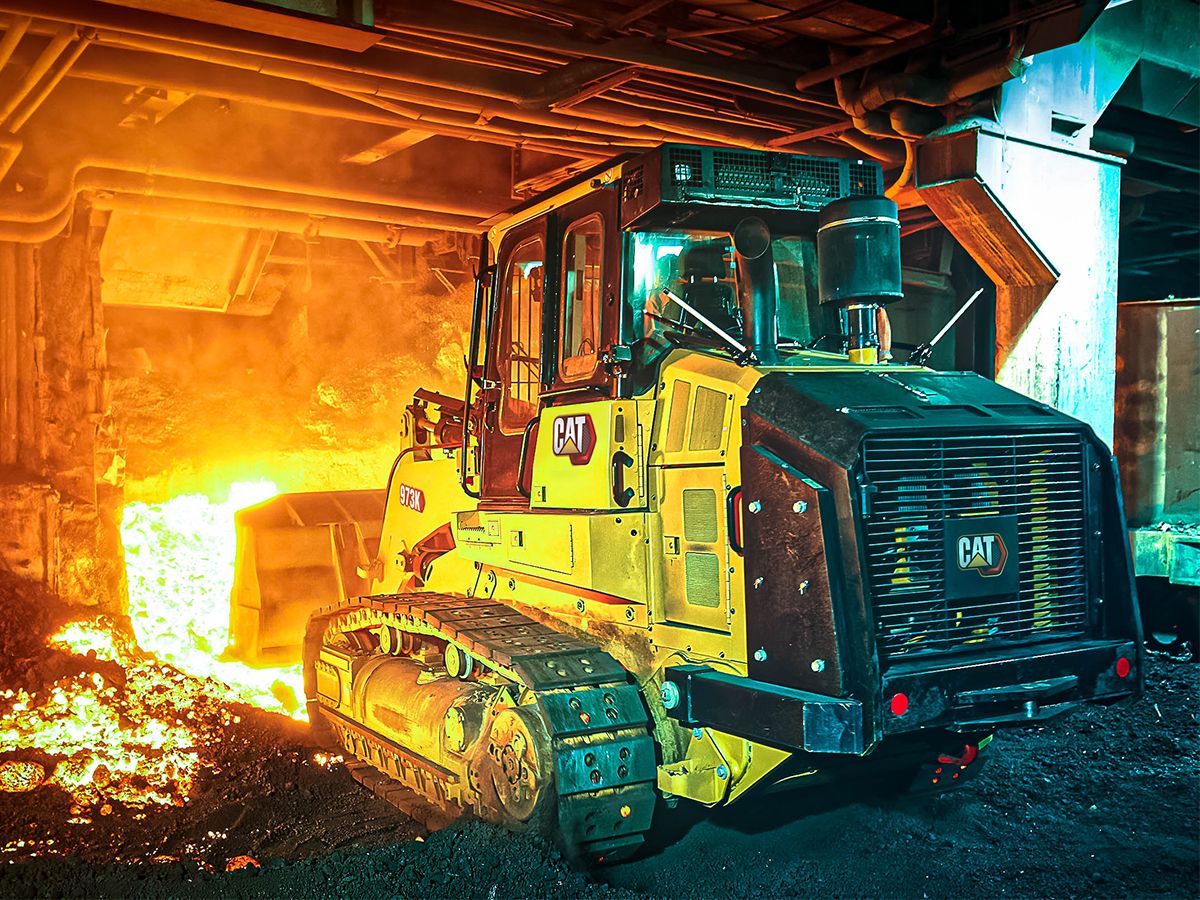 DO MORE WITH LESS FUEL
Reduce your fuel costs, using 10-25 percent less fuel per hour than the previous model.
Move up to 10 percent more material per hour with optional Performance Series bucket.
Easier maintenance and repair with a tilt cab and convenient service access points.
Demand fan provides efficient cooling plus easy service/ clean-out access.
Manage your fleet more effectively and profitably through remote monitoring with Product Link™/ VisionLink®.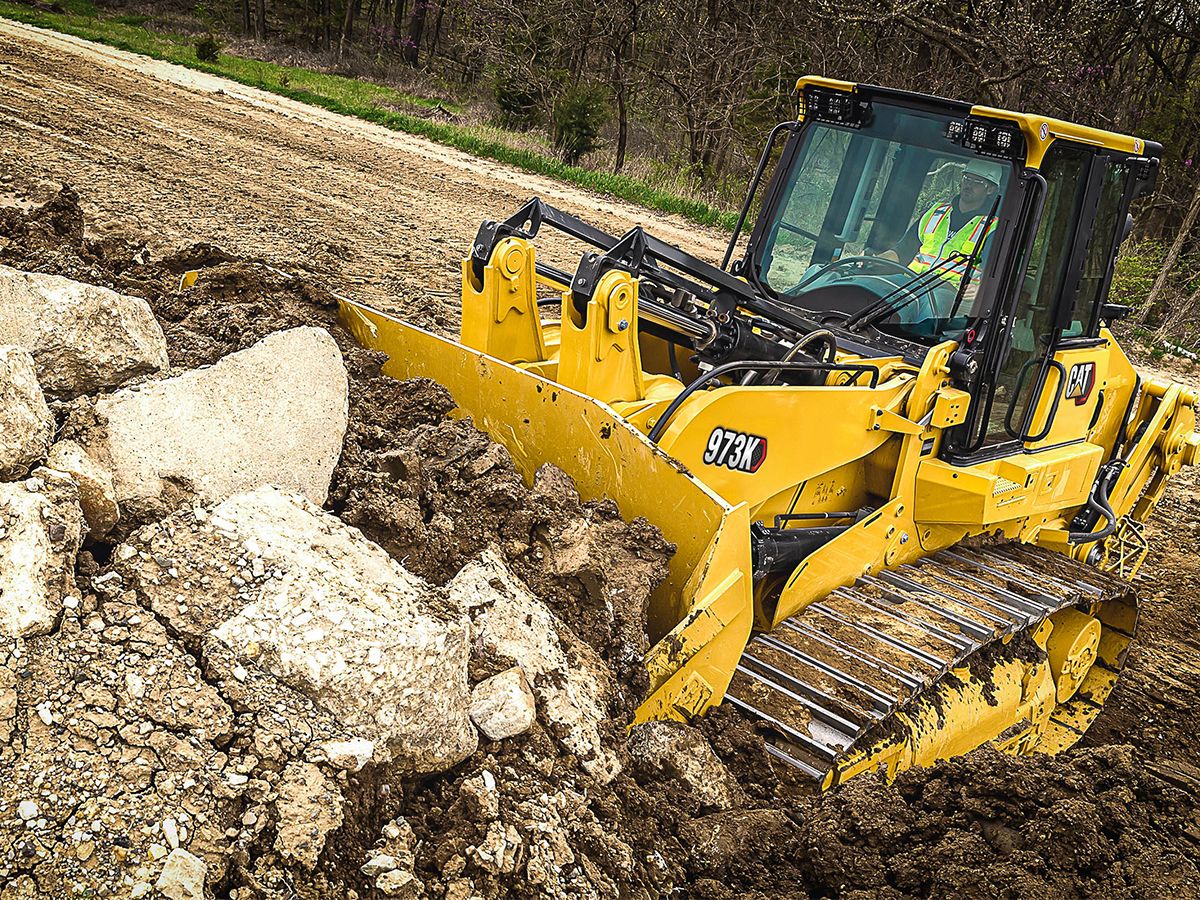 BUILT TO PERFORM
Smoother implement and steering response, and improved steering performance over the previous model.
Precise, responsive performance with features like load sensing hydraulics and position sensing cylinders.
Power and fast response under load with a Cat C9.3 engine.
Reduced engine noise compared to the 973D – quieter for the operator and others around the work site.
EASY TO OPERATE
Updated cab offers operator comforts like suspension seat, adjustable armrests and controls, and an improved air conditioning system.
Choose either joystick or two-lever implement controls to match operator preference or application.
Speed/steering controls available as either a joystick or as v-lever and foot pedals.
Emissions reduction technology is designed so regeneration runs automatically in the background while you work.
New handles and steps help operators climb on and off the machine more easily, from the front or the back of the tracks.
Excellent visibility to the bucket and all around the machine enhances safety and helps operators work more confidently.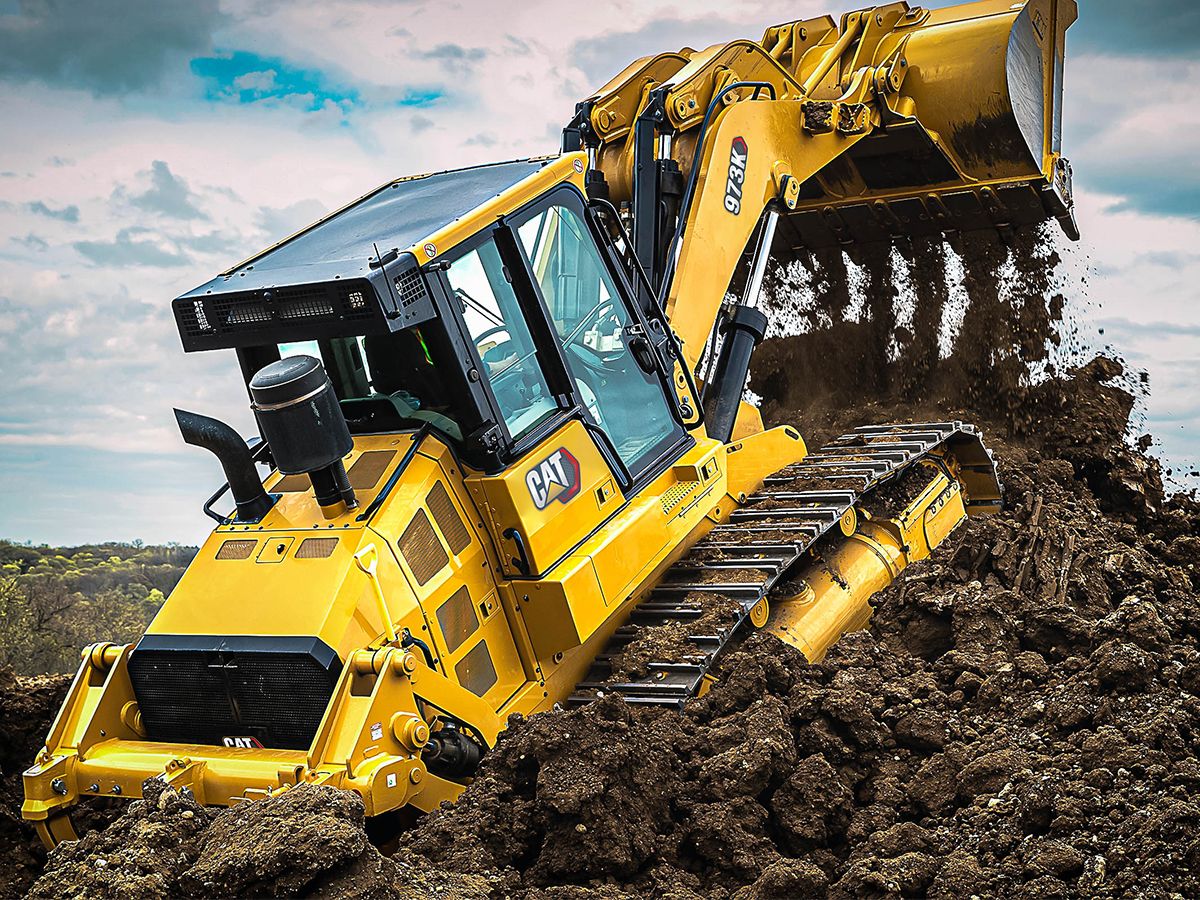 SAVE ON MAINTENANCE TIME
Tilt cab and convenient service access points for easier maintenance and repair.
Cooling system access from the engine compartment for easy clean-out.
Remote monitoring with Product Link™/VisionLink® helps you manage your fleet more effectively and profitably.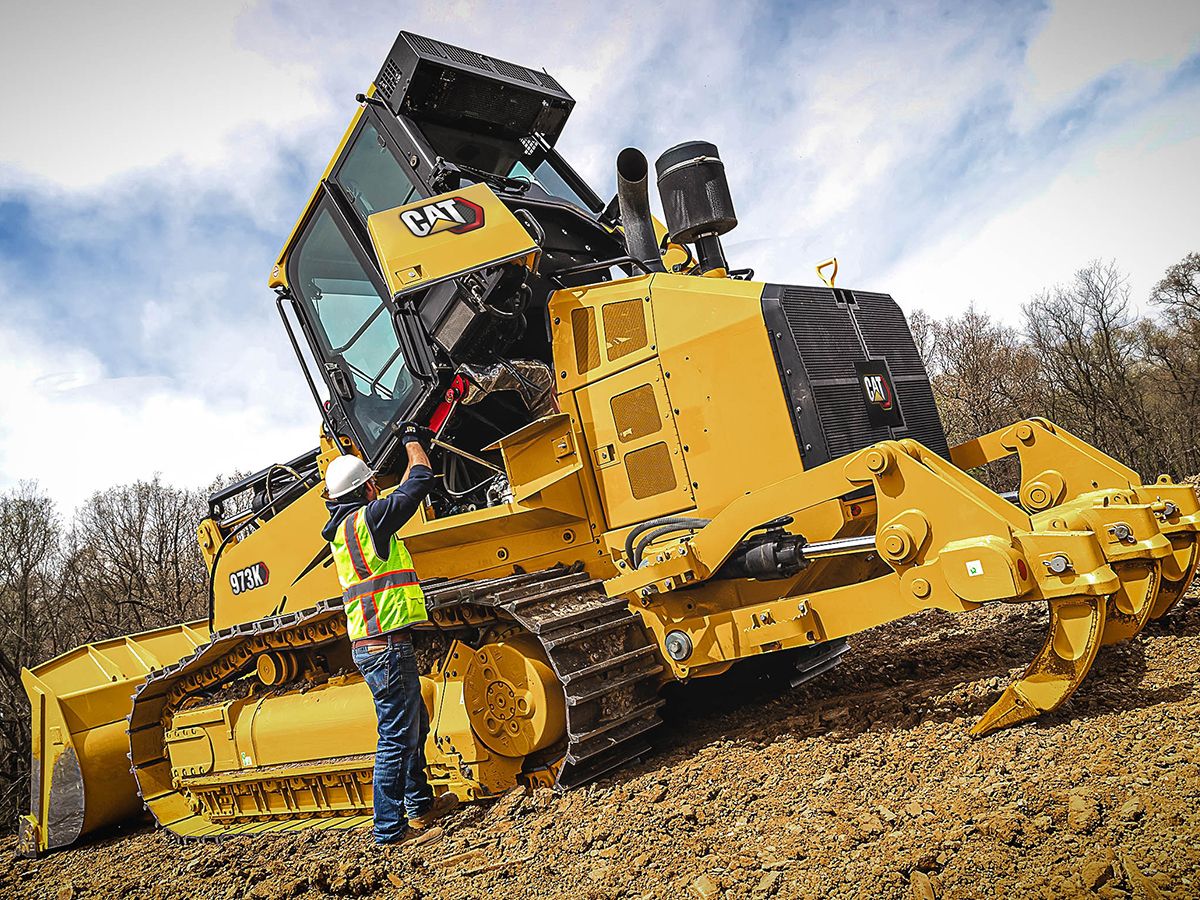 TAKE ON THE TRASH
Waste Handler arrangements feature added guarding and seals to give you a purpose-built machine to take on the challenges of waste applications. A choice of buckets and track shoes allow you to further optimize the machine for greater performance and service life.
Versatile machine for loading, sorting, excavation and spreading cover, well suited to the landfill or transfer station.
Specialized guarding, striker bars and seals help protect the machine and components from impact and airborne debris.
Final Drive guarding helps prevent wrapping and damage.
Bars help protect windshield and operator from breakage and debris. Cab door guards offer added protection.
Cooling system is designed for high debris environments and easy cleanout access.
Specialized air handling features help deliver cleaner air to the machine and to the cab.
Laminated thermal shields and insulated clean emission module.
Landfill buckets, equipped with heavy-duty trash rack, offer increased capacity and reduced spillage.
Center-hole track helps reduce packing. Choose from a variety of shoe types and widths to optimize the loader for your application.
Optional rear vision camera enhances visibility behind the machine.
Enhanced Cleaning Package -
Faster, easier cleanout.
Wide gauge undercarriage equipped with a standard track shoe allows more space for debris to pass between the track roller frame, tracks and chassis.
Design helps reduce damage caused by debris carried on the tracks.
Heavier waste configuration combined with narrower track shoes increases ground pressure for greater compaction.

Note: Features may vary by model and region. Please consult your Cat dealer for details and availability.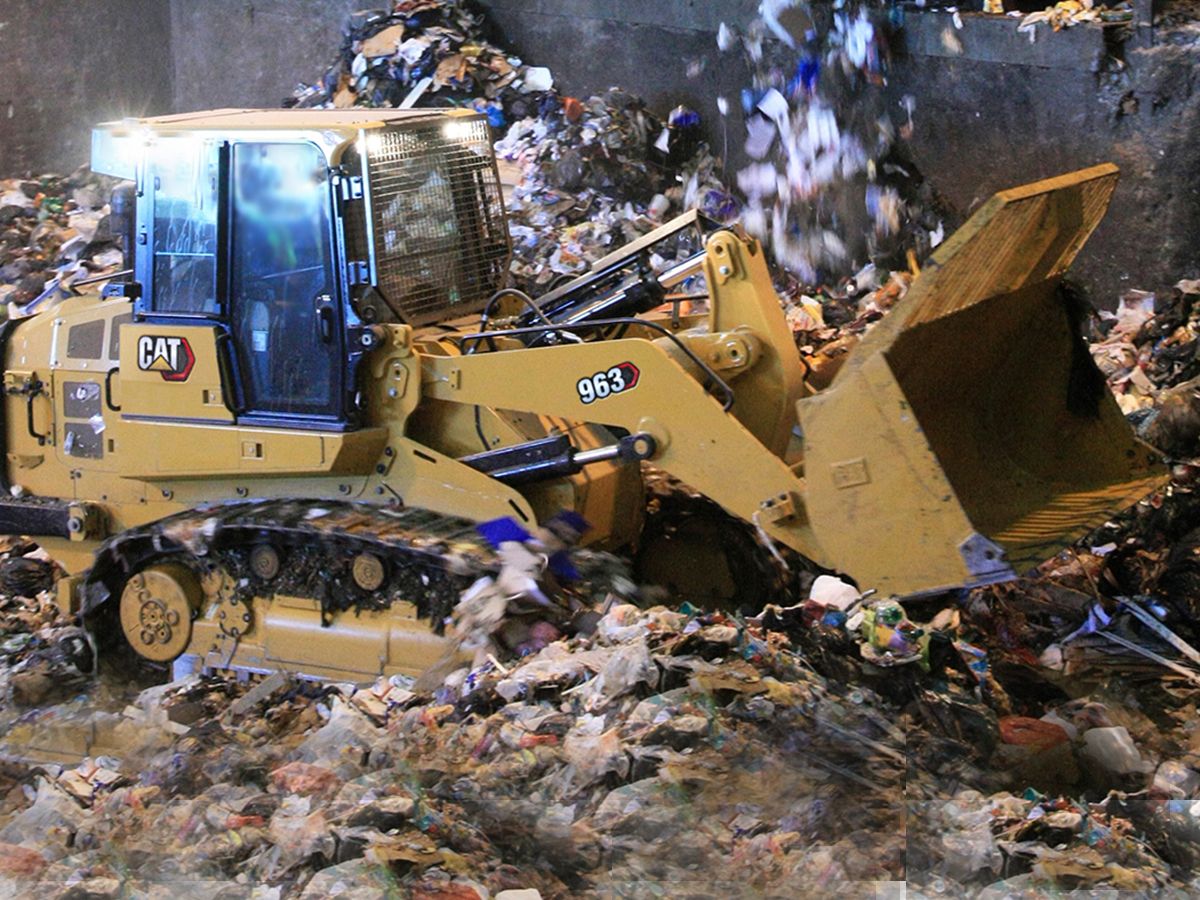 KEEP THINGS SHIPSHAPE
Specialized Ship Hold machines give you the optimal combination of traction, high reach and machine balance makes track loaders ideal for working in ship holds and port handling duties.
Specialized implements, like coal buckets and trim blades, help you sweep down walls and handle a variety of materials.
Fusion Quick Coupler option adds versatility with easy use of forks, buckets and other attachments from compatible machines.
Specialized sealing, guards and bumpers help protect key components.
Front and rear eyes widely spaced for stability during lifting.
Added lighting packages help illuminate the work area.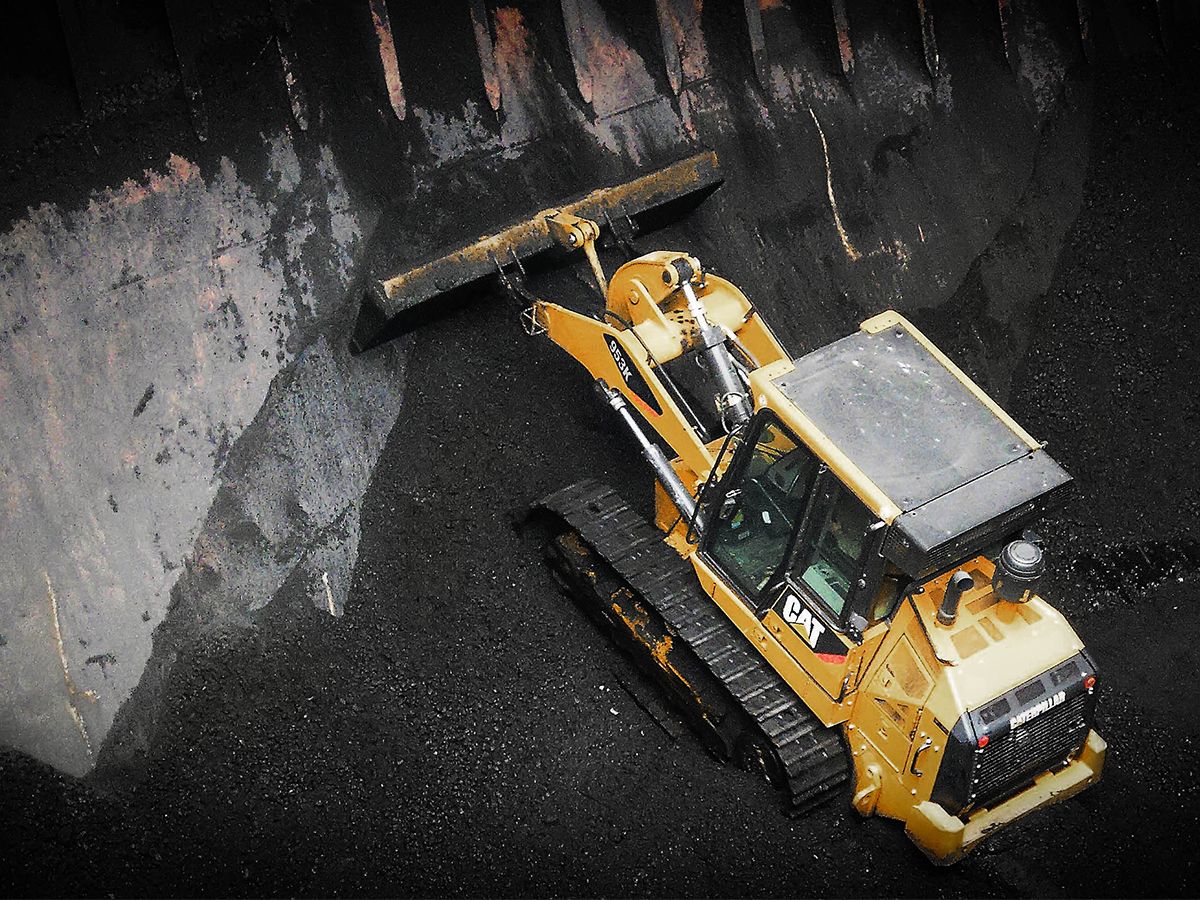 HANDLE THE HEAT
Factory-designed and installed features equip your 973 track loader for the extreme heat and harsh conditions of steel mill work. Maneuverability, visibility and the breakout force needed for fast cycle times make crawler loaders a rugged and efficient choice for handling slag.
Specialized heavy duty guarding, insulation, thermal deflectors and high temperature seals throughout the machine.
Welded side bars reduce thermal distortion of the track roller frame.
Anti-abrasion guards protect the final drive seals.
Pressure relief/flash spark arrester on fuel tank cap.
Steel mill cab with heavy duty, laminated windshield glass.
Metallic screen on windshield grill to help protect glass and maintain good visibility; hinged for quick cleaning access.
Metallic shield integrated in bottom of cab doors helps protect windows against slag.
Specialized heat resistant seals and cab materials.
Steel plate on top of cab greatly reduces radiant heat transfer into cab.
High capacity slag bucket features thicker structures and stronger teeth/cutting edges for longer service life.
Choice of track shoes lets you optimize your loader for traction and to work on paved surfaces.
Synthetic, fire-resistant hydraulic fluid.

Note: A Partial Steel Mill package is available for Cat 953 and 963 Track Loader models. The base package offers specialized seals and guarding, as well as machine features to allow dealer upgrades to your track loader for work in high-temperature conditions. The Partial Steel Mill package does not include modifications required to work in hot slag. Please consult with your Cat dealer for details.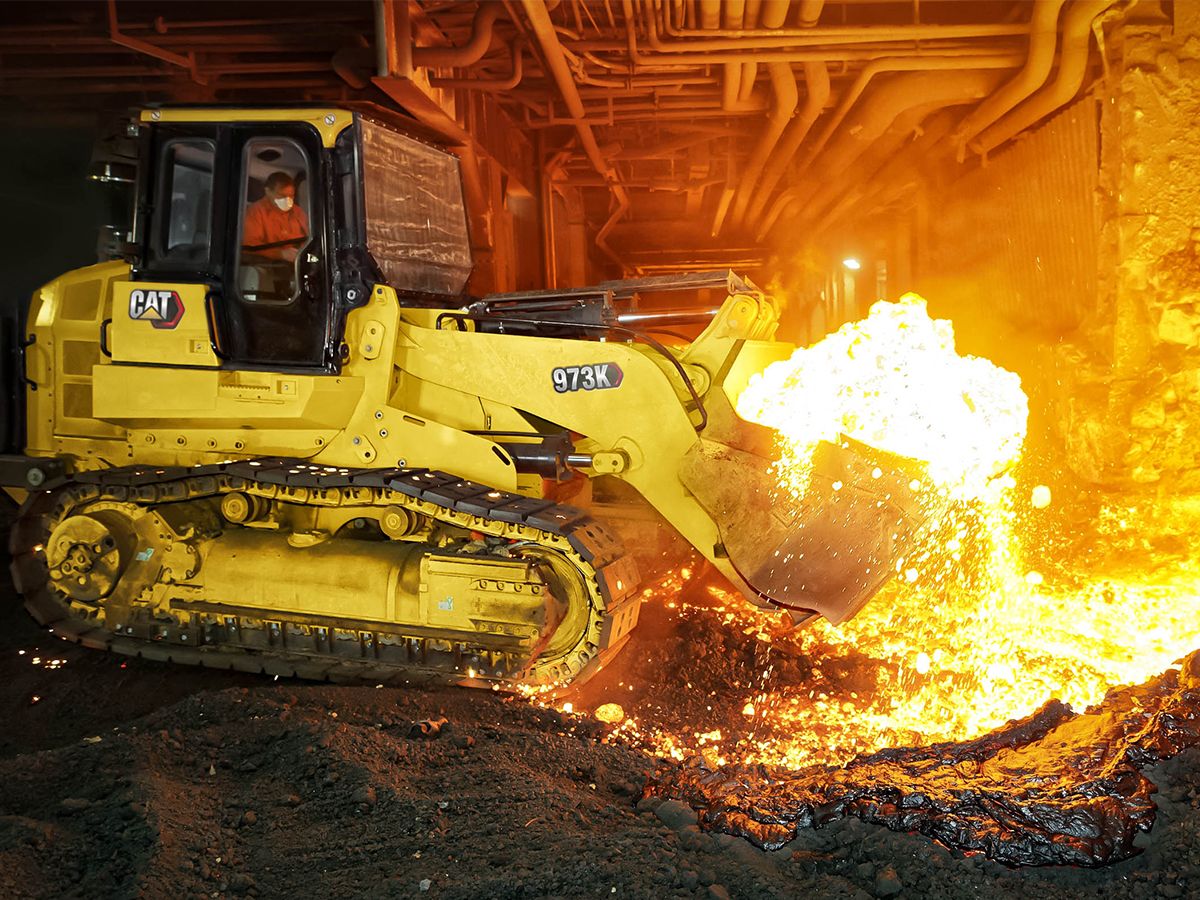 973K Standard Equipment
Power Train
Cat C9.3 diesel engine
Engine mounted aftertreatment to meet U.S. EPA Tier 4 Final/EU Stage V/Japan 2014 (Tier 4 Final), Korea Tier 4 Final emission standards OR Cat C9.3 diesel engine to meet China Nonroad Stage III/UN ECE R96 Stage IIIA emission standards, equivalent to Tier 3/Stage IIIA
Turbocharged with ATAAC
Modular cooling system for engine air intake, oil and water
Radiator fan, electronically controlled, hydraulically driven, temperature sensing, on demand
Electro Hydrostatic Control (EHC) for transmission with travel and work modes
Fuel cooler
Water separator
Air cleaner dry-type, axial seal with integral precleaner and dust ejection system, electronic filter condition indicator
Caterpillar extended life coolant