MAXIMIZE PRODUCTIVITY
Move up to 13 percent more material per pass with the largest standard Semi-Universal blade in the size class (10.3 m³).
More horsepower than the previous model with a proven Cat C15 engine.
Dual Tilt blade option optimizes blade pitch for up to 10 percent more productivity.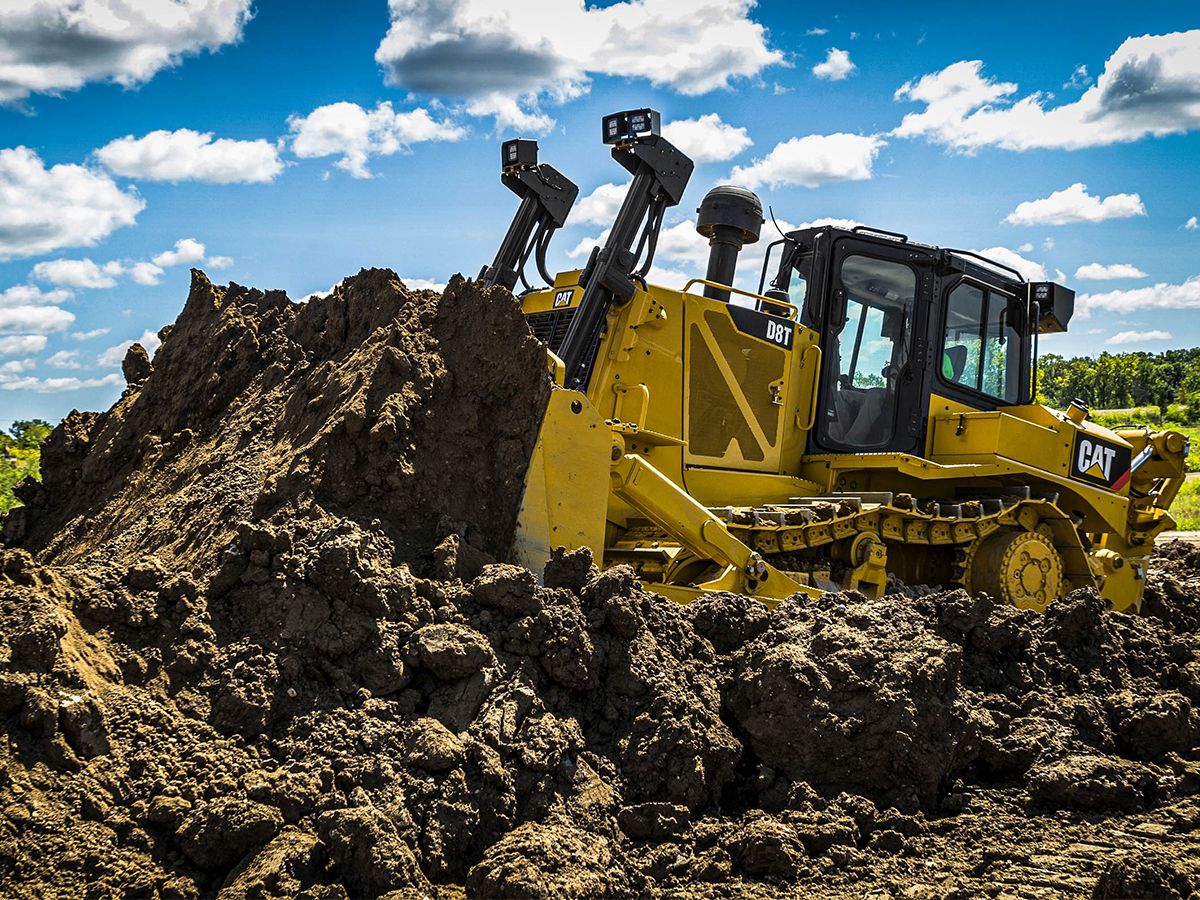 BUILT TO PERFORM
Simultaneous blade response and steering performance with dedicated implement and steering pumps.
Cab-mounted air conditioning condenser supports better system performance, improved engine cooling and serviceability.
Auto Shift automatically downshifts to the most efficient gear based on load for fuel savings.
OPERATOR COMFORT AND CONTROL
Updated cab, with an integrated Roll Over Protection Structure offers greater all around visibility.
Improved cab pressurization helps keep dust out for a cleaner operating environment.
Electro-hydraulic controls reduce operator effort , improve precision and response, and enable Cat GRADE technologies.
Liquid Crystal Display (LCD) places machine data, settings menus, grade control data and more conveniently in front of the operator.
LCD display is rear-camera-ready for added safety.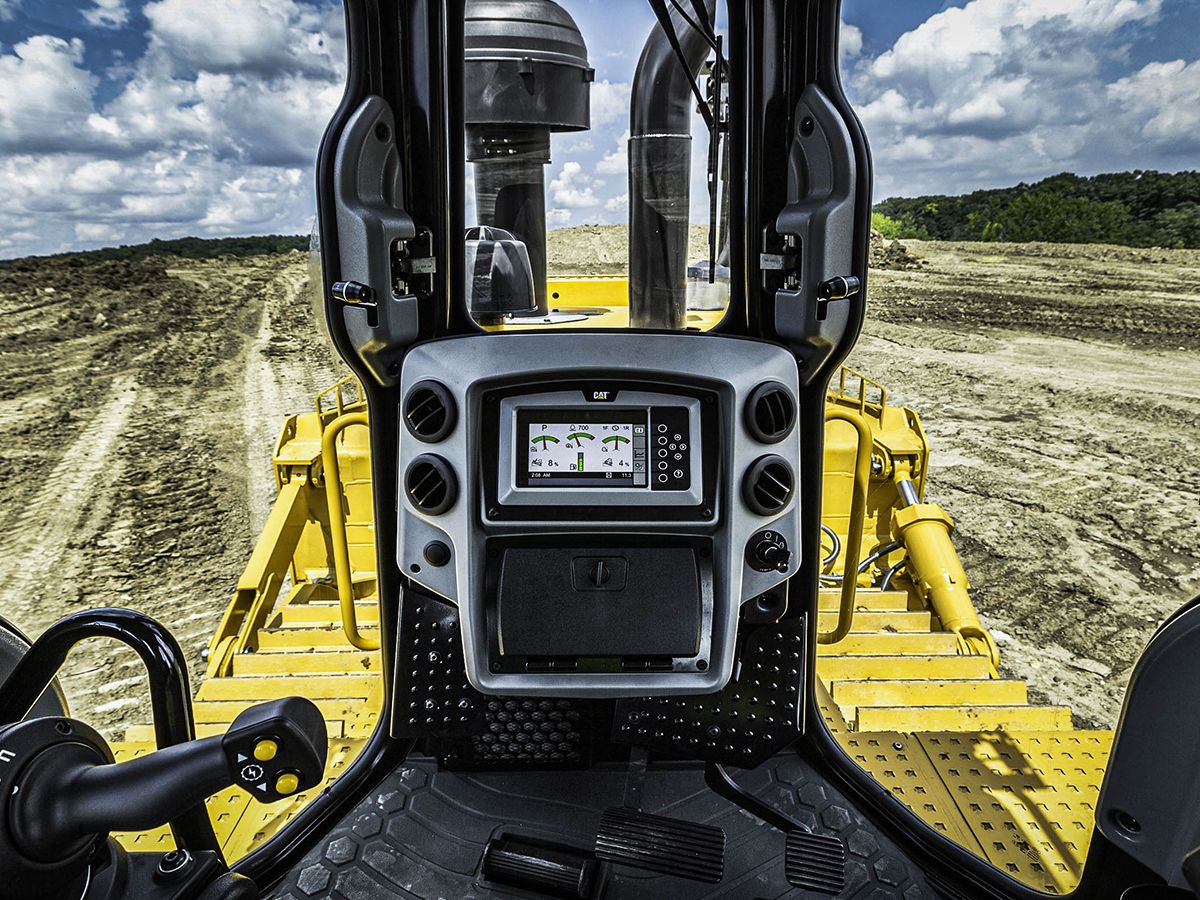 TECHNOLOGY THAT PUSHES PROFITS
Standard Slope Indicate displays machine cross-slope and fore/aft orientation right on the main display.
Cat GRADE with Slope Assist™ automatically maintains pre-established blade position without a GPS signal
Versatile, scalable Cat AccuGrade™ is an optional dealer-installed grade control system. Choice of Laser, Global Navigation Satellite System (GNSS) or Universal Total Station (UTS) so you get the right level of accuracy to match your job requirements.
Product Link™ collects machine data that can be viewed online through web and mobile applications.
Access information anytime, anywhere with VisionLink® and use it to make informed decisions that boost productivity, lower costs, simplify maintenance, and improve security on your job site.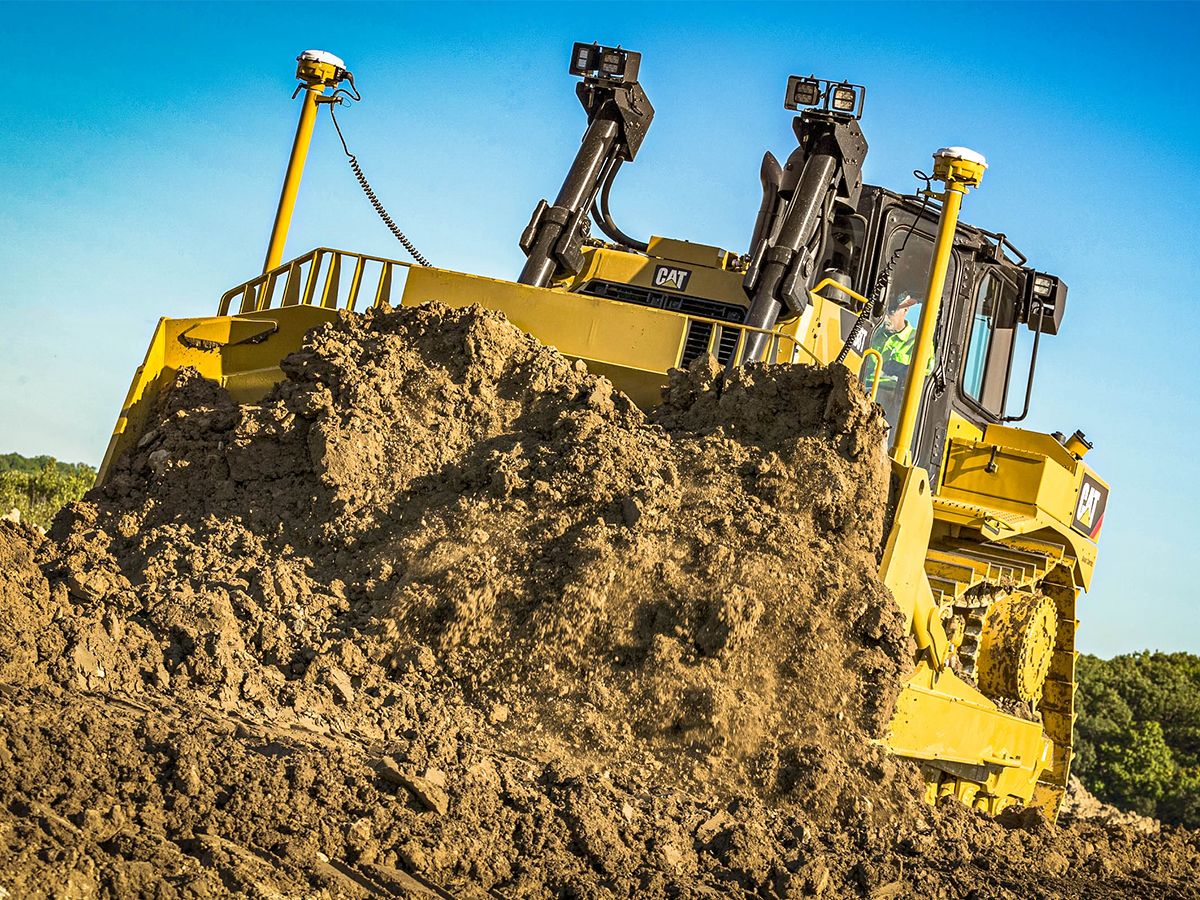 BECAUSE UPTIME COUNTS
Cat dozers are designed with features like wide engine panel access doors to minimize maintenance and repair time.
Cab-mounted air conditioning condenser supports better system performance, improved engine cooling and serviceability.
Ecology drains help reduce spills during power train fluid changes.
Fast fuel system at ground level, with positive fuel shut-off, helps prevent fuel spillage/waste and speeds refueling for more uptime.
High-speed oil change attachment to help make servicing even faster.
When you need repairs, Cat dealers and our unmatched Caterpillar distribution network excel at getting you the right parts you need quickly.
Maximize your equipment investment with services like Customer Support Agreements, preventive maintenance programs and guaranteed maintenance contracts.
Remanufactured parts offer a lower cost replacement option.
Certified Rebuild gives a "second life" for your machine.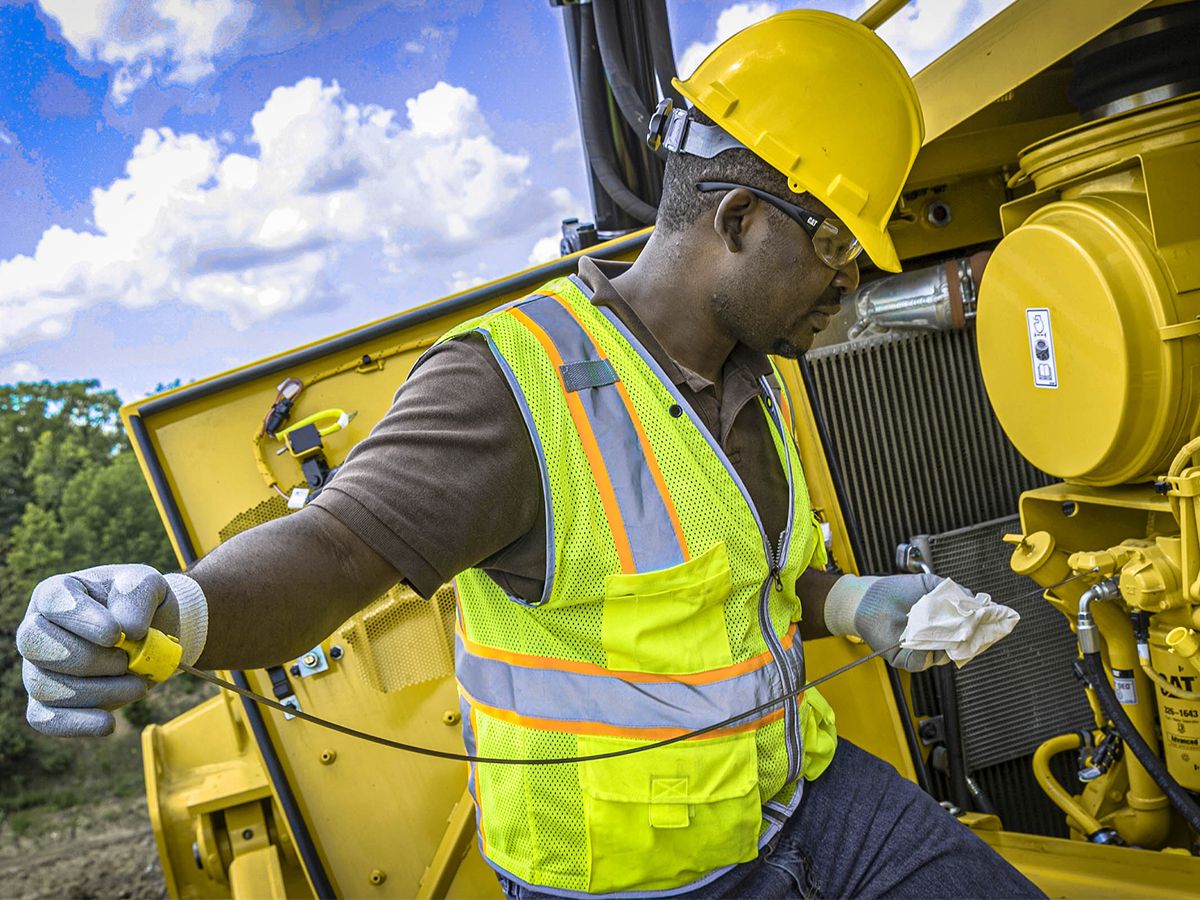 WASTE HANDLING PERFORMANCE
Build or close cells, push trash or spread cover – Cat Waste Handlers are designed and built from the frame up to take on the challenges of landfill work.
Specialized guarding, striker bars and seals help protect against impact and airborne debris.
Bottom and Final Drive guarding helps prevent damage from wrapping debris.
High debris cooling system with easy access for cleanout.
Specialized air handling features help deliver cleaner air to the machine and to the cab.
Landfill blades and center-hole track shoes help optimize your waste handler for the job.
Lights are mounted up and away from main debris area for protection, while still shining plenty of light on the work area.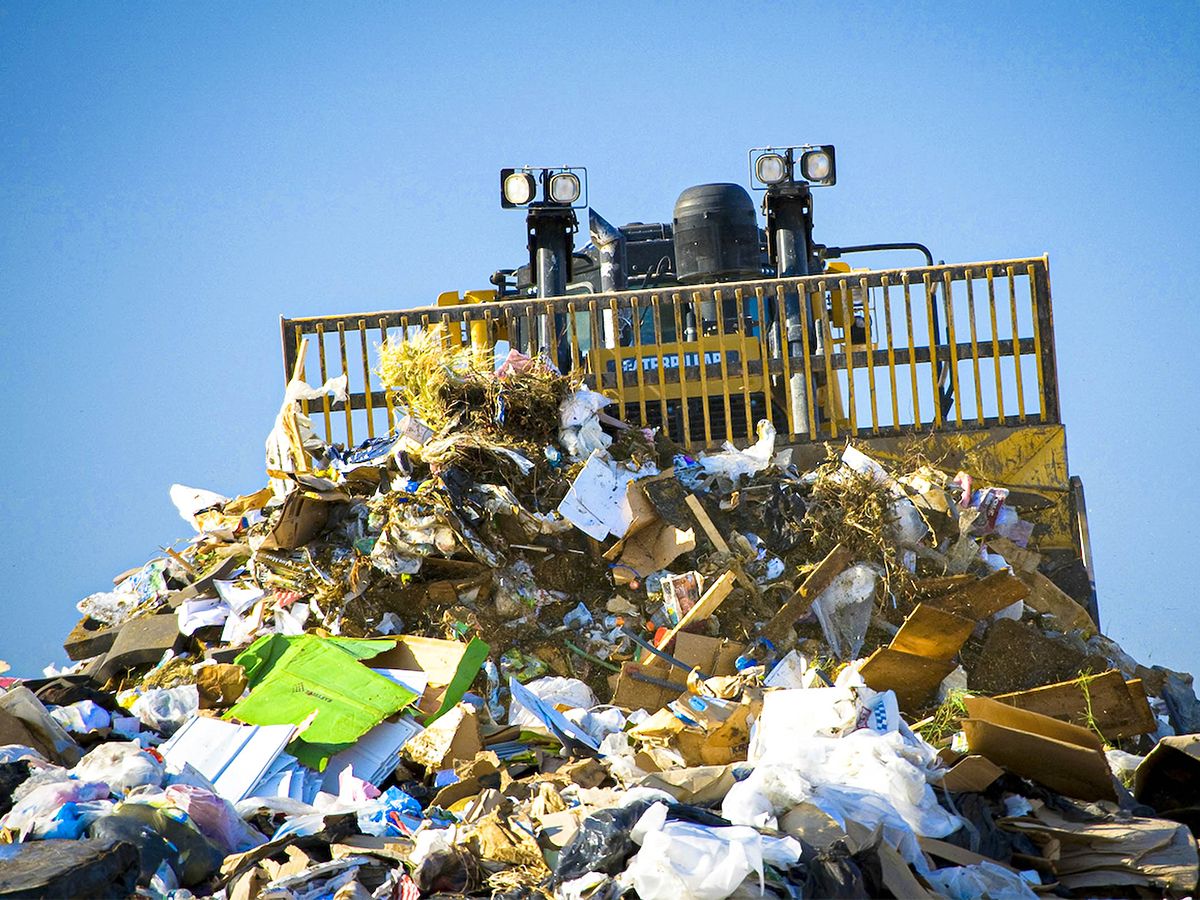 D8T Standard Equipment
Power Train
Cat C15 diesel engine - Meets Brazil MAR-1 emission standards, equivalent to Tier 3/Stage IIIA, or optionally Tier 2/Stage II as required by region
Radiator core, high performance aluminum bar plate
Air cleaner, preleaner with strata tube dust ejector
Air to air aftercooler (ATAAC)
Extended life coolant
Fan, reversing, hydraulically driven
Final drives, 4-planet double reduction planetary
Fuel priming pump
Muffler with mitered stack
Transmission powershift, 3F/3R speed
Parking brake
Prescreener
Grill doors, louvered
Torque divider
Turbocharger
Water separator
Undercarriage
Standard gauge 2083 mm
Equalizer bar
Guards, end track guiding
Idlers, life time lubricated
Track adjusters, hydraulic
Track rollers, life time lubricated
Track roller frames, suspended
Sprocket rim segments, replaceable
610 mm Moderate Service Track, sealed and lubricated - Positive Pin Retention (PPR); 44 section
Two piece master links
Electrical
Alarm, back-up
Alternator
Batteries, 4, 12V each, 24V system
Lights
Horn, forward warning
Electric start, 24V
Operator Environment
Integrated ROPS/FOPS operator station
Armrest, adjustable
Decelerator pedal
Differential steering tiller bar with dual-twist control
Electronic monitoring system (EMS): Hydraulic temperature; Power train temperature; Engine coolant temperature; Fuel level; Engine speed, tachometer; Service hour meter; System warning lamps
Foot pads, dash
Hydraulic controls, pilot operated with electronic deactivation switch
Mirror, rearview
Seat, adjustable contour suspension
Seatbelt, retractable, 76 mm wide
Other Standard Equipment
Engine enclosures and hood
Ripper ready hydraulics
Front pull device
Guards, bottom
Hydraulics - Load sensing dozer (lift/tilt) and ripper (lift/pitch)
Independent steering and implement hydraulic pumps
Instructions, international
Mounting, lift cylinder
Oil cooler, hydraulic
Operation and Maintenance manual - Paper
Parts book - CD ROM
Product Link ready
SOS sampling ports: Engine oil, Coolant, Power train oil, Hydraulic oil
Vandalism protection - Provision for cap-locks for fluid compartments, engine enclosures and battery box
D8T Optional Equipment
Power Train
Exhaust wraps, thermal, waste handler
Precleaner
Precleaner, with screen - dual stage
Precleaner, turbine - single stage
Fuel Lines
Fuel lines, B20 complient
Fuel Tank Filling Systems
Fill system, fuel, fast fill
Oil Change System
Oil change system, high speed
Hydraulics
Dozer tilt hydraulics
Hydraulics, dual tilt
Rear attachment hydraulics
Rear hydraulics, ripper (pilot)
Rear hydraulics, ripper (electro-hydraulic)
Final Drive Arrangements
Final drives, LGP
Final drives, LGP, guarded and sealed
Final drives, cold weather
Final drives, guarded and sealed
Special Arrangements
Waste Handling Arrangement
Undercarriage
Gauge arrangement: Standard
Gauge arrangement: LGP (Low Ground Pressure)
Gauge arrangement: Positive pin retention, suspended undercarriage
Gauge arrangement: Basic, suspended
Gauge arrangement: Suspended with guarded idler
Gauge arrangement: Suspended with cold weather rollers and idlers
Gauge arrangement: Non-suspended undercarriage arrangements
Gauge arrangement: Basic, non-suspended
Gauge arrangement: Carrier roller arrangement
Gauge arrangement: Standard carrier rollers
Gauge arrangement: Arctic carrier rollers - suspended undercarriage
Track arrangements: Positive pin retention track (44 section)
Track arrangements: 560 mm extreme service
Track arrangements: 560 mm extreme service, trapezoidal
Track arrangements: 610 mm moderate service
Track arrangements: 610 mm extreme service
Track arrangements: 660 mm moderate service
Track arrangements: 660 mm extreme service
Track arrangements: 710 mm moderate service
Track arrangements: 710 mm extreme service
Track arrangements: 710 mm moderate service, trapezoidal
Track arrangements: 710 mm extreme service, trapezoidal
Track arrangements: 965 mm extreme service, trapezoidal
Track arrangements: 965 mm extreme service
Starters, Batteries and Alternators
Alternator, standard (150 amp)
Alternator, ducted (150 amp)
Batteries, standard, 1,000 CCA
Batteries, cold weather, 1,000 CCA
Ether starting aid
Engine coolant heater, 240V
Electrical
Lighting groups*
Lights, six halogen work lights
Lights, premium, 10 LED lights
Lights, sweeps, eight halogen lights
Operator Environment
Cab glass options: Glass, single pan; Glass, dual pane; Canopy (no glass)
Air conditioning: Air conditioning (cab mounted); Air conditioning (underhood); No air conditioning (canopy only)
Cab seat: Seat, heated and ventilated, cloth, air suspension; Seat, vinyl, air suspension; Seat, cloth, air suspension; Seat, vinyl; Seat, cloth
Visibility arrangement: Rear vision camera
Power supply - in cab - 12V and 24V
Screens: Screen group - sun; Rear screen - cab; Rear screen - canopy
Platform Options - Quick opening (high debris applications); 5th percentile
*Lights for Rippers included in Ripper arrangements
Technology Products
Machine Control: Electro-Hydraulics - Single Tilt Control for Slope Assist; Basic Dual Tilt Control; Machine Control, ARO (Single Tilt or dual tilt)
Machine Control: Pilot Hydraulcis: Basic Single Tilt Control (pilot hydraulics); Basic Dual Tilt Control (pilot hydraulics)
Cat Technology: Product Link: Product Link Elite - PLE641; Product Link PL631; Product Link - PL641; No Product Link; Cat GRADE with Slope Assist; Cat AccuGrade (dealer installed)
Guards
Bottom guards, standard
Heavy duty, sealed
Heavy duty, sealed, powered
Heavy duty, sealed and sound suppressed
Heavy duty, sealed with front counterweight
Guard, fuel tank
Guard, fan debris
Guard, grill, debris
Sweeps
Striker bars - front
Work Tools
Rear attachments: Drawbar, rear (rigid)
Rear attachments: Rippers: Single shank; Single shank with pin puller; Single shank with pin puller and striker bars; Single shank with push blocks; Single shank with strike rbars; Multi-shank; Multi-shank with striker bars
Rear attachments: Ripper tooth: Multi-shank; Single shank; Shank, deep
Rear attachments: Hitch: Rear counterweight and hitch; Striker bar, storage box, drawbar and hitch
Rear attachments: Additional rear counterweight
Fluids
Lubricants/oils
Lubricant group - high ambient
Lubricant group - arctic
Coolant
Standard engine coolant (-37 degrees Celcius)
Arctic engine coolant (-50 degrees Celcius)
Service Package
Ecology drains - transmission and torque converter
Sealing
Seals, sound suppression
Seals, Waste
Bulldozer Installation Packages
8SU/U single tilt cylinder
8SU/U single tilt cylinder, guarded lines
8A blade
8 LGP dual tilt cylinders, guarded lines
8 LGP single tilt cylinder
8 LGP single tilt cylinder, guarded lines
8SU/U dual tilt cylinders, guarded lines
Push Arm Group
Single tilt standard
Dual tilt standard
Extreme service
Blade Options
8SU
8SU, Landfill
8U
8U, Landfill
8A
8SU LGP
8SU LGP, Landfill
Select blades also available with Rock Guard, Rock Guard and Wear Plate or Push Plate