EXPAND YOUR CAPABILITIES
Excellent machine balance, power-to-weight-ratio and VPAT blade for general dozing and fine grading.
For dozing productivity, updated SU configuration follows the design of larger Cat dozers with front-mounted lift cylinders to provide more breakout force and stability.
Forestry and landfill arrangements offer added features and guarding to take on especially harsh environments..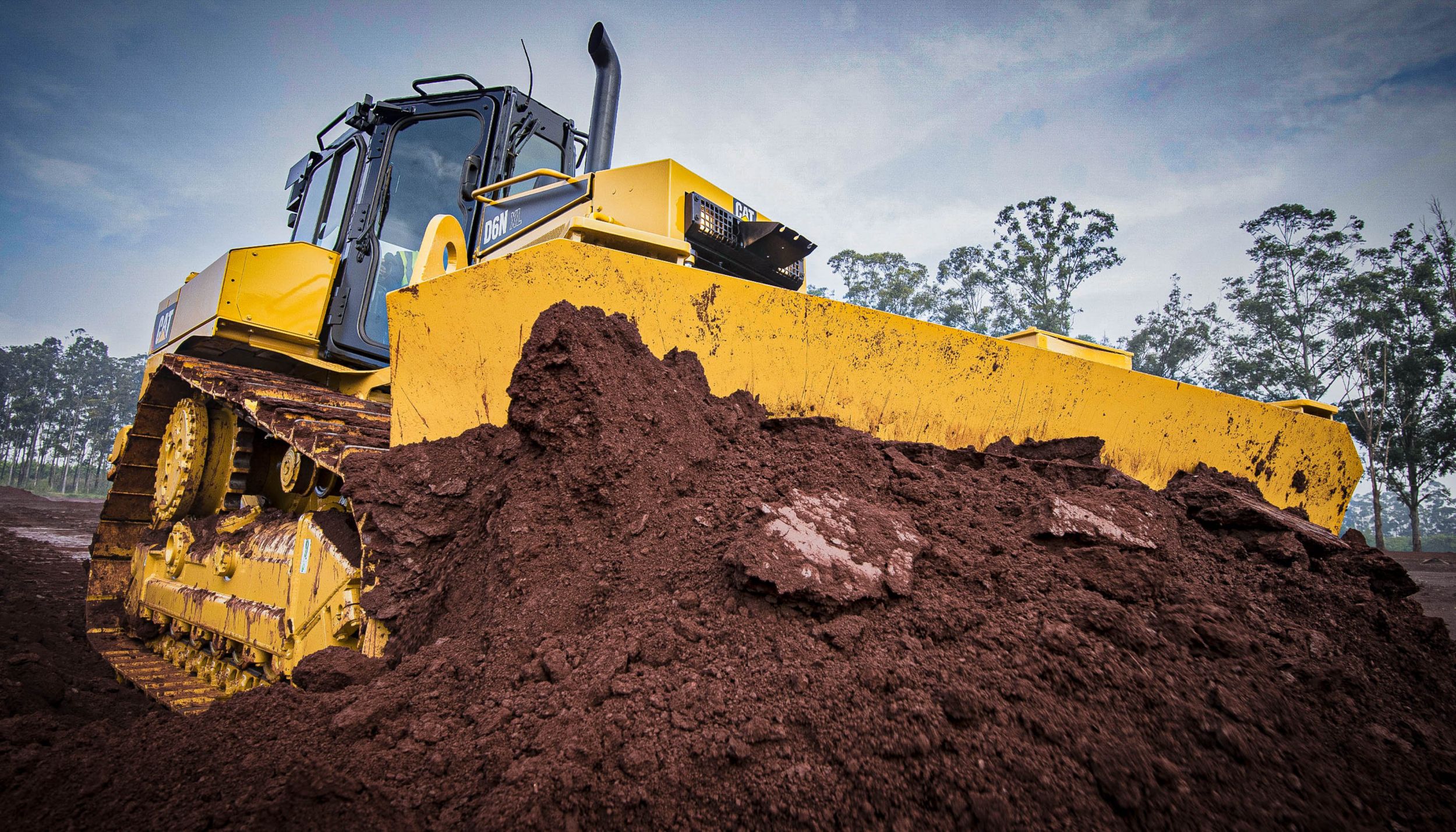 DESIGNED FOR OPERATORS
Spacious cab, with an integrated Roll Over Protection Structure (ROPS) and 15° offset seat, offers greater all around visibility.
Improved cab pressurization helps keep dust out for a cleaner operating environment.
Liquid Crystal Display (LCD)* places machine data, settings menus and more conveniently in front of the operator.
Low effort electro-hydraulic controls* offer precise response and facilitate GRADE technologies.
Choose the best speed for your job: 5-speed mode is easily adjusted with throttle dial.
Bi-directional control to preselect forward/reverse gears – automatically downshifts to the most efficient gear based on load for reduced operator effort and improved efficiency.

* Not available on SU configuration.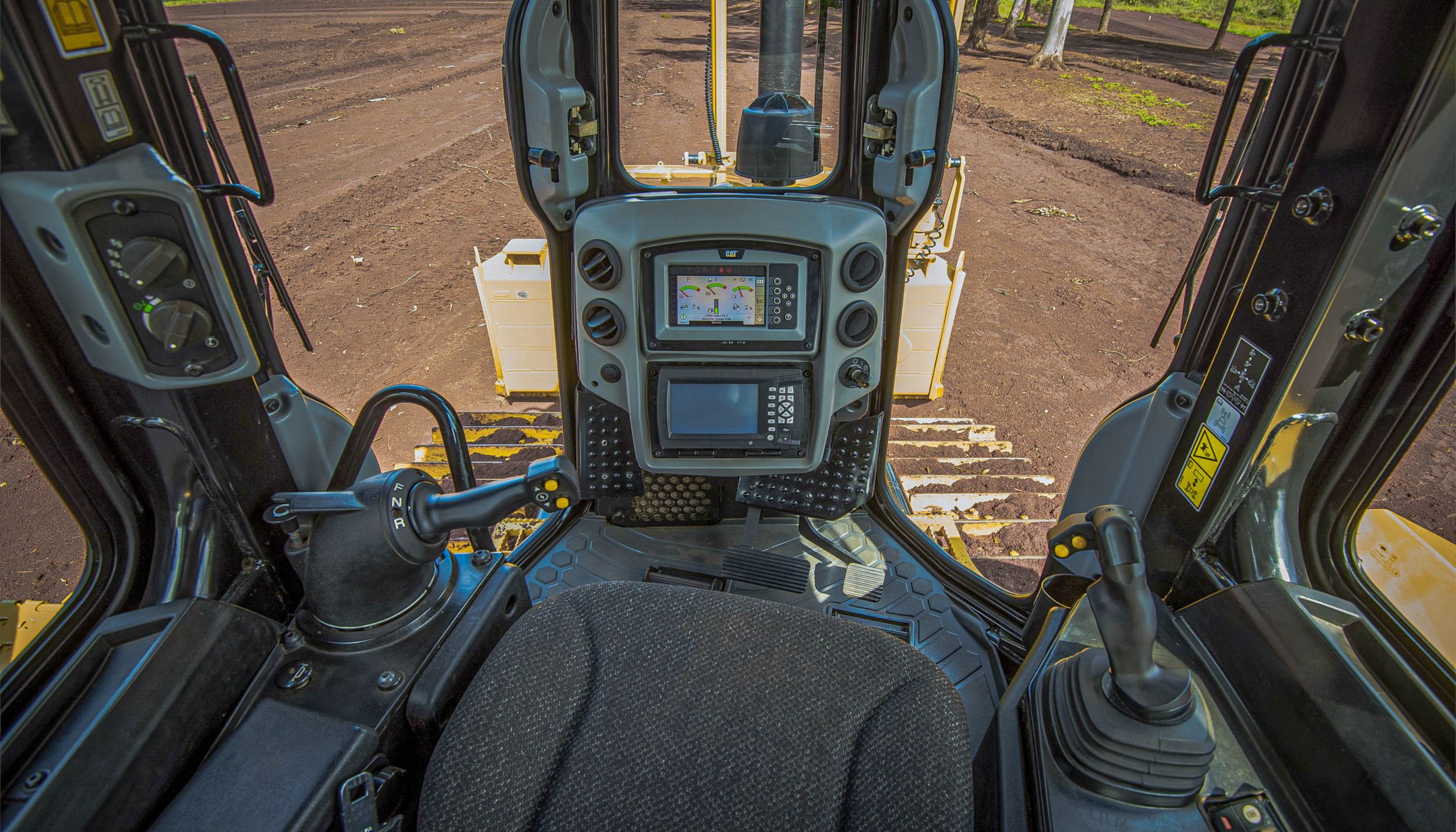 BUILT TO PERFORM
Cat 7.1 electronic engine provides more power and up to 3 percent better fuel efficiency compared to the previous model.
Robust engine fuel system features high efficiency fuel filters and water-in-fuel sensors for greater fuel system reliability.
Differential steering with dedicated steering pump maintain power in turns, even with a full blade load.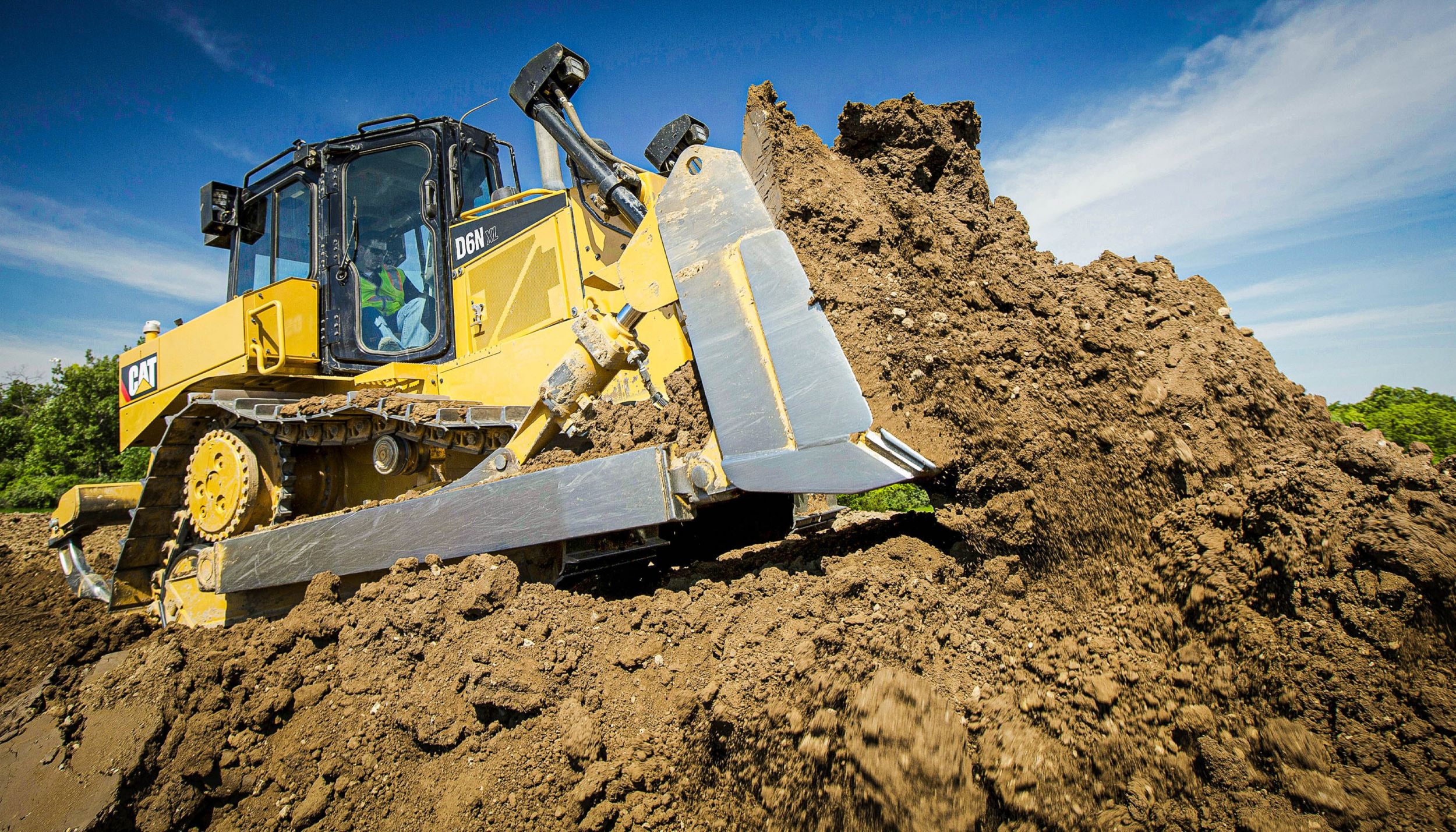 TECHNOLOGY THAT GETS WORK DONE
Cat Stable Blade complements the operator's blade-control input for attaining finish grades quicker with less effort.
Standard Slope Indicate displays machine cross-slope and fore/aft orientation right on the main display.*
Automatically maintain established blade main fall/cross slope with Cat GRADE with Slope Assist™*. Finish jobs faster, with better surface quality and significantly less operator effort. No additional hardware required.
Versatile, scalable Cat AccuGrade™ is a dealer-installed grade control system. Choice of Laser, Global Navigation Satellite System (GNSS) or Universal Total Station (UTS) so you get the right level of accuracy to match your job requirements.
Product Link™ collects machine data that can be viewed online through web and mobile applications.
Access information anytime, anywhere with VisionLink® and use it to make informed decisions that boost productivity, lower costs, simplify maintenance, and improve safety and security on your job site.
Simplify installation of an AccuGrade system with the AccuGrade Ready Option (ARO).
Manage your fleet more effectively and profitably with Product Link™/VisionLink® remote monitoring.

* Not available on SU configuration.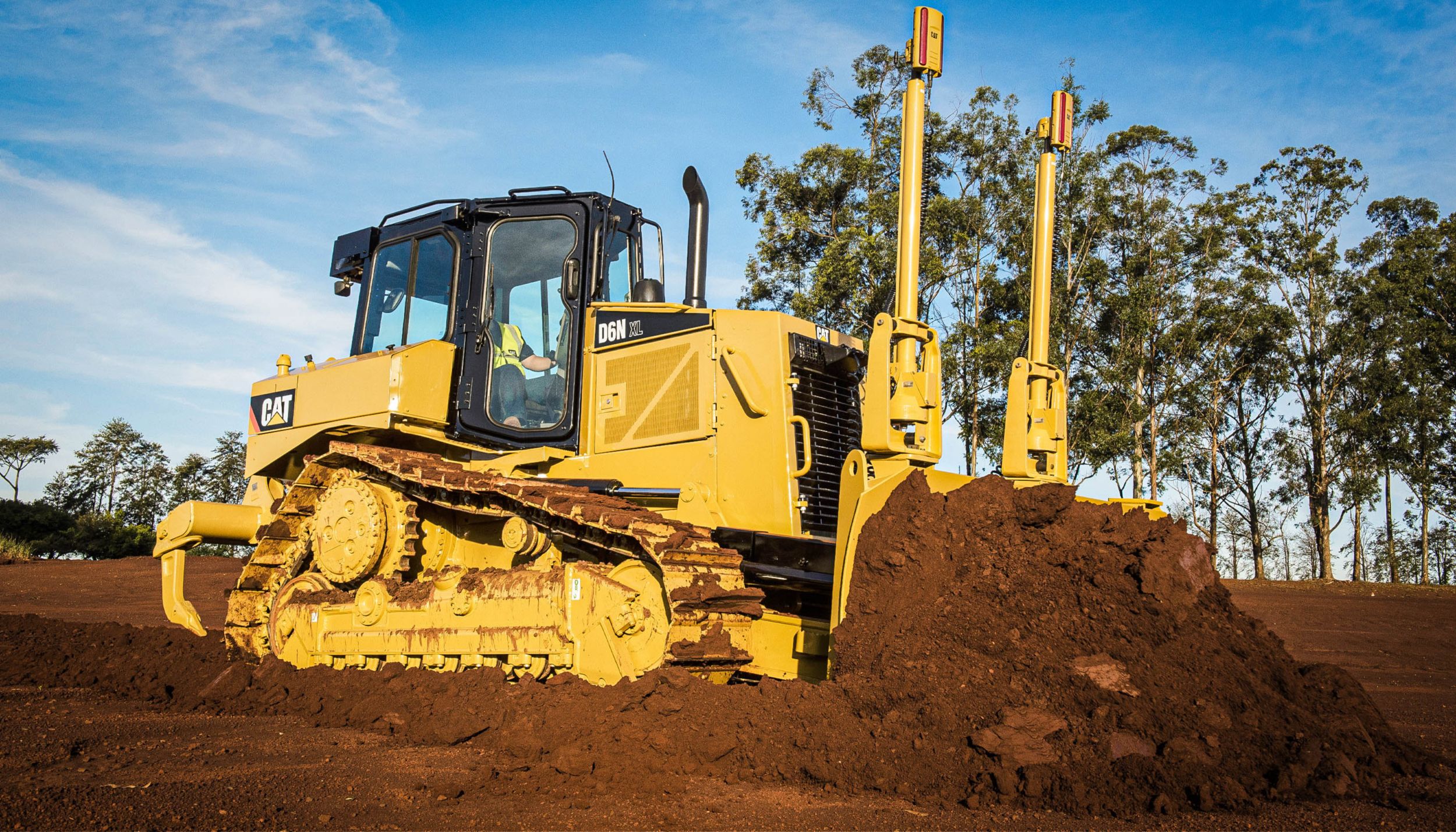 SAVE ON MAINTENANCE TIME
Designed for ease of repair and maintenance so you can spend less time on service and more time on the job.
Service points are grouped and sight gauges let you inspect fluid levels at a glance.
Service point locations are consistent across Cat tractor models to help save you even more time.
High efficiency fuel filters have water-in-fuel sensors toadd to fuel system robustness.
Air conditioning condenser is mounted externally, above the rear cab window, without adding to machine height.
Heating/ventilation/air conditioning capability is increased, while improving engine cooling and serviceability.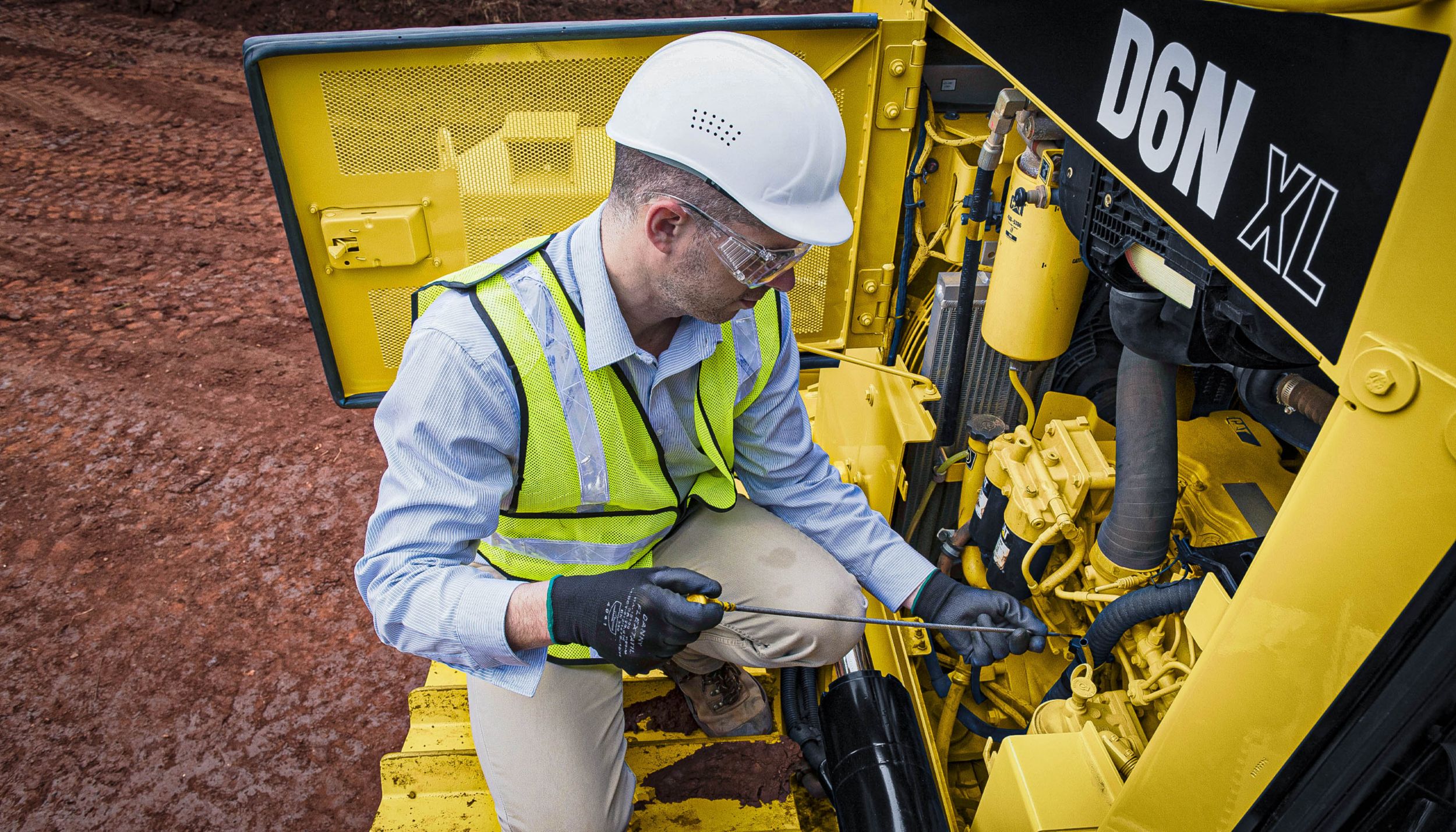 PURPOSE BUILT SPECIALTY MODELS
Forestry arrangement is available with optional machine protection like sweeps, screens and added guarding to help protect the machine in harsh conditions. Cooling system is designed for high debris environments, with easy access for cleanout.
Waste handler/landfill arrangement offers specialized guarding, striker bars and seals help protect the machine from impact and airborne/wrapping debris. Cooling is designed for high debris environments and easy cleanout. Specialized air handling features help deliver cleaner air to the machine. Landfill blades and center-hole track shoes help optimize your waste handler for the job.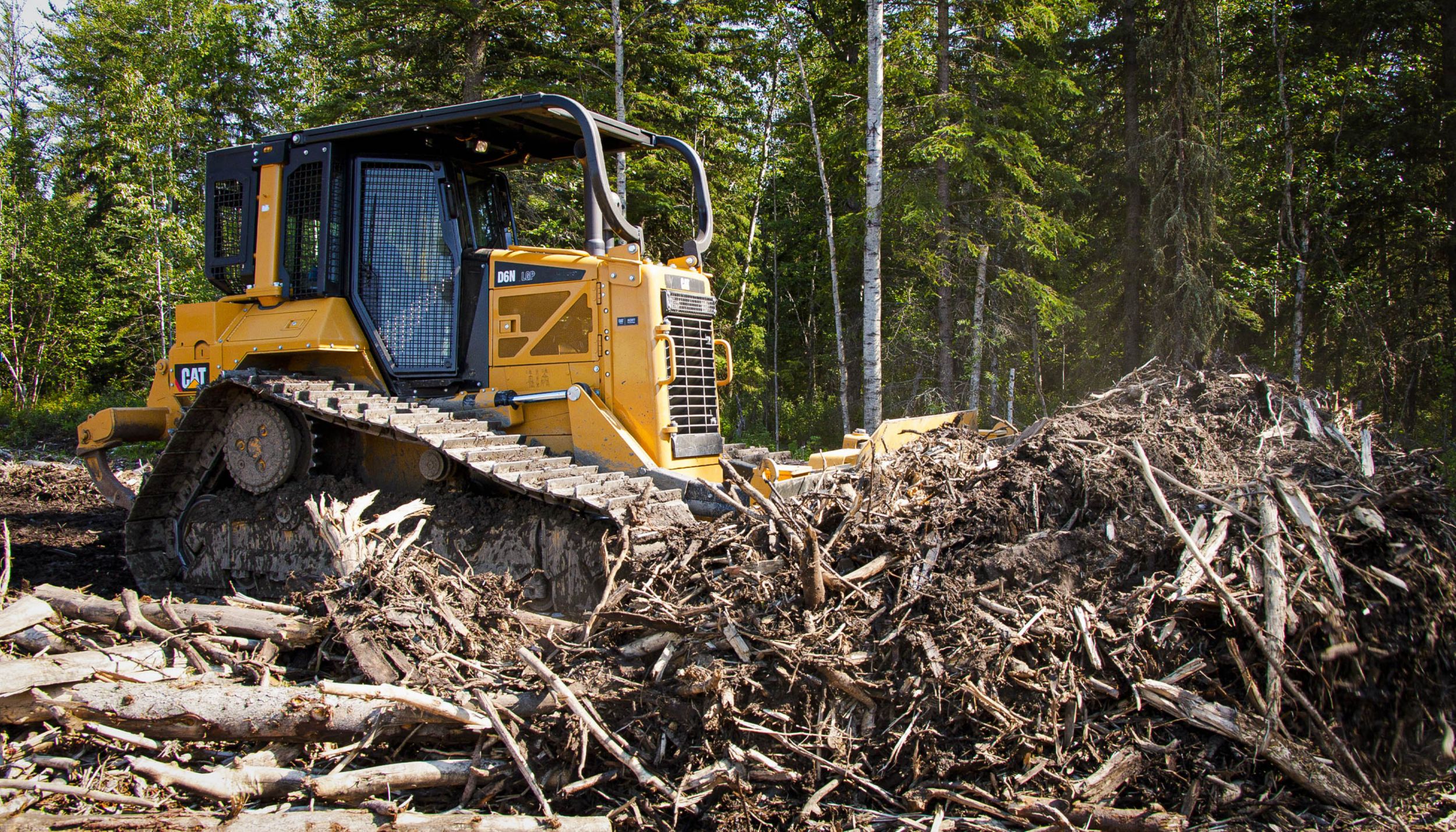 D6N Standard Equipment
Power Train
Coolant, extended life
Water separator with water-in-fuel sensor indicator
Transmission, elctronically controlled powershift 3F/3R speeds
Air filter with electronic service indicator
Muffler with miterd stack
3000 m (9,840 ft) altitude operation capability without derating
Cat C7.1 diesel engine - meets Brazil MAR-1 emission standards, equivalent to U.S. EPA Tier 3/EU Stage IIIA
Turbocharger, waste-gate
Optional 5F/5R, bi-directional gear selection, auto-kickdown
Electrical fuel priming pump
Aluminum bar-plate cooling system (radiator, power train oil cooler, ATAAC, hydraulic oil cooler)
Differential steering, elctronically controlled
ADEM A4 elctronic control module
Parking brake, electronic
Torque converter
Primary fuel filter and twin secondary fuel filters
A5 electronic control module
Air cleaner, precleaner with dust ejector or precleaner under hood air instake system
Direct drive radiator fan (blower type)
Ecology drains
Final drives, 3-planet single reduction planetary
Undercarriage
Undercarriage, sealed and lubricated heavy duty (XL/LGP) or SystemOne undercarriage - XL - 40 section; LGP - 46 section
Replaceable sprocket rim segments
Carrier rollers, two (2), sealed and luricated heavy duty (XL/LGP)
Track shoes, single grouser, moderate service (moderate service or extreme service) - XL - 560/600 mm (22/24 in); LGP - 840/865 mm (33/34 in)
Lifetime lubricated track rollers (seven XL and eight LGP) and idlers
Hydraulics
Load sensing implement hydraulic system
Lift cylinder (2): SU common arrangemnt
Lift cylinder (1): VPAT-Blade common arrangement
Electrical
Alarm, back-up
Horn, forward warning
Glow plug starting aid
Starter motor, 24V
Batteries, two maintenance free 12V (24 system)
12V converter, 10 amp with one outlet
Diagnostic connector
95 amp brushless alternator (24V)
Operator Environment
Integrated ROPS/FOPS enclosed cab structure
Integral cooling/heating system, external mounted condenser
Armrest, adjustable
Seat, suspended, 15 degrees orientated
Seatbelt, retractable, 76 mm (3 in) (included in seat)
Seat belt indication on display
Cup holder
Coat hook
Two power receptacle, 12V
Decelerator pedal, suspended
Service brake, suspended
Differential steering control with single twist tiller and soft touch speed button selection
Foot rests for slope work
Throttle switch, electronic rotary switch
Display: Engine coolant temperature, Torque converter oil temperature, Hydraulic oil temperature, Fuel level, Engine RPM/speed gauge with gear selection LCD display
Display - warning lamps: Engine air cleaner service indicator, Water-in-fuel sensor service indicator, Low fuel level indicator, Action indicator, Battery charging indicator, Transmission oil filter service indicator, Hydraulic oil filter service indicator, Engine oil pressure low indicator, Belt indication with G7P/CIC3 display
Technology Products
Cat GRADE with Slope Assist
Product Link, GSM or satellite
Other Mandatory Equipment
Engine side enclosures (perforated and lockable)
Engine hood, solid
Guards, bottom, basic or heavy duty
Radiator grill, louvered, hinged, basic or heavy duty
Front pull device
Vandalism protection - padlocks for battery compartment and fuel drain
Sampling ports: Engine oil (included in engine), Hydraulic oil (included in hydraulic arrangemnet), Engine coolant (included in engine)
D6N Optional Equipment
Optional Equipment
D6N LGP tractor, VPAT
D6N XL tractor, SU
Ether starting aid
Oil change system, high speed
Rearview mirror
Screens, rear/doors/side, cab
Sand blast grid
Seals and additional guards for high debris and WHA
D6N XL tractor, VPAT
Sweeps with top-screen, cab
Selectable factory installed ARO for electro-hydraulic control machines
Guard, rear, transmission
Tooth - ripper, straight or curved
Heater, engine coolant