OPERATOR COMFORT AND CONTROL
Isolation-mounted, pressurized cab reduces noise and vibration.
Large, single pane windows offer excellent views all around the machine for productivity and safety.
The Comfort Series seat is offset by 15 degrees for better visibility.
Adjustable seat and armrests ensure comfort when working on steep grades or slopes.
Display is easy to read, even in direct sunlight.
Ergonomically designed controls for low-effort and ease of operation.
Decelerator pedal gives full control of engine speed when the rocker switch is in the high idle position.
A single-handle control performs steering and gear selection.
Tiller bar control allows the operator to work more precisely in close areas around structures, grade stakes and other machines.
Differential Steering provides the finest modulation in the industry.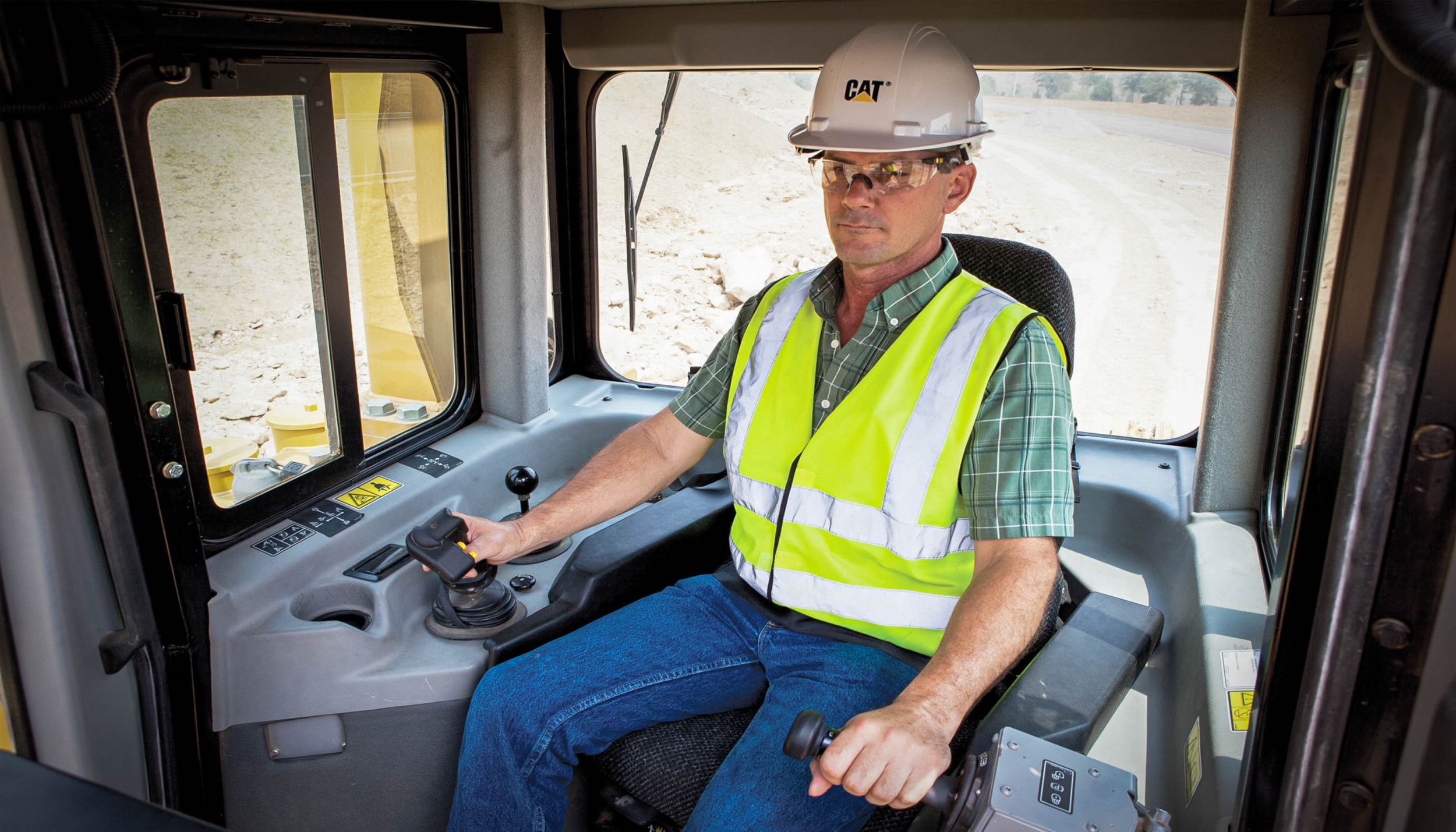 PERFORMANCE AND PRODUCTIVITY
Precise controls optimize power and fuel efficiency.
Differential steering maintains power to both tracks while turning. When one track speeds up, the other slows down an equal amount. Maneuverability - especially with large blade loads - is improved, as well as cycle times.
Unique Cat torque divider sends 70 percent of engine torque through a converter and 30 percent through a direct drive shaft for greater driveline efficiency and higher torque multiplication.
Planetary power shift transmission includes three speeds forward and three speeds reverse, featuring thick, large diameter, high capacity, oil-cooled clutches. These clutches provide higher torque capacity and increase service life.
Modular transmission and differential slide into rear case for servicing ease, even when a ripper is installed.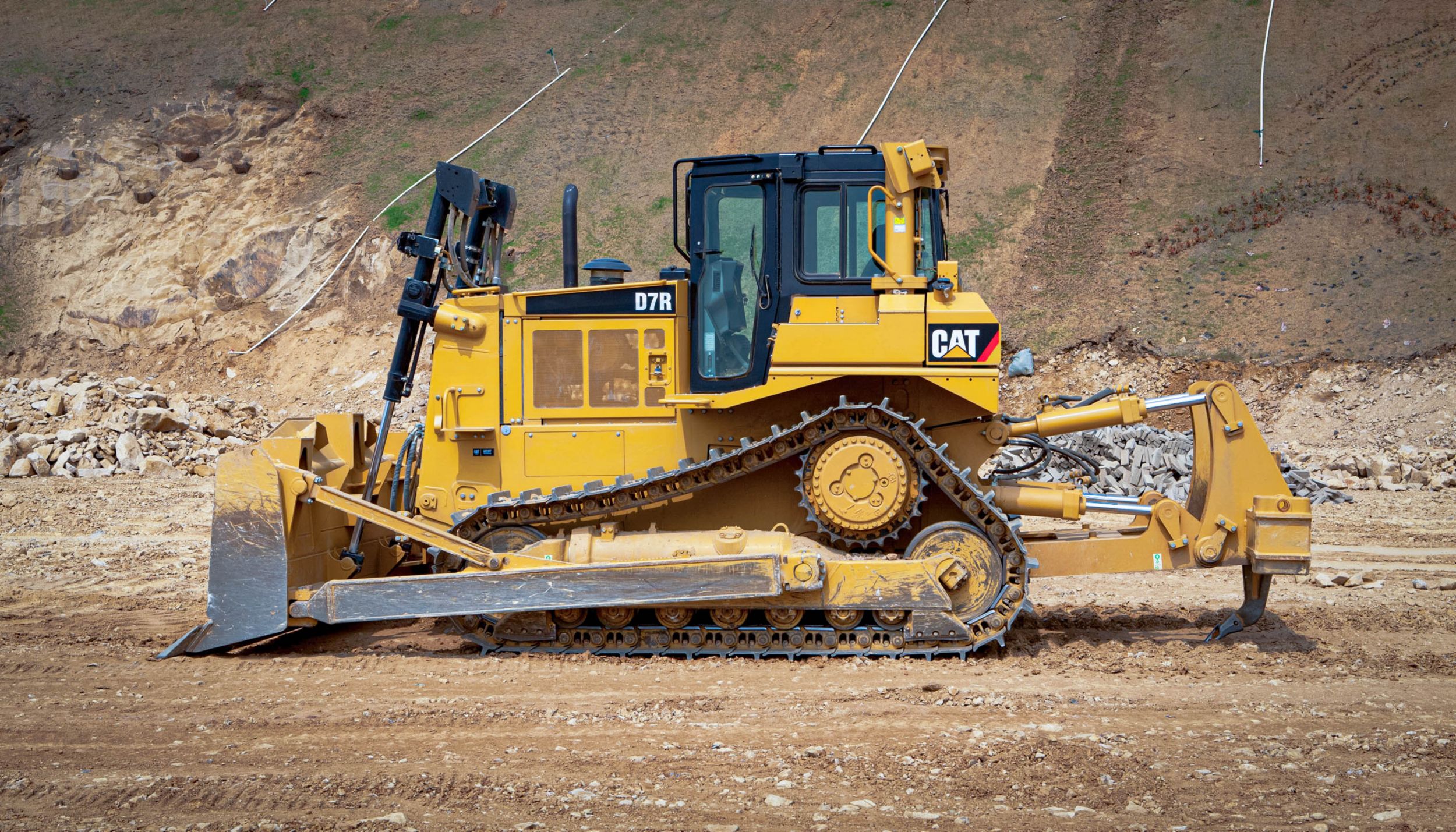 BUILT FOR LONG TERM PRODUCTION
Rugged frame absorbs high impact shock loads and twisting forces.
Dozer pivot shaft runs through the mainframe and connects the roller frame for independent oscillation.
Pinned equalizer bar gives the roller frames the ability to oscillate up and down to better match ground contours for maximum traction and operator comfort.
Tag-link design mounts the blade closer to the machine for excellent maneuverability, machine balance and blade penetration.
Elevated sprocket design optimizes machine balance for best possible performance in each application. And, it keeps machine center of gravity low, offering excellent stability, balance and traction.
Ground and implement shock loads are transferred to the mainframe to protect final drives, axles and steering components from harsh impacts for longer life.
Modular power train components make it quick to remove and repair the transmission, final drives, steering differential or brakes.
Modular undercarriage components simplify service. Lifetime lubricated idlers and track/carrier rollers provide the ability to re-use internal components and rebuild or reshell components, reducing owning and operating costs, and raw materials and natural resources.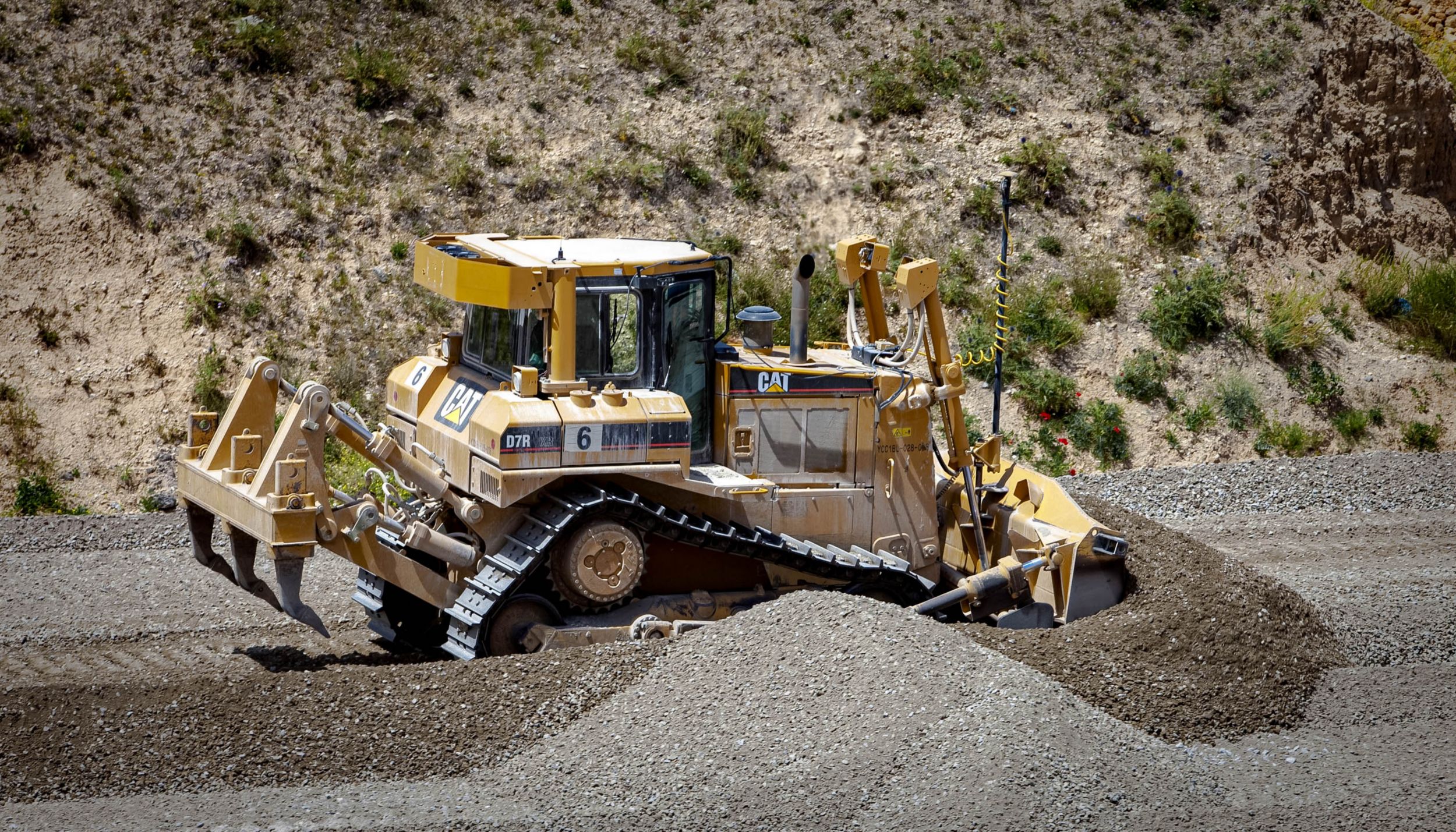 TOP-TIER SERVICE AND SUPPORT
Modular components, easy access to regular service points and features that enable quicker diagnostics all add up to less maintenance time and more time on the job.
Cat machines include sampling ports for the engine oil, power train hydraulics and coolant.
Major components on the D7R are built to be rebuilt, extending the useful life of the machine. Rebuilds save money and support sustainability saving raw materials and natural resources.
Manage costs with preventive maintenance programs like Custom Track Service, S·O·Sanalysis and guaranteed maintenance contracts. Stay productive with best-in-class parts availability.
When it's time for replacement, your Cat dealer can help you with Genuine Cat Remanufactured parts. Remanufactured power train and hydraulic components cost less, but come with the same warranty and reliability as new products.
PURPOSE BUILT SPECIALTY MODELS
Waste Handler/LandfillArrangement offers specialized guarding, striker bars and seals help protect the machine from impact and airborne/wrapping debris. Cooling is designed for high debris environments and easy cleanout. Specialized air handling features help deliver cleaner air to the machine. Landfill blades and center-hole track shoes help optimize your waste handler for the job.
Cold Weather package features reversible fan and heavy-duty battery/alternator for cold starting. Arctic cab has dual pane glass. Oils and final drive seals are designed tostand up to cold conditions.
Stockpile arrangement helps protect both the machine and the operator in high debrisconditions. Features turbine precleaner, solid hood and a cooling system designed for reduced plugging and easier clean-out.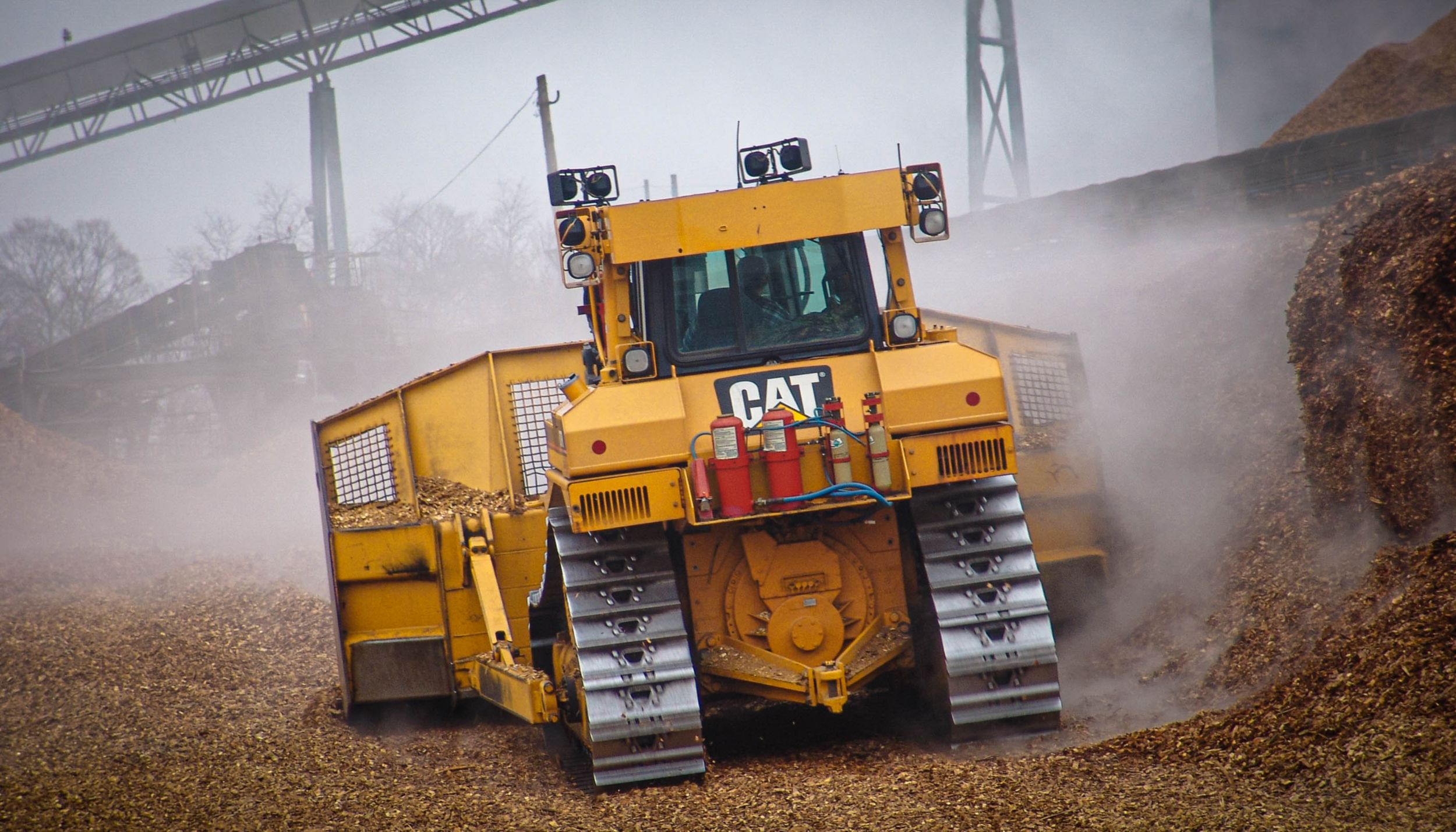 D7R Standard Equipment
ELECTRICAL
Alarm, backup
Alternator, 95-Amp, brushless
Batteries, 2 maintenance free 12V (24V system)
Converter, 12V, 10-Amp with 2 outlets
Connector, diagnostic
Lights, 4 (2 mounted on the lift cylinder facing forward, 2 mounted on the fuel tank facing rearward)
Electric start, 24V
Horn, forward warning
OPERATOR ENVIRONMENT
Air conditioner, under-hood
Armrest, adjustable
Cab, ROPS/FOPS
Decelerator pedal
Differential steering control
Cat Monitoring System: - Coolant temperature - Hydraulic temperature - Power train temperature - Fuel level - Tachometer - Hour meter - Diagnostics
Food pads, dash
Heater
Hydraulic controls, pilot operated with electronic deactivation switch
Mirror, rearview
Radio ready
Seat, adjustable contour suspension
Seatbelt, retractable, 76 mm (3 in)
Throttle switch, electronic
Hydraulic implement lockout, electronic
Wipers, two (2) speed
POWER TRAIN
Cat C9 (8.8 L/537 in3) diesel engine
Electronic engine control for hi and lo idle and selectable maximum engine speed
Aluminum bar plate radiator
Air cleaner, precleaner with strata tube dust ejector
Air filter with electronic service indicator
Aluminum bar plate after-cooler, air to air (ATAAC)
Coolant, extended life
Fan, blower, direct drive
Final drives, 3-planet double reduction planetary
Fuel priming pump, electric
Muffler with mitered stack
Parking brake
Pre-screener
Torque divider
Planetary transmission, mechanical power shift 3F/3R speeds
Turbocharger, waste-gate
Water separator
UNDERCARRIAGE
Carrier rollers (LGP)
Carrier rollers ready (STD, XR)
Equalizer bar, heavy duty
Guards, end track guiding
Guards, center track guiding (LGP)
Idlers, lifetime lubricated
Rollers, lifetime lubricated track
Track roller frames, tubular
Track adjusters, hydraulic
Sprocket rim segments, replaceable: - Track, heavy duty Sealed & Lubricated • Standard arrangement - 560 mm (22 in), ES, 40-section • XR arrangement - 560 mm (22 in), ES, 41-section • LGP arrangement - 914 mm (36 in), MS, 43-section
OTHER STANDARD EQUIPMENT
CD-ROM parts book
Engine enclosures, perforated
Mounting, lift cylinder
Lift cylinder with lines, LH
Lift cylinder with lines, RH
Front pull device
Guards, hinged bottom
Hood, perforated
Hydraulics, load sensing, dozer lift and tilt
Oil cooler, hydraulic
Product Link ready
Radiator doors, louvered, hinged
Sampling ports: - Engine oil - Power train oil - Hydraulic oil - Engine coolant
Tool box
Padlocks for battery compartment and fuel drain valve
Padlock capable compartments