PERFORMANCE AND PRODUCTIVITY
The Cat C7 engine uses electronic control, precise fuel supply and refined air management to deliver exceptional performance and lower emissions.
Electronic Throttle Control provides easier, more accurate throttle operation.
Engine Over-Speed Protection prevents downshifting until an acceptable safe travel speed has been established.
The Full Electronic Clutch Pressure Control ensures smooth gearshifts and changes of direction.
Shift Torque Management helps smooth gear shifts without the use of the stepper pedal, which helps the operator stay focused on the task being performed.
Load Compensation guarantees smooth gearshifts, regardless of blade or machine load.
Optional Automatic Shift Transmission shifts the transmission at optimum points for easy operation, greater productivity.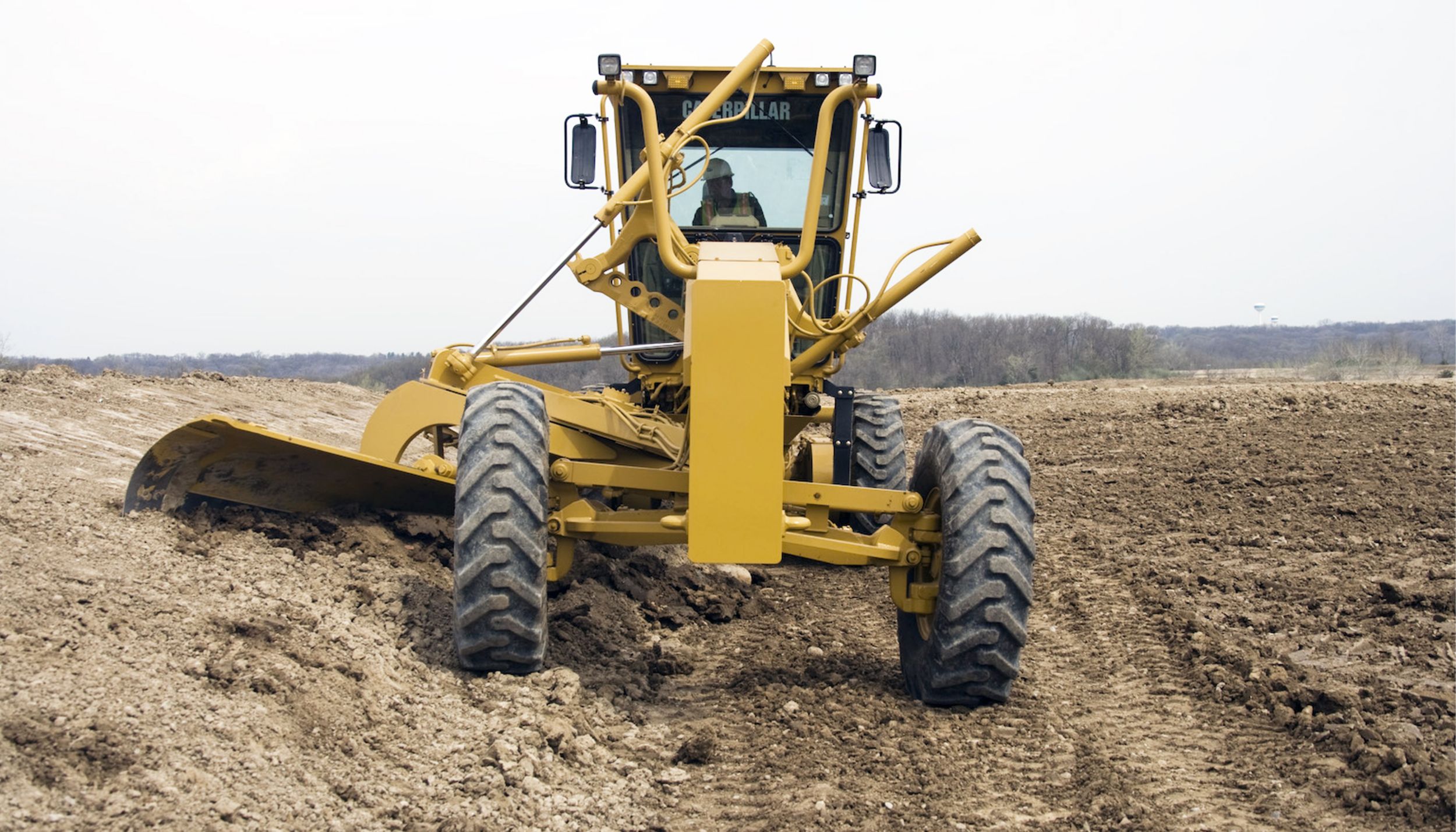 LONG TERM VALUE AND DURABILITY
Large, independent hydraulic oil supplies prevent cross-contamination and provide proper cooling, reducing heat build-up and extending component life.
Proven load-sensing and advanced electro-hydraulics give you superior implement control and responsive hydraulic performance that makes operators' jobs easier.
Continuously matching hydraulic flow/pressure to power demands reduces heat and optimizes power.
Proportional Priority Pressure-Compensating (PPP-C) valves have different flow rates for the head and rod ends of the cylinder, so you can count on consistent, predictable implement response.
Hydraulic flow is proportioned to give you confidence that all implements operate simultaneously without slowing engine or implement speed.
Front Frame features continuous top and bottom plate construction providing consistency and strength.
The circle resists high tensile loads. The high wear surfaces prevent the wear of the teeth of the circle against the traction.
64 evenly spaced teeth of the circle are torch cut and hardened by induction heating to resist wear.
Circle is fixed to the drawbar by six shoes for maximum support. The blade frame provides a large neck clearance, helping material move freely and efficiently.
Optional blade accumulators absorb impact loads into the blade frame allowing vertical blade travel. Blade lift accumulators reduce unnecessary wear and help prevent unintended machine movement for increased operator safety.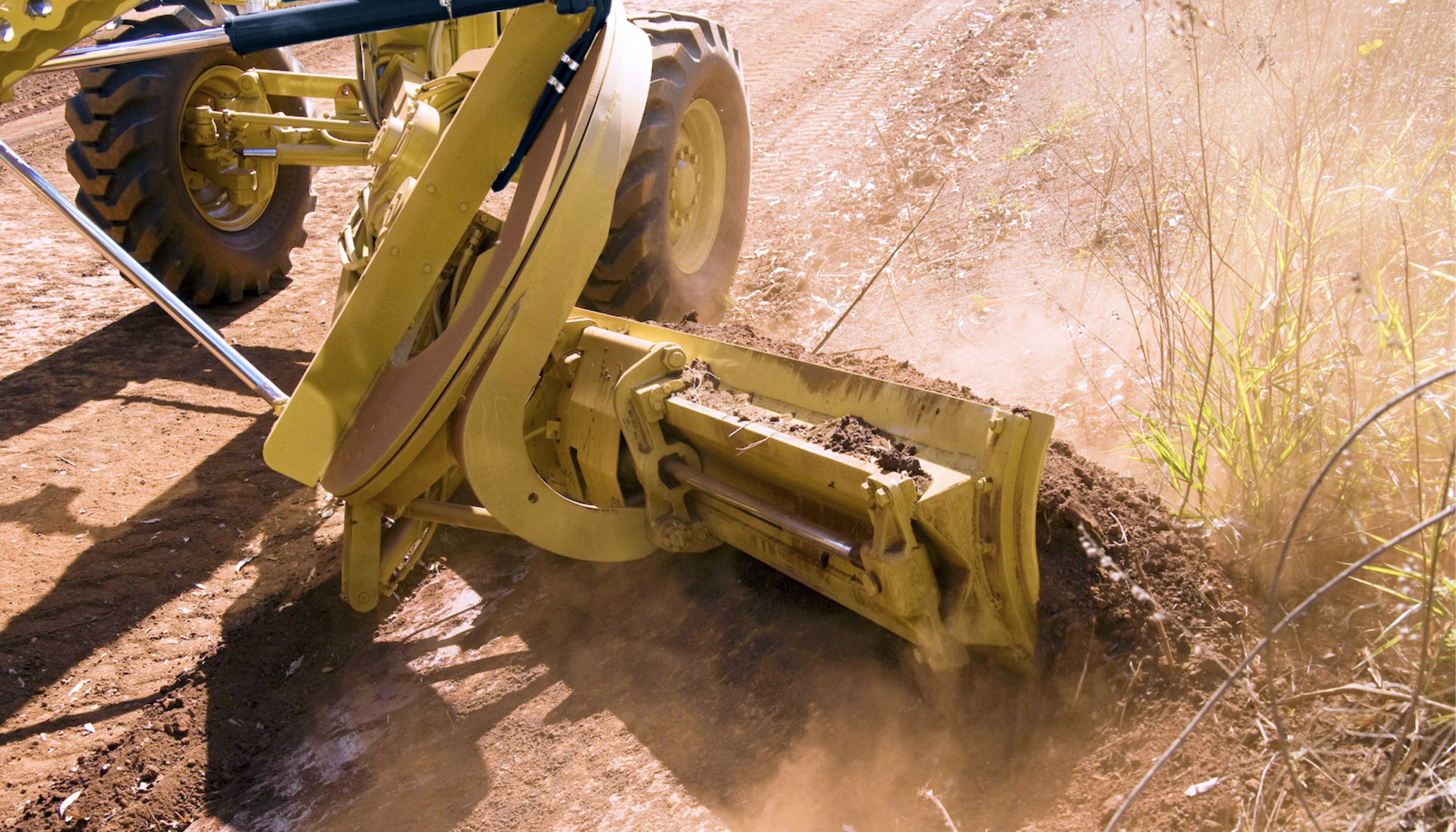 DESIGNED FOR OPERATORS
K Series cabs are designed to keep operators comfortable, relaxed and productive. * Low-effort pedals and controls, adjustable implement controls and adjustable steering wheel angle help make the job easier for the operator.
Clear view of blade frame support and tandem tires improves productivity and safe operation. The selector switches and transmission gearbox have background lighting for night operation.
The instrument panel, with easy-to-read meters and warning lamps, makes it easy to read vital machine information and offer diagnostics. The panel includes an engine coolant temperature gauge, a hitch gauge, a voltage gauge, and a fuel level dipstick. Service brake air pressure indicators are also standard. The speedometer and tachometer are optional. All major systems are monitored through warning lamps.
Additional Cab Features -
Storage area
Adjustable control console
Jacket hook
Power outlet
Air conditioner / heater
Seat with suspension
Defroster fan
Sun visor
Reverse lights
Product Link ™ preparation
AccuGrade ™ System preparation

NOTE: Some accessories are not available in all regions.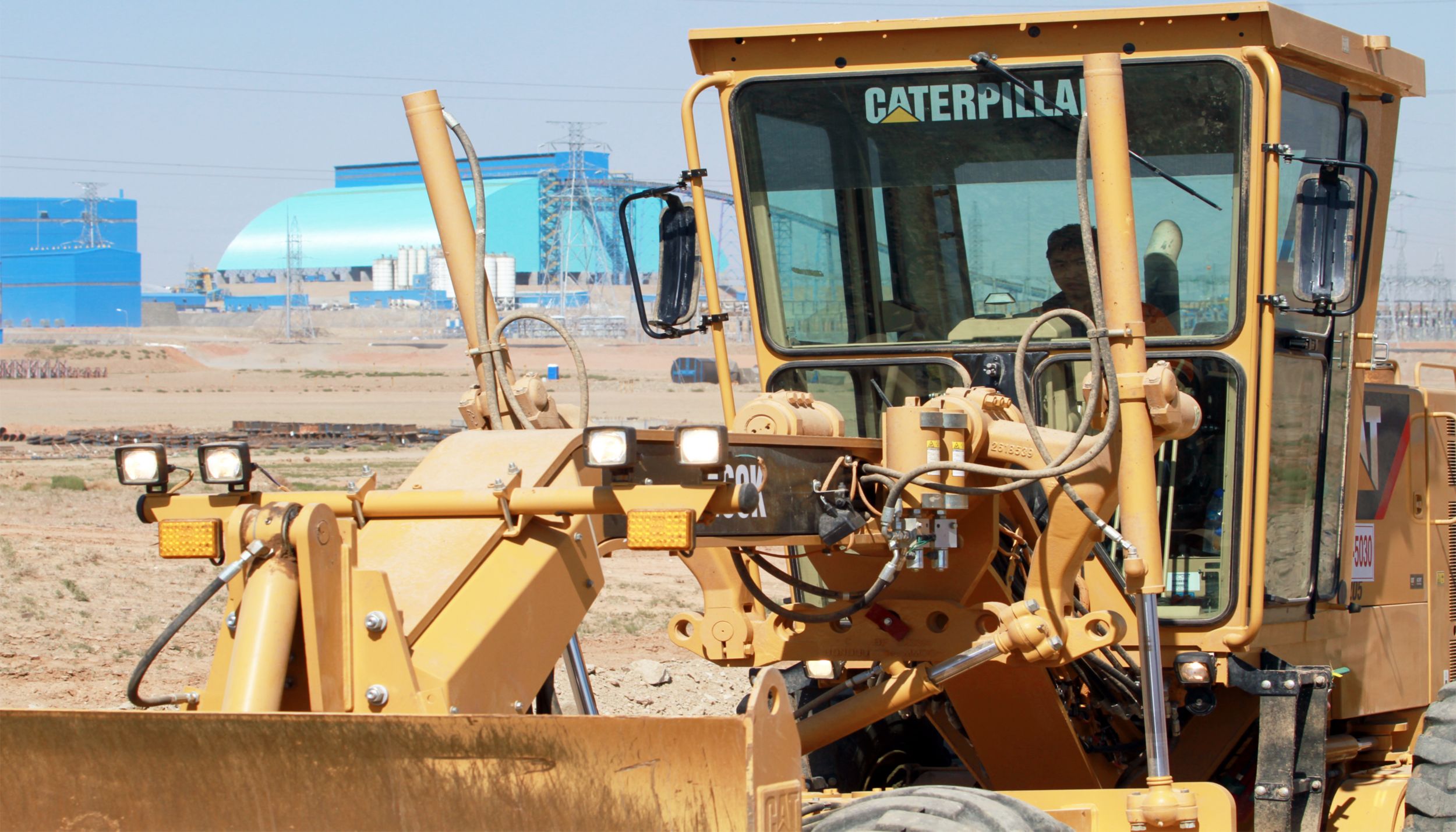 PRODUCTIVITY WITH TECHNOLOGY
Cat AccuGrade uses positioning and guidance technologies, machine sensors and automatic blade control to help operators level faster, easier and more efficiently.
Digital design plans, real-time trimming / fill data, and cabin orientation provide operators with detailed information to work with more confidence and achieve greater accuracy in less passes, using less material.
Operators stay on the slope and improve productivity and accuracy by nearly 50 percent over conventional methods.
Grade stakes and checkers are minimized, making the workplace safe, efficient and economical. AccuGrade technologies include Transverse Tilt, Sonic, Laser, GPS (Global Positioning System).
K Series machines can be equipped with AccuGrade Ready Option as a factory option or installed by your dealer. The accessory option includes built-in mounting points and internal wiring, which makes it quicker and easier to install the AccuGrade system for leveling control.
Cat Product Link helps eliminate management assumptions with remote monitoring capabilities for your machine or the entire fleet. Track asset location, hours, fuel usage, diagnostic codes, downtime, and more via the secure VisionLink ™ user interface. Knowing where the equipment is, what it's doing and how it's performing allows you or your Cat dealer to manage the fleet in real time so you can maximize efficiency, improve productivity and lower operating costs.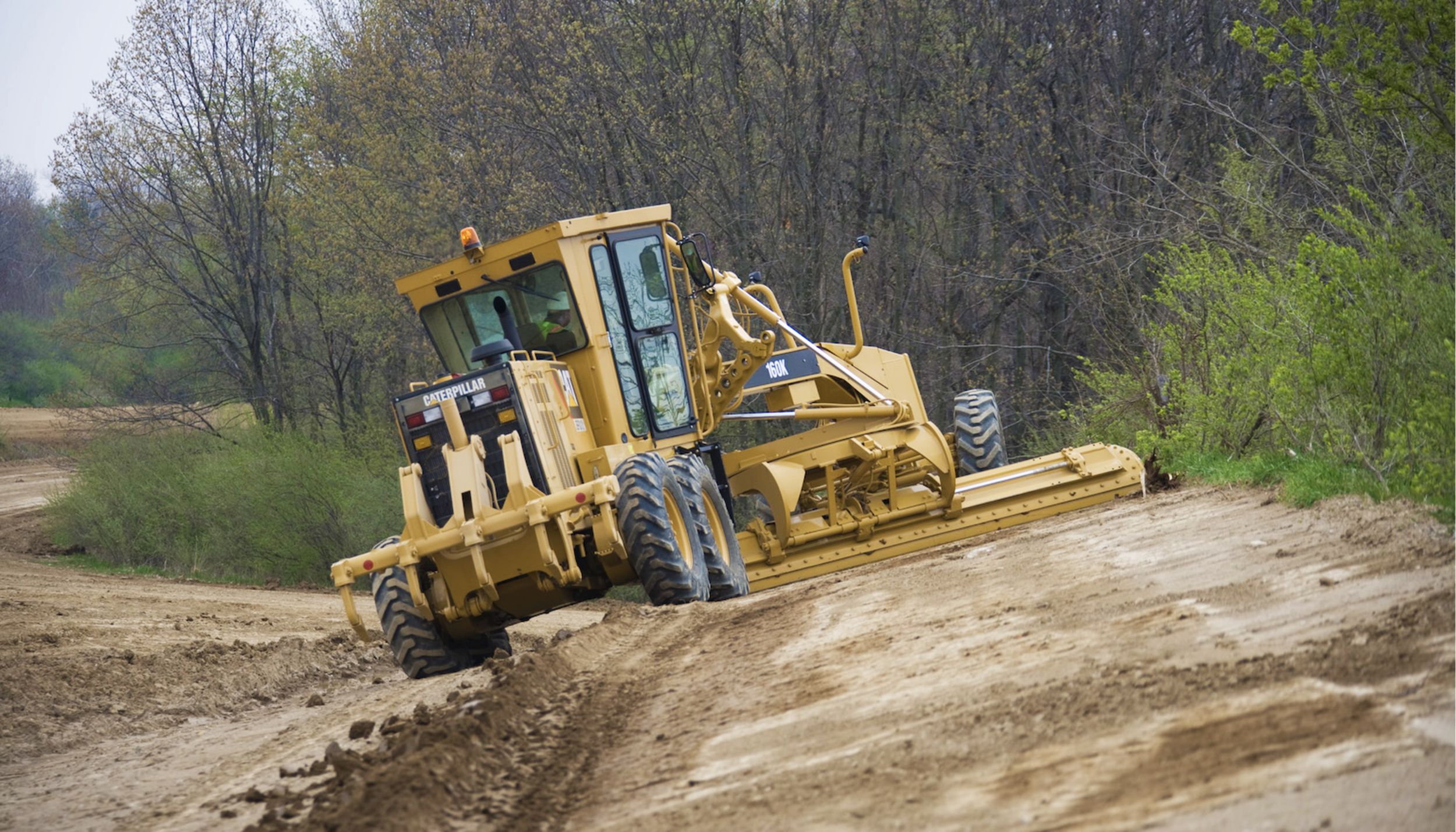 ENSURING A SAFE JOB SITE
ROPS / FOPS (Falling Object Protective Structure) cab provides low noise and vibration levels.
The sound pressure level in the cab, meets or exceeds the requirements defined in ISO 6394: 2008. The quiet environment helps to improve the operator's working conditions.
Brakes located on each tandem wheel offer the industry's largest total braking surface, providing reliable braking power and extended brake life.
Ground level main switch locks the electrical system to prevent unintended machine starts. System allows anyone around to turn off the machine in an emergency.
Additional Security Features -
Laminated glass in front windshields
Lockable doors to reduce theft and vandalism are available with the optional cab.
Brake lights
Conveniently positioned handrails
Lights
Reverse alarm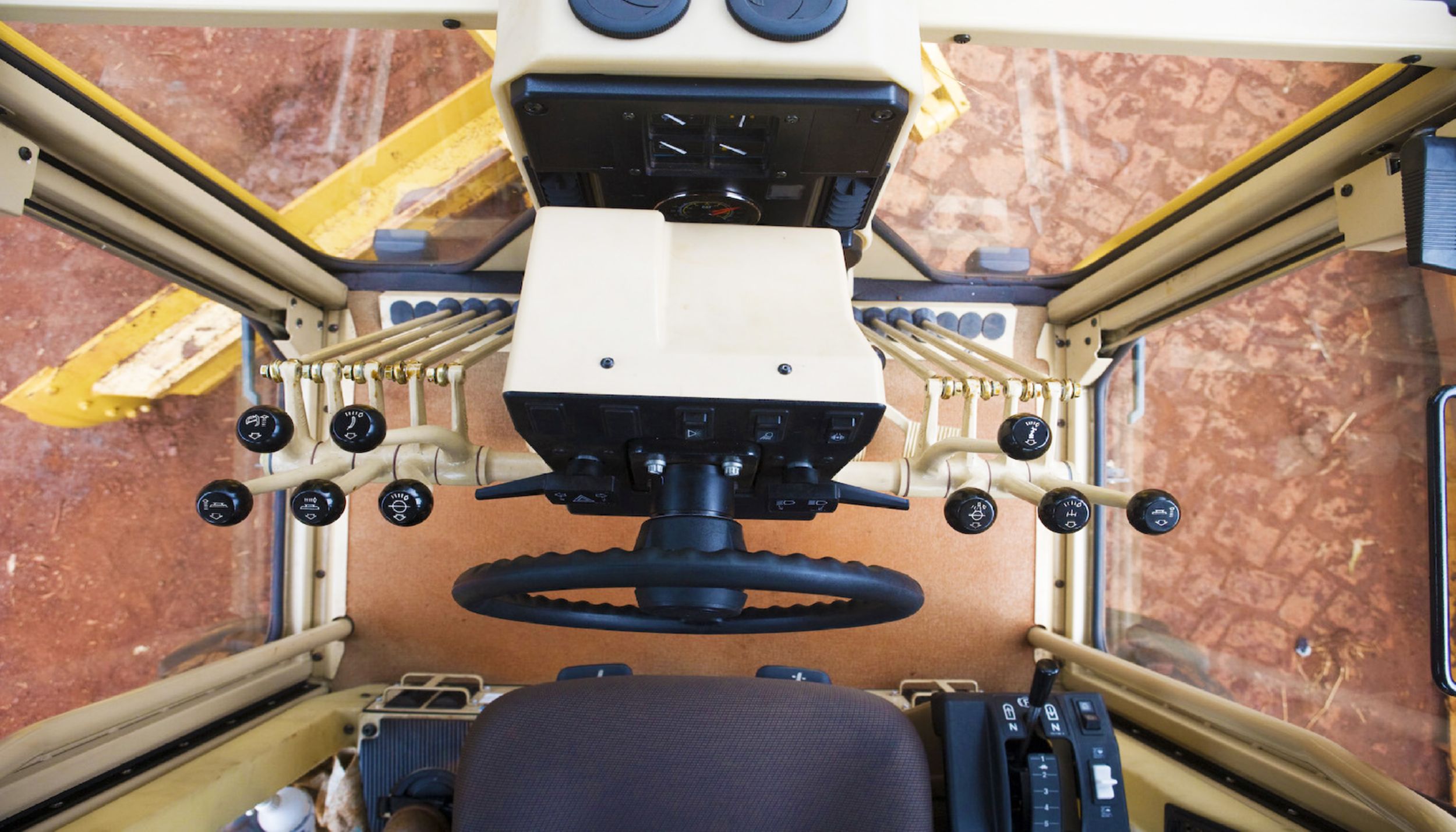 TOP-TIER SERVICE AND SUPPORT
Grouped Maintenance Points help ensure efficient servicing
Easy access to service areas speeds maintenance
Ecology oriented drain ports reduce maintenance time and prevent spills
Easy access to radiator gives the operator the ability to clean debris
Extended Maintenance Intervals reduce downtime and operating cost -
Engine oil changes after 500 hours
Hydraulic fluid exchanges after 4,000 hours
Engine coolant changes after 12,000 hours
Instrument cluster provides enhanced machine information and diagnostic capability, allowing for faster engine and transmission maintenance.
Face seal rings create a reliable connection and are used in all hydraulic circuits to minimize the possibility of oil leakage.
Modular electrical wiring design provides simple disconnects for major repairs or reconditioning of the machine, reducing downtime.
The Cat Electronic Technician is a two-way communication tool that provides service technicians with easy access to stored diagnostic data, reducing machine downtime and operating costs.
The Cat dealer network delivers the best in sales and service, from help in choosing the right machine to financing and ongoing support.
Manage costs with preventive maintenance programs such as S • O • Scheduled Oil Sampling (SSM) analysis, collection of coolant samples and guaranteed maintenance contracts.
Stay productive with the best availability of parts in the industry.
Your Cat dealer can help you increase your profits with operator training.
When it comes time to replace a component, your Cat dealer can help you save with Cat Original Remanufactured Parts that have the same assurance and reliability of new products with a 40 to 70 percent reduction in cost.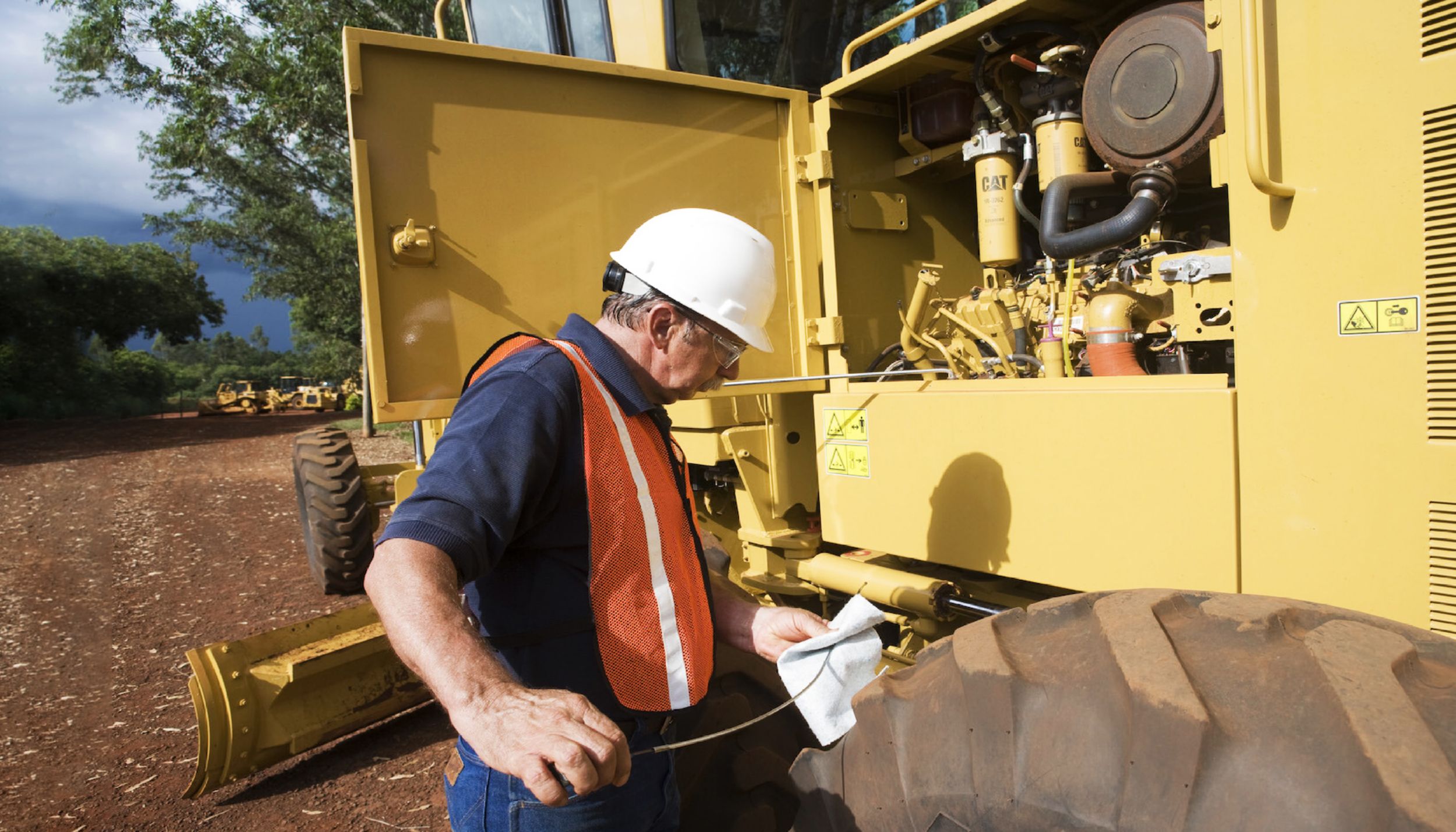 160K Standard Equipment
ELECTRICAL
Alternator, 115 Ampere
Backup alarm, reversing lights
Batteries, maintenance free 750 CCA
Electrical system, 24 volt
Horn, electric
Lights, stop and tail
Motor, starting
Product Link Ready
Working lights
OPERATOR ENVIRONMENT
Accelerator
Control console, adjustable
Gauge cluster (includes voltmeter, articulation, engine coolant temperature, air brake pressure and fuel level)
Guard rails, operator station
Hydraulic controls, load sensing (right/left blade lift, circle drive, centershift, sideshift, front wheel lean and articulation)
Indicator lights (includes high beam, LH and RH turn, low engine oil pressure, throttle lock, check engine, transmission filter bypass and check, centershift pin, brake air pressure, parking brake engaged, auto shift)
Key start/stop switch
Meter, hour
Power steering, hydraulic
Seat, vinyl-covered static
Seat belt
Steering wheel, tilt, adjustable
Storage area, cooler/lunch box
Throttle, electronic control
POWER TRAIN
Air cleaner, dry type radial seal with service indicator and automatic dust ejector
Air to air after cooler (ATAAC)
Blower fan
Brakes, oil disc, four-wheel air actuated
Differential with lock/unlock
Engine, Cat C7 diesel with automatic engine derate and idle control. Meets non-current U.S. EPA Tier 2 and EU Stage II emission standards.
Fuel water separator
Muffler, under hood
Parking brake, multi-disc, sealed and oil cooled
Prescreener
Priming pump, fuel, resiliently mounted
Sediment drain, fuel tank
Tandem drive
Transmission, 8 speed forward and 6 speed reverse, power shift, direct drive with electronic shift control and overspeed protection
VHP (Variable Horse Power)
OTHER STANDARD EQUIPMENT
Bumper, rear
CD ROM Parts Book
Circle drive slip clutch
Cutting edges, 152 mm × 16 mm (6 in × 5/8 in) curved DH-2 steel
Doors, Engine compartment
Drawbar, 6 shoe replaceable nylon composite wear strips
Endbits, 16 mm (5/8 in) DH-2 steel
Frame, articulated with safety lock
Fuel tank, 344 L (91 gal)
Ground level engine shutdown
Link bar, 7 position
Moldboard, 4267 mm × 686 mm × 25 mm (14 ft × 27 in × 1 in) blade with hydraulic sideshift and tip
S·O·S ports, engine, hydraulic, transmission and cooling
Toolbox with padlock
Vandalism protection - including cap locks for hydraulic tank, radiator access cover, fuel tank, engine and transmission oil check/fill and lockable battery boxes.
ANTIFREEZE
Extended Life Coolant to -35° C (-30° F)
160K Optional Equipment
GUARDS
OPERATOR ENVIRONMENT
Air conditioner with heater
Heater, cab
CAB/CANOPY
Cab, ROPS*
Cab, Non-ROPS*
Canopy, ROPS*
Seat, vinyl adjustable
Seat, cloth, contour
Fan, defroster, front window
Fan, defroster, rear window
Sun shade, rear
Wiper/washer, rear
Wipers, intermittent front
Mirrors, dual inside
Mirrors, outside mounted
Power port, 12V accessory
Radio ready entertainment
Tachometer/Speedometer
*Ripper and Push Plate weight is included in typically equipped weight.
RIPPER/SCARIFIER
Ripper/Scarifier, rear mounted*
Shank, Ripper (includes one)
Scarifier, mid mounted, V-Type
*Ripper and Push Plate weight is included in typically equipped weight.
LIGHTS
Bar mounted, low, directional and headlights
Cab and bar mounted, high, directional, headlights and work lights
POWER TRAIN
OTHER ATTACHMENTS
Product Link
Snow Wing Mounting, frame-ready
AccuGrade ARO
Dryer, air
Push plate, counterweight*
Accumulator, blade lift
Battery, extreme duty (1400 CCA)
Ether, starting aid
Heater, engine coolant, 220V
*Ripper and Push Plate weight is included in typically equipped weight.
HYDRAULICS
Pump, hydraulic, high capacity (210 L/min 55.7 gal/min)
Hydraulic arrangements with one or more additional hydraulic valves are available for rear ripper, mid-mount scarifier, dozer, snow plow and snow wing.
BLADES, MOLDBOARDS
Moldboard: Blade, 4267 mm × 610 mm × 22 mm (14' × 24" × 7/8")
Blade, front
Cutting edge, 203 mm × 19 mm (8" × 3/4"). For use with 14' blade
Endbits, overlay, reversible pair for use with 203 mm (8") cutting edges