POWERFUL EFFICIENCY
Advanced Productivity Electronic Control System (APECS) delivers improved transmission shifting performance and a higher level of comfort for operators.
Decelerator Pedal acts as a brake, transmission neutralizer and an engine decelerator to override the engine speed selected by the throttle lock. Allows the operator to slow speeds when the throttle lock is engaged and to return to throttle lock without pressing a resume or set button.
Electro Hydraulic Controls increase productivity with responsive implements feature. Operate comfortably with easy-to-use soft-detent controls.
Steering System provides confident machine operation and precise control enabled by the 815K's load sensing hydraulic steering system.
Increased efficiency with variable displacement piston pumps that give operators precise positioning for easy maneuvering in tight areas with 42 degree articulation in each direction.
Steering and Transmission Integrated Control System (STIC™) enhances operator comfort by integrating steering and transmission control functions in a single lever. Includes finger-controlled gear selection.
LONG TERM VALUE AND DURABILITY
Designed and made with purpose-built structures to remain safe and durable for the long run.
Long-life-designs ensure multiple life cycles and ability to withstand the toughest conditions.
Full box-section rear frame resists torsional shock and twisting forces.
Heavy-duty steering-cylinder mounts efficiently conduct steering loads into the frame.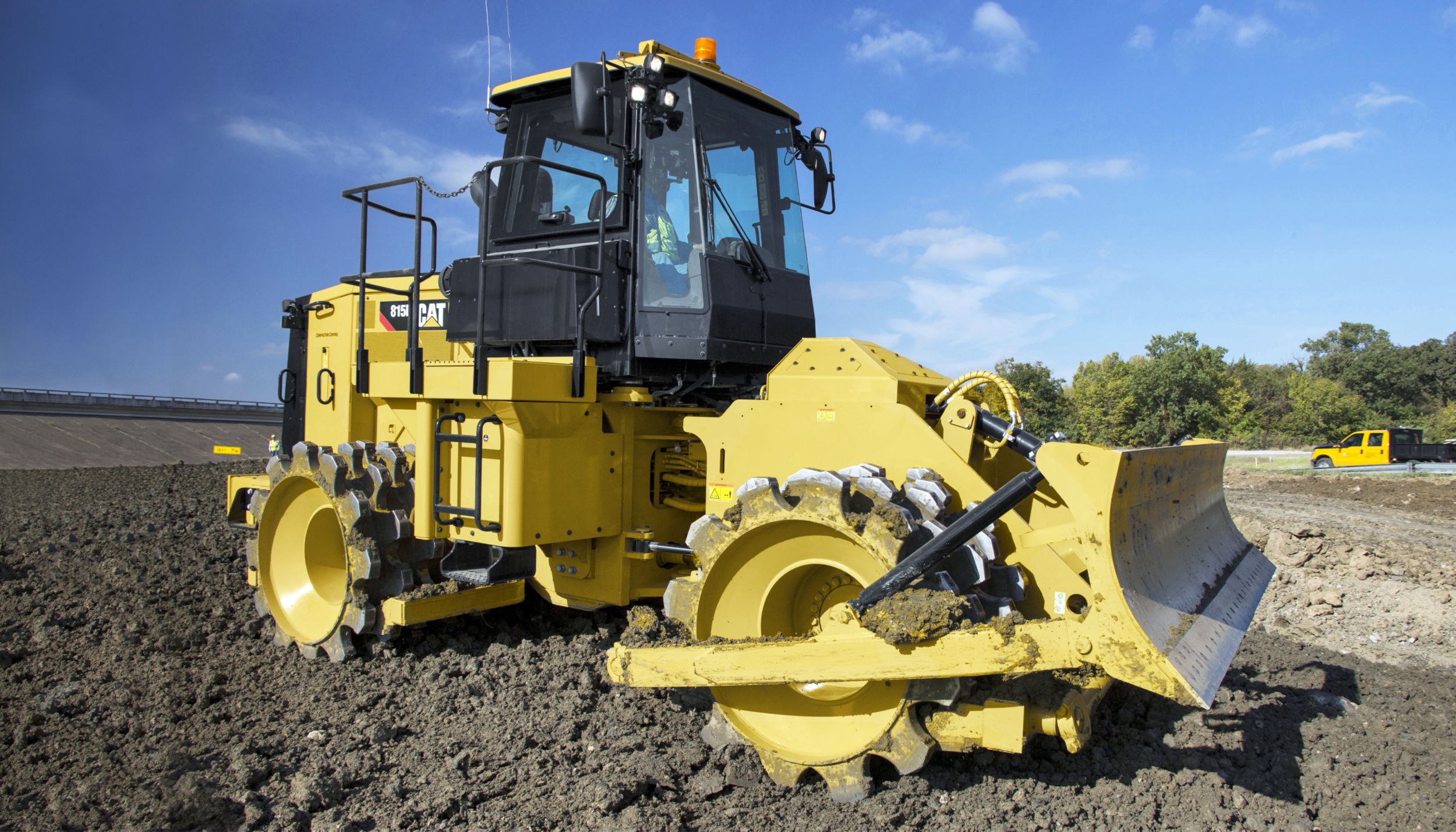 PERFORMANCE WITH LESS FUEL
Deep system integration of new engine and emissions system, power train, hydraulic system and cooling system. It all adds up to lower fuel consumption and improved emissions control.
Advanced Productivity Electronic Control System (APECS) delivers consistent, smooth shifting and efficiency through integrated electronic controls.
Strategic use of metallurgy and heat treating ensures long-life gears.
Cat C7.1 engine Is designed for maximum fuel economy and increased power density.
Two engine options are available to meet Tier 4 Final/Stage IV or Tier 3/Stage IIIA equivalent emissions standards (depending upon market).
Engine features innovative Cat electronics, fuel injection process, air-management systems and aftertreatment with Cat Selective Catalytic Reduction. And, automated aftertreatment regeneration eliminates need for operator attention.
Integrated systems intelligently lower working engine speeds and reduce overall system heat loads resulting in improved performance and fuel efficiency.
Next generation fuel injection systems control fuel metering through a series of carefully timed microbursts providing cleaner combustion and the most efficient fuel burn.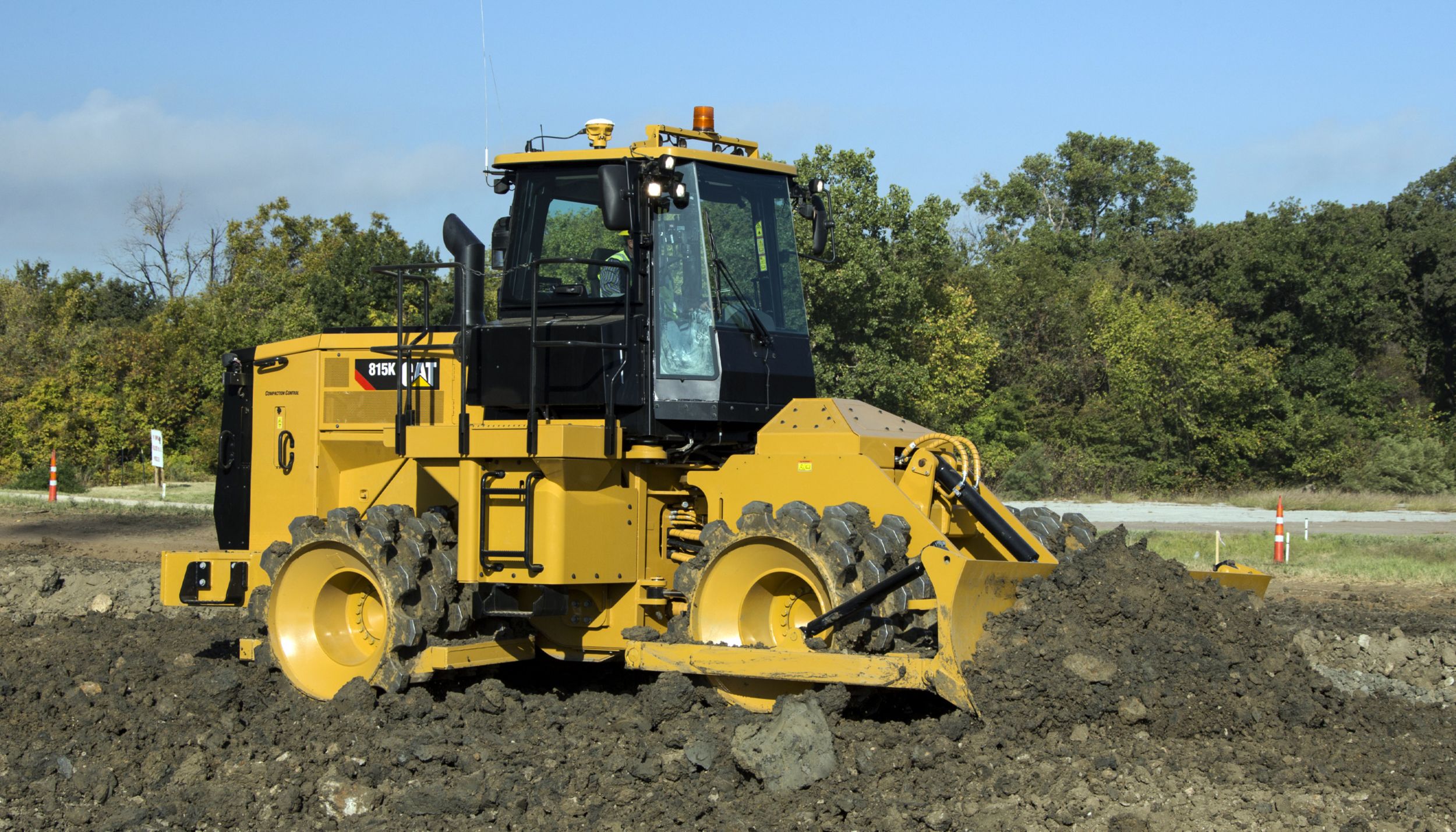 OPTIMIZE COMPACTION
Chevron Tamping Tip Design provides greater ground pressure, more compaction, excellent traction and a smooth ride.
Compaction is achieved from the bottom of the lift to the top. The tapered tips walk out of the lift without "fluffing" the soil. The top of the lift is compacted and the surface is relatively smooth and sealed so hauling units are able to maintain a high speed when traveling over the fill.
The 815K travel speed delivers four forces of compaction: pressure, manipulation, impact and vibration.
This compactor also spreads fill, potentially reducing the number of spreader tractors needed for the project.
Symmetrical Tamping Tip Pattern delivers equal compaction in forward or reverse. Tips are full perimeter and replaceable.
Two cleaner bars on each wheel keep drums free of carryover dirt, in forward and reverse, maximizing efficiency. Cleaner bars are available with standard or abrasive tips depending upon the application. Bars are adjustable and bar tips are heat-treated and direct-hardened cutting-edge steel to increase life.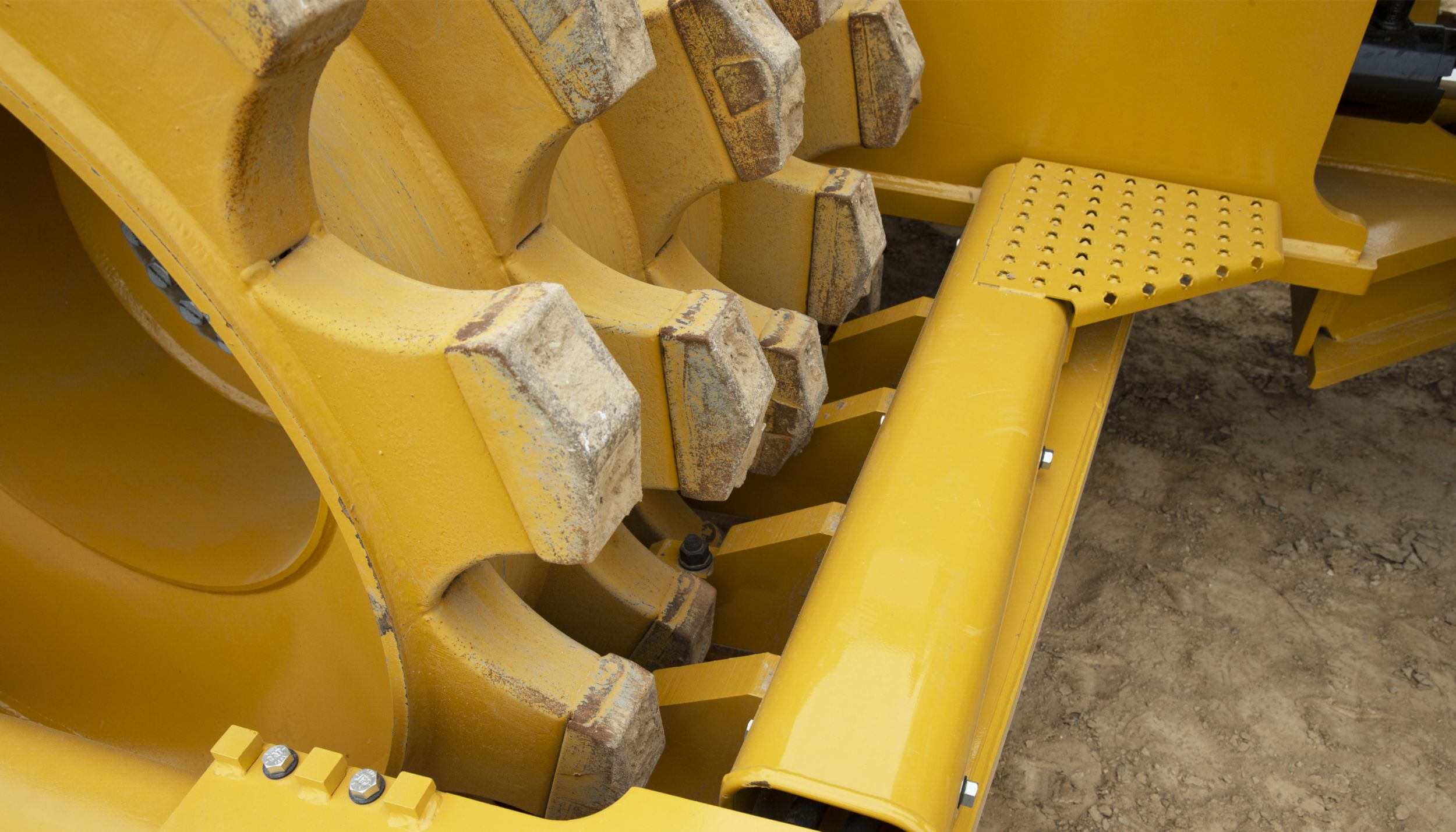 OPERATOR COMFORT AND CONTROL
Pressurized cab sits on isolation mounts improving comfort and reducing sound.
Cab features a convenient floor storage tray/lunch box.
Cat Comfort Series III Seat includes mid-back design, thick, contoured cushions, air suspension, six-way adjustments, and a seat-mounted implement pod and STIC steer that moves with the seat for optimal control.
Control Panel gives operators the information and controls for safer and time-saving settings.
STIC control simplicity provides maximum responsiveness and control with STIC that combines directional selection, gear selection and steering into a single lever.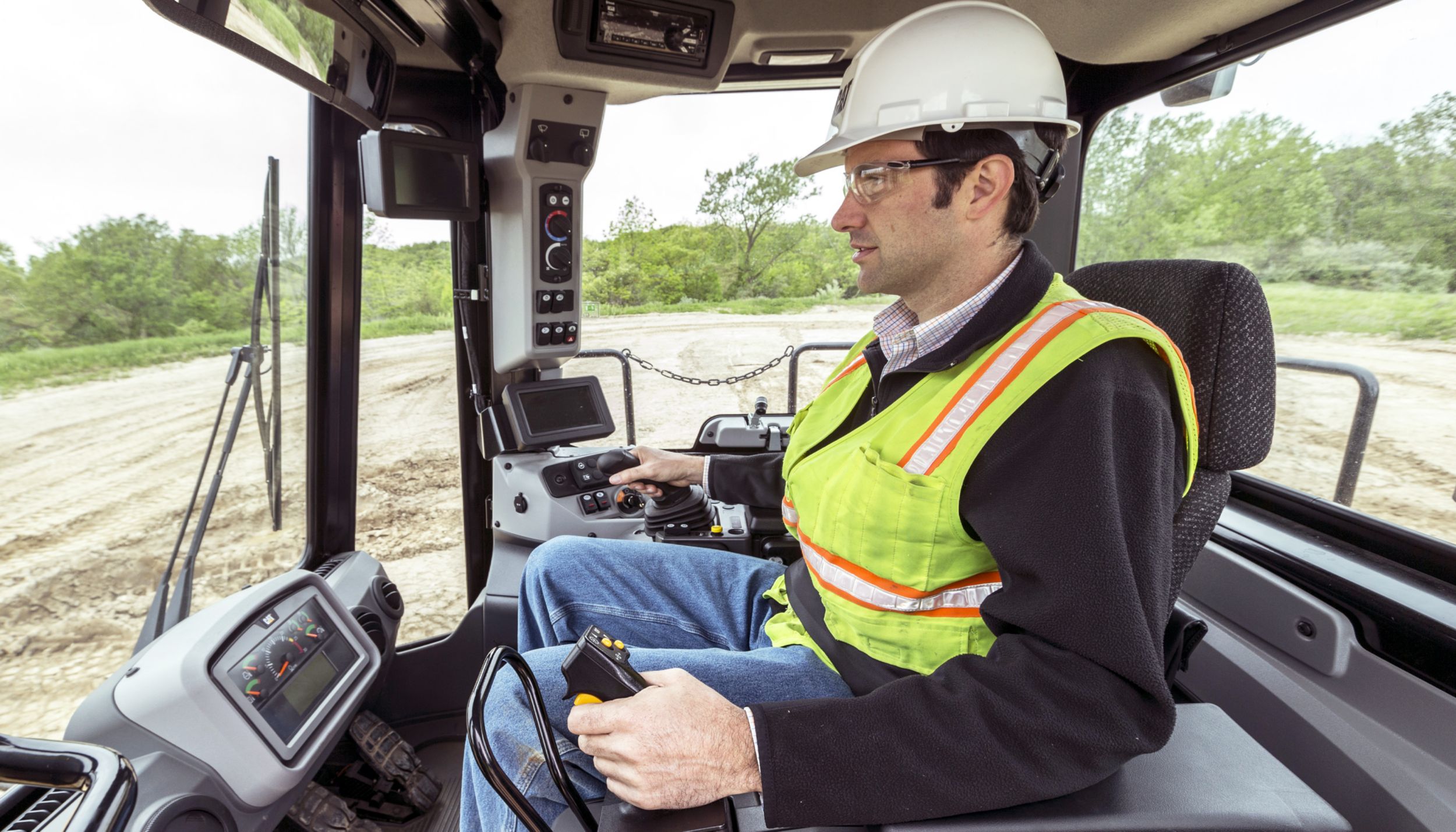 PRODUCTIVITY WITH TECHNOLOGY
Cat Compaction Control system uses Machine Drive Power (MDP) technology to measure rolling resistance and correlates it with soil stiffness. MDP works in both cohesive or granular soils. Optional 3D mapping system maps compaction measurements to the precise location the operator is working, providing a real-time view of progress, and a record of compaction uniformity.
DETECT technologies help keep people and equipment safe by keeping operator aware of the work area and by monitoring and reporting unsafe conditions, like avoidance zones.
COMPACT technologies combine advanced compaction measurement, in-cab guidance and reporting capabilities to help you consistently meet compaction targets fast, uniformly, and with fewer passes.
Cat Product Link is deeply integrated into your machine, giving you access to information like machine location, hours, fuel usage, idle time and event codes via the online VisionLink user interface. Helps effectively manage fleet and lower operating costs.
BUILT-IN SAFETY FEATURES
Railings, ladders and non-slip surfaces enhance technician and operator safety.
Design ensures three points of contact at all times through ground level or platform accessible service areas.
Rearview camera with in-cab monitor increases operator awareness around the machine.
Standard cab-mounted LED warning strobes.
Optional heated mirrors ensure enhanced visibility for safe operation.
Optional LED lights provide excellent workspace visibility.
Reduced vibrations to the operator with isolated cab mounts and seat mounted implement and steering controls.
Low interior sound levels.
Pressurized cab with filtered air.
REDUCE ENVIRONMENTAL IMPACT
Engine Idle Shutdown can help you save fuel by avoiding unnecessary idling.
Reduce waste to the environment with maintenance-free batteries.
High speed oil change ensures fast, easy, and secure changing of the engine oil.
The 815K is built to be rebuilt, maximizing machine life, and minimizing environmental impact. Get the most from your investment, with our sustainable options including Cat Reman and Certified Rebuild programs. With these programs, remanufactured components deliver cost savings of 40 to 70 percent, lowering operating costs while also reducing waste and minimizing the need for raw materials.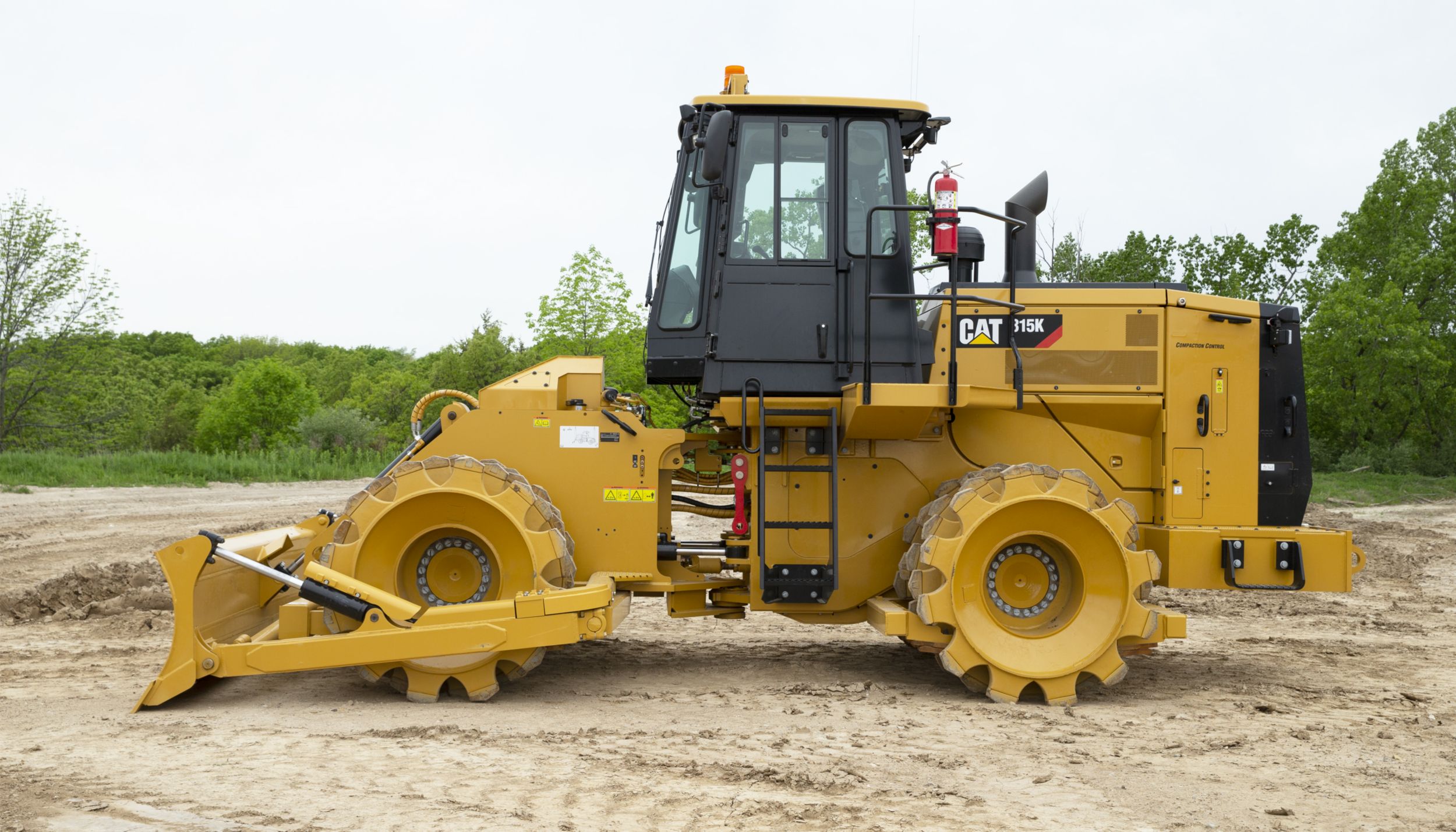 TOP-TIER SERVICE AND SUPPORT
Safe and convenient service via ground level or platform access to daily service points.
Swing-out doors on both sides of engine compartment provide easy access to daily service checks.
Ecology drains for ease of service and prevention of spills.
Reduce downtime with VIMS™ system notifications so operators and technicians can resolve problems before failure.
Sight gauges mean quick visual inspection and minimize fluid contamination.
Hydraulic oil cooler, air conditioner condenser, and fuel cooler are grouped for easy access.
Side access doors allow convenient cleanout of cooling package.
New ground level service area includes a Master Disconnect Switch with integrated lock-out/tag-out, DEF purge lamp (Tier 4 Final/Stage IV machines only), circuit breakers, emergency fuel shutoff switch and the jump start receptacle.
Centralized grease points speed maintenance.
Cat dealers keep you running with preventive maintenance programs, maintenance contracts, best-in-class parts availability and operator training support.
815K Standard Equipment
POWER TRAIN
Advanced Productivity Electronic Control System (APECS)
Air to air aftercooler
Brakes, full hydraulic, enclosed, wet multiple disc service brakes
Cat clean emission module (Tier 4 Final/Stage IV only)
Electro-hydraulic parking brake
Electronic Clutch Pressure Control (ECPC)
Engine, Cat C7.1 with ACERT Technology (configured for two emissions options): – Tier 4 Final/Stage IV – Tier 3/Stage IIIA equivalent
Engine driven cooling fan – suction
Fuel priming pump (electric)
Fuel to air cooler
Ground level engine shutoff
Muffler (under hood) (Tier 3/Stage IIIA equivalent only)
Radiator, unit core
Starting aid (ether)
Throttle lock
Torque converter
Transmission, planetary, with 3F/3R speed range control
ELECTRICAL
Alarm, back-up
Alternator, 150 amp
Batteries, maintenance-free
Electrical system, 24V
Ground level lockable master disconnect switch
Lights, directional (rear)
Light, warning switched (LED strobe)
Lighting system, (front and rear)
Starter, electric
Starting receptacle for emergency start
OPERATOR ENVIRONMENT
12V power port for mobile phone or laptop connection
AccuGrade™ mapping (ready)
Air conditioner
Cab, sound-suppressed pressurized
Cab door, sliding window (LH)
Cat Compaction Control (ready)
Cat Detect: Object Detection (ready)
Coat and hard hat hooks
Finger tip shifting controls
Flip-up armrest
Heater and defroster
Horn, electric
Hydraulic controls – seat mounted
Implement hydraulic lockout
Instrumentation, gauges: – DEF fluid level (Tier 4 Final/Stage IV only) – Engine coolant temperature – Fuel level – Hydraulic oil temperature – Speedometer/tachometer – Torque converter temperature
Instrumentation, warning indicators: – Action alert system, three categories – Brake oil pressure – Electrical system, low voltage – Engine failure malfunction alert and action lamp – Parking brake status
Light, (dome) cab
Lunch box and beverage holders
Mirror, internal (panoramic)
Mirrors, rearview (externally mounted)
Radio ready for entertainment: – Antenna – Speakers – Converter (12V, 10-15 amp)
Seat, Cat Comfort (cloth) air suspension
Seat belt with minder, retractable, 76 mm (3 in) wide
STIC control system with lockout
Sun visor, front
Tinted glass
Transmission gear (indicator)
Vital Information Management System (VIMS): – Graphical information display – External data port – Customizable operator profiles – Event indicator light on rear grill
Wet-arm wipers/washers (front and rear): – Intermittent wipers (front and rear)
TIRES, RIMS AND WHEELS
GUARDS
Cleaner bars with teeth
Guards, crankcase and power train
Guard, driveshaft
FLUIDS
Antifreeze, premixed 50% concentration extended life (–34° C/–29° F)
OTHER STANDARD EQUIPMENT
DEF tank fill gauge
Doors, service access (locking)
Ecology drains for engine, radiator, transmission, hydraulic tank
Engine, crankcase, 500 hour interval with CJ-4 oil
Emergency platform egress
Fire suppression ready
Fuel tank, 500 L (132.1 gal)
Hitch, drawbar with pin
Hoses, Cat XT™
Hydraulic, engine, and transmission oil coolers
Oil change system, high speed
Oil sampling valves
Steering, load sensing
Total hydraulic filtration system
Vandalism protection caplocks
Venturi stack
STANDARD ATTACHMENTS – HYDRAULICS
Hydraulics: – Standard or EU and Canada
STANDARD ATTACHMENTS – OPERATOR ENVIRONMENT
Glass (window): – Standard bonded or rubber-mounted glass
Precleaner – cab: – Standard or powered
Seat – cab: – Standard or heated and ventilated
Mirrors – cab: – Standard or heated
STANDARD ATTACHMENTS – POWER TRAIN
Axles: – Standard or non-spin rear
STANDARD ATTACHMENTS – SPECIAL ARRANGEMENTS
Engine Precleaners: – Turbine or dual stage
STANDARD ATTACHMENTS – ELECTRICAL
Lights: – Standard or LED
STANDARD ATTACHMENTS – FUEL SYSTEMS
Fuel tank: – Non-fast or fast fill
STANDARD ATTACHMENTS – TECHNOLOGY PRODUCTS
Product Link: – GSM, satellite
STANDARD ATTACHMENTS – CLEANER BARS
Cleaner bars: – Standard or abrasive
STANDARD ATTACHMENTS – BLADES
Blades: – Straight or tilt-straight
815K Optional Equipment
OPERATOR ENVIRONMENT
Camera, rear vision
Radio, AM/FM/AUX/USB/BLUETOOTH
Radio, CB (ready)
TECHNOLOGY PRODUCTS
Compaction control, basic
OTHER ATTACHMENTS
Sound suppression (required for Brazil)
FLUIDS
Antifreeze, –50° C (–58° F)
STARTING AIDS
Heater, engine coolant, 120V
Heater, engine coolant, 240V
MISCELLANEOUS
Film (ANSI) (Tier 4 Final/Stage IV only)
EU certification (Tier 4 Final/Stage IV only)
Plate – year of manufacture (Tier 3/Stage IIIA equivalent only)