PERFORMANCE AND PRODUCTIVITY
Cat C4.4 engine with twin turbochargers is combined with a hydrostatic transmission for outstanding fuel efficiency and the most power-dense drive train in its size class.
Superior maneuverability, faster steering response, greater capability to utilize full blade loads.
Eco Modes optimize engine speed, while maintaining ground speed, saving up to 17 percent fuel compared to the previous model in lighter blade load applications like finish grading.
Optimized undercarriage – eight (8) bottom rollers and two (2) carrier rollers for smoother ride and excellent finish grading performance.
Wide blade helps get more work done in fewer passes.
Variable Pitch Angle Tilt (VPAT) blade for more versatility, simpler adjustment.
TECHNOLOGY THAT GETS WORK DONE
Hit target grade faster and more accurately with Cat GRADE technologies. Finish jobs in fewer passes, and with less operator effort, saving you time and helping to increase your profit.
Cat GRADE with Slope Assist™ automatically maintains pre-established blade position without a GPS signal.
Updated Cat GRADE with 3D offers greater speed, accuracy and flexibility. Factory-integrated system eliminates position sensing cylinders. Antennas integrated into the cab roof for better protection.
More intuitive 10-inch (254 mm) touchscreen grade control display is easier to use.
AutoCarry™ automates blade lift to maximize blade load, improve load consistency, reduce track slip.
Cat Stable Blade works with electro-hydraulic controls to complement the operator's blade-control input to get better finish grades faster and with less effort.
Standard Slope Indicate displays machine cross-slope and fore/aft orientation right on the main display.
Factory Attachment Ready Option (ARO) simplifies installation of all brands of grade control system.
Product Link™ collects machine data that can be viewed online through web and mobile applications.
Access information anytime, anywhere with VisionLink® – and use it to make informed decisions that boost productivity, lower costs, simplify maintenance, and improve security on your job site.
ACHIEVE THE BEST GRADES
Designed from the ground up to give you a smooth ride so you can make the most of top grading speeds.
Eight bottom rollers and two carrier rollers optimize the undercarriage to give you smoother finish grades.
Rugged Variable Pitch Angle Tilt (VPAT) blade allows you to hydraulically adjust lift, angle and tilt for precise results.
Technologies like Slope Assist and Stable Blade are integrated right into the dozer to help even less experienced operators achieve a quality grade more quickly, and with fewer inputs.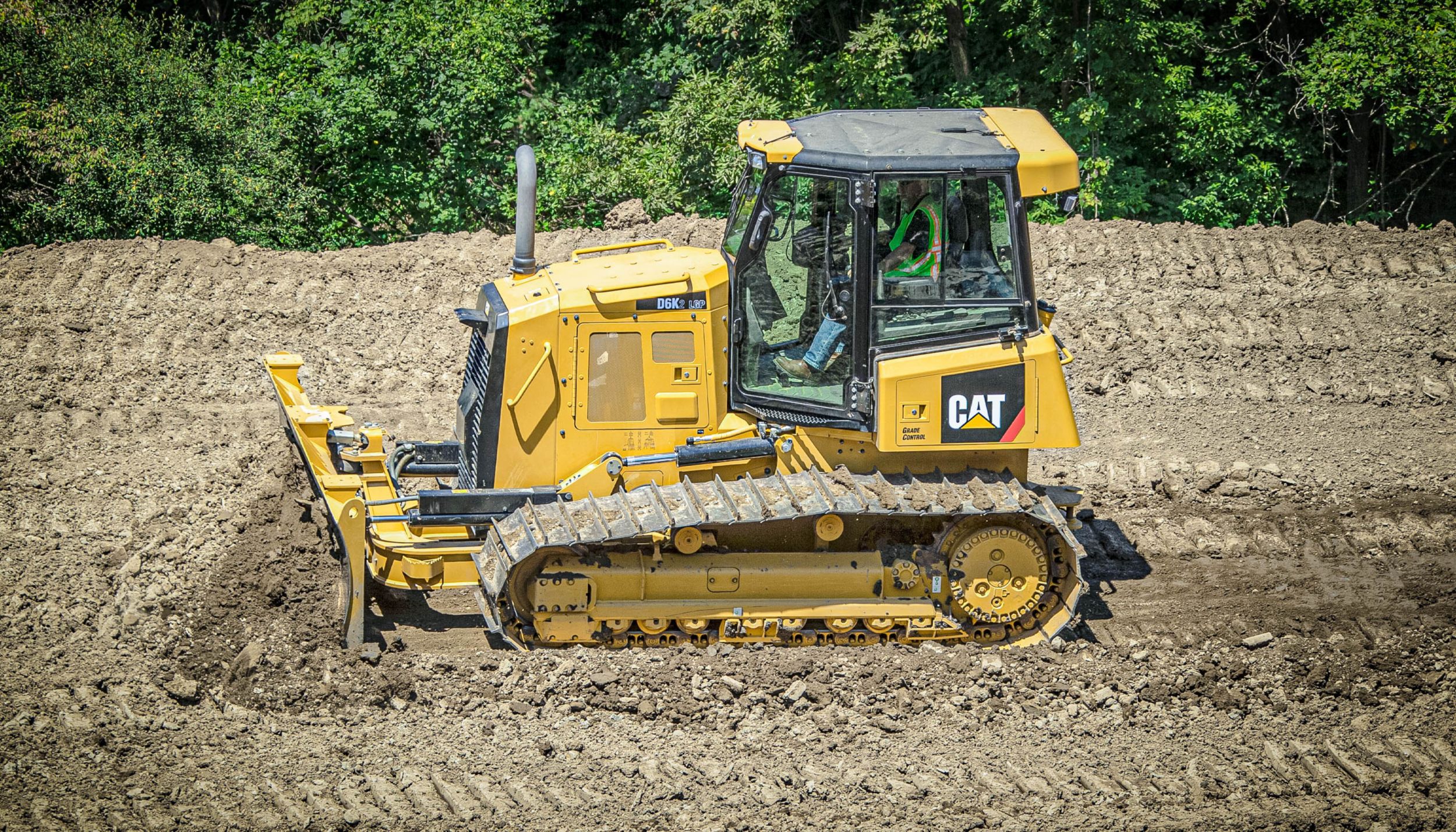 EASY TO OPERATE
Fast response with intuitive, precise electro-hydraulic controls. Adjust sensitivity to fine, medium or coarse.
Liquid Crystal Display (LCD) is easy to read – includes your Slope Assist and rear camera displays (if equipped).
Power Pitch option lets you easily adjust blade to optimum pitch for your application using buttons on the right hand control.
Automatic Traction Control reduces track slip in poor underfoot conditions.
Rear vision camera provides enhanced visibility.
Easy to transport without blade removal.
BECAUSE UPTIME COUNTS
Grouped maintenance and diagnostic points, as well as ground level service and Diesel Exhaust Fluid fill access.
Track roller frame designed for easy cleanout.
Optional bracket mounts to rear of machine to keep a shovel handy.
Diesel Particulate Filter designed for the life of the engine – no need to clean out.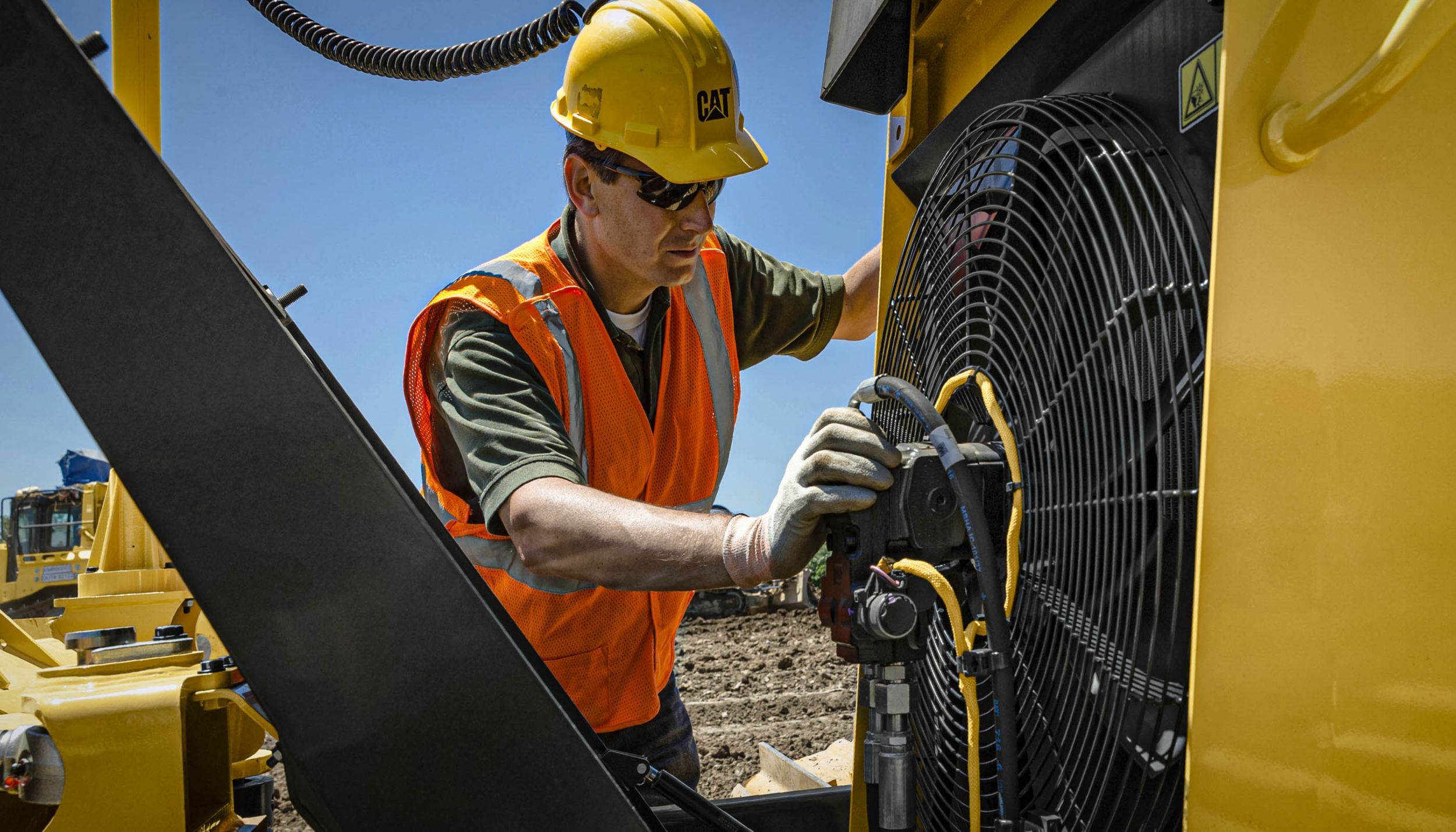 D6K2 Standard Equipment
POWER TRAIN
Cat C4.4 diesel engine turbocharged
Tier 4 Final/Stage IV/Japan 2014 (Tier 4 Final)/Korea Tier 4 Certified Engine with Aftertreatment
Aftercooler, Air to Air (ATAAC)
Glowplug starting aid
3000 meter altitude operation capability without derating
Hydraulically driven, variable speed fan
Aluminum bar plate cooling system (radiator, power train, aftercooler)
Air cleaner with integrated precleaner, dust ejector and under hood air intake
Dual path, electronic control, closed-loop hydrostatic transmission
Electric fuel priming pump
Fuel/water separator
Automatic Traction Control
Programmable/selectable bi‑directional speed control
Engine Idle Shutdown
Auto Engine Speed Control
TECHNOLOGY PRODUCTS
Cat GRADE with Slope Assist
Cat Stable Blade
Cat Slope Indicate
Product Link ready cellular or satellite (Product Link licensing not available in all areas. Please consult your Cat dealer for details.)
UNDERCARRIAGE
SystemOne or Heavy Duty undercarriage
Center tread, sprocketed idler with SystemOne, standard idler with HD
Lifetime lubricated track rollers (8) and idlers
Carrier rollers (2)
Hydraulic track adjusters
Guards, front/rear guiding
Replaceable sprocket rim segments
HYDRAULICS
Three valve hydraulics
Load sensing hydraulics
ELECTRICAL
Horn
Back-up alarm
12V converter, 10A
Diagnostic connector
Batteries, heavy duty, maintenance free, 900 CCA
Integrated lights (4 front, 2 rear)
100 Amp alternator (24 volt)
24V electric starter
OPERATOR ENVIRONMENT
ROPS/FOPS Cab
Integrated A/C with automatic temperature control
Seat, air suspended, cloth for cab
Seat belt, retractable 76 mm (3 in)
Foot pads, dash
Color graphic 178 mm (7 in)
Travel speed limiter, electronic
Engine RPM and gear display
Hour meter, electronic
Engine air cleaner service indicator, electronic
Water-in-fuel indicator, electronic
Throttle switch, rotary
Eco mode
Controls, seat mounted, fore/aft adjustment
Armrests, adjustable
Mirror, rearview, inside
Single pedal combining deceleration and braking functions
Independent forward/reverse speed settings
Power port, 12 volt
Coat hook
Storage compartment
Cup holder
Floor mat, rubber, heavy duty
Intermittent wiper
12V radio ready (plug and play)
FLUIDS
Antifreeze coolant (–37° C/–34.6° F)
Extended life coolant
OTHER STANDARD EQUIPMENT
C-frame, variable pitch link, hydraulic cylinders and lines
Engine enclosures
Hinged radiator louvered grill
Swing-out radiator fan
Front pull device
Rigid drawbar
Vandalism protection
Ecology drains (engine, power train and implement oil, engine coolant)
Scheduled Oil Sampling (S∙O∙S) ports (engine, power train and implement oil)
Heavy duty crankcase guard
INSTRUCTIONS
Warning decals, ANSI, are included for machines in the U.S.A. only.
D6K2 Optional Equipment
POWER TRAIN
UNDERCARRIAGE
XL, SystemOne
XL, Heavy Duty
LGP, SystemOne
LGP, Heavy Duty
TRACKS (40 SECTIONS)
Track Pairs, XL, SystemOne: – Track, 510 mm (20 in), Moderate Service, XL – Track, 510 mm (20 in), Extreme Service, XL – Track, 560 mm (22 in), Moderate Service, XL – Track, 560 mm (22 in), Extreme Service, XL
Track Pairs, XL, Heavy Duty: – Track, 510 mm (20 in), Extreme Service, XL – Track, 560 mm (22 in), Extreme Service, XL
Track Pairs, LGP, SystemOne: – Track, 760 mm (30 in), Moderate Service, LGP – Track, 760 mm (30 in), Extreme Service, LGP
Track Pairs, LGP, Heavy Duty: – Track, 760 mm (30 in), Extreme Service, LGP – Track, 760 mm (30 in), Self-Cleaning, LGP
TRACK GUIDING GUARDS
Guard, track guiding, center
Guard, track guiding, front/rear
Guard, track guiding, full length
OPERATOR ENVIRONMENT
Cab, Comfort Package
Cab, Comfort Package, Heavy Duty
Suspension seat, heated and ventilated with heated joystick handles
Visibility kit, single rear vision camera
Radio, AM/FM/AUX/USB/Bluetooth
HYDRAULICS
GUARDS AND PROTECTION
Cab, protection package
Screen, rear
Protection package, standard
Protection package, front
Protection package, heavy duty
BLADES
Blade, 3196 mm (126 in) ARO XL
Blade, 3196 mm (126 in) Foldable ARO XL
Blade, 3684 mm (145 in) ARO LGP
Blade, 3684 mm (145 in) Foldable ARO LGP
Mechanical blade pitch
Blade power pitch
REAR ATTACHMENTS
Drawbar
Ripper, straight teeth
Ripper, curved teeth
Counterweight, rear
Counterweight, additional slabs
REAR ATTACHMENT CONTROL
Ripper control
Winch control
Ripper and winch control
Ripper and Power Pitch control
Ripper, Winch and Power Pitch control
TECHNOLOGY PRODUCTS
AccuGrade Ready
Cat GRADE with 3D
Product Link Cellular
Product Link Satellite
Product Link Cellular and Satellite
FUEL SYSTEMS
Fuel tank, fast fuel and refill ready
WEATHER PACKAGES AND STARTERS
Cold Weather Package, 120V
Cold Weather Package, 240V
Electrical insulated breather
Starter standard
Starter high speed, low temperature
FLUIDS
Antifreeze, –50° C (–58° F)
ELECTRICAL
FIELD INSTALLED ATTACHMENTS
Winch and fairleads: – PA50 winch, variable speed – Fairlead, three rollers – Kit, conversion, 4th roller – Winch step
MAINTENANCE AND RELATED ATTACHMENTS
Shovel holder
Fuel pump, refilling
Oil change system, high speed