EFFICIENCY AND PRODUCTIVITY
Up to 20% better fuel efficiency¹.
Use up to 13% less fuel².
Fully automatic 4-speed transmission continuously adjusts for maximum efficiency and power to the ground without added operator input.
Full auto shift up and down entire working range to maximize fuel efficiency.
Lower greenhouse gas emissions – up to 13% less CO2.

¹Material moved per gallon/liter of fuel
² Gallons/liters per hour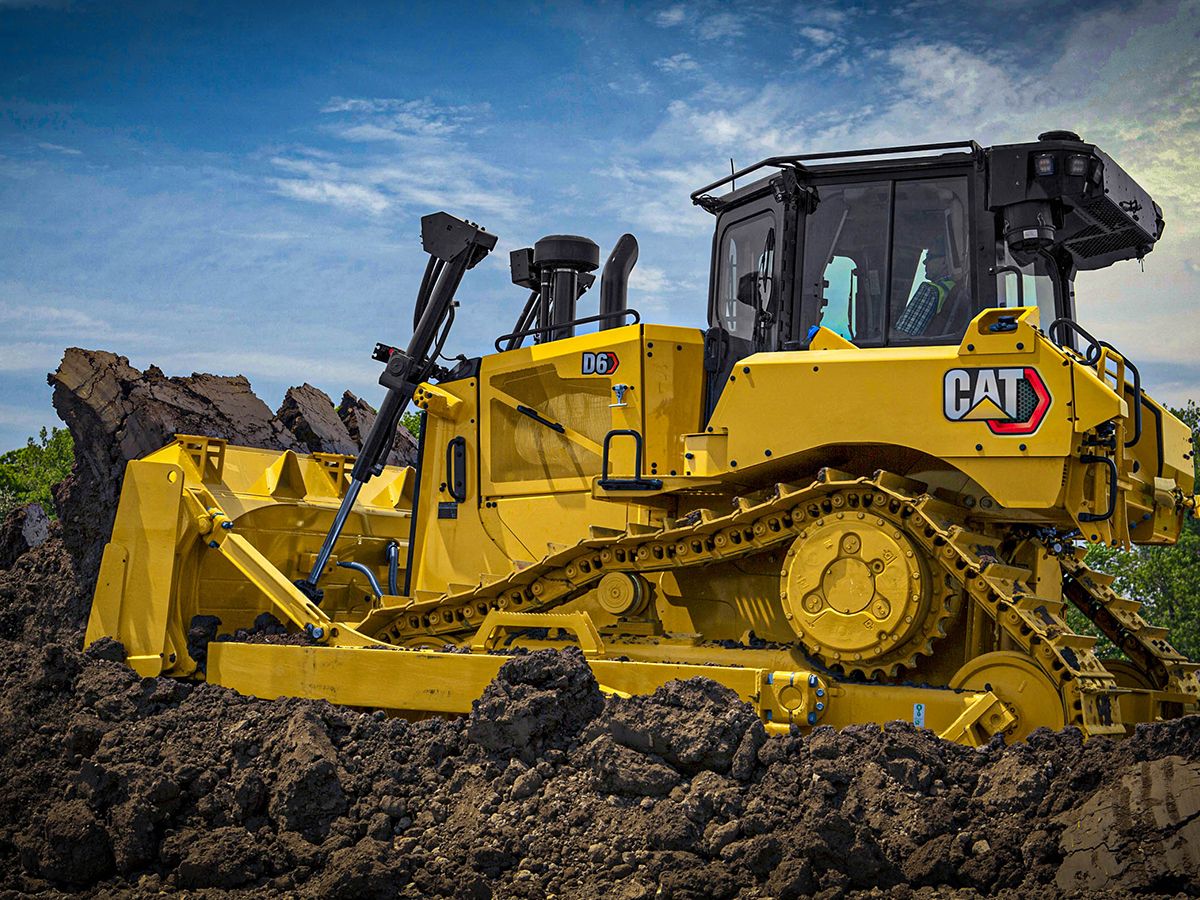 MOVE MORE WITH LESS FUEL
Move up to 16% more material per gallon/liter of fuel used.
Move up to 5% more material per hour.
Fully redesigned with updated configurations so you can build just the right machine the work you do.
Purpose-built VPAT tractor features a new frame and optimized balance for grading - no need for rear attachment.
New LGP VPAT design, with 36-inch (915 mm) centered shoes, offers 35 kPa (5 psi)ground pressure.
Wider blade on the LGP VPAT for Powerful Efficiency high-speed grading.
Class-leading VPAT range of motion for improved performance, especially when trenching or backfilling.
VPAT blade remains level when angled for smoother grade.
More robust push arm dozer for heavy applications with larger SU blade capacity.
New 10-roller undercarriage option designed for smoother grades at higher speeds, even in difficult surfaces like sand and gravel.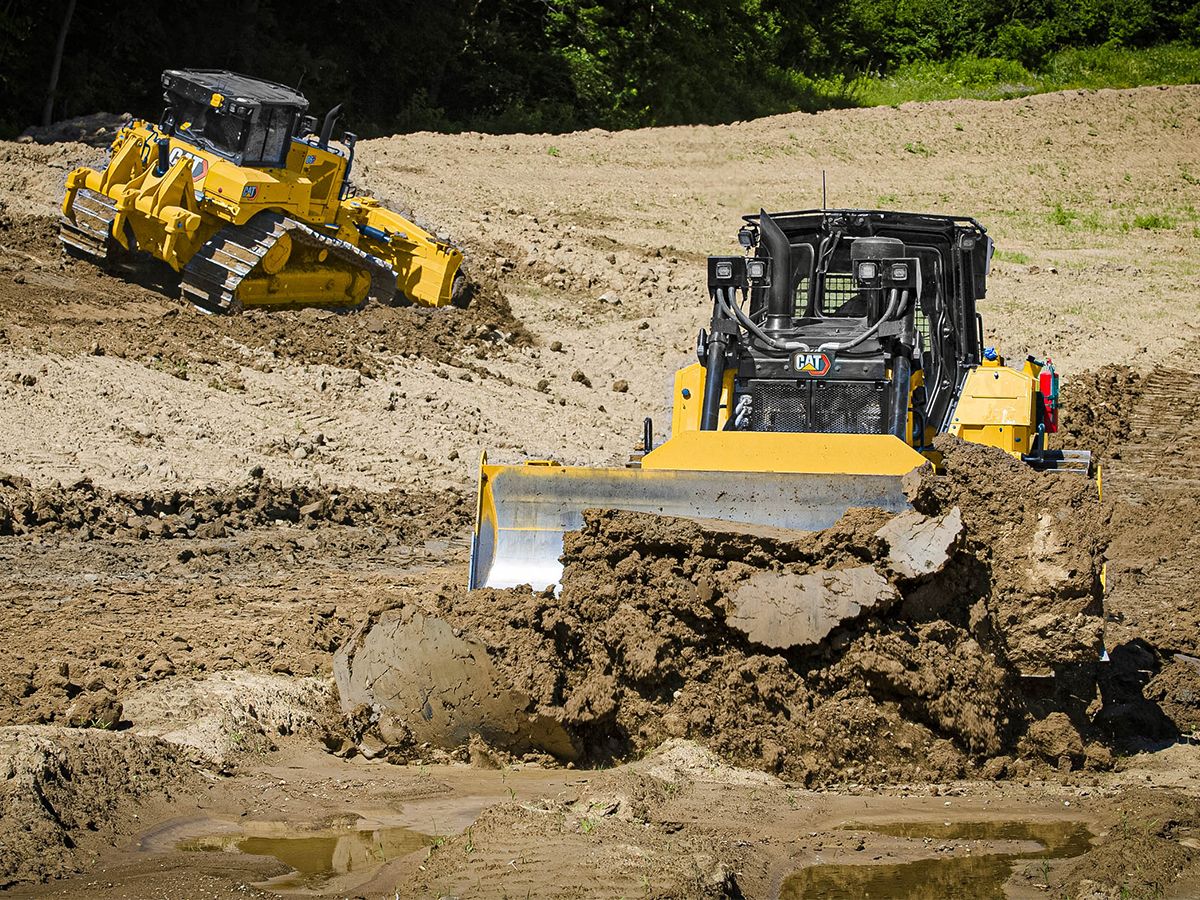 LONG TERM VALUE AND DURABILITY
New Cat C9.3B engine eliminates Exhaust Gas Recirculation (EGR) system for greater reliability; Simplified with a single engine Electronic Control Module (ECM) and improved engine air filter.
Redesigned fuel system provides greater reliability and more accurate fuel delivery.
New Heavy Duty Extended Life undercarriage - HDXLwith DuraLink™ - features Positive Pin Retention pins and link improvements for up to 20% more seal life in high impact conditions.
Common structures for Heavy Duty and SystemOne™ undercarriage enable changes from one to the other.
Purpose-built Waste and Forestry arrangements.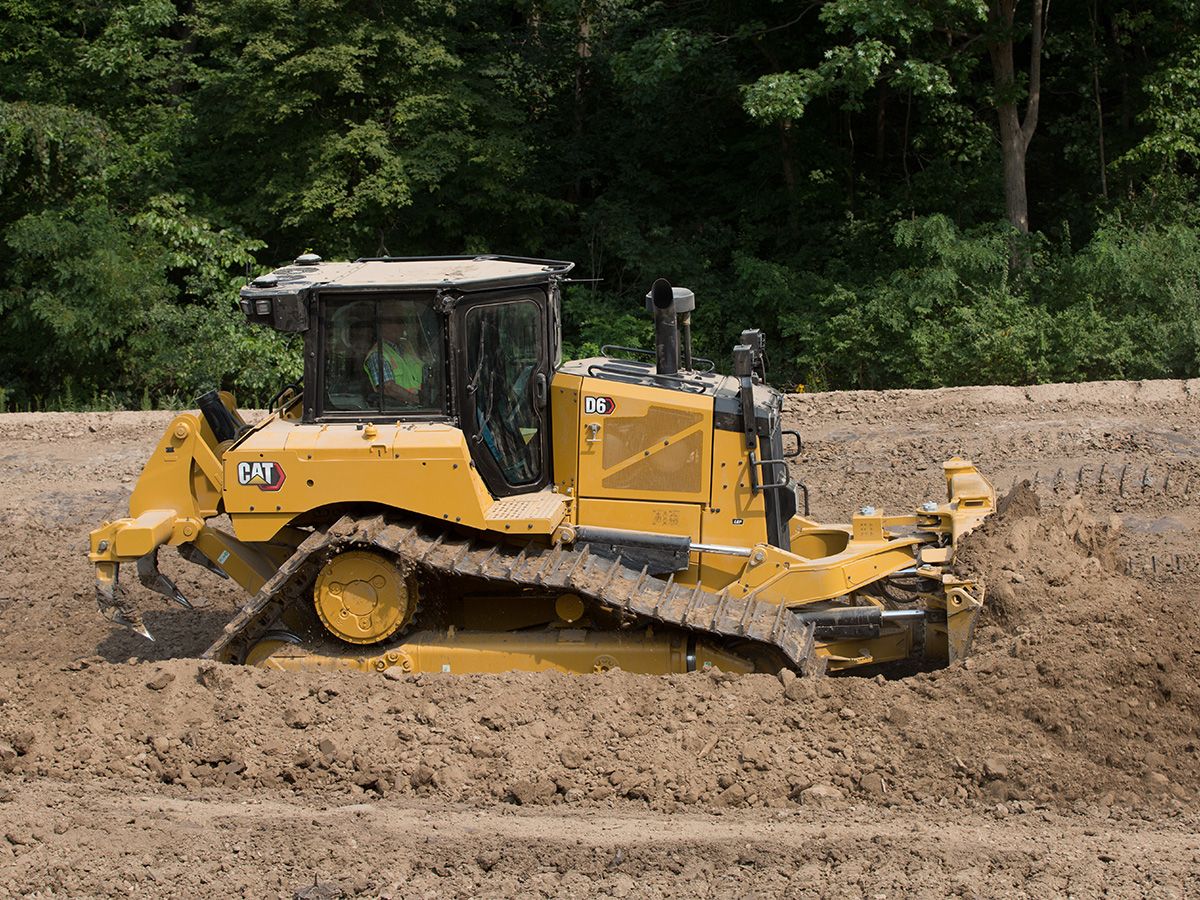 TECHNOLOGY THAT GETS WORK DONE
Hit target grade faster and more accurately with Cat GRADE technologies. Finish jobs in fewer passes, and with less operator effort, saving you time and helping to increase your profit.
Cat GRADE with Slope Assist™ automatically maintains pre-established blade position without a GPS signal.
Updated Cat GRADE with 3D offers greater speed, accuracy and flexibility. Factory-integrated system eliminates position sensing cylinders. Antennas integrated into the cab roof for better protection.
More intuitive 10-inch (254 mm) touchscreen grade control display is easier to use.
AutoCarry™ automates blade lift to maximize blade load, improve load consistency, reduce track slip.
Standard Slope Indicate displays machine cross-slope and fore/aft orientation right on the main display.
Factory Attachment Ready Option (ARO) simplifies installation of all brands of grade control system.
Product Link™ collects machine data that can be viewed online through web and mobile applications.
Access information anytime, anywhere with VisionLink® – and use it to make informed decisions that boost productivity, lower costs, simplify maintenance, and improve safety and security on your job site.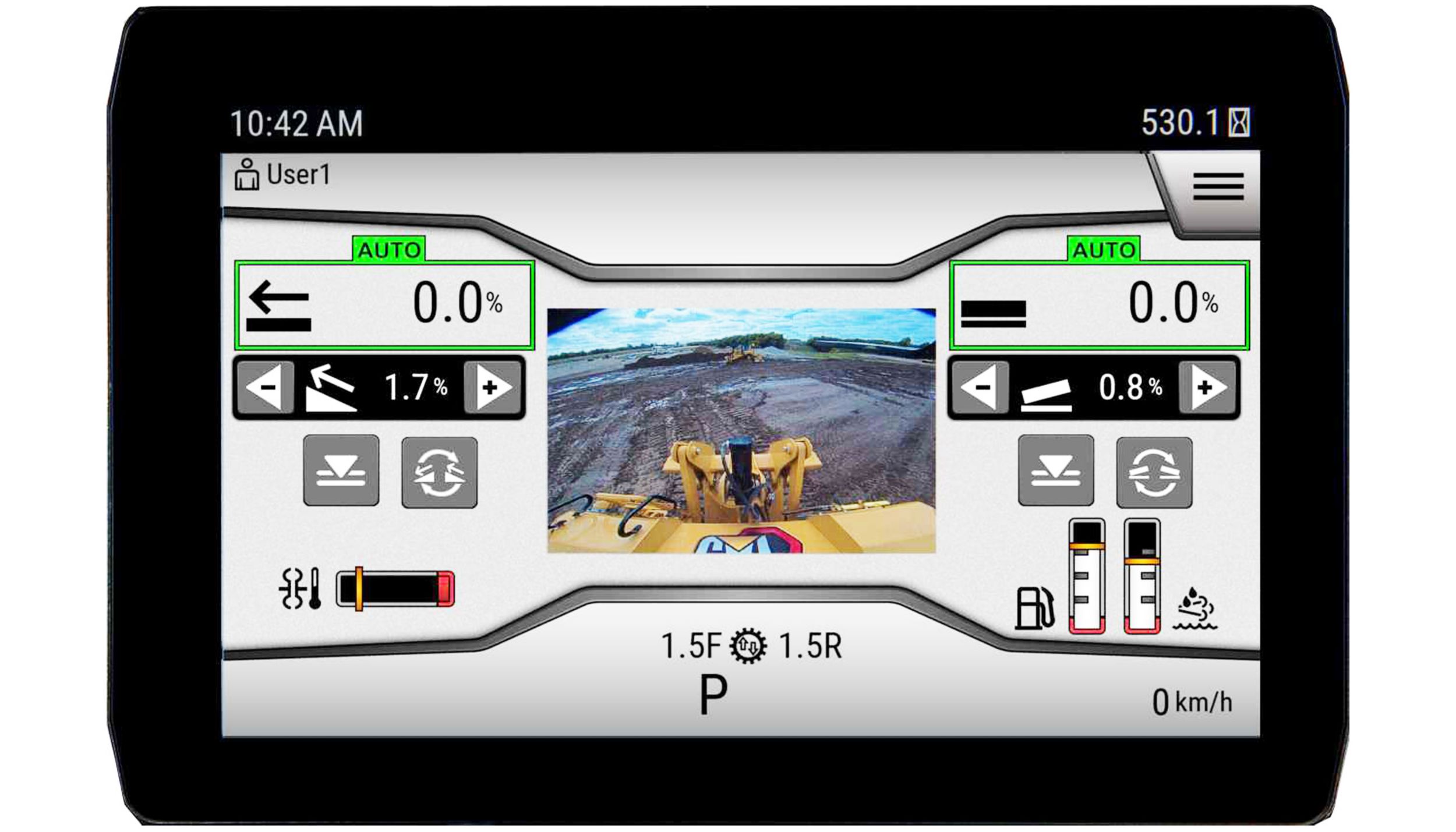 DESIGNED FOR OPERATORS
Completely redesigned cab for a whole new standard in visibility, comfort, productivity.
New 10-inch touchscreen display with easy-to-use operator interface.
Grade Control display and main display positions can be swapped.
Application Profile saves preferred machine settings.
Distributed cab heating/cooling circulates air more effectively around the operator and helps reduce window fogging/frosting.
Viscous cab mounts reduce vibration for greater operator comfort.
Wider air suspension seat has multiple adjustments for personalized comfort.
Entire armrest adjusts forward and backward independent of the seat.
Detented thumbwheel on the steering control allows easy speed setting changes
More storage spaces throughout the cab.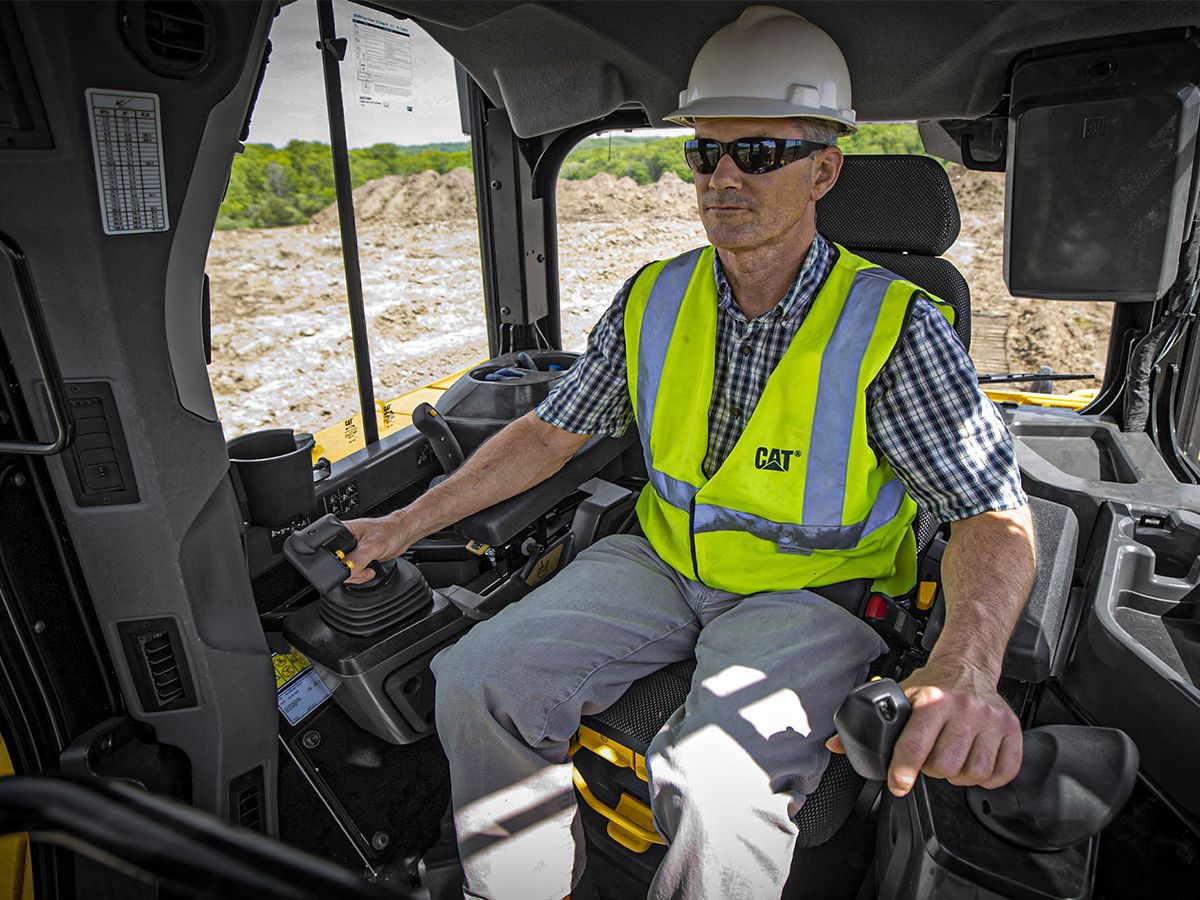 LOWER MAINTENANCE COSTS
Up to 9% lower maintenance cost – designed specifically to save you money with updated components, longer service intervals, fewer scheduled maintenance tasks.
Grouped service points and modular components with easy access to save you routine maintenance time.
Fewer filters and service points save you time and money on routine maintenance
Cab air filter replacement extended to 500 hours.
Standard reversing fan extends the time between core clean-outs.
30-minute cab removal, if needed.
Modular, self-contained HVAC unit is easier to service.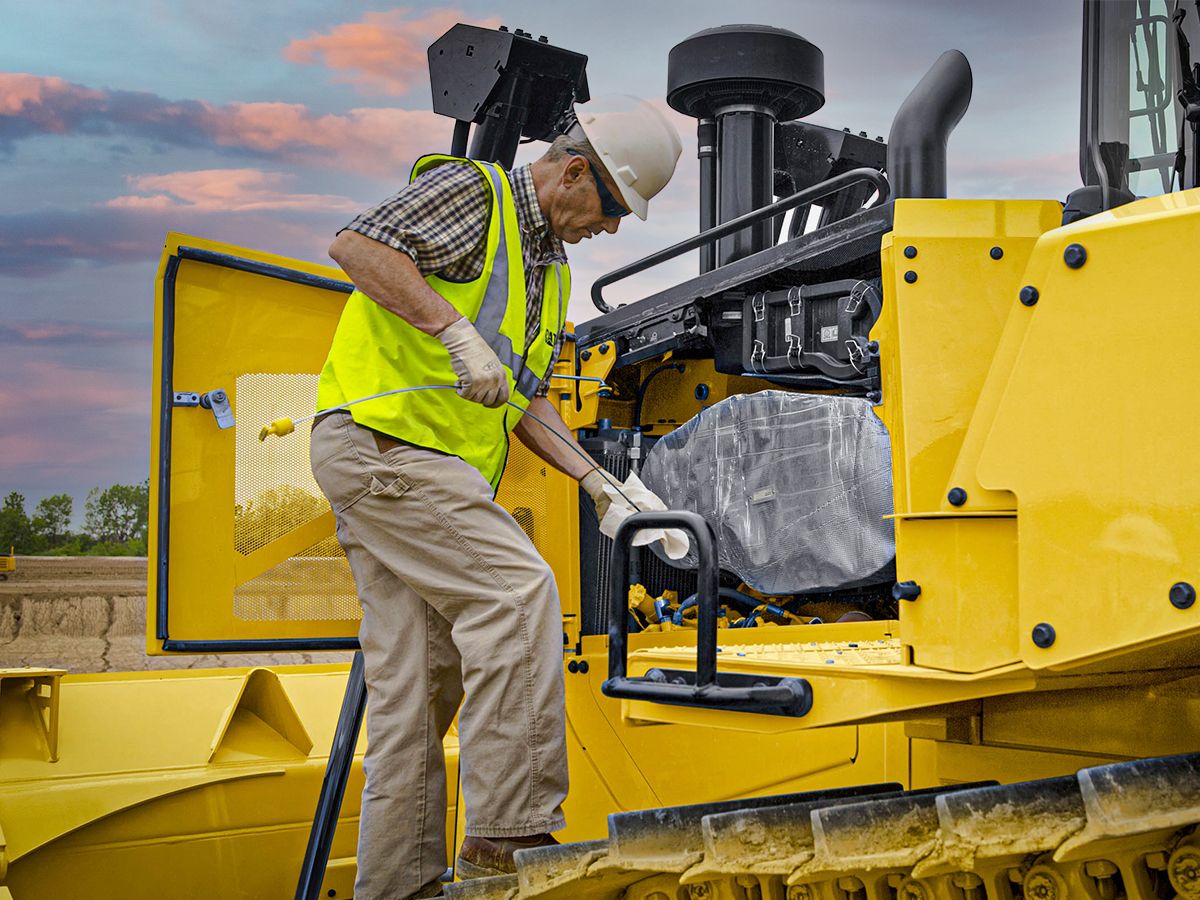 BUILT-IN SAFETY FEATURES
Approximately 15% more glass area and Integrated ROPS offers added visibility.
Standard integrated High Definition (HD) rear view camera in the primary display.
Hood design and alignment of the exhaust and precleaner provide a better view to the front of the tractor.
Bluetooth microphone gives you hands-free access to your mobile phone.
Standard ladder at the back of the machine for convenient access for fuel fill, window cleaning and maintenance.
Ground-level access to optional fast fuel fill.
Grab rail on both sides of cab roof and tie offs provide added safety.
Improved cab filtration for cleaner operator environment.
Optional integrated LED beacon warning lights.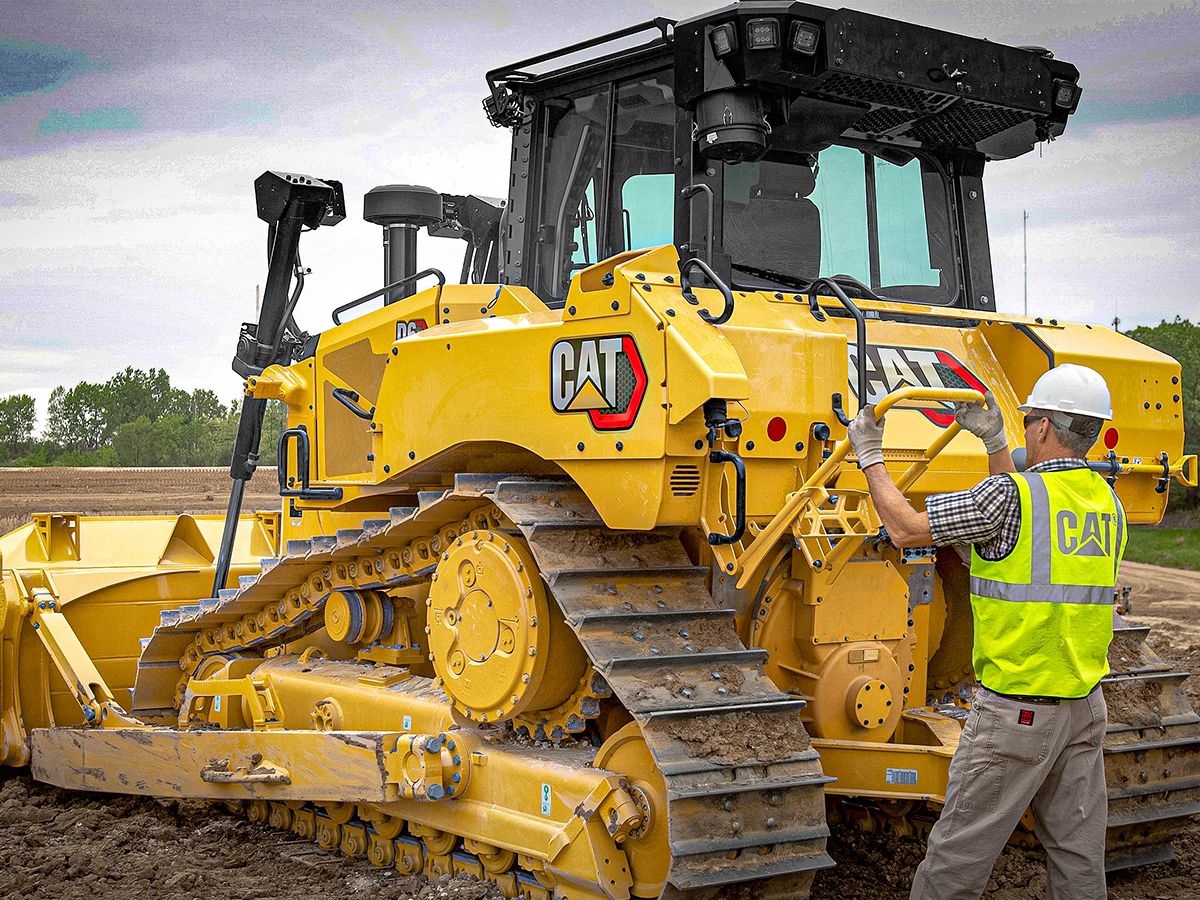 WASTE HANDLING PERFORMANCE
Improved sealing throughout the machine helps keep dust and debris out.
Waste cab has impact-resistant polycarbonate doors, eliminating the need for door screens.
Specialized guarding and seals throughout the machine help protect major components from impact and airborne debris.
Multi-layer final drive guards, including a labyrinth-style guard with 90-degree turns, help keep dirt and debris away from the Duo-Cone™ seal to protect final drive oil.
Pivot shaft seal guards help prevent debris from entering and damaging seals.
Striker bars help prevent debris from damaging the machine.
Tilt cylinder with rotating bushing type design help wrapping materials to roll off hoses.
Heavy duty hinged radiator guard protects radiator and fan from penetration by material coming straight in or from under the blade.
Cooling system designed for high debris environments, with automatic reversing fan and swing-out cleanout access.
Hinged heavy duty belly guard for easy cleaning and to keep debris out.
Lights mounted up and away from main debris area for protection, while still giving you plenty of light on the work area. An optional 12-light LED package provides 360-degree coverage.
Powered precleaner is integrated and increases the cab filter change interval to 1,000 hours.
Landfill blades and center-hole track shoes help you optimize your waste handler for the job.
Laminated thermal shields and insulated Clean Emissions Module.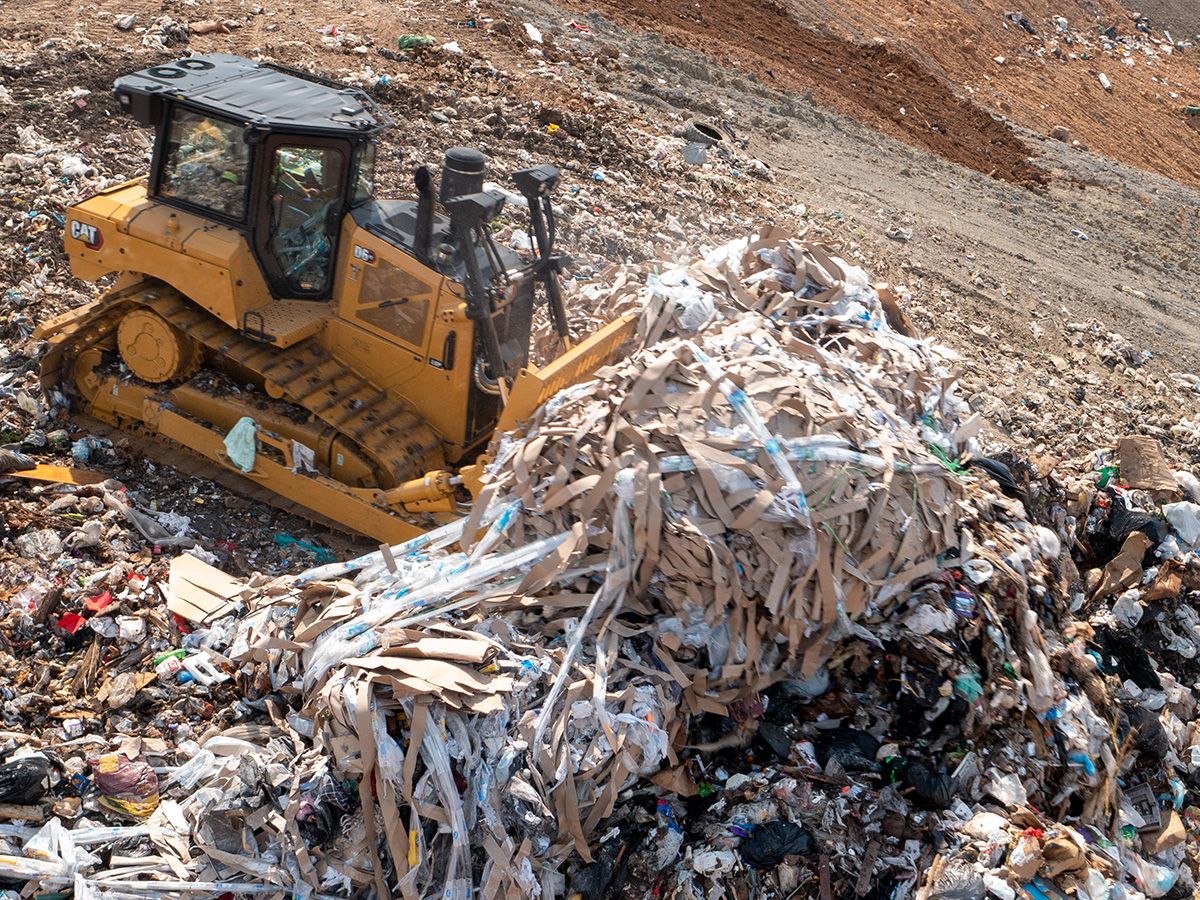 Forestry/Land Clearing Power
Updated sweeps lead the list of Forestry/Land Clearing machine features designed to help protect your dozer from damage and debris build-up.
Specialized track shoes plus woodchip and coal blades are matched to the job.
Precleaner and roof-mounted filter help protect against dust and debris.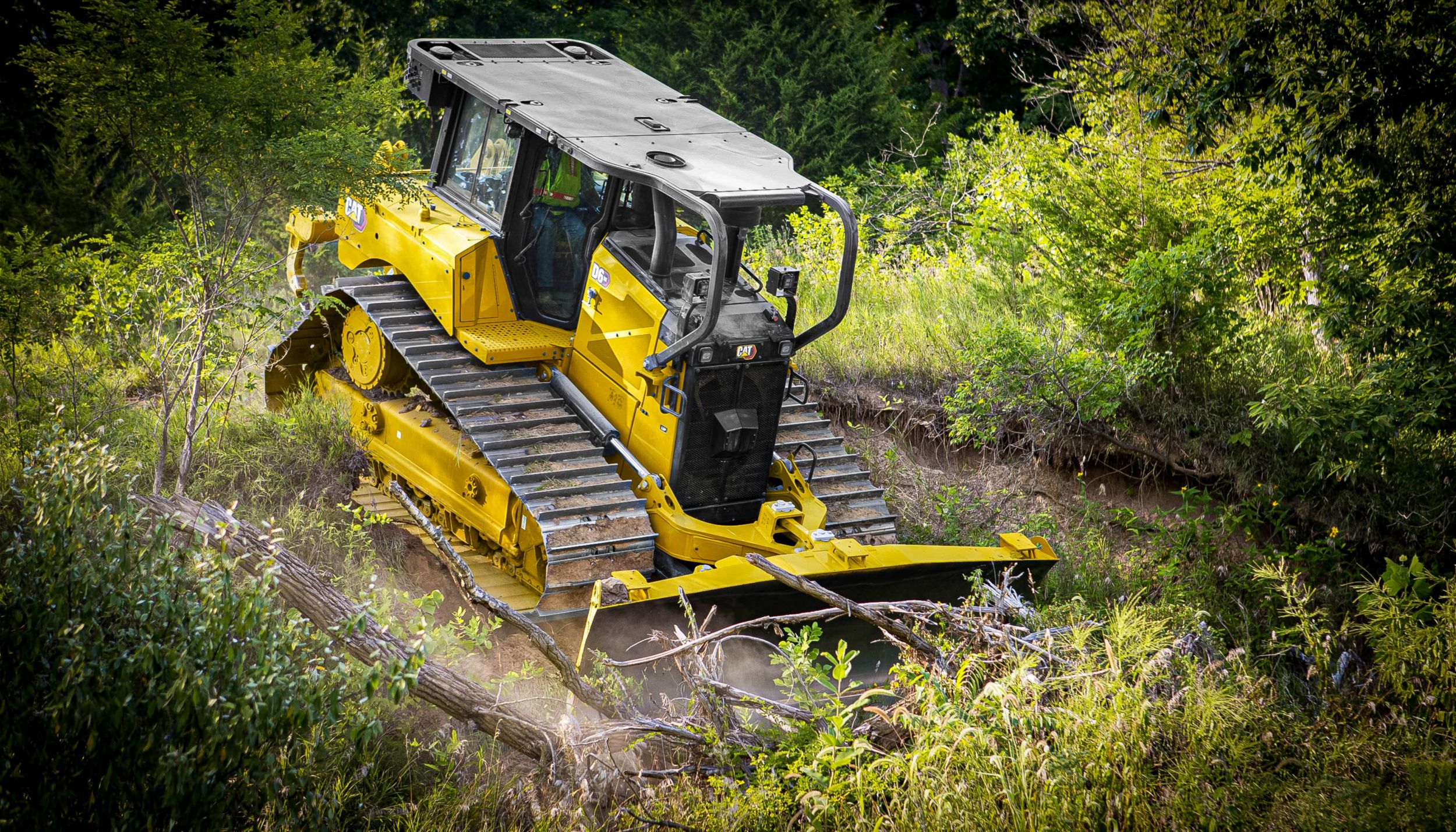 D6 Standard Equipment
Power Train
Hydraulic reversing fan
Double reduction planetary final drives
Cat C9.3B diesel engine
Fully-automatic 4-speed transmission
Operator Environment
Cloth seat
Added storage areas
Electrohydraulic implement and steering controls
Lights - 6 LED
Communication radio ready
Cab mounted modular Heating/Ventilation/Air Conditioning (HVAC) system
Fully redesigned cab, sound suppressed, with Integrated Roll Over Protective Structure (ROPS)
Integrated rearview camera
Adjustable operator controls/armrests
Full-color 10-inch (254 mm) liquid crystal touch screen display
Cat Technology
Slope Indicate
Product Link, Cellular PLE641
Attachment Ready Option (ARO) with Assist/Cat GRADE with Slope Assist
Undercarriage
Redesigned track roller frame
Service and Maintenance
Ecology drains
30-minute cab removal
Rear access ladder
Fire extinguisher mounting provision
Shovel holder
Underhood work light
Ground level service center
Hydraulics
Independent steering and implement pumps
Load sensing hydraulics
Attachments
Ripper-ready rear hydraulics
D6 Optional Equipment
Operator Environment
Premium lights - 12 LED
Integrated warning lights
Deluxe leather heated/ventilated seat
Cat Technology
Cat GRADE with 3D
Product Link Elite PLE631 - Dual Cellular/Satellite
Blades
Semi-Universal
Straight blade
Angle blade
Foldable VPAT - under 3 m (9.9 ft) transport width (Not available in all regions)
Variable Power Angle Tilt (VPAT)
Waste/Landfill
Undercarriage
Moderate Service or Extreme Service track shoes
10-Roller Fine Grading undercarriage
Heavy Duty (HDXL with DuraLink) or SystemOne
Service and Maintenance
Refilling fuel pump (EU only)
Attachments
High lift ripper with straight or curved shanks
Winch
Forestry and Waste Special Arrangements
Counterweights
Ripper and winch-ready rear hydraulics
Side screens
Rear screen - hinged or fixed
Sweeps
Drawbar