Performance
UHD front parts can reach up to 22 m of vertical pin height, capable of carrying 3.6 tons up to 14 m horizontal reach.
C9.3 ACERT™ engine meets EU Stage IV emission standards. Engine speed control automatically lowers rpm when the machine doesn't need it to help you save fuel.
Auto engine idle shutdown helps reduce fuel consumption.
Three power modes – high, standard, and eco – and auto engine speed control help manage fuel consumption.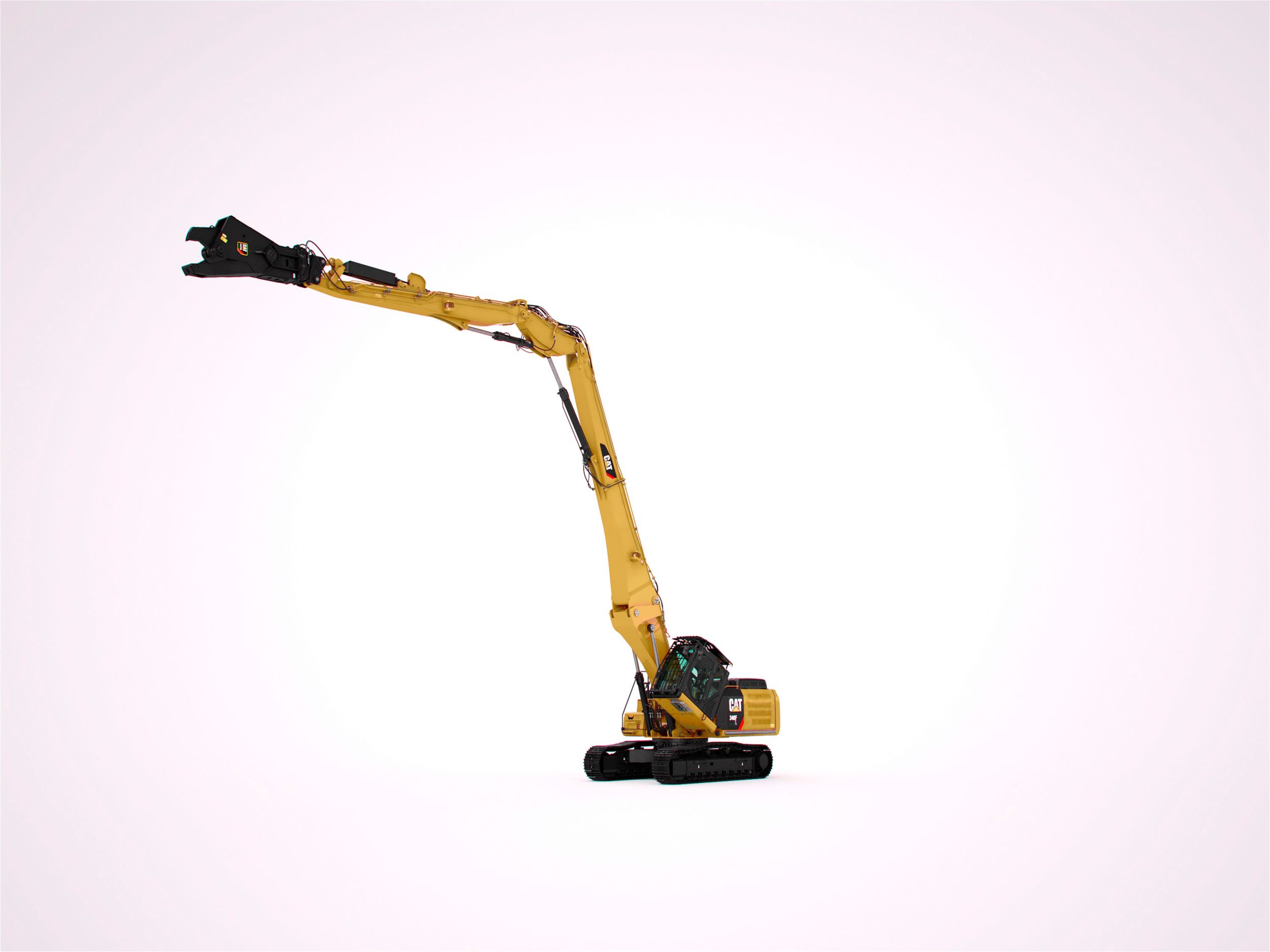 Technology and Safety
Cat active stability monitoring system continuously informs operator of work tool position within the safe working range, and warns him when approaching the stability limit.
Standard rearview camera gives a clear view on the monitor.
Cat Product Link™ and VisionLink® enable owners access to location, hours, fuel consumption, idle time, events, and diagnostic codes.
Versatility
New boom coupling system enables the operator to easily and quickly install or remove high reach and short front parts. New hydraulic pin system safely locks the front parts together.
Short boom nose can be positioned in either bent or straight position and can be fitted with three stick lengths options.
Multiple Cat Work Tools – designed specifically for Cat machines – are available for a wide range of applications.
Cat quick couplers allow you to switch from one tool to another in a matter of minutes.
Cat tool control remembers pressures and flows for up to 10 tools so you can quickly get to work after each tool change.
Comfort
Demolition cab includes P5A reinforced windshield and top glass, with parallel wipers, as well as front and top Falling Object Guards.
Enlarged top window offers enhanced upwards visibility.
Cab can be tilted back to offer a more ergonomic operator position in high reach applications.
Automatic climate control system helps maintain consistent cab temperature.
Heated and cooled seat options.
Joysticks and armrests adjust for operator preference.
LCD monitor programmable in 44 languages.
Serviceability
Mesh screens are fitted on side doors to prevent radiators clogging.
Easy diagnostics and fluids quality monitoring are done thanks to S·O·SSM sampling ports for the hydraulic system, engine oil and coolant.
Hydraulic oil and engine oil can be fast drained thanks to the QuickEvac™ drains located in pump compartment.
Routine maintenance items like grease points, fluid taps, filters, and drain tubes can be reached at ground level. Safe access with ample handrails, anti-skid plate on steps and top deck platform.
Durability
Structures are purpose built for long service life in demolition applications.
Track shoes, links, rollers, idlers, and final drives are built with high-tensile strength steel.
Grease-lubricated track link prevents dirt and debris from entering.