Technology
Cat Grade Control Depth and Slope helps operators work more productively and accurately with less rework.
Optional Cat GRADE with ASSIST automates boom and bucket movements, including tilt buckets, to help operators of all skill levels dig flat bases and the right slopes every time.
Product Link™/VisionLink® connects owners to their equipment, providing access to machine location, hours, fuel consumption, idle time, events, and diagnostic codes.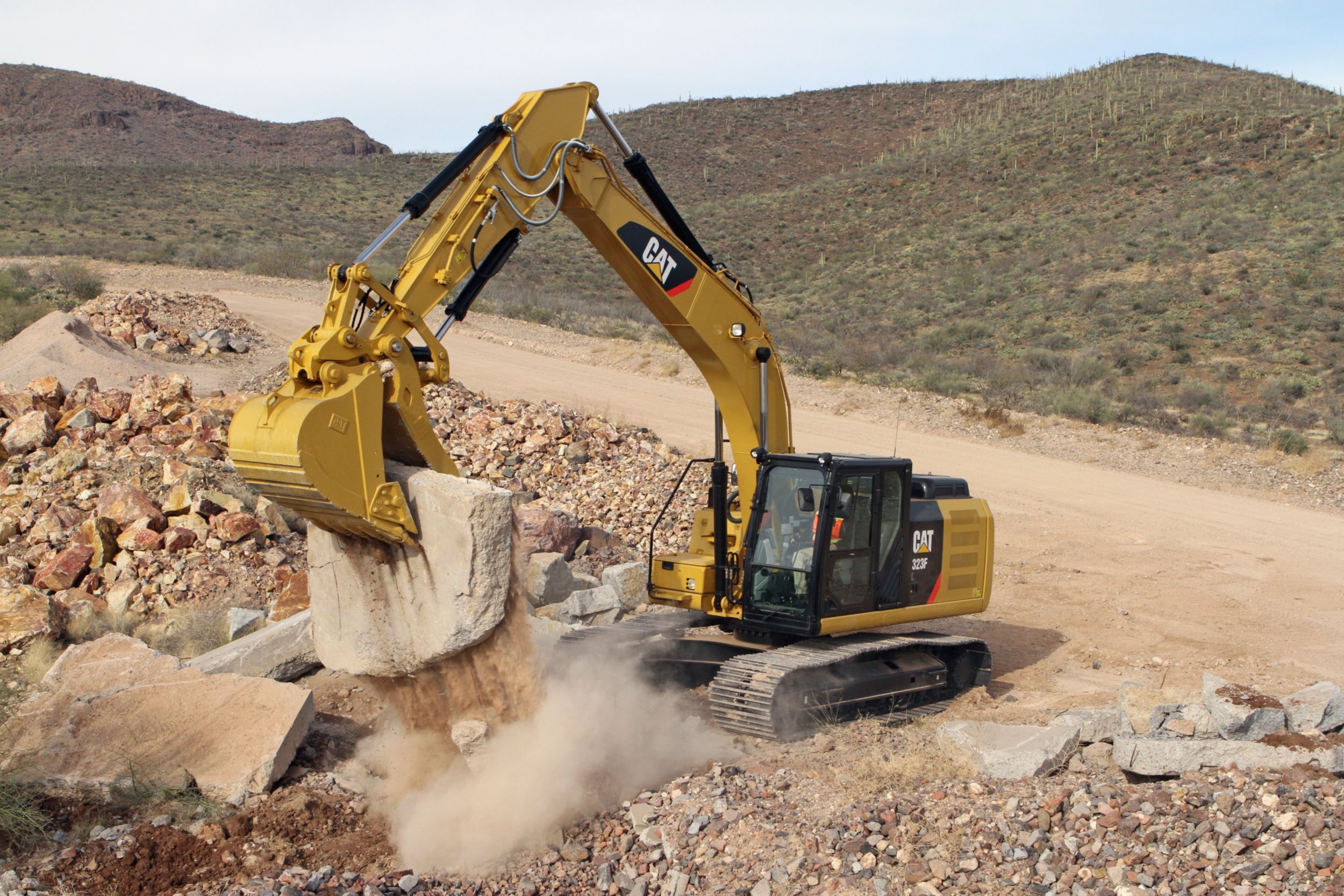 Performance
The machine meets U.S. EPA Tier 4 Final/EU Stage IV emission standards and consumes up to 5% less fuel than the machine it replaces.
Power modes and constant engine speed control help manage fuel consumption.
Smooth, controlled lifting without time limit is available with the Heavy Lift function.
Maximum breakout force is available at all times.
Versatility
Heavy-duty reach, heavy counterweight, and super long reach options help you take on any job.
Cat buckets, thumbs, and compactors make utility and finishing work fast and flawless.
Cat hammers, grapples, shears, and multi-processors make demolition work quick and easy.
Cat couplers let you swap between attachments in seconds without leaving the cab.
See the whole money-making attachment lineup at www.cat.com/attachments.
Maintenance
Routine maintenance items like grease points and fluid taps are reachable at ground level.
Service doors prevent debris entry and latch in place to enhance service speed.
The cooling system adjusts up and out of the way to make maintenance easy.
Comfort
The full-size roll-over protective structure (ROPS) certified cab is quiet and comfortable.
Automatic climate control helps maintain consistent cab temperature.
Joystick consoles and armrests are adjustable.
Seats are adjustable and feature air suspension and heated and cooled options.
Monitor is easy to navigate and programmable in 42 languages.
Durability
Robot welded, Caterpillar designed booms and sticks are built for long service and backed with a three year, 10,000 hour warranty.
Cat XT™ hydraulic hose can stand up to high pressures over the long haul.
Upper and lower frames are reinforced, and box-section structures with multi-plate fabrications, castings, and forgings are used in high-stress areas.
Greased track link between pins and bushings increase undercarriage life.
Heavy-duty bottom guards protect components from track debris and site material.