RELIABILITY YOU CAN COUNT ON
Reduce downtime and operating cost through improved serviceability, fuel economy and reduced maintenance, maximizing availability.
Major components are modular, so most can be removed and reinstalled without disturbing other components for peak repair efficiency.
C13 engine has been optimized to be as efficient without compromising performance. Eco Mode can be activated to control high engine idle speed and ensure the engine is performing as efficiently as possible, offering additional fuel savings.
Center shift section of the front frame is a heavy-duty steel casting improving stress distribution for enhanced durability.
Rear frame structure is lengthened providing easy access to components in the engine enclosure as well as improved machine balance.
Front axle steering cylinder enhances durability and hydraulic lines are routed to improve reliability.
Modular cooling package provides simple removal and installation of components on the cooling system reducing service time.
Engine enclosure doors provide complete access to the engine without any enclosure post.
Extended maintenance intervals reduce the number of touches and downtime.
Fluid monitoring systems help prevent critical components from damage when levels are low.
Information Display in cab shows service/maintenance concerns and diagnostic codes are logged.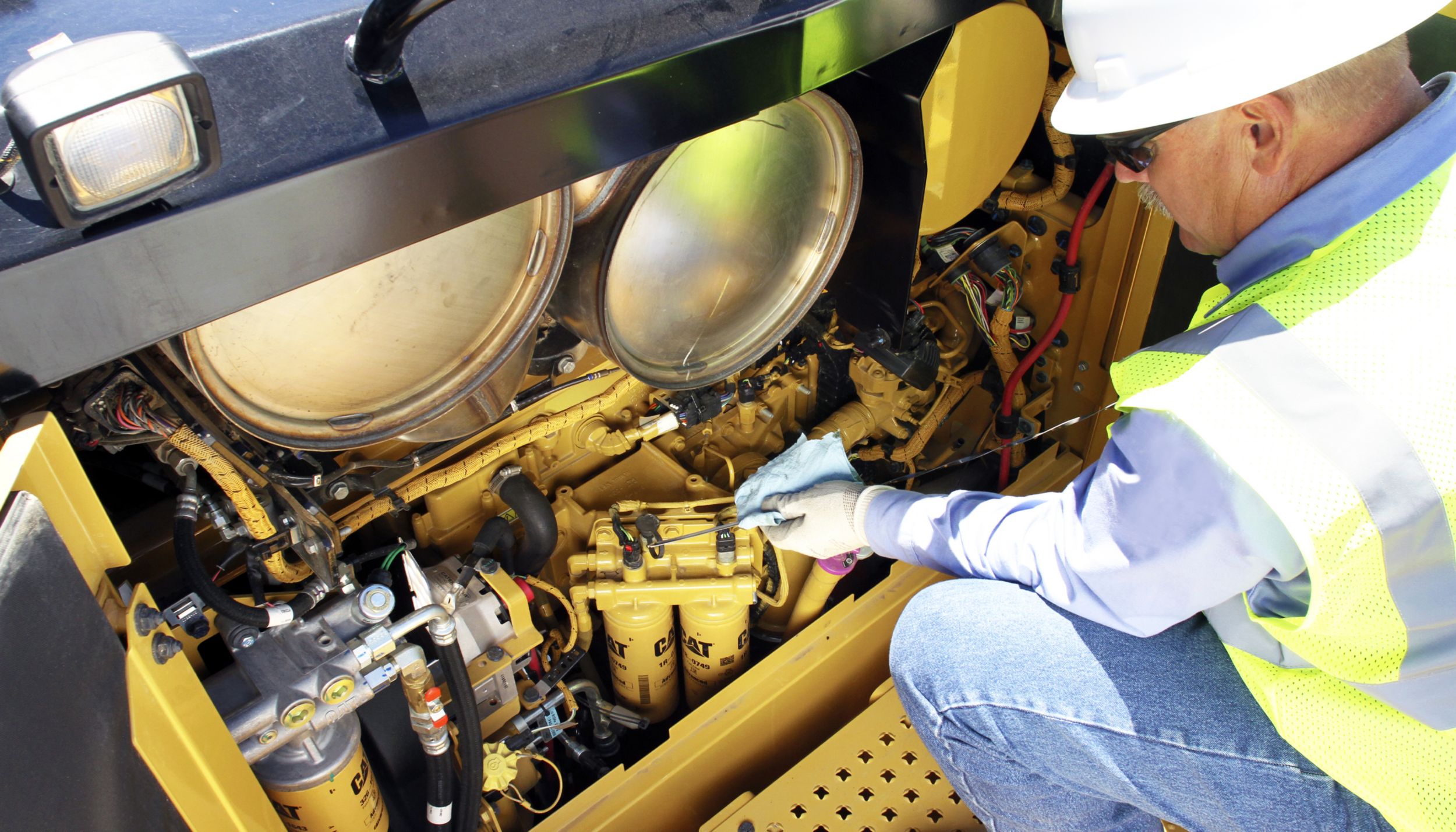 PERFORMANCE AND PRODUCTIVITY
Motor graders have a direct impact on how productively all other mining machines operate – in particular in their role in haul road maintenance. The 16M3 is optimized exactly to this goal:
Additional weight along with adjusted weight balance offers enhanced performance improving traction and the ability to keep ground speed, especially when carrying a large load.
Available with three variations of the C13 engine depending upon sales region.
Emissions reduction technology is transparent, with no action required from the operator.
Multi-color / touch screen information display is the operator's gateway to monitoring machine performance and provides convenient way of modifying machine parameters to tailor performance to the current task. Assist in providing service information for troubleshooting.
Cat Product Link™ Elite integrates into the machine, taking guesswork out of equipment management. Provides easy access to machine location, hours, fuel usage, idle time and event codes via the online VisionLink® user interface helping you manage your fleet and operating costs.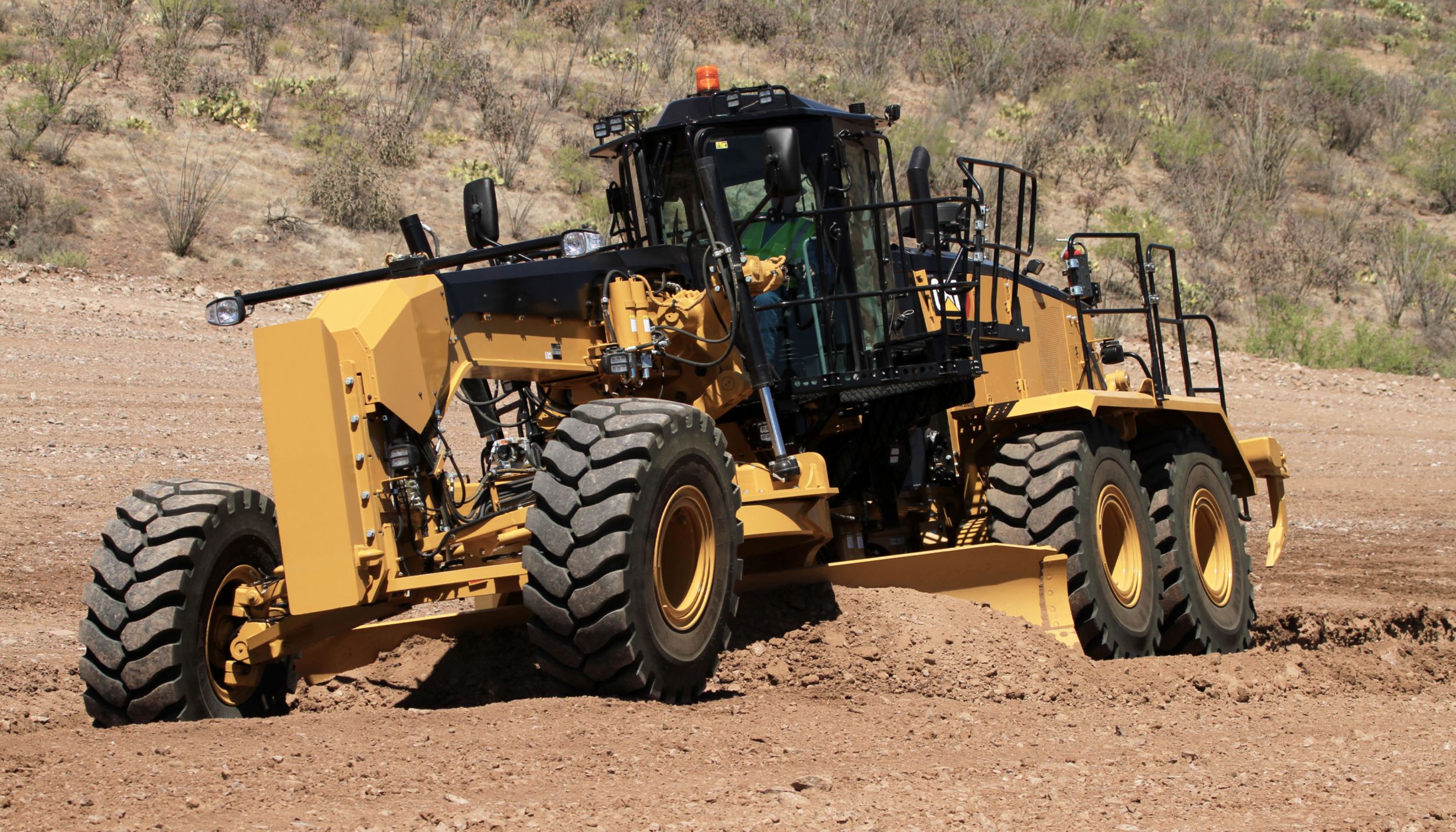 ENSURING A SAFE JOB SITE
Caterpillar considers the safety of everyone in, on or around Cat equipment when developing products or enhancing safety features.
The 16M3 has safety features including -
Access to Tandem
Rear View Camera
Seat Belt Indicator
Access Platform – optional
Service Access Platform – optional
Fire Suppression Ready System – optional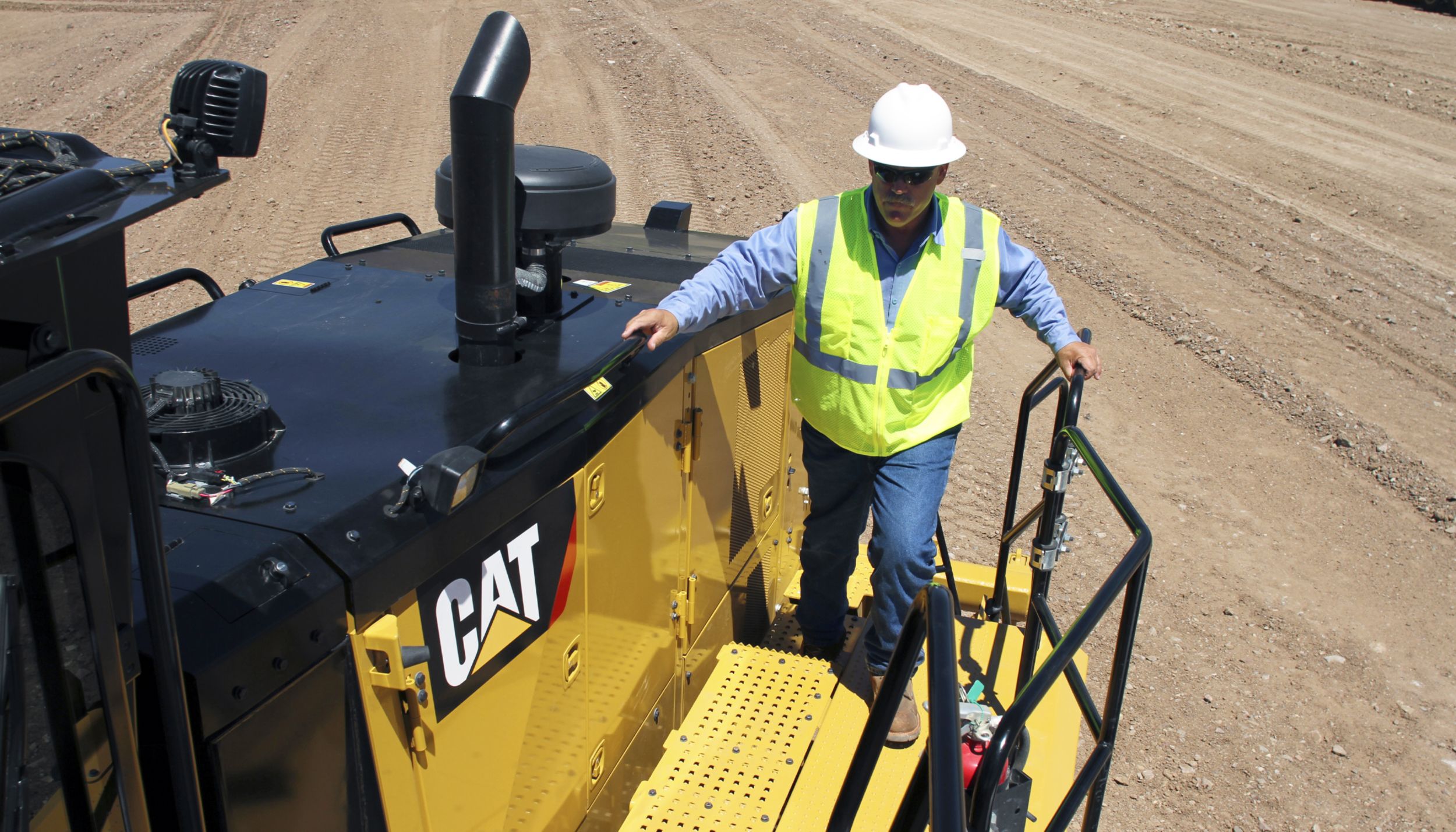 TOP-TIER SERVICE AND SUPPORT
Cat dealers are committed to helping you succeed, ensuring you have the right machine for the job, making parts available, operator training and providing a wide range of versatile work tools.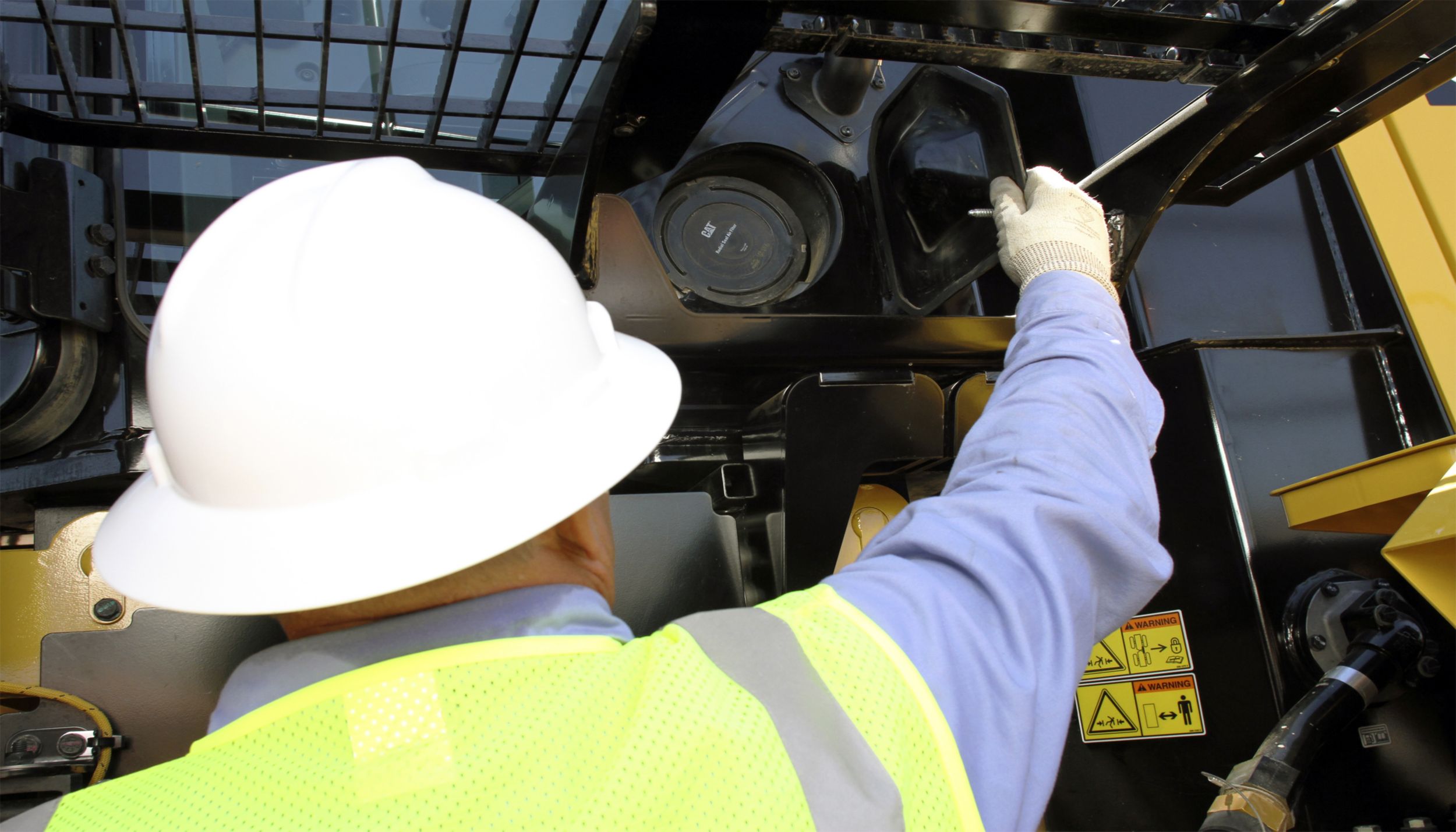 16M3 Standard Equipment
OPERATOR ENVIRONMENT
Adjustable Electric Arm rest
Adjustable wrist rest
Air conditioner with heater
Articulation, automatic Return-to-Center
Centershift pin indicator
Coat hook
Cup holder
Display, digital speed and gear
Doors, left and right side with wiper
Gauges (analog) inside the cab (includes fuel, articulation, engine coolant temp, engine rpm, and hydraulic oil temp)
Gauges, machine level
Information display touch screen
Joystick gear selection
Joystick hydraulic controls for implements, steering, transmission
Ladders, cab, left and right side
Lights, left and right side lights
Lights, night time cab
Meter, hour, digital
Mirror, inside rearview, wide angle
Power port, 12V
Radio ready, entertainment
ROPS cab, sound suppressed, less than 73 dB(A) ISO 6394 (70% fan speed)
Seat, cloth-covered, comfort air suspension
Storage compartments
Throttle control, electronic
POWER TRAIN
Air cleaner, dual stage dry type radial seal with service indicator through messenger and automatic dust ejector
Air-to-air after cooler (ATAAC)
Auto Diff Lock
Belt, serpentine, automatic tensioner
Brake wear indication
Brakes, oil disc, four-wheel, hydraulic
Consistent Power to ground
Critically Low Fluid Level Monitoring System
Differential, lock/unlock
Drain, engine oil, high speed
Electronic over speed protection
Engine ECO Mode: Tier 4 Final/Stage IV/Japan 2014 (Tier 4 Final) and Tier 2/Stage II/Japan 2001 (Tier 2) equivalent emission standards
Engine, compression brake
Ether starting aid
Fuel tank, fast fill, ground level
Fuel-water separator
Hydraulic Demand Fan
Muffler, under hood (Tier 2/Stage II/Japan 2001 (Tier 2) and Tier 3/Stage IIIA/Japan 2006 (Tier 3)
OK-to-Start
Optimized VHP
Parking brake – multi disc, sealed, oil-cooled
Priming pump, fuel
Rear axle, modular
Sediment drain, fuel tank
Three variations of the C13 engine. One meets U.S. EPA Tier 4 Final/EU Stage IV/Japan 2014 (Tier 4 Final) emission standards and is required for sale in higher regulated countries. The other options are capable of meeting Tier 2/Stage II/Japan 2001 (Tier 2) or Tier 3/Stage IIIA/Japan 2006 (Tier 3) equivalent emission standards and are available for lesser or non-regulated countries, depending on the emission standards of the specific country.
Transmission, 8F/6R, power shift
VIMS no telematics
ELECTRICAL
Alternator, 150 ampere, sealed
Batteries, maintenance free, heavy duty, 1,400 CCA
Breaker panel
Electrical system, 24V
Lights: brake, reversing, roof-mounted roading, stop and tail (LED), work front
Product Link
Starter, electric, heavy duty
SAFETY
Alarm, back up
Ground level engine shutdown
Hammer (emergency exit)
Horn, electric
Lockout, hydraulic implement for roading
Operator not present monitoring System
Paint, glare reducing – top of front frame, rear enclosure an ripper cylinders
Rearview camera
Seat belt indicator
Seat belt, retractable 76 mm (3 in)
Secondary steering
Windows, laminated glass: – Fixed front with intermittent wiper – Door with intermittent wipers (2)
Windows, tempered: – Left and right side wipers – Rear with intermittent wiper
OTHER STANDARD EQUIPMENT
3-Bolt blade Bracket
AccuGrade ARO
Accumulators, blade lift
Brake accumulators, dual certified
Cat Grade Control Cross Slope
CD ROM Parts Book
Clutch, circle drive slip
Cutting edges, curved DH-2 steel: – 203 mm × 25 mm (8 in × 1 in) – 19 mm (3∕4 in) mounting bolts
Doors (four), engine compartment, (two left, two right hand) locking
Doors, two service, left and right side
Drawbar – six shoe with replaceable wear strips
End bits, 16 mm (5∕8 in) DH-2 steel, 19 mm (3∕4 in) mounting bolts
Fast fill fuel, 567.8 L/min (150 gpm)
Fluid check
Frame, articulated, with safety lock
Hydraulics, load-sensing
Metallic Fuel tank, 496 L (131 gal)
Metallic DCM wear strips
Modular cooling package
Moldboard: – 4880 mm × 787 mm × 25 mm (16 ft × 31 in × 1 in) – Hydraulic side shift and tip
Radiator, two cleanout access doors
Rear bumper
Rear tandem access steps and hand bars
S∙O∙S ports: engine, hydraulic, transmission, coolant
Tandem walkway
Top adjust circle wear strips
Tow hitch (not available with ripper)
TIRES, RIMS, AND WHEELS
A partial allowance for tires on 597 mm × 609.6 mm (23.5 in × 24 in) multi-piece rims is included in the base machine price and weight
FLUIDS
Extended Life Coolant to –35° C (–31° F)
WORK TOOLS/G.E.T.
4.9 m (16 ft) blade with curved cutting edge 203 mm × 25 mm (8 in × 1 in)
16M3 Optional Equipment
OPERATOR ENVIRONMENT
Air horn
Comfort package
Heated door
Mirrors high visibility
Mirrors, outside heated 24V
Mirrors, outside mounted
Seat heated
Seat heated/ventilated
Windows cleaning platform and ladders left-right hand side
POWER TRAIN
GUARDS
Debris guard
Front axle cylinder guard
Rear fenders
Sound suppression, engine enclosure and transmission
Transmission guard
ELECTRICAL
Light, LED, warning strobe
Lights front LED
Lights, front headlights high
Lights, front headlights low
Mounting, for warning light
Service lights
Working lights halogen
Working lights LED
SAFETY
Additional monitor for rearview camera
Enhanced access platform
Fire suppression ready
Machine Security System Key
Service access platform
OTHER ATTACHMENTS
Auto-lube, Centro-matic
Auto-lube, ripper enhancement
Control, blade, variable float
Heater, engine coolant, 120V
Heater, engine coolant, 240V
Hydraulic arrangements with additional hydraulic valves Base+1
Hydraulic arrangements with additional hydraulic valves Base+5
Product Link Elite dual
Rim, 495.3 mm × 635 mm (19.5 in × 25 in) MP (spare)
Weather, Cold Plus package
WORK TOOLS/G.E.T.
4.9 m (16 ft) blade with flat cutting edge 254 mm × 35 mm (10 in × 1 3∕8 in)
Push block, counterweight
Ripper, rear
Tooth, ripper
FLUIDS