PERFORMANCE AND PRODUCTIVITY
Cat C4.4 engine meets EU Stage IV emission standards. Emissions technology is transparent – no action required from the operator and no stopping for regeneration.
Dedicated swing pump, allowing faster, smoother combined movements.
Built-in fuel savers, eliminating waste with features like Auto Engine Speed Control, Engine Idle Shutdown and efficient Eco Mode.
"On-Demand" Strategies, to consume just the right amount of fuel.
Similar working ranges, stability and lift capacities as the M314F.
Highly mobile, the M315F can travel up to 30 km/h (19 mph).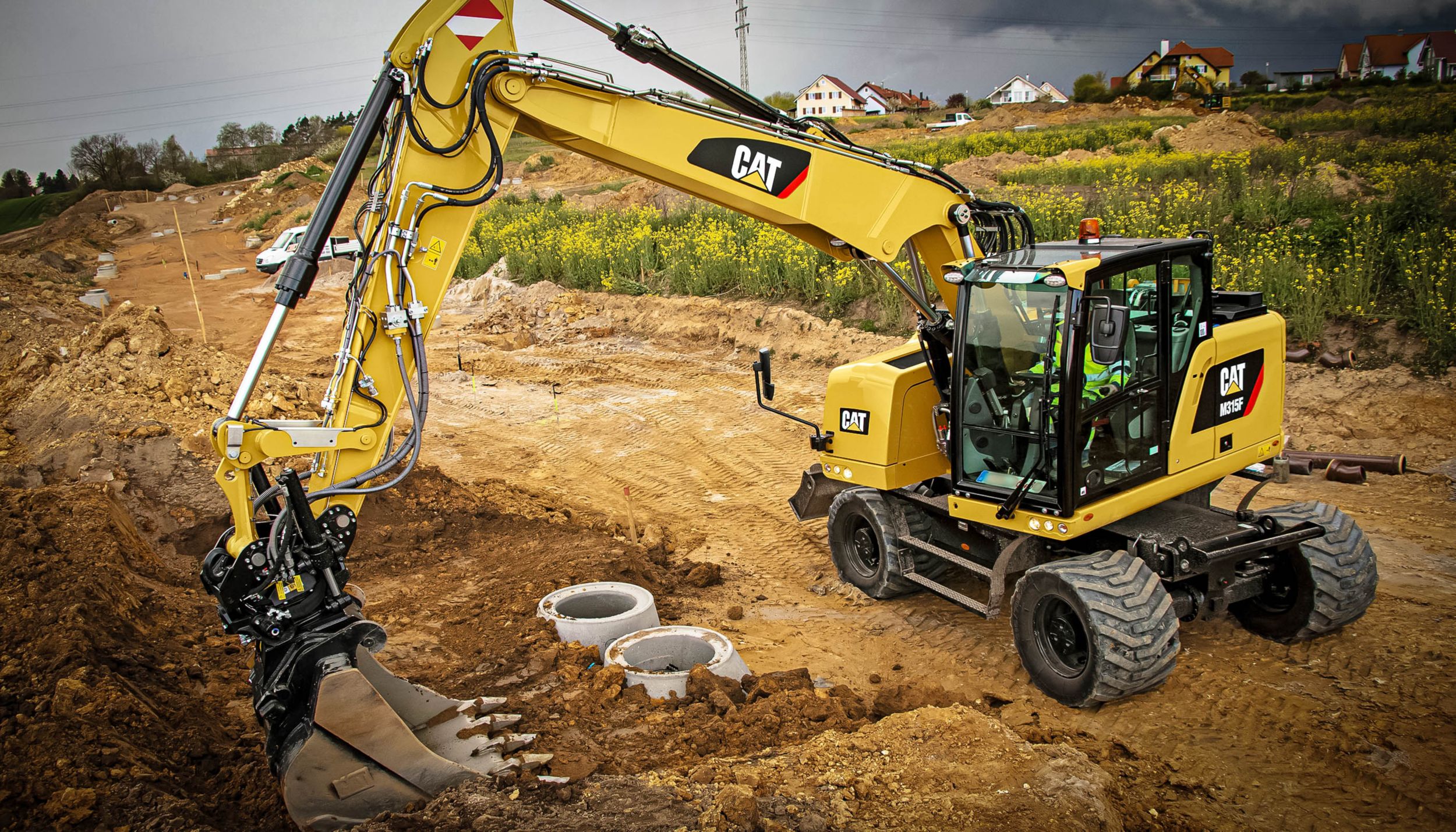 EXPAND YOUR CAPABILITIES
Compact design allows an operator to swing with confidence in tight quarters.
Flexible configurations to meet all your needs with various booms/sticks, tires and undercarriages.
"Plug and Play" design, with complete integration of the whole portfolio of Cat attachments. – Auxiliary hydraulics, including high pressure, and quick coupler lines/circuits. – Readiness for all couplers, either Pin Grabber, Dedicated or hydraulic Auto Connect coupler. – The monitor can allow ten hydraulic pump flow and pressure settings at the same time. – Tiltrotator option including all required changes to accommodate the Cat Tiltrotator.
Joystick buttons/sliders can be set up per tool as desired by the operator.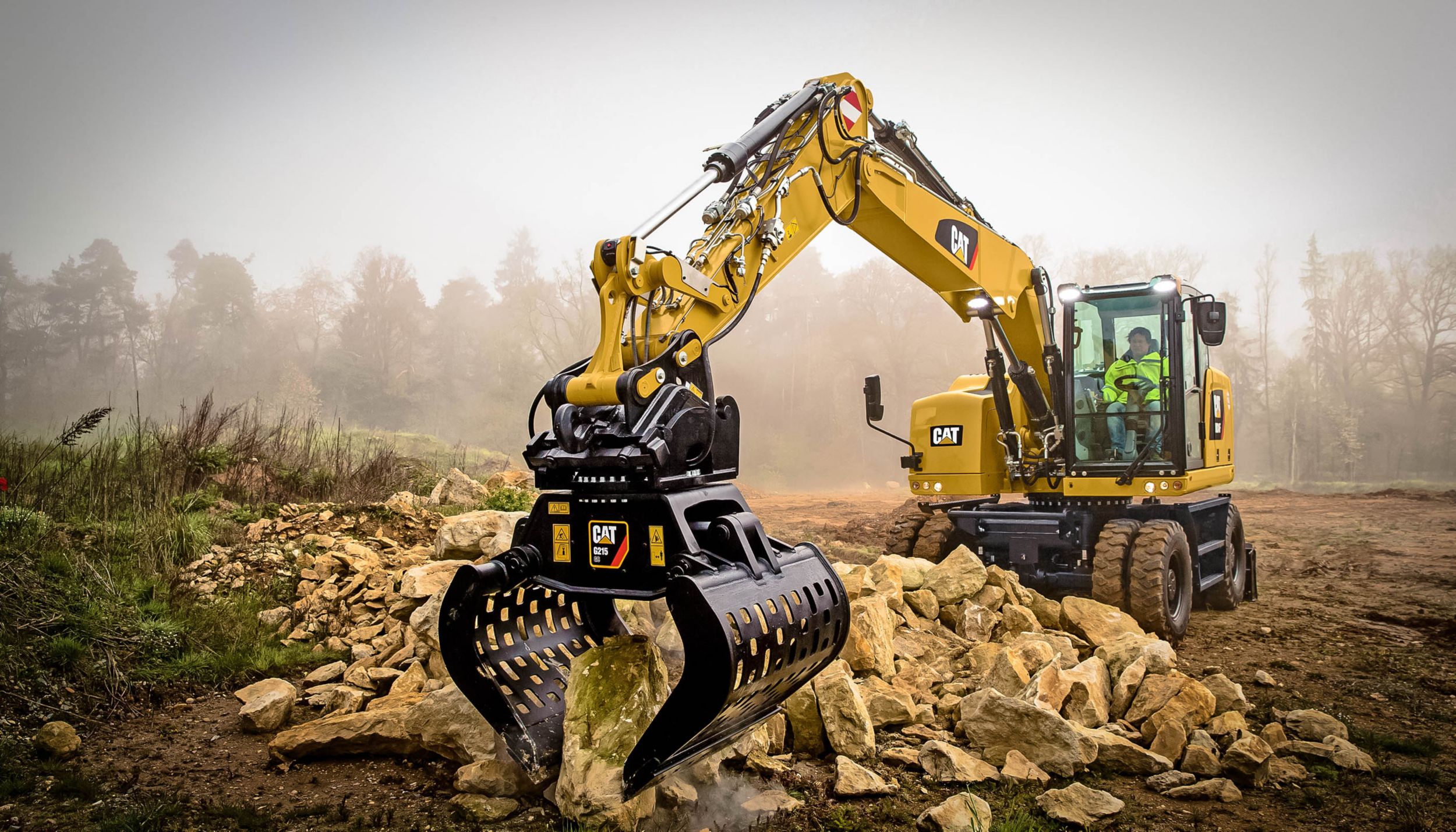 EASY TO OPERATE
A complete package of smart technologies with features like Cruise Control or automatic brake and axle lock. Optional boosters like Ride Control, SmartBoom™, joystick steering are available.
Everything can be adjusted in the cab from the steering column height to the electrically adjustable mirrors.
Ergonomic cab with controls kept to a minimum and conveniently located.
Split-screen monitor to allow quick view of both cameras on the same display..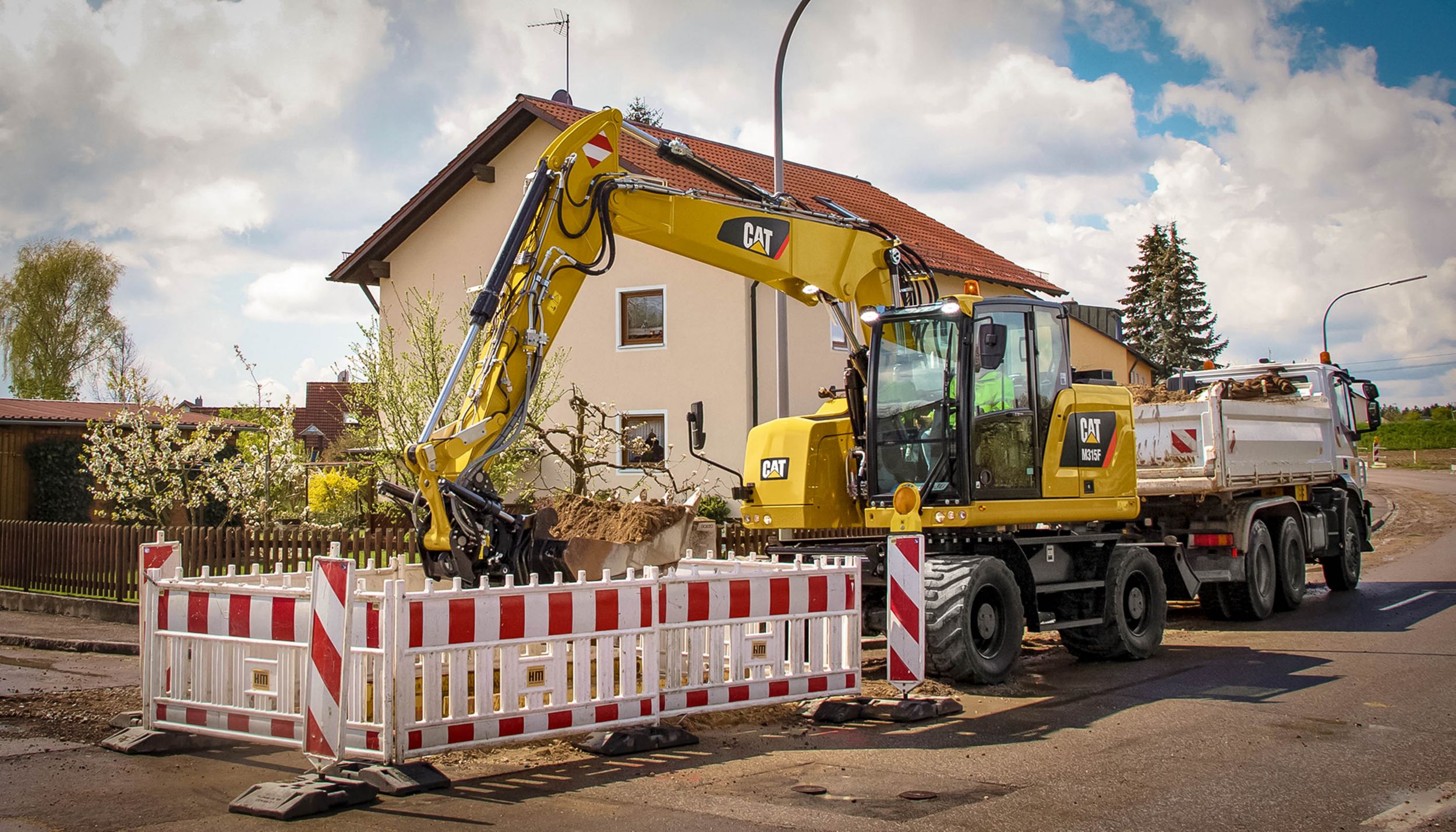 SAFELY HOME EVERY DAY
Integrated devices to help enforce safe behavior, like seat belt indicator, or the speed limit setting when roading in reverse with the upper frame rotated.
Visibility: large glass areas, rear/side cameras. LED lamps for all working lights and cameras.
For added protection, the optional impact resistant windshield meets the EN356 P5A standard.
Integrated pin code adds anti-theft security to your equipment.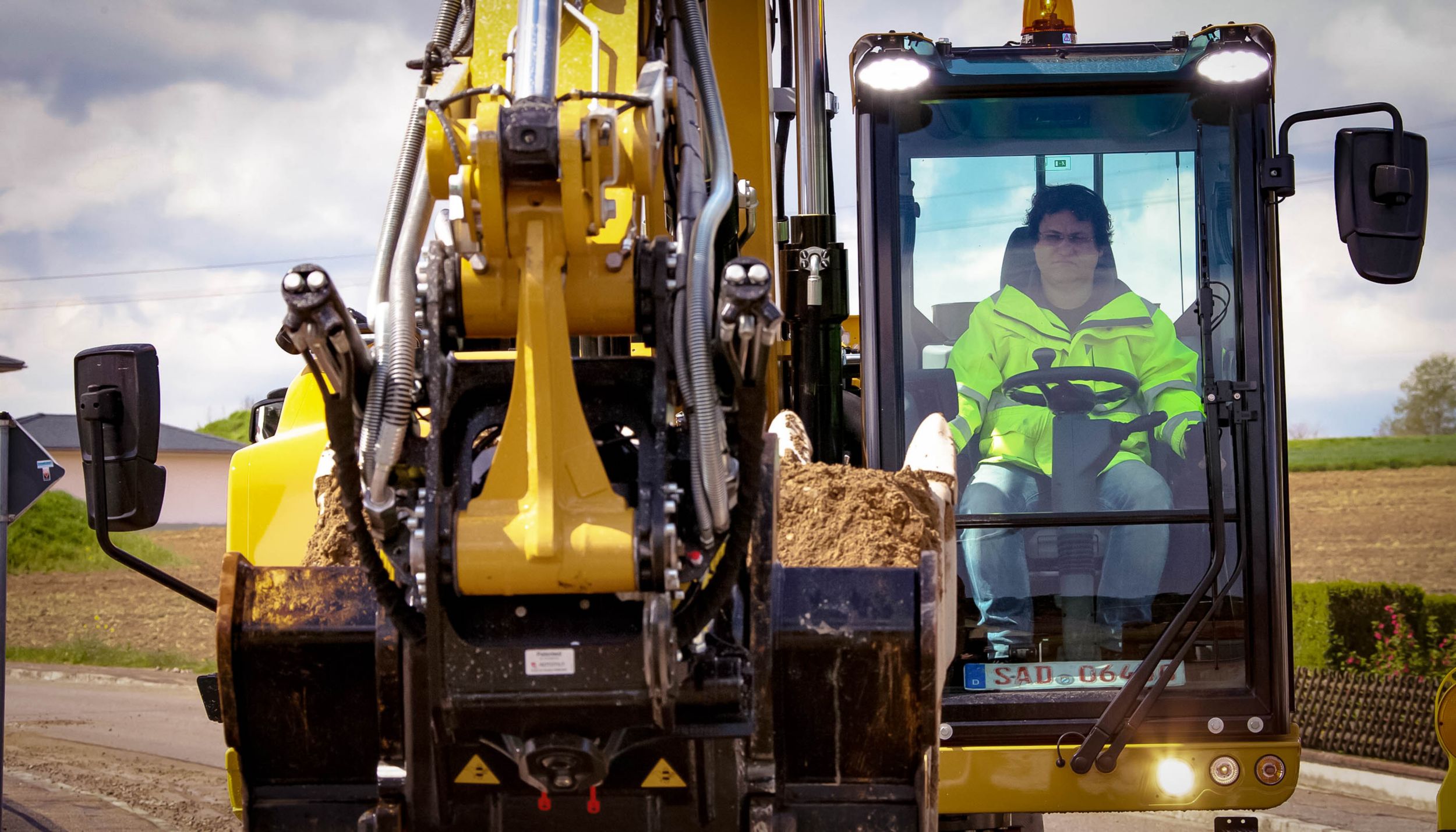 LOWER MAINTENANCE COSTS
Ground level access to all routine maintenance (like fuel and engine oil filters).
Easy access: clean, simple design. Radiators are all gathered together.
Reduced maintenance: automatic features (like lubrication system) along with long greasing intervals. Fit for life Diesel Particulate Filter.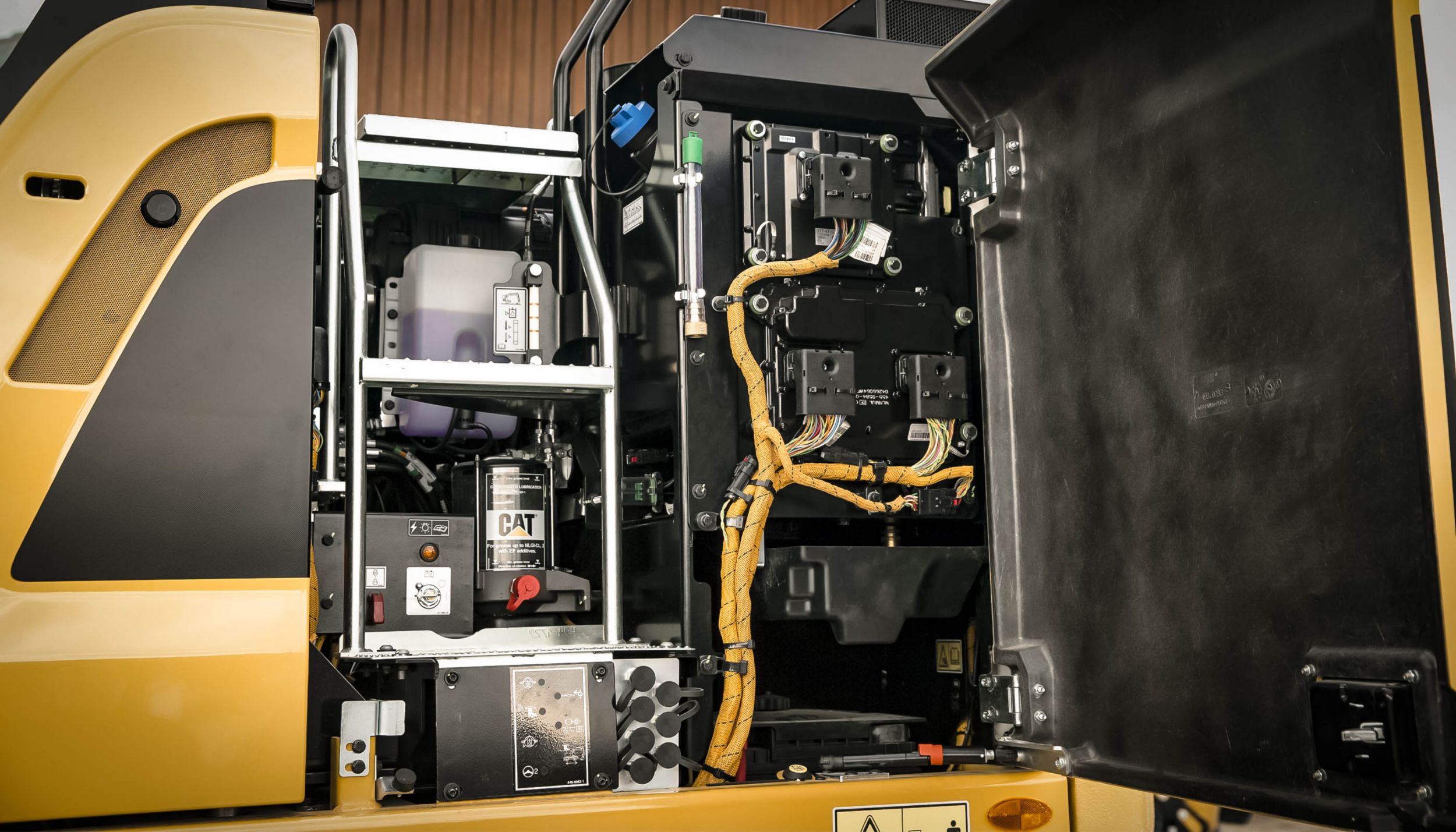 INTEGRATED CAT TECHNOLOGIES
Product Link™ connects owners to their equipment, providing access to machine data such as location, hours, fuel consumption, idle time, events, and diagnostic codes.