Features
Robust Structures
Your bottom line is improved by highly durable structures that achieve multiple life cycles and withstand the toughest loading conditions.
Full box-section rear frame and four-plate loader tower resists shock and torsional loading to maintain hitch and loader linkage pin alignment.
Robotically welded structures provide deep weld penetration for maximum durability and fatigue strength.
Castings increase strength by spreading loads and reducing the number of parts.
Lift Arms
Your key to maximum uptime and productivity is our field-proven lift arms.
Excellent visibility to the bucket edges and work area through a Z-bar design.
High load stresses are absorbed by the solid steel lift arms.
Enhance strength in key pin areas through the use of one piece castings.
Stress relieved lift arms increase durability and lengthen time to repair.
Front Linkage
To ensure continued uptime, the 993K uses Cat Sleeve Bearing linkage pins which eliminate the need for daily greasing and routine maintenance.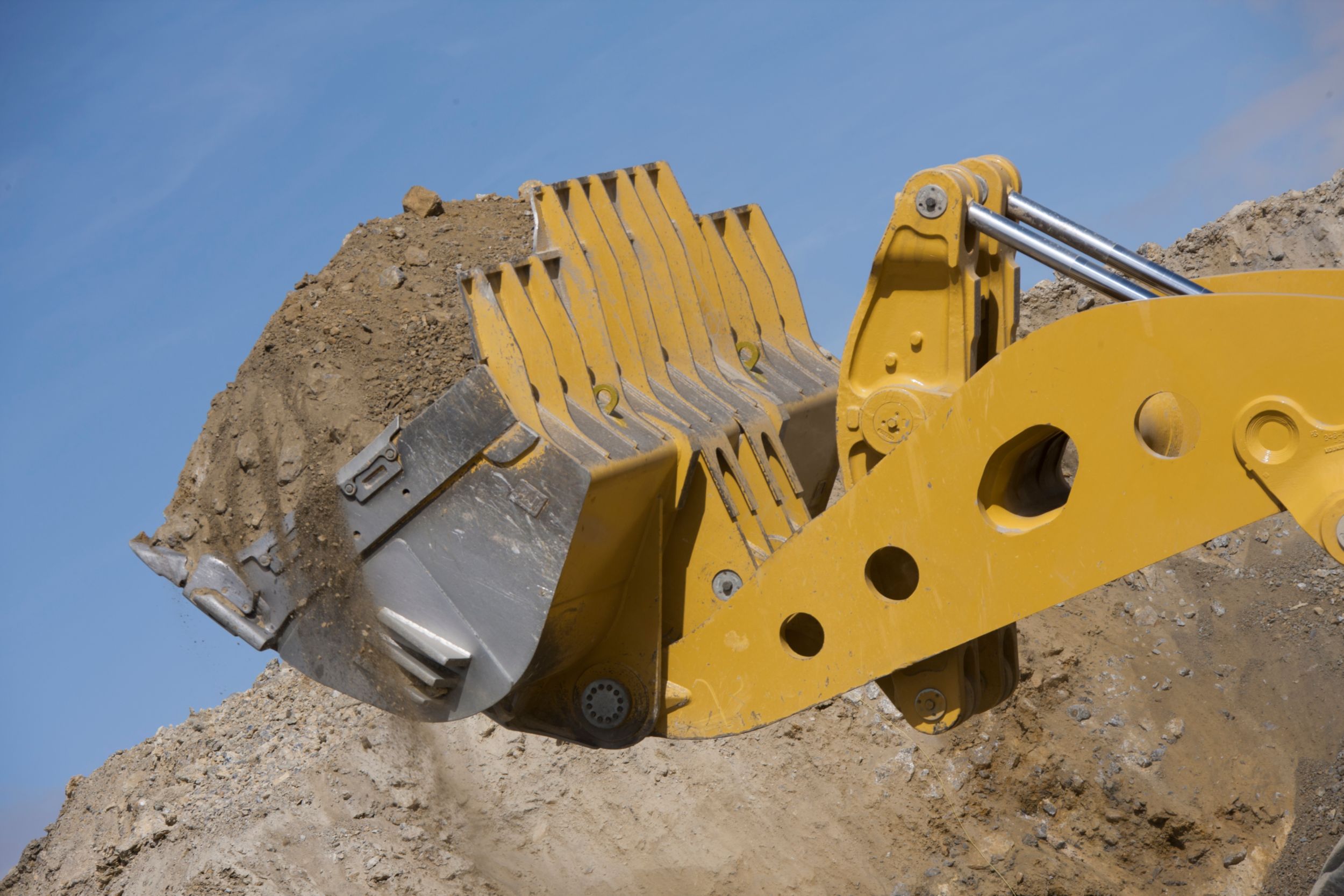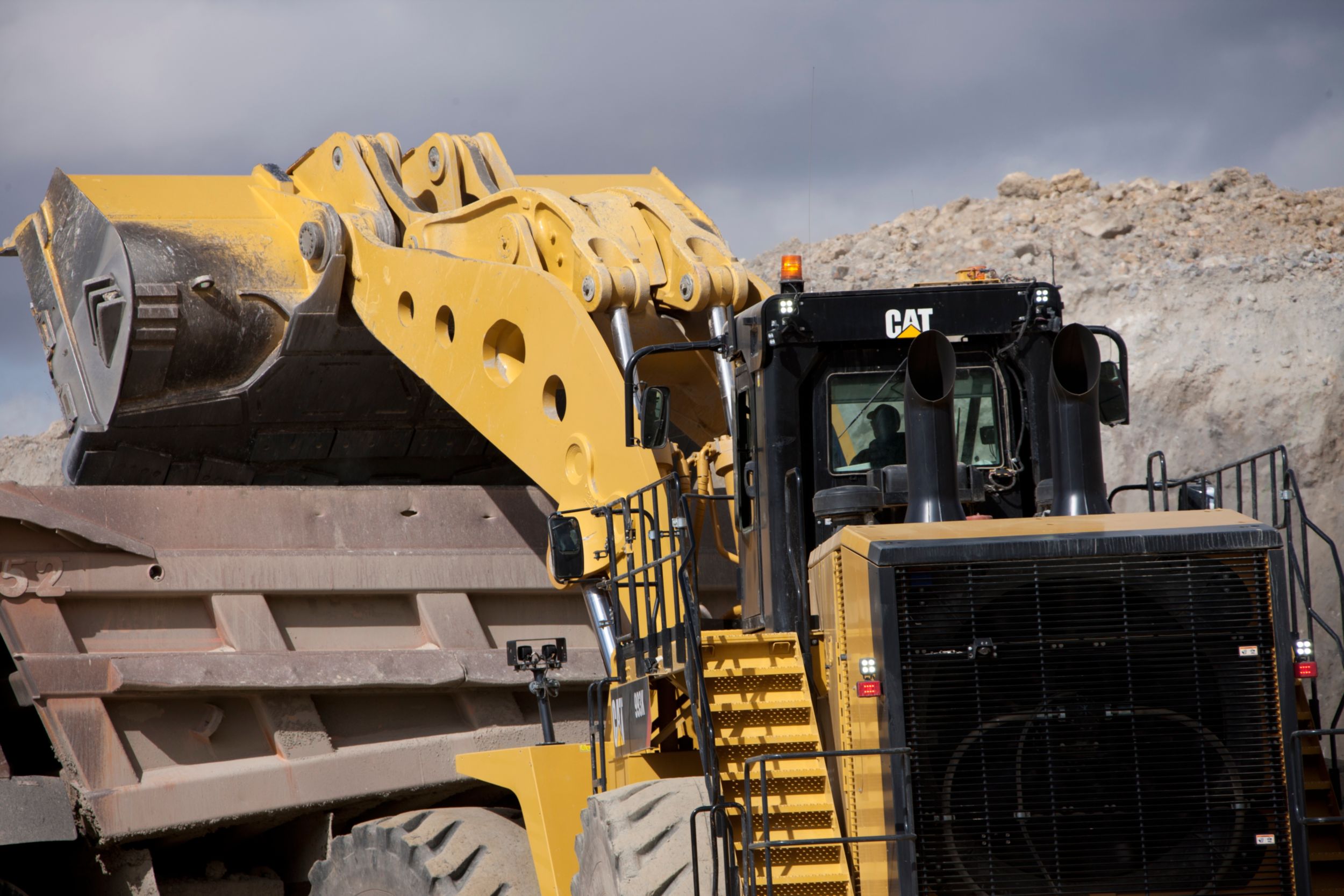 Steering and Transmission Integrated Control System (STIC™)
Experience maximum responsiveness and control with STIC that combines directional selection, gear selection and steering into a single lever.
Simple side-to-side motion turns machine right or left, minimizing operator movements.
Easy to operate finger controlled gear selection.
Smoother, faster cycles and less operator fatigue through the use of low effort integrated controls.
Cat Planetary Powershift Transmission
Building your success begins with a best-in-class transmission designed specifically for mining applications.
Consistent, smooth shifting and efficiency through integrated electronic controls.
Long life and reliability through heat treat gear and metallurgy.
Three forward and three reverse speeds to match your application.
Cat C32 ACERT
The 993K utilizes a Cat C32 ACERT to provide the performance and efficiency customers demand.
On-demand performance through the use of turbochargers and aftercoolers.
High Torque Rise – 33% torque rise ensures high lugging forces during digging and acceleration in high rimpull conditions.
Extended engine life and improved efficiency through reduced operating speed.
Quick engine response through the use of electronic engine controls.
Impeller Clutch Torque Converter (ICTC) and Rimpull Control System (RCS)
Lower your cost per ton utilizing advanced ICTC and RCS for modulated rimpull.
Reduce tire slippage and wear by modulating rimpull from 100 to 25 percent while depressing left pedal. After 25 percent rimpull is achieved the left pedal applies the brake.
Reduce the potential for wheel slippage without reducing hydraulic efficiency with RCS.
Improve fuel efficiency in certain applications with our lock-up clutch torque converter providing direct drive.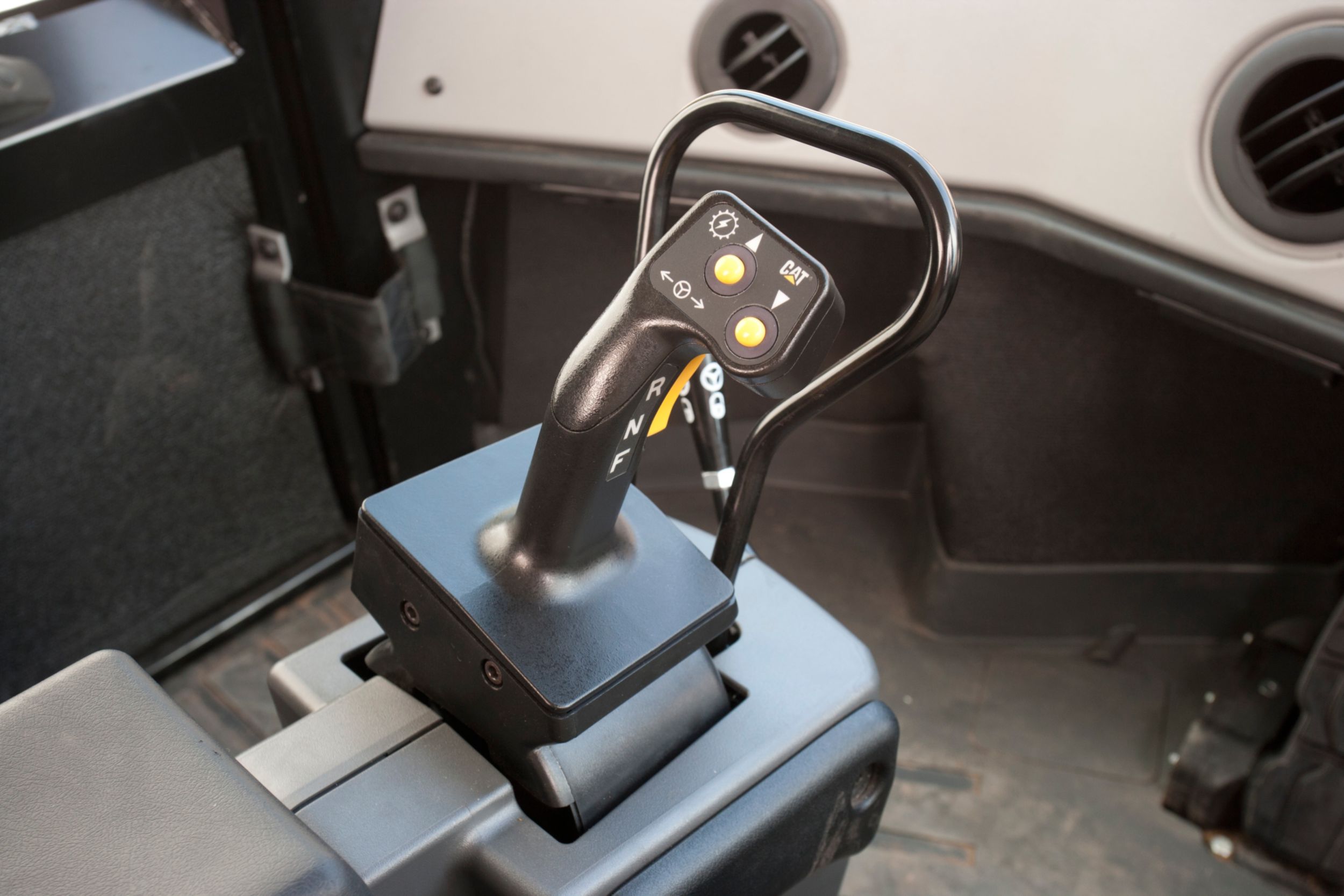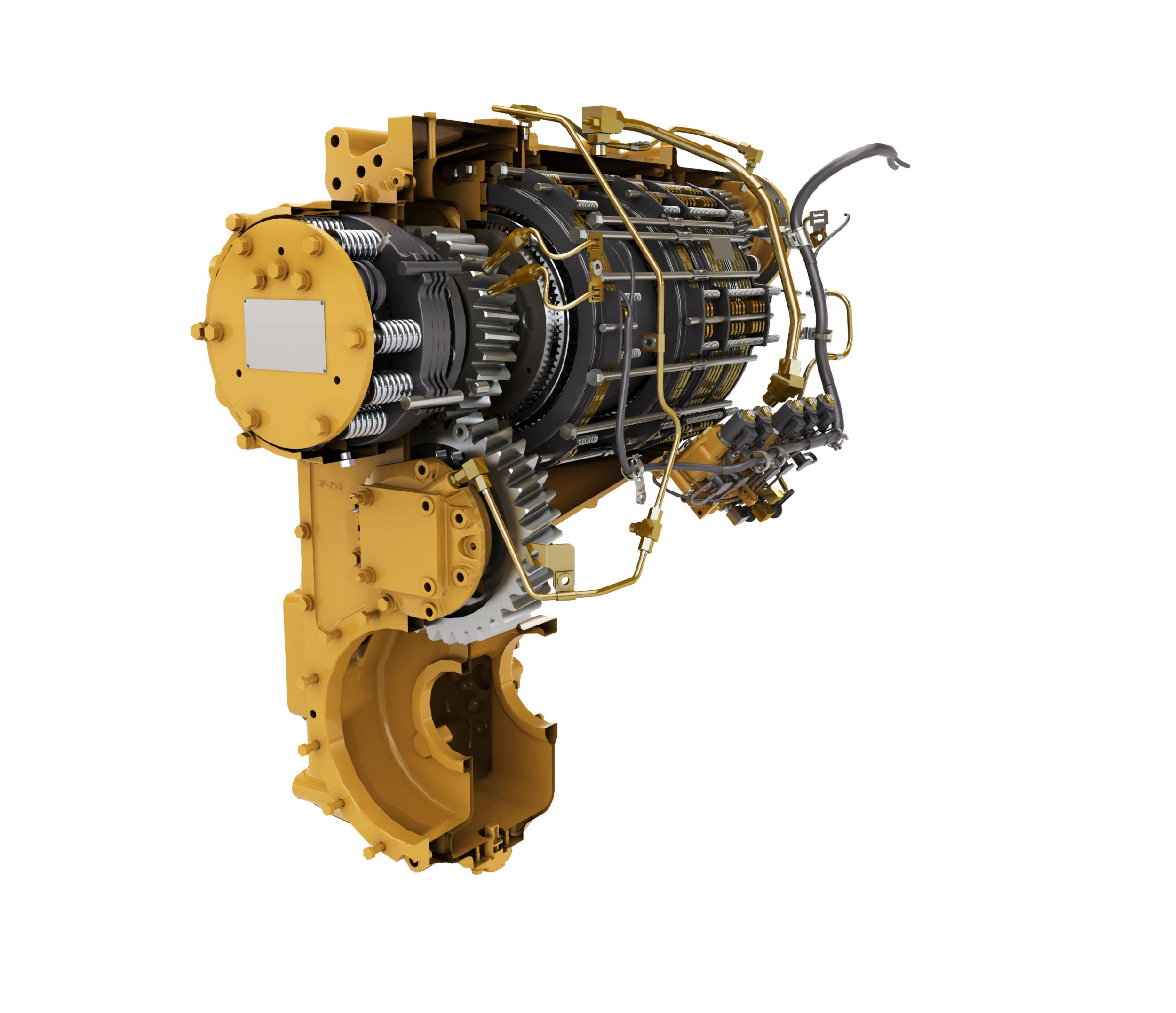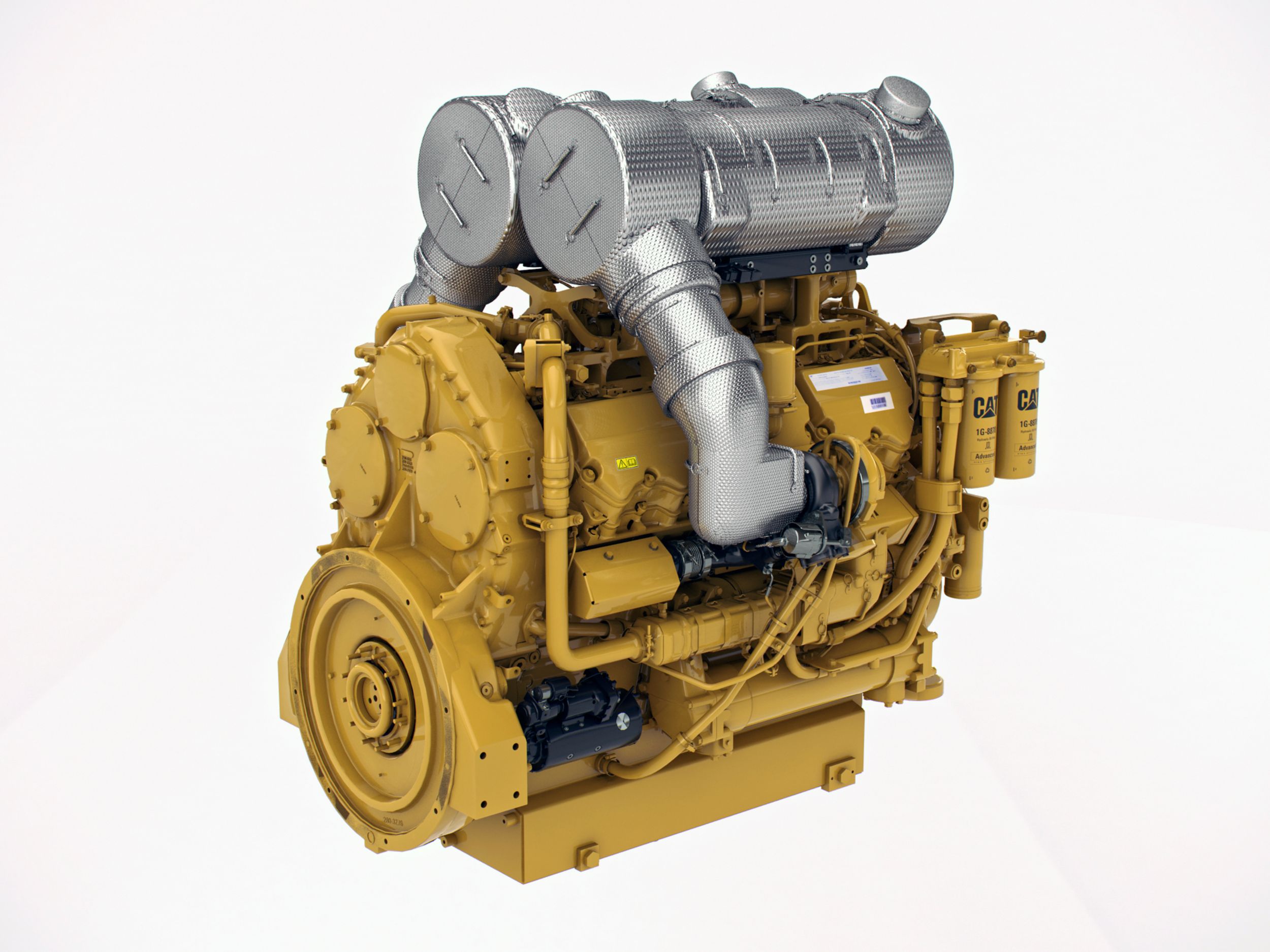 Electro Hydraulic Controls
Operators increase productivity with our responsive implements feature.
Operate comfortably through electronically controlled hydraulic cylinder stops.
Handle easy-to-use soft detent controls.
Conveniently set automatic implement kickouts from inside the cab.
Steering System
Confident loader operation starts with precise machine control enabled by the 993K's load sensing hydraulic steering system.
Increase efficiency with our variable displacement piston pump.
Achieve precise positioning for easy loading in tight areas with 43 degrees of steering articulation.
Enhance operator comfort with integrated steering and transmission control functions.
Filtration System
Benefit from extended performance and reliability of your hydraulic system with our advanced filtration system.
Implement/fan case drain filters.
Steering case drain filters.
Implement, steering, brake and fan high pressure screens.
Full flow implement return screens.
Full flow fan/steering return filter.
Pilot filtration.
Extended life transmission filter.
Front and rear axle oil filters.
Positive Flow Control Hydraulics
Increase efficiency through our Positive Flow Control (PFC) Hydraulic System. PFC has concurrent pump and valve control. By optimizing pump control, hydraulic oil flow is proportionate to implement lever movement.
Fast, productive cycles enabled by three electronically controlled, fully variable piston pumps.
Increase bucket feel and control through increased hydraulic response.
Consistent performance and efficiency with lower system heat.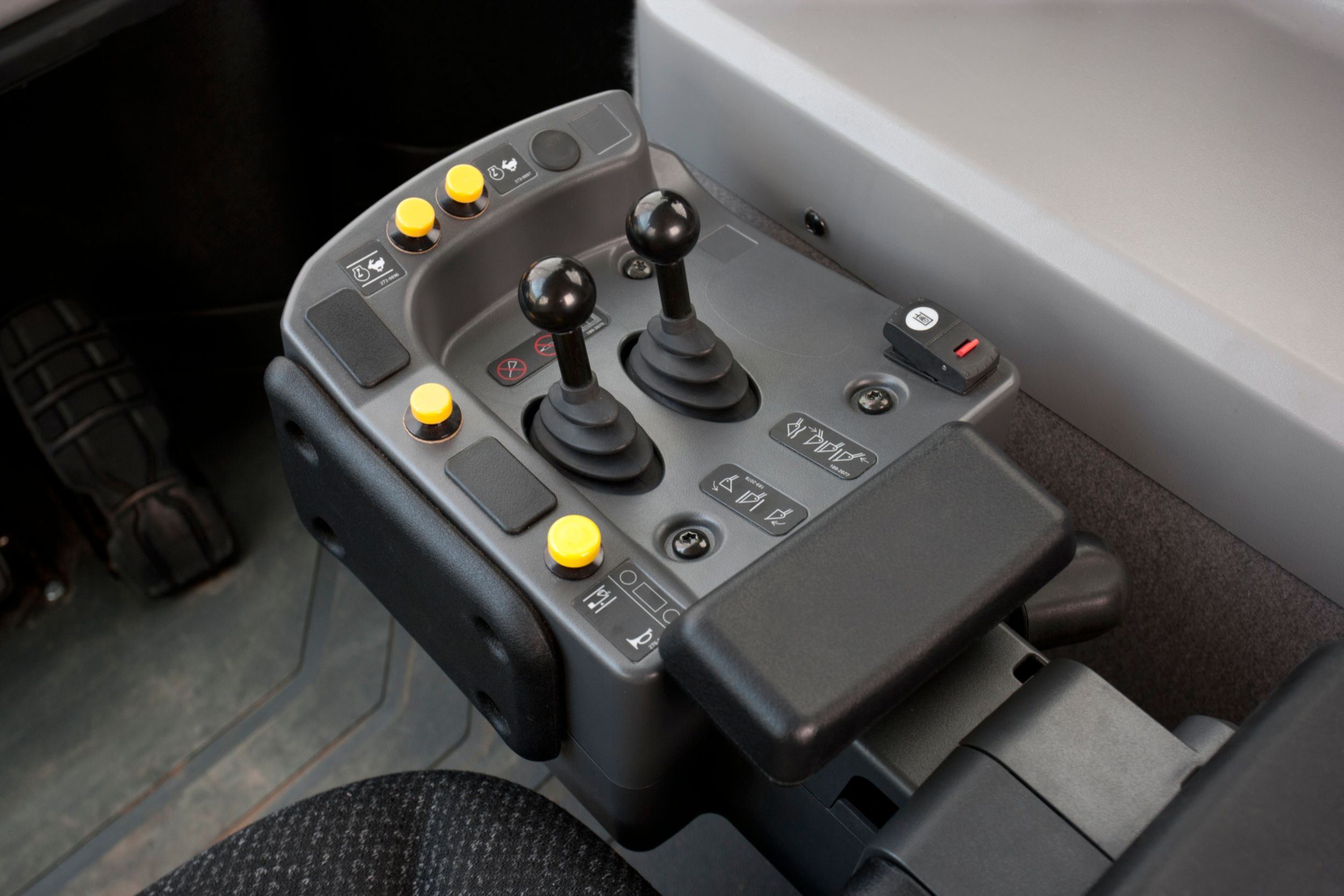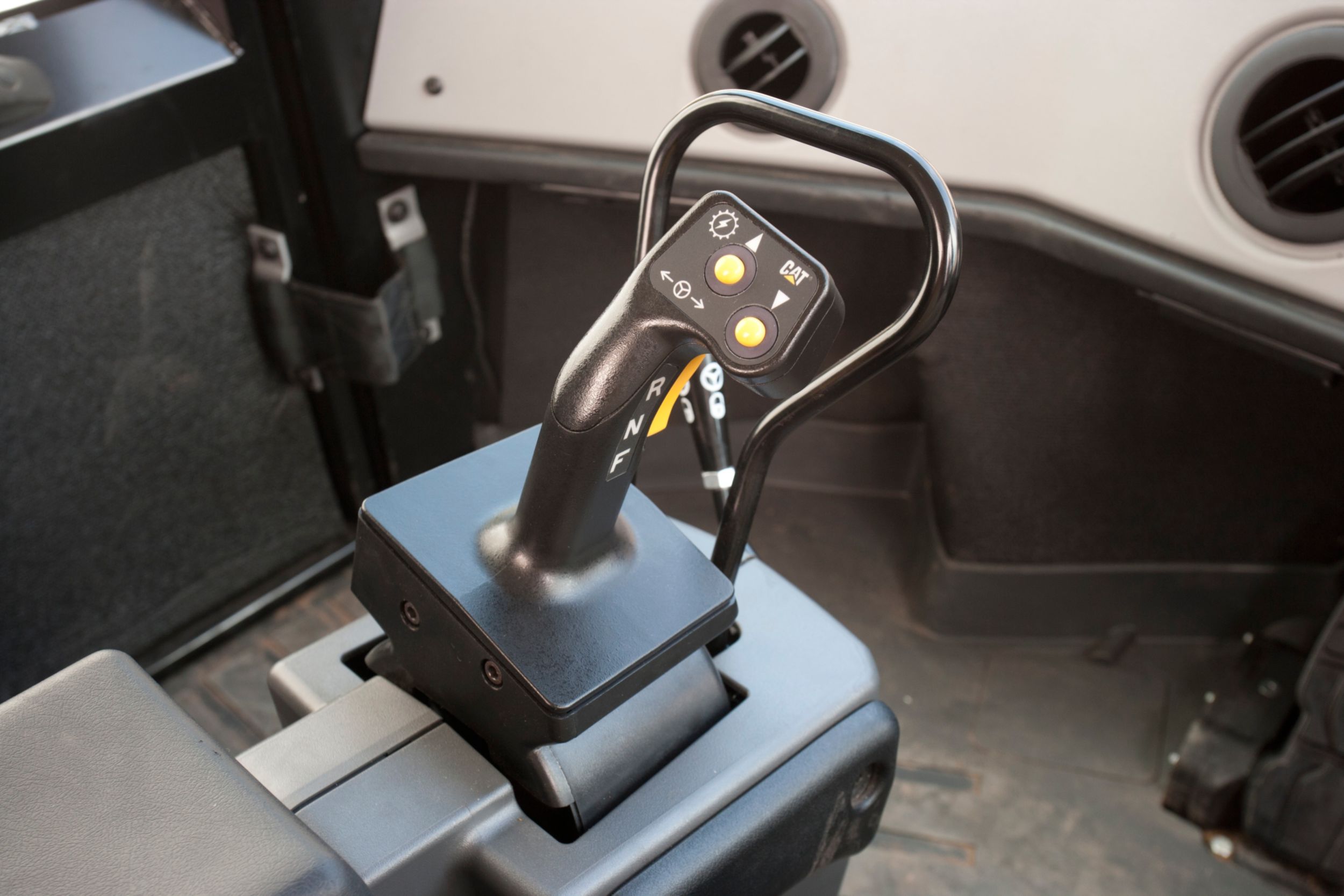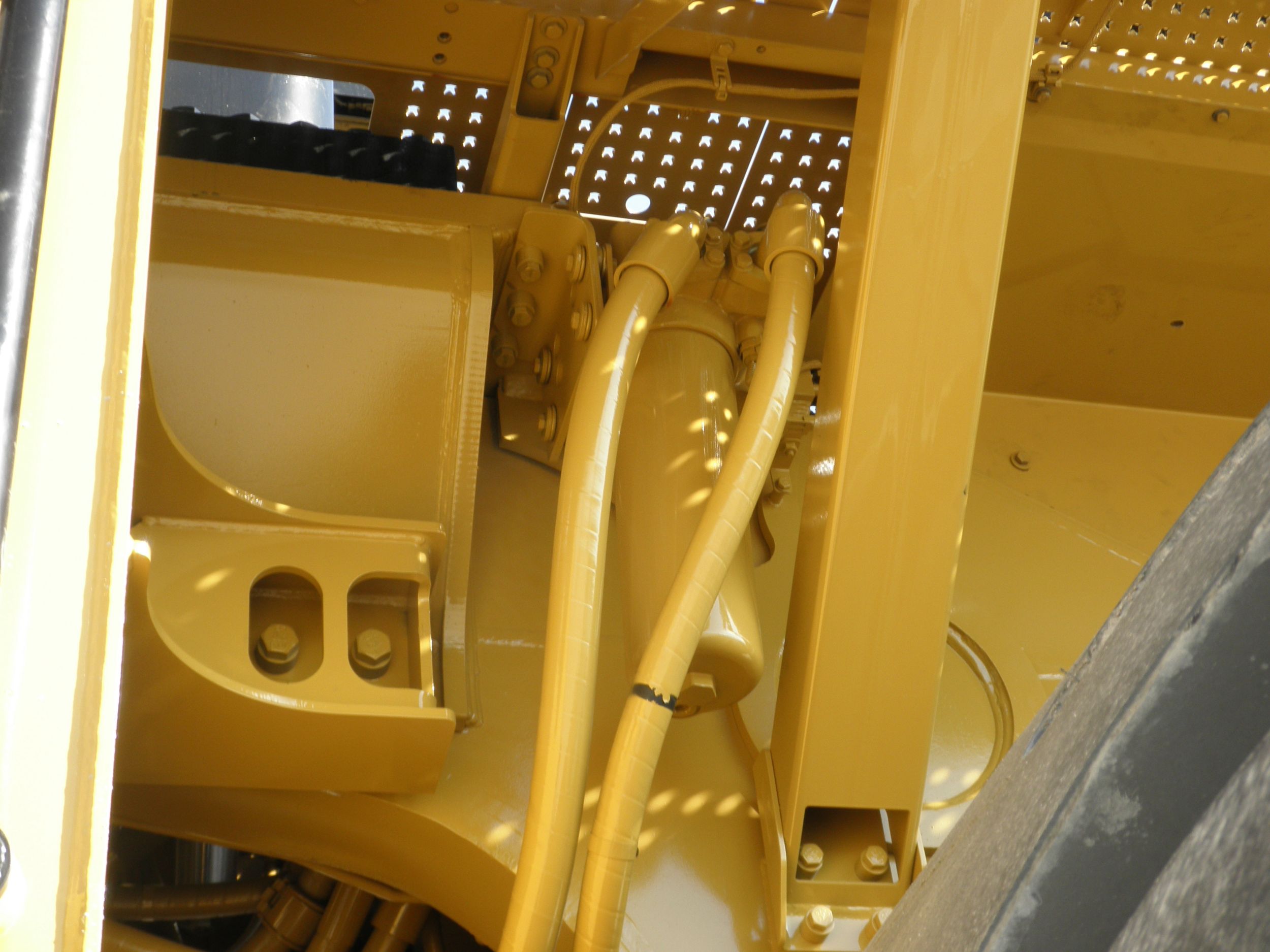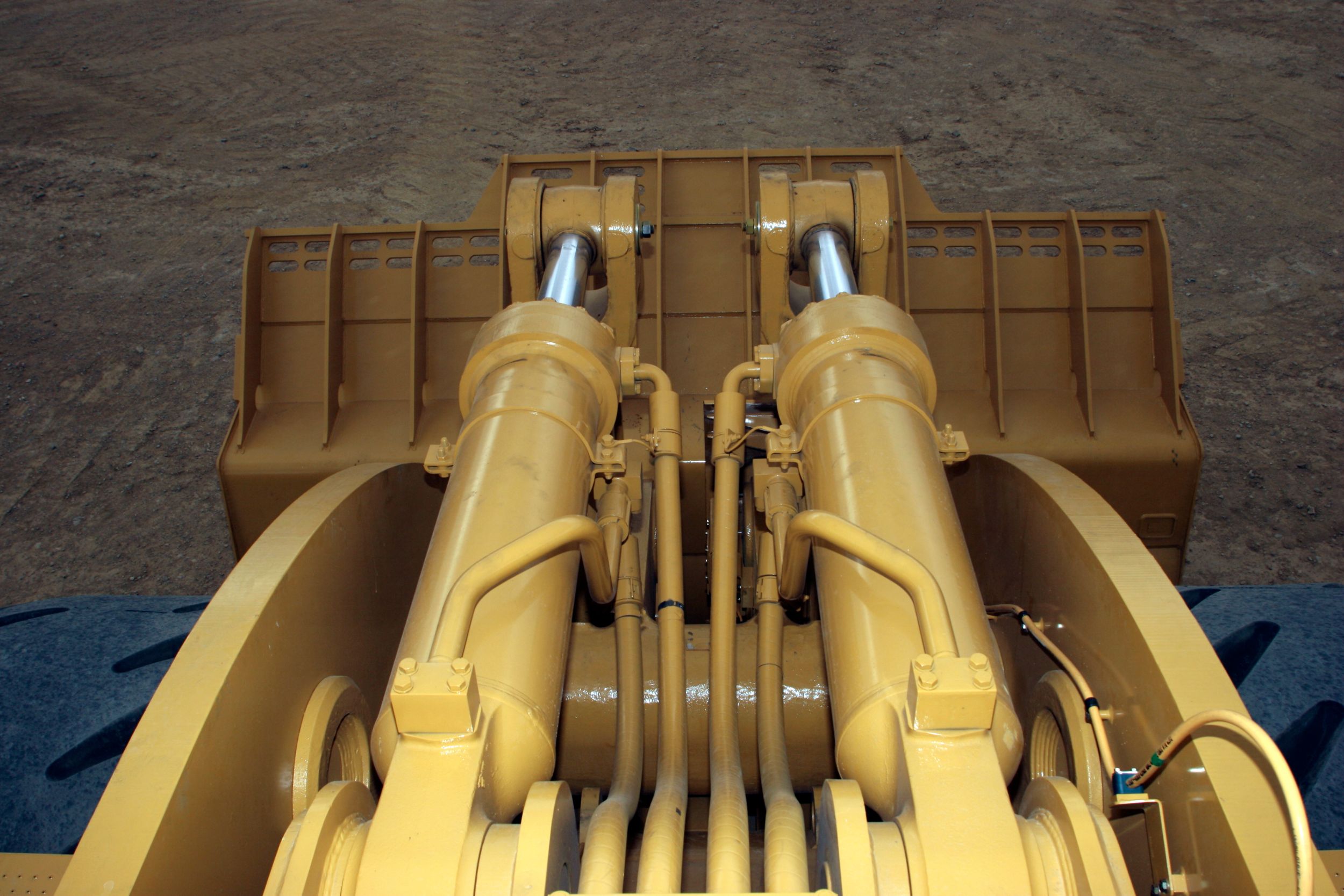 Your operators can work more efficiently and stay comfortable with our customer-inspired cab features.
Entry and Exit
Enter and exit the cab easily and safely with these newly designed, ergonomic features.
45 degree access stairway.
Fold up STIC steer/arm rest.
Cat Optimized Seat System
Enhance comfort and reduce operator fatigue with the Cat Optimized Seat System.
High back design and extra thick, contoured cushions.
Air suspension system.
Easy-to-reach seat levers and controls for six way adjustments.
Seat-mounted implement pod and STIC steer that moves with the seat.
76 mm (3 in) wide retractable seat belt.
Trainer Seat
Safely train other operators in comfort with our standard training seat.
76 mm (3 in) wide, retractable seat belt.
Fold-down design with molded drink tray and storage.
Environment
Your operator's productivity is enhanced with our clean, comfortable cab environment.
Experience reduced vibrations from viscous cab mounts and seat air suspension.
Maintain desired cab temperature with automatic temperature controls.
Pressurized cab with filtered air.
Sound level reduced to a quiet 70 dB(A).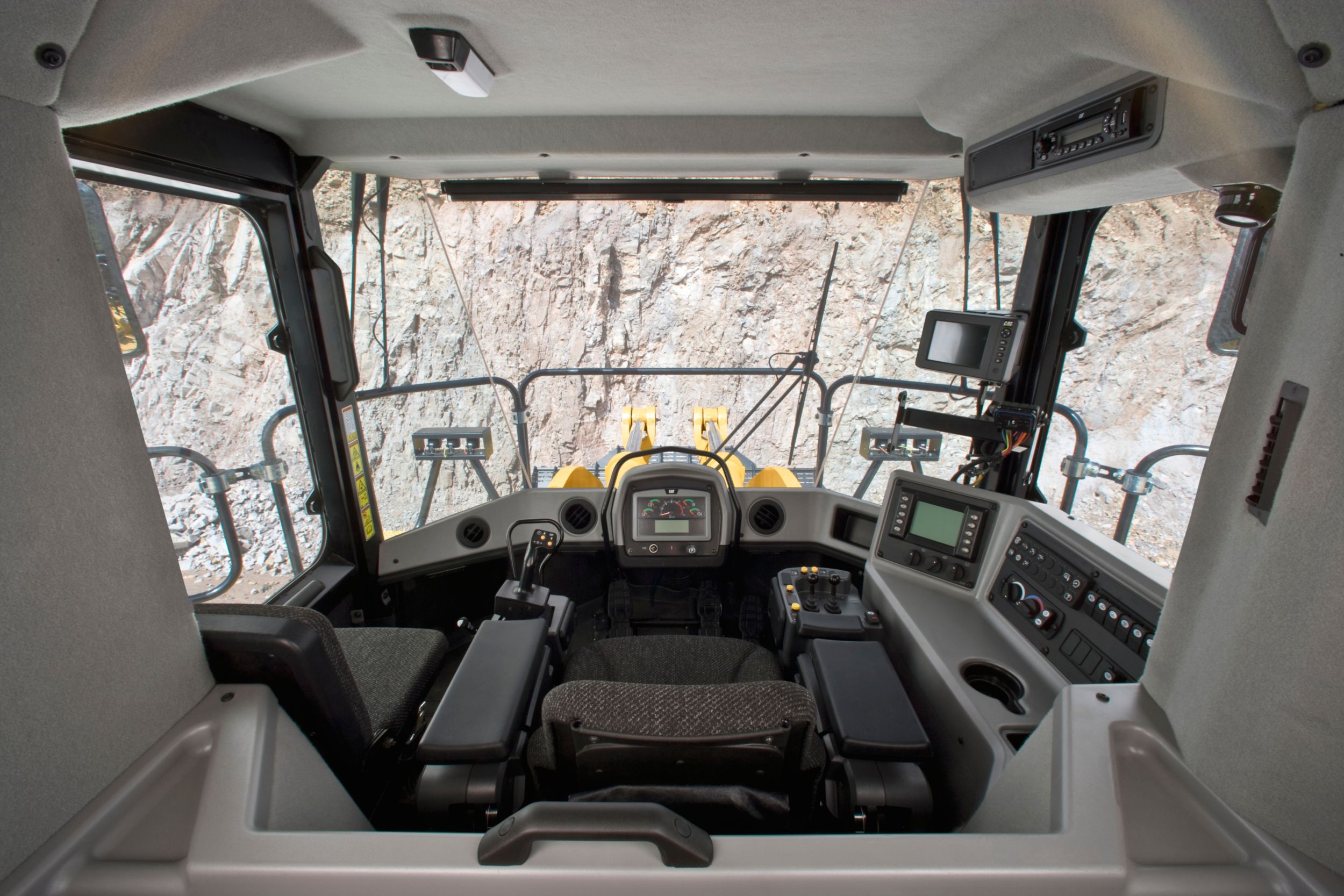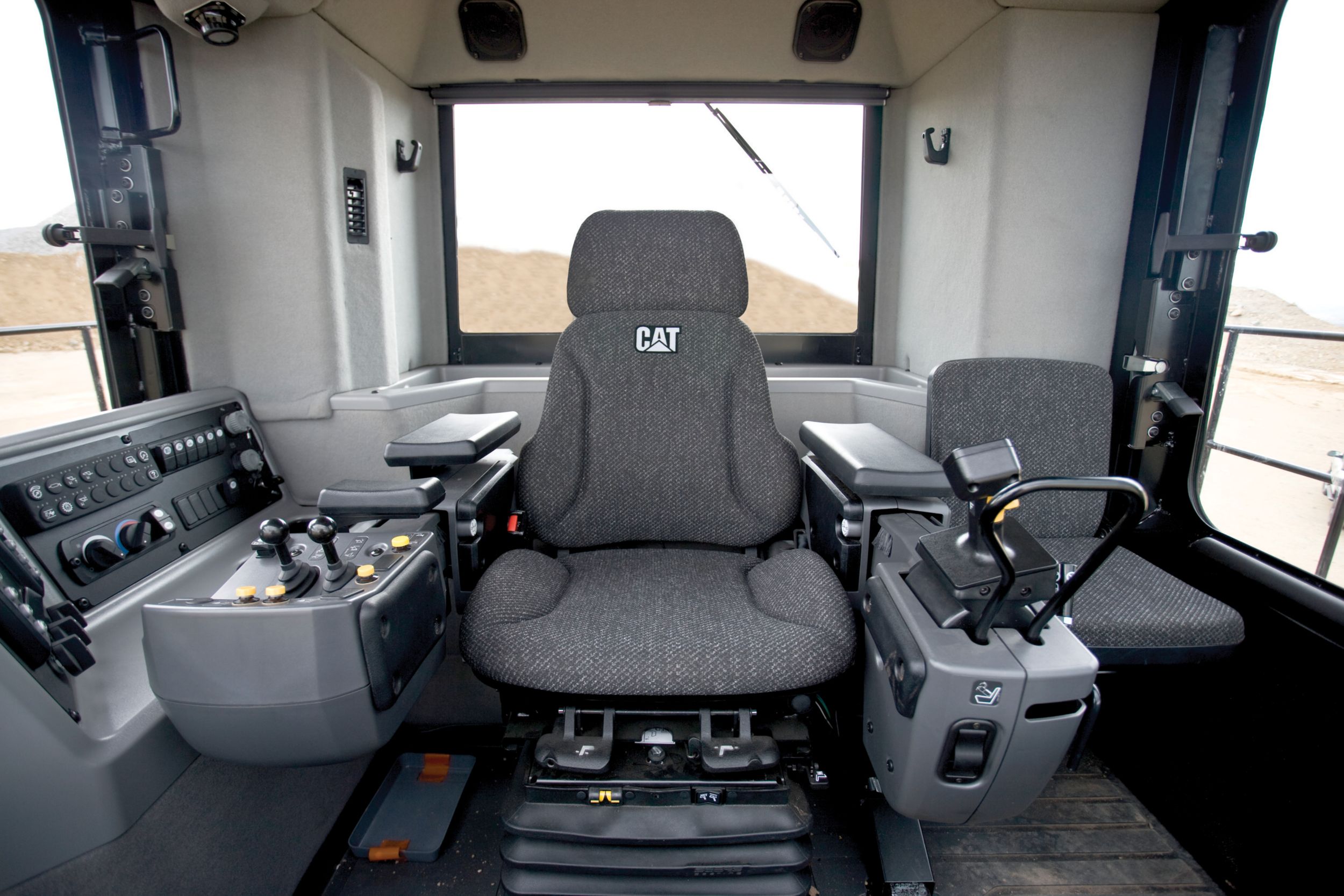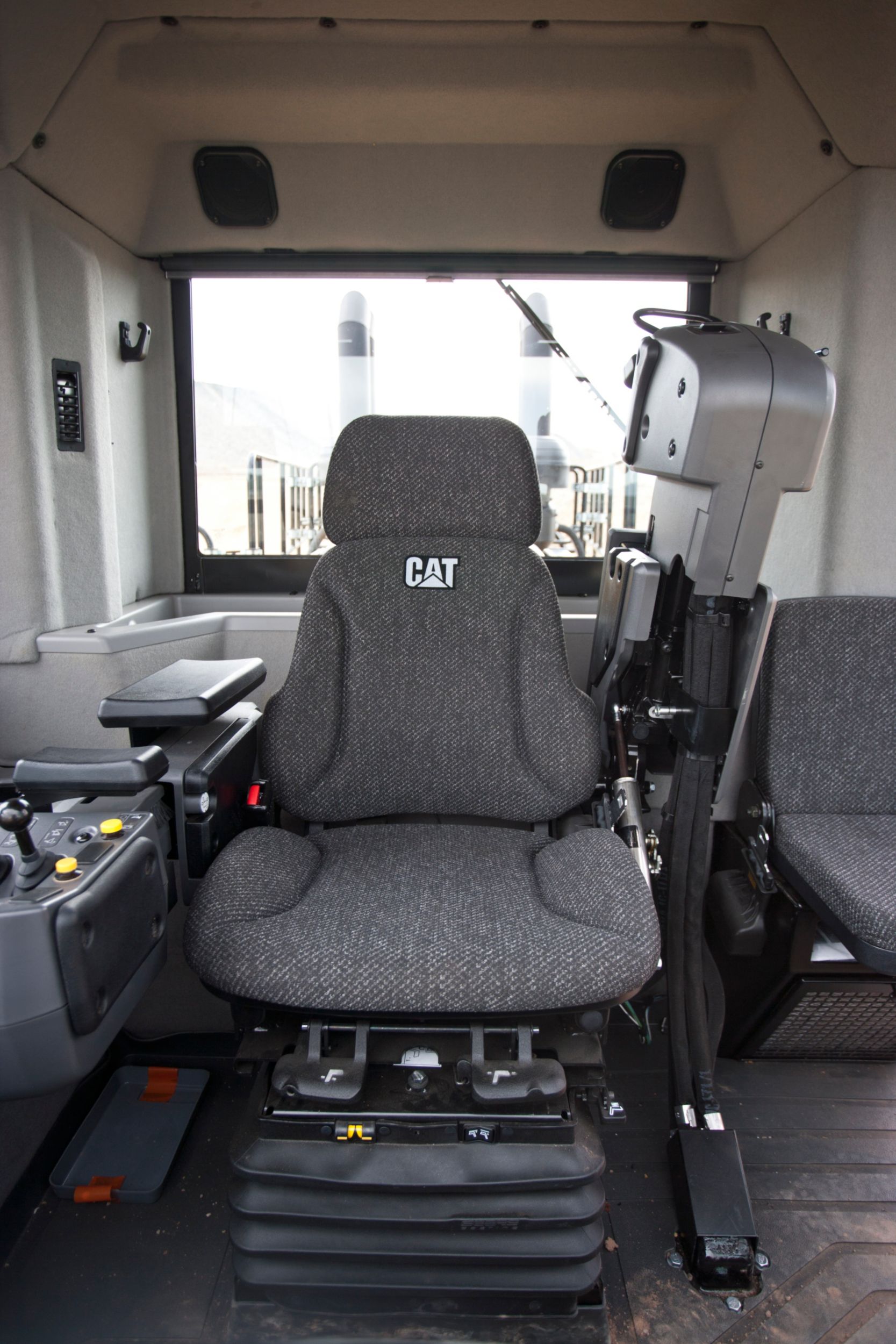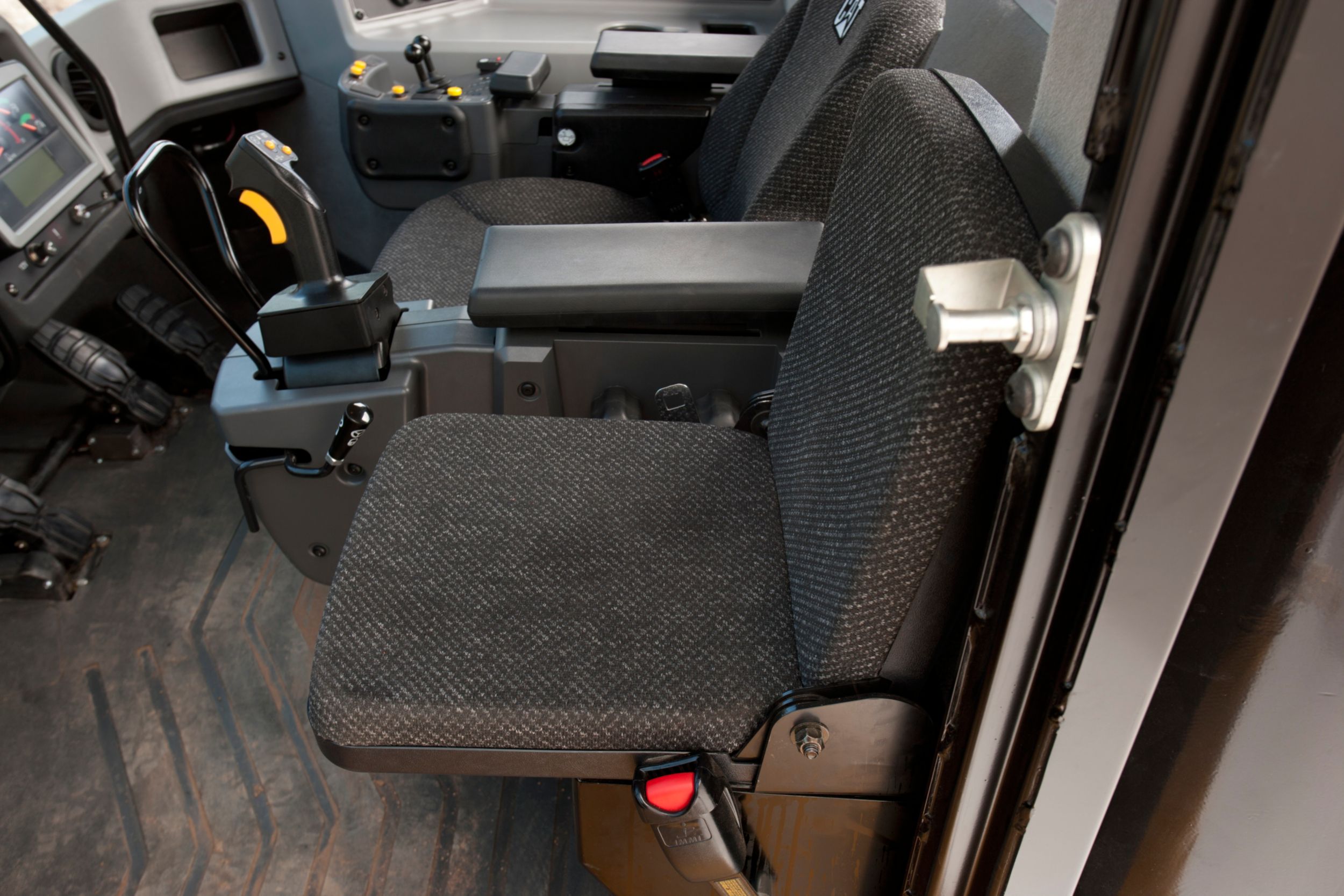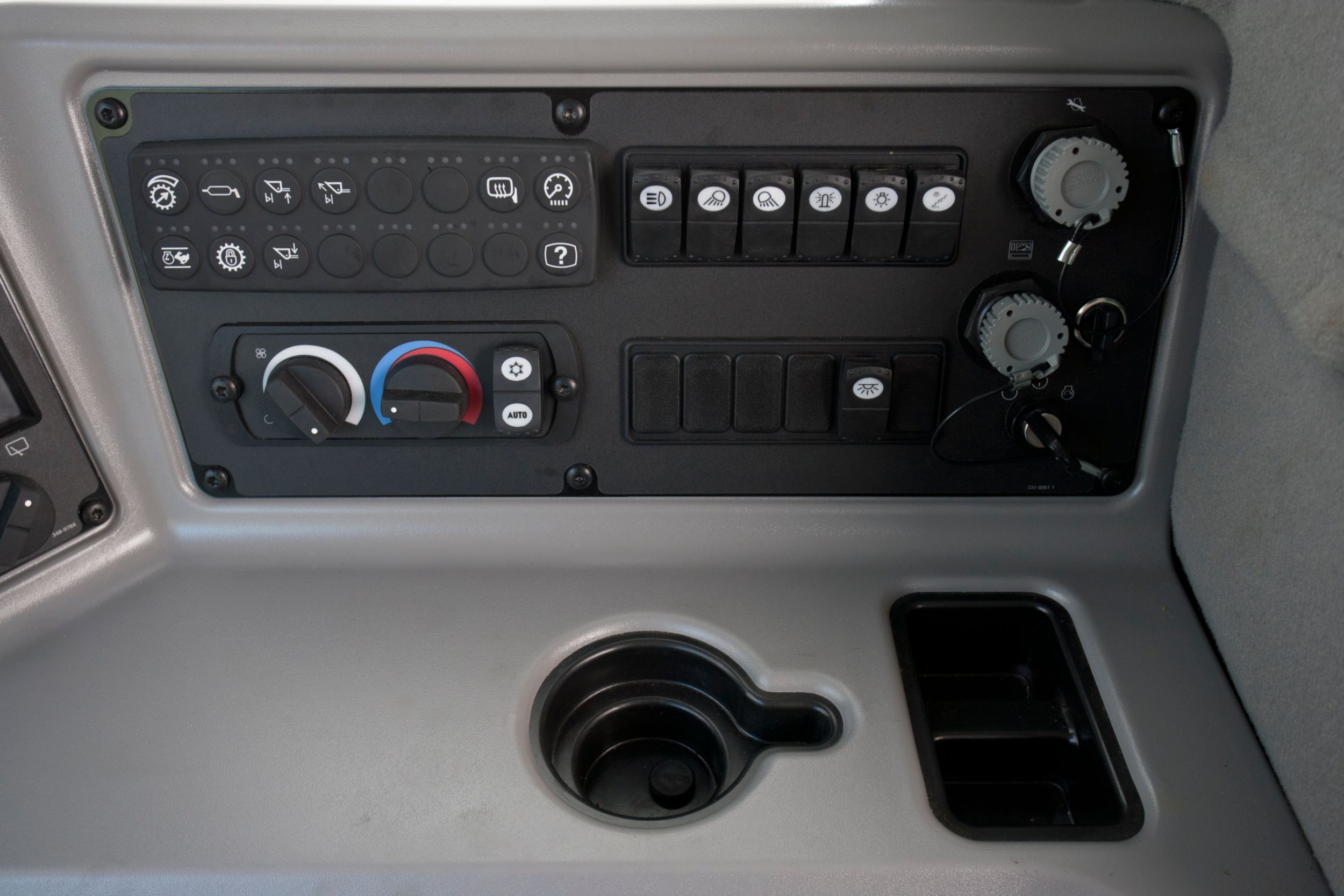 The 993K electronic systems have been completely integrated to function as one machine. This integration creates a smart machine and more informed operator, maximizing the productivity of both.
VIMS™ 3G
We have worked hard to help our customers and operators perform at their best through our Vital Information Management System (VIMS 3G).
Easy-to-view Advisor Display features a large screen.
Intuitive operation and easy navigation with our enhanced user interface.
Decrease service time by keeping operators informed about machine system malfunction or operation.
Operator Profile
Operator comfort begins with personalized machine feature settings. Through our Advisor Display, an operator can instantly recall personalized profiles.
Store up to 10 separate operator profiles through Advisor.
Decrease setup time between operators by recalling personalized screen layouts.
Payload Control System
Increase your efficiency with our Payload Control System 3.0.
Quick payload weighs with on-the-go weighing.
Comprehensive record accuracy of machine performance with up to 1,000 truck records with 25 different materials.
Cycle Timer
Impact your bottom line through improved machine performance with Cycle Timer. Each loading segment time can be analyzed to help you achieve more efficient operation.
Features:
Production Summary
Machine Utilization
Productive Cycle Time
Loader Payload Summary
Fuel Usage Summary
Cat MineStar System is the industry's broadest suite of integrated mine operations and mobile equipment management technologies, configurable to suit your operation's needs. Its capability sets - Fleet, Terrain, Detect, Health and Command - contain a range of technologies that let you manage everything from fleet assignment and condition monitoring to remote and autonomous control. The 993K can take advantage of many of these advanced technologies, some of which are standard out of the factory.
Fleet
Fleet provides comprehensive, real-time machine tracking, assignment and productivity management, giving you a comprehensive overview of all operations from anywhere in the world.
Terrain for Loading
Terrain with your 993K enables high-precision management of loading operations through the use of guidance technology. It increases 993K's productivity and provides you real-time feedback for improved efficiency.
Detect
Detect helps increase operator awareness, enhancing safety at your operation. It includes a range of capabilities designed to assist the operator with areas of limited visibility around fixed and mobile equipment.
Health
Health delivers critical event-based machine condition and operating data for your entire fleet. It includes comprehensive equipment health and asset monitoring capabilities, with a wide range of diagnostic, analytic and reporting tools.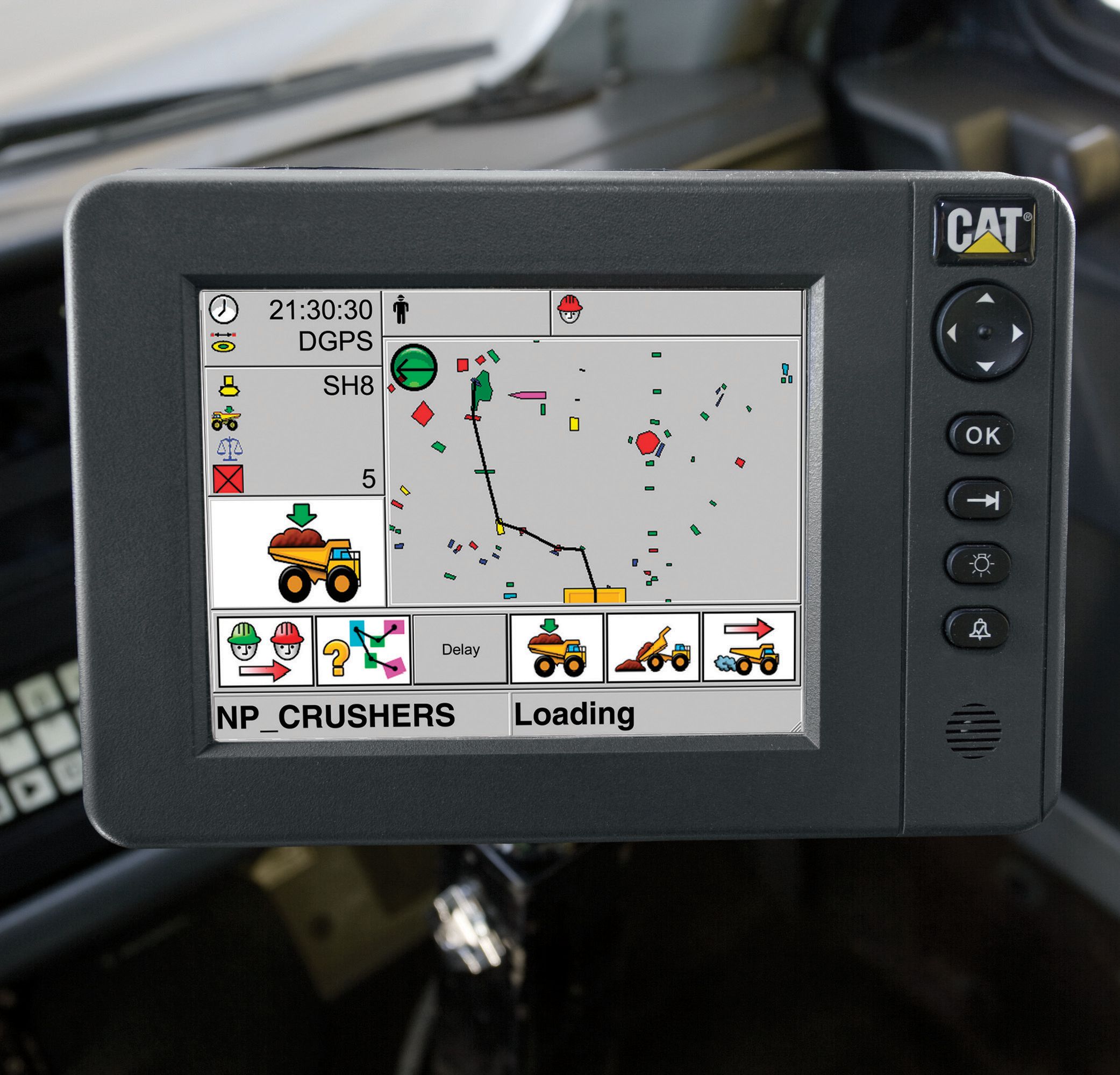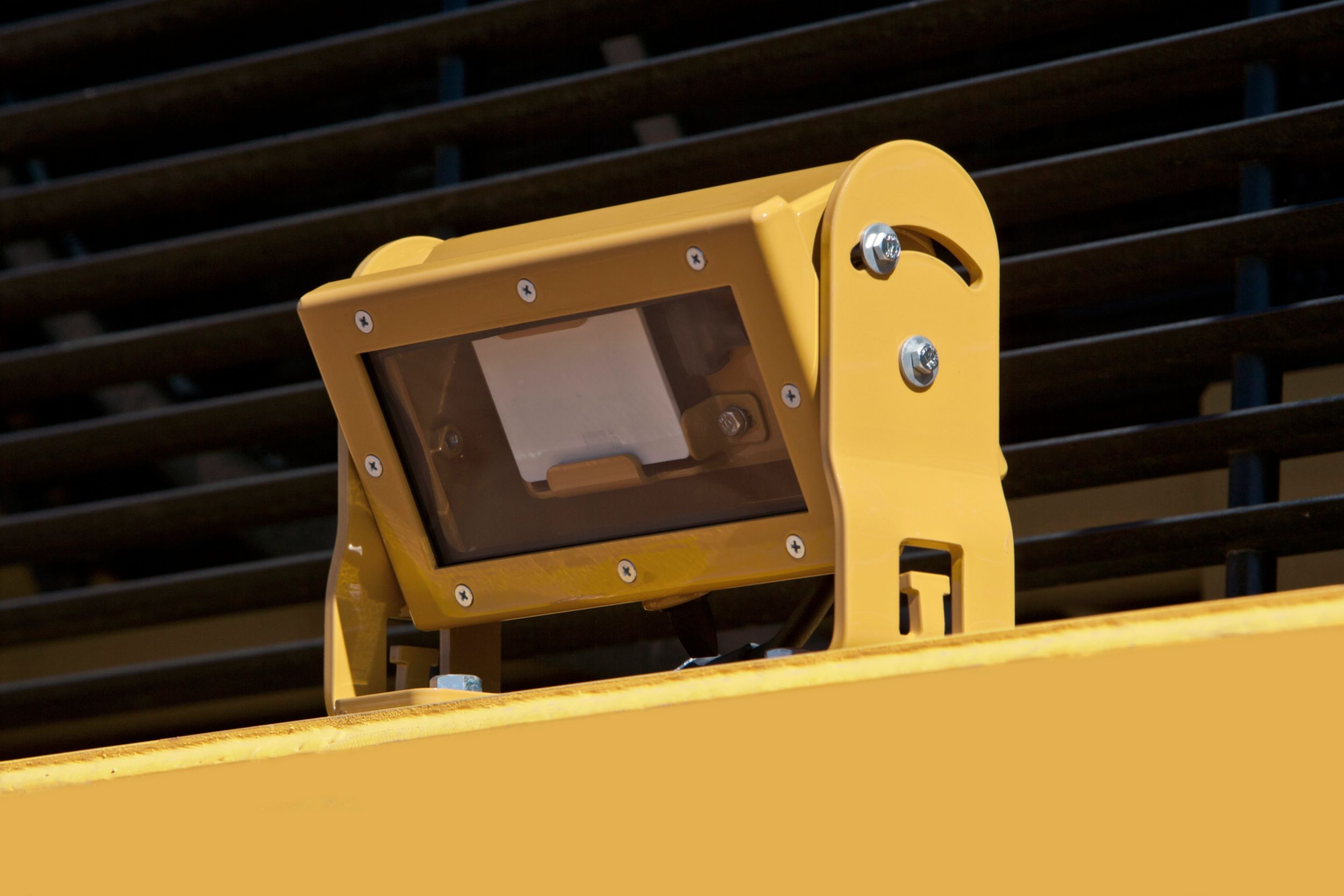 We are constantly improving our products in an effort to provide a safe work environment for the operator and those who work on your job site.
Machine Access
45 degree stairs increase safety for operators getting on and off the 993K.
Walkways with non-skid surfaces and integrated lock out/tag out points are designed into the service areas.
Windshield cleaning platforms provide safe and convenient access for the operator.
Maintain three points of contact at all times through ground level or platform accessible service areas.
Emergency egress access.
Visibility
Optional pull down window shade and heated mirrors ensure extended visibility for safe operation.
Cat Detect with Object Detection System (rearview camera and radar) or Vision (rearview camera) option increases operator awareness around the machine.
Lighting packages provide excellent workspace visibility.
Cab mounted LED warning beacons.
Operator Environment
Low vibrations to the operator with viscous cab mounts and seat air suspension.
Low interior sound levels.
Operator training seat facilitates safe new operator training.
Standard 76 mm (3 in) seat belts on the operator seat and operator training seat.
Powered Access System
The Cat powered access system allows easier access to the primary stairs by improving ingress and egress to and from the rear platform.
Safe, ergonomic access system.
All operators have adequate space when using the wide stairway.
Operators maintain three-point contact when using full handrails on each side.
Raise and lower platform from cab level or ground.
Occupants can quickly exit with a conveniently located emergency release valve if the loader becomes inoperable.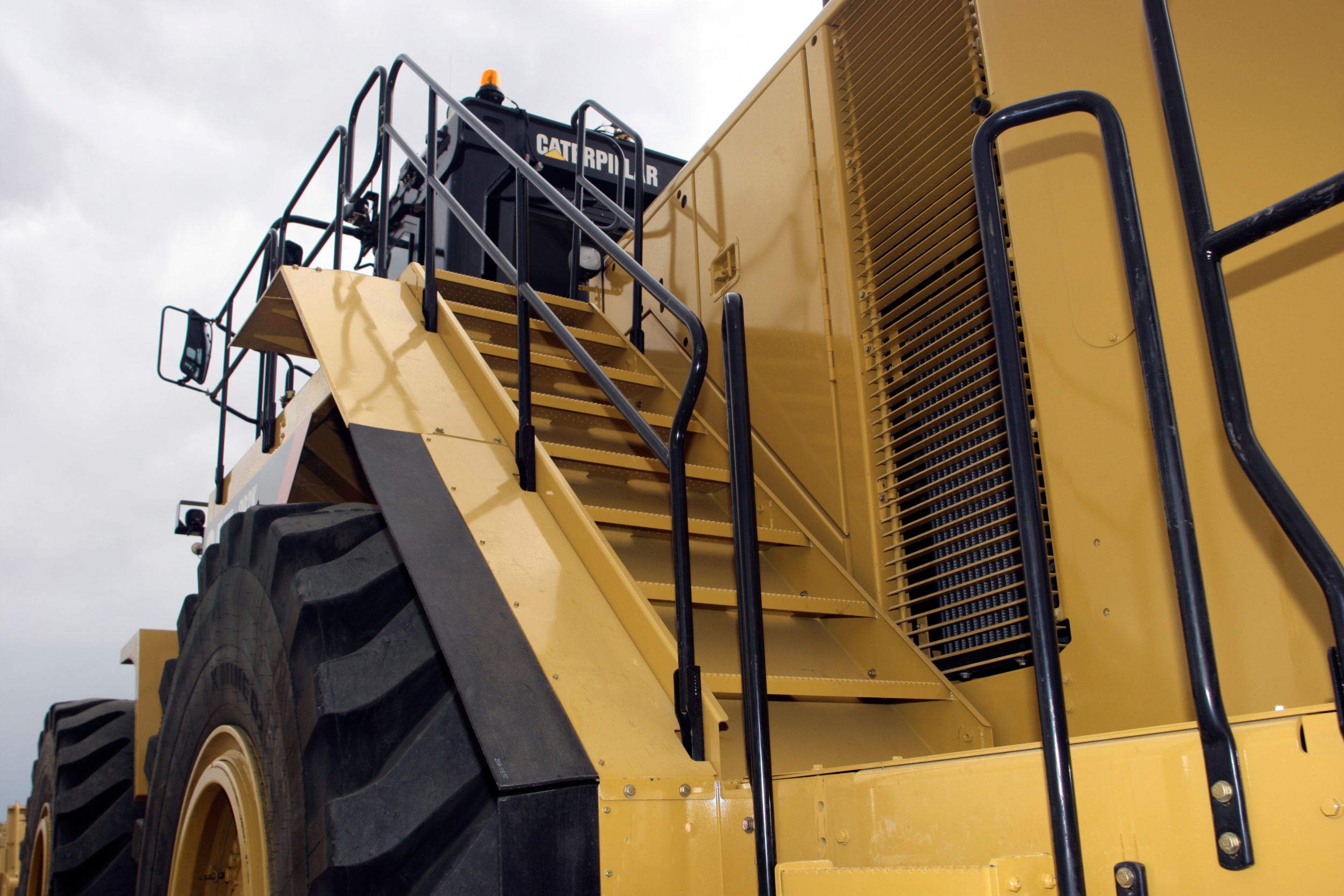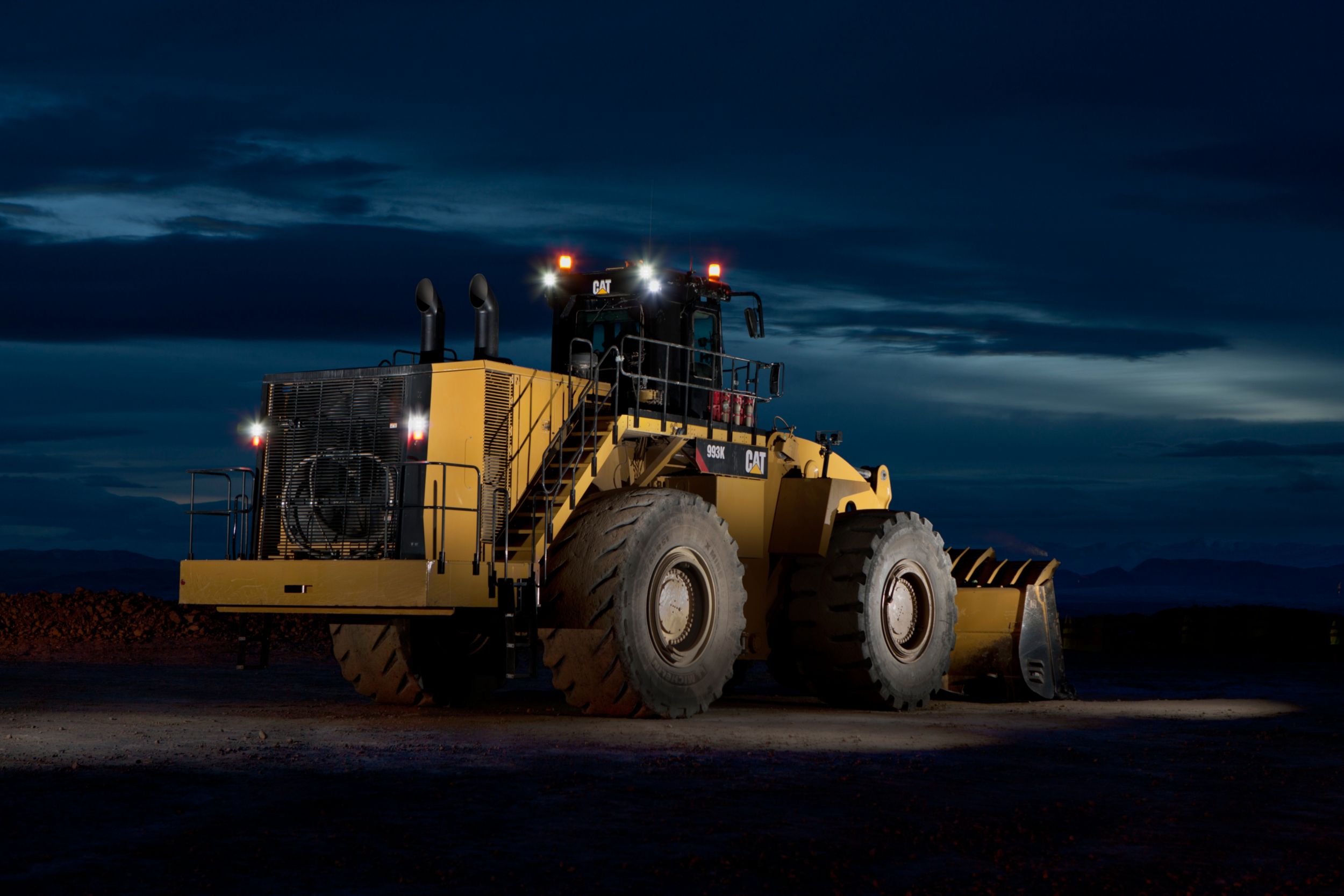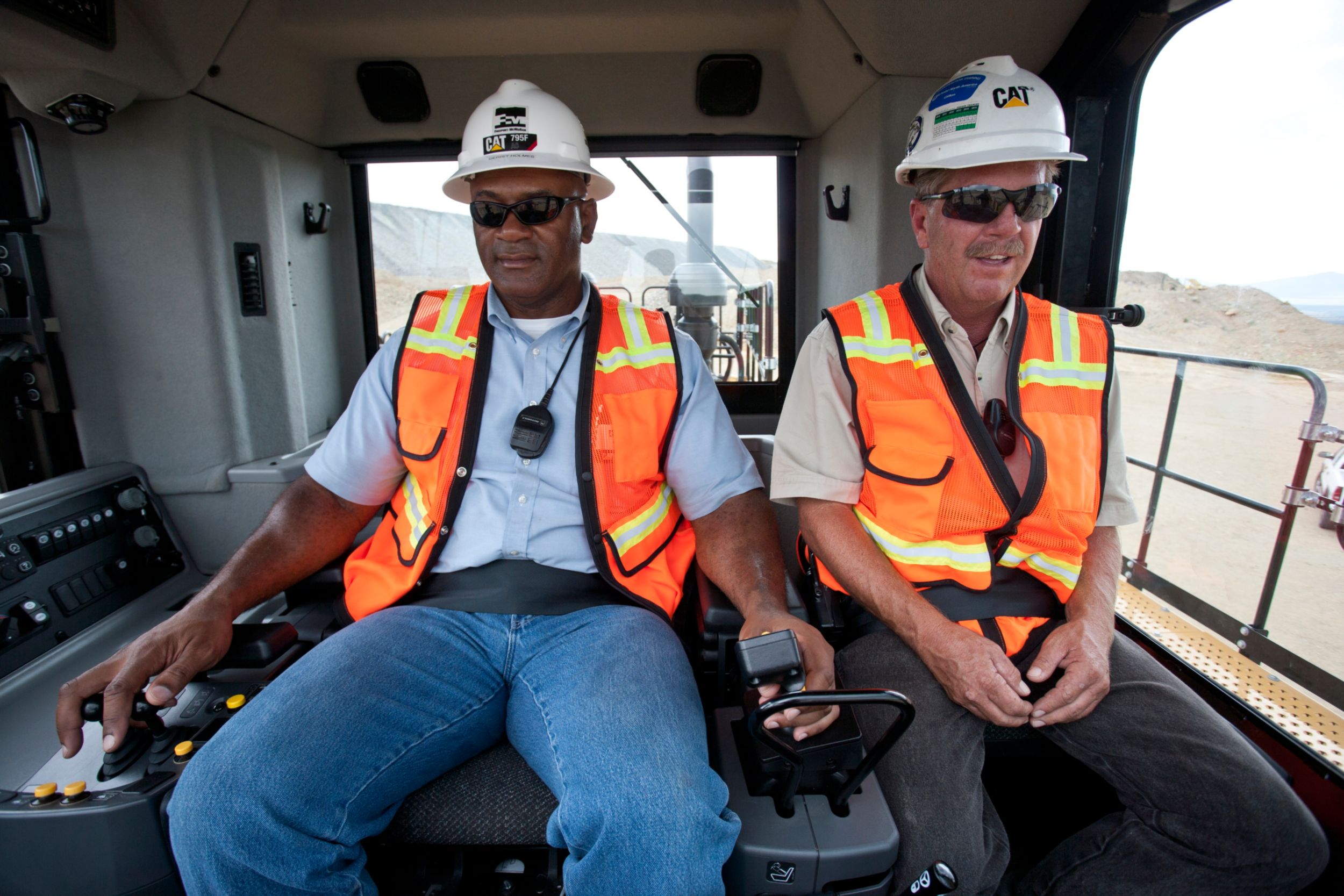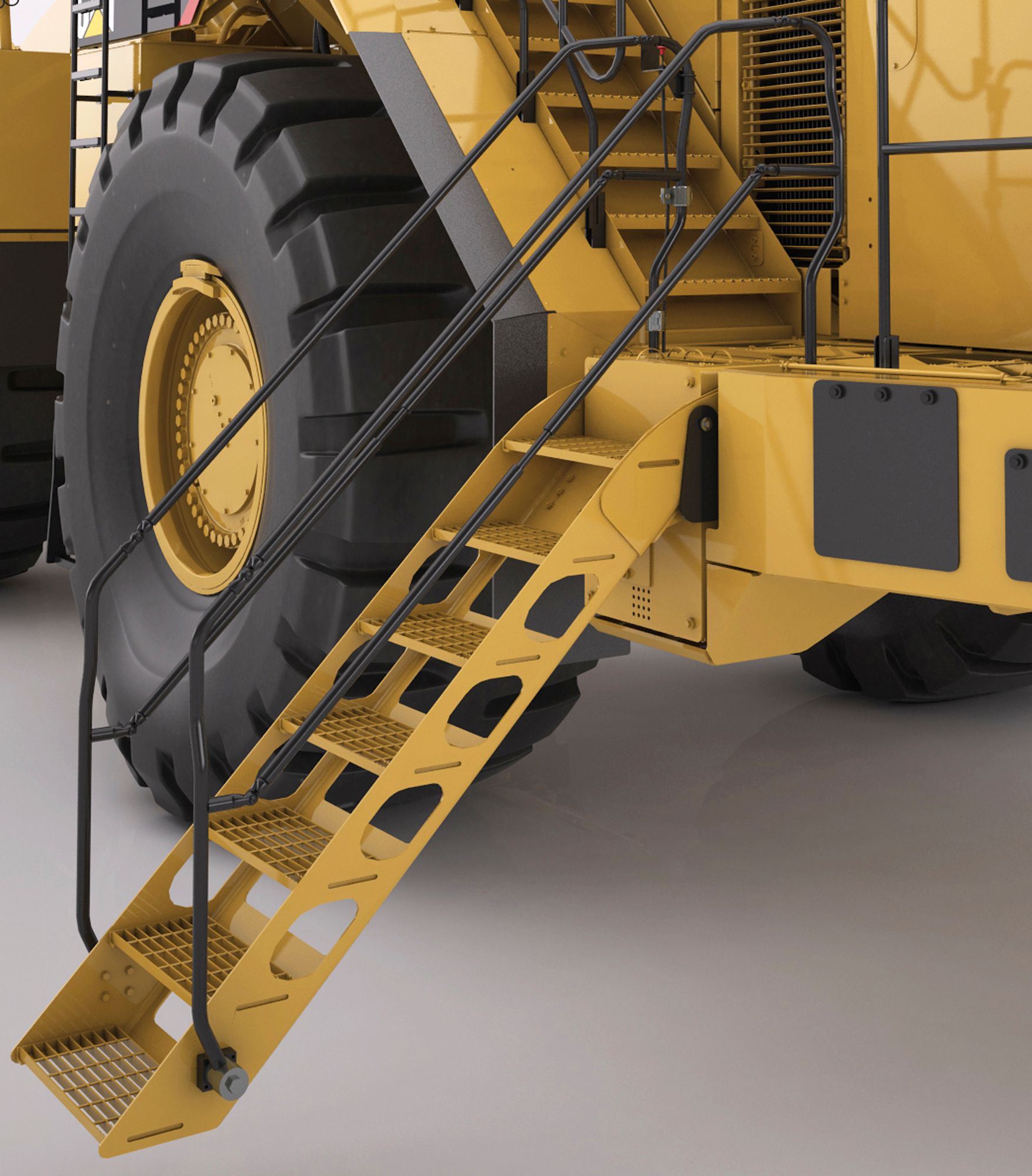 We can help you succeed by ensuring your 993K has design features to reduce your downtime.
Longer service intervals on fluids and filters.
Safe and convenient service with ground level or platform access and grouped service points.
Swing-out doors on both sides of the engine compartment provide easy access to important daily service checks.
Ecology drains for ease of service and prevention of spilling potential environmental contaminants.
Centralized remote pressure taps.
Reduce downtime with VIMS system notifications so your operators and technicians can resolve any problems before failure.
Legendary Cat Dealer Support
A valued partner, your Cat dealer is available whenever you need them.
Preventive maintenance programs and guaranteed maintenance contracts.
Best-in-class parts availability.
Improve your efficiency with operator training.
Genuine Cat Remanufactured parts.
Protecting the Environment
Environmental responsibility is designed and built into our 993K's features.
Burns up to 10% less fuel than the previous 993K to minimize your CO2 footprint.
Engine Idle Shutdown can help you save fuel by avoiding unnecessary idling.
Reduce waste to the environment with our maintenance free batteries.
Built for multiple lives, the Cat 993K is one of the most rebuilt products. To assist with maximizing machine life, Caterpillar provides a number of sustainable options such as our Reman and Certified Rebuild programs. In these programs, reused or remanufactured components can deliver cost savings of 40 to 70 percent, which lowers operating cost while benefiting the environment.
Caterpillar offers retrofit packages to bring new features to older machines, maximizing your resource. And, when you go through the Cat Certified Rebuild program, these retrofit kits are part of the rebuild process.
Selecting the right bucket will determine the productivity of your loader. The process of selection starts with knowing the density of the material you load. From there, you can select the size and appropriate protection strategies that will suit the rated payload targets of your machine. Your Cat dealer can help you configure your bucket or have a custom bucket made to suit your application.
Heavy Duty Rock Bucket
Applications: Face loading tightly compacted pit materials. Moderate-abrasion factors and high-impact loads are suitable for this bucket.
High Abrasion Rock Bucket
Applications: Face loading iron ore. High-abrasion and moderate-impact loads are suitable for this bucket. A smooth floor is also desirable.
Coal Bucket
Applications: For coal or other light density non abrasive materials.
NOTE: Some applications can be very abrasive. Consider that additional bucket protection can affect the performance of the machine through higher horsepower demand, higher fuel consumption and reduced productivity. With this in mind, it is important that you select appropriate protection for your application.
Enhance the productivity of your loader and protect your investment in buckets with our Ground Engaging Tools (GET). Your knowledgeable Cat dealer will work with you to understand your application and needs for the GET that is best for you. For a full list of Cat GET please visit http://www.cat.com/get.
Cat Advansys™ Ground Engaging Tools
Protect expensive components. Reduce your operating costs. Get the most out of your machine's performance. Choose from a variety of performance-built Advansys GET like these to meet your application requirements.
CapSure™ Tip Option: Heavy Duty Tip
CapSure Tip Option: Heavy Abrasion Tip
CapSure Tip Option: Coal Tip
CapSure Tip Option: Heavy Penetration Tip
Edge Protection Option: CapSure Shrouds
Edge Protection Option: Half Arrow Segment
CapSure Sidebar Protector
MAWPs – on Side and Bottom
Base End Edge Protector
Please check out our Parts Catalog for more GET options.
CapSure™ Retention Technology
Simplify GET component replacement with hammerless CapSure retention for fast, easy and safe installation. CapSure tips, shrouds and sidebar protectors are easily locked and unlocked with a 180 degree turn of a 3∕4 inch ratchet.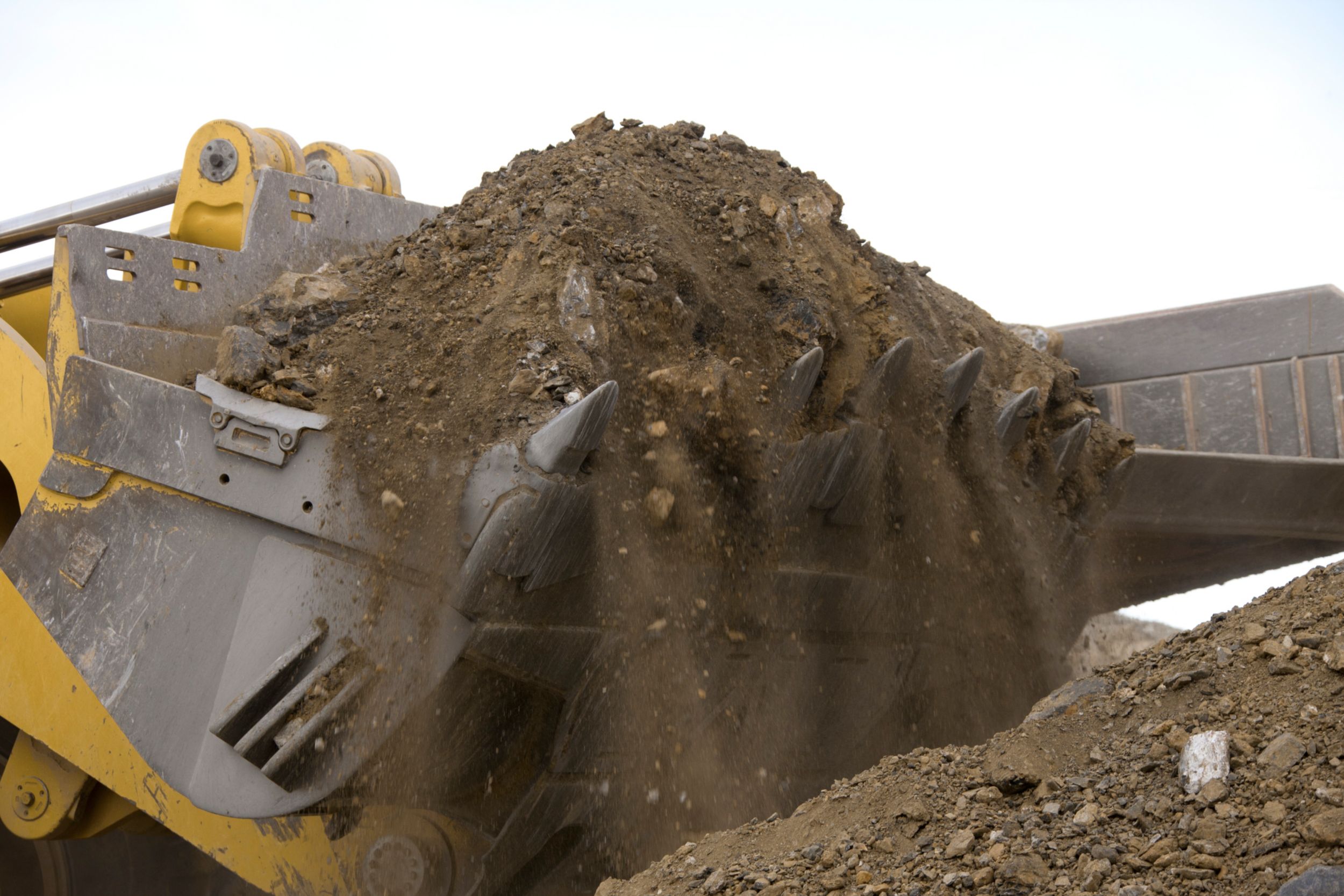 Application Match
The standard 993K is sized to load the 90 tonnes (100 tons) 777 in 3-4 passes. The 993K High Lift loads the 136 tonnes (150 tons) 785 in six passes.
Efficient Combination
For full truck payloads with minimum loading time, an efficient loading/hauling system starts with a perfect match. Cat wheel loaders are matched with Cat mining trucks to maximize volume of material moved at the lowest operating cost per ton.
Bucket Selection
Selection of the right bucket width depends on penetration requirements and the loading target. Bucket sizes are matched to truck bed capacities for optimum loading efficiency and greater productivity.