RELIABILITY YOU CAN COUNT ON
Cat C9.3 engine offers increased power density with a combination of proven electronic fuel and air systems.
Equipped with automatic Cat regeneration system, Cat clean emissions module (CEM) with Diesel Particulate Filter (DPF), and Diesel Exhaust Fluid (DEF) tank and pump (Tier 4 Final, Stage IV, and Stage V only).
Features an electric fuel priming pump and a fuel/water separator.
Thorough component design and machine validation processes result in unmatched reliability and uptime.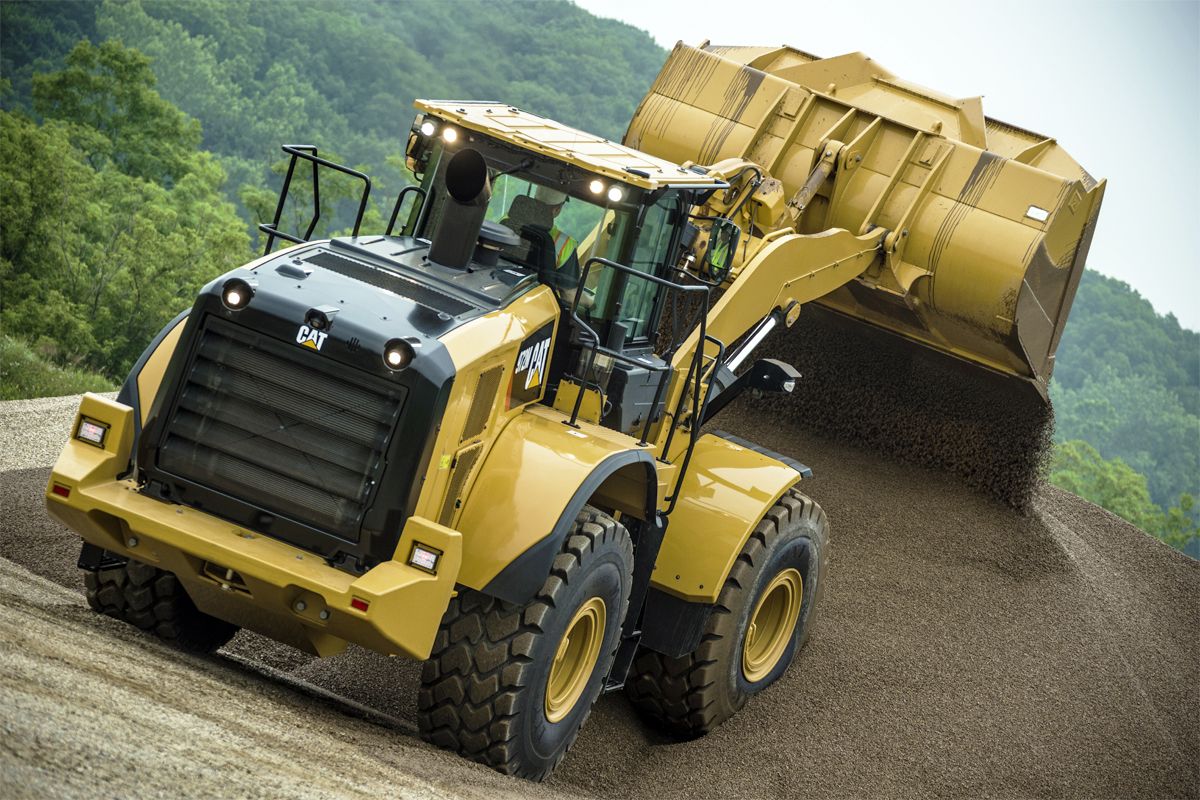 LONG TERM VALUE AND DURABILITY
Heavy-duty transmission and axles handle extreme applications.
Automatic planetary powershift (4F/4R) transmission features durable, long-lasting components.
Full-flow hydraulic filtration system with additional loop filtration improves hydraulic system strength and component life.
Full hydraulic enclosed wet-disc with Integrated Braking System (IBS) and brake wear indicators add valued safety on the job.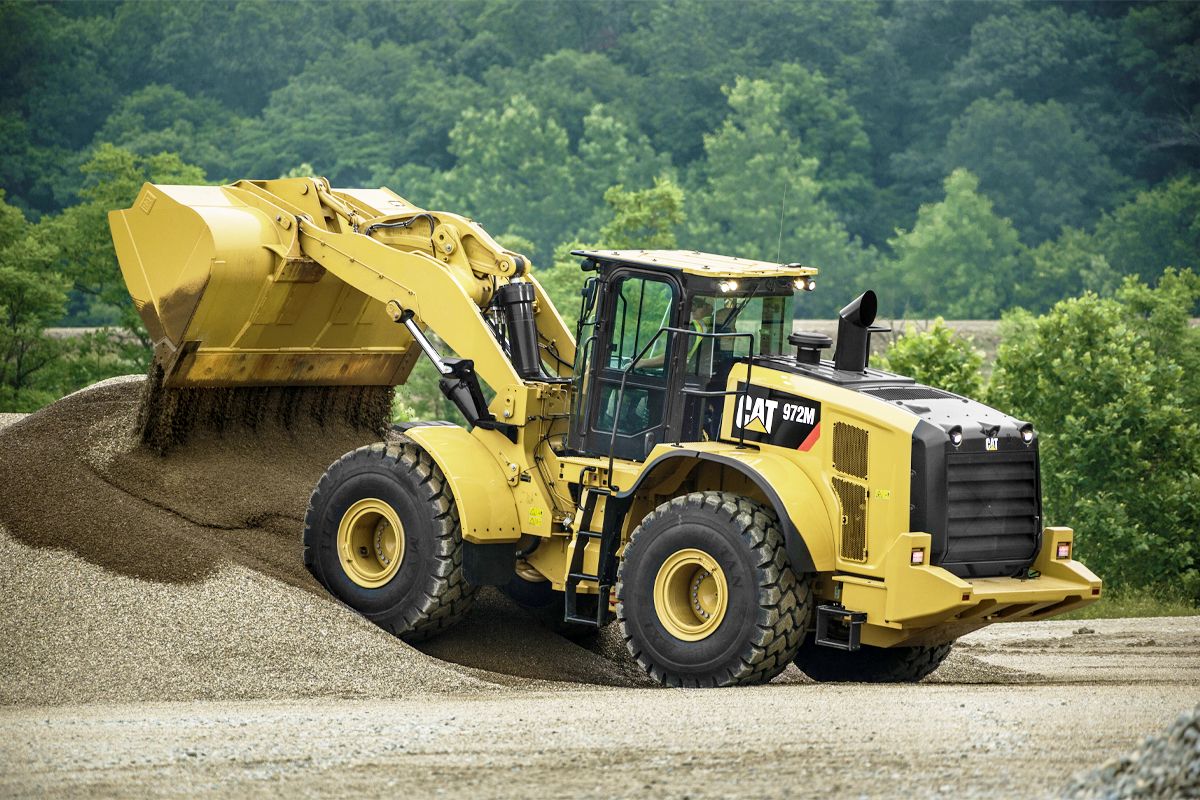 BUILT TO PERFORM
Increased engine power resulting in improved machine performance and response.
Lock-up clutch transmission, matching the engine power to increase fuel efficiency while delivering optimal performance.
Z-bar linkage provides high breakout force at ground level.
Easy-to-load performance series buckets improve material retention and reduce dig times, significantly improving productivity and fuel efficiency.
Manual/automatic differential locks increase traction and reduce tire scuffing compared to other traction aids, reducing your operating costs.
Optional aggregate handler configuration offers higher payload capability for loose aggregate handling.*
Automatic idle engine shutdown system significantly reduces idle time, overall operating hours, and fuel consumption.

* Optional configurations and equipment may vary from region to region and requires conformance to Caterpillar payload policy. Consult your dealer or Caterpillar representative for details.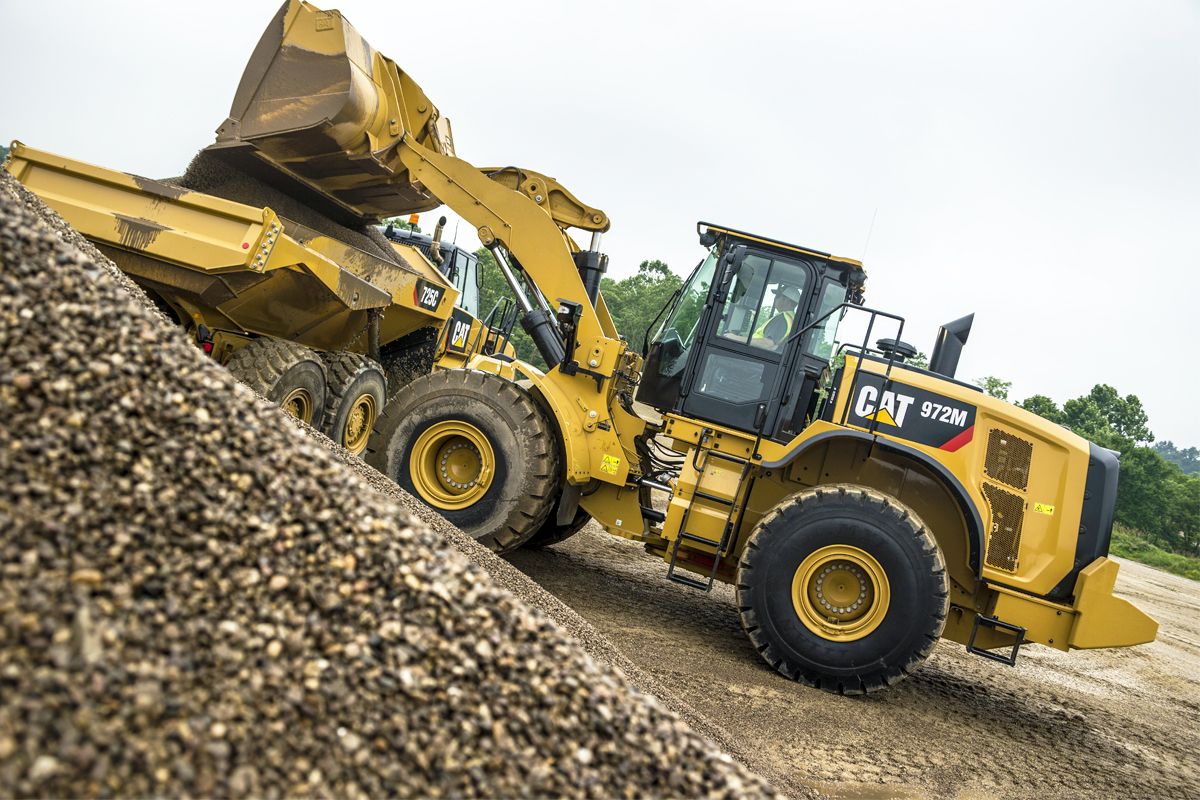 DO MORE WITH LESS FUEL
Deep system integration results in lower fuel consumption.
Significantly more fuel efficient than both the H and K Series loaders.
Power dense engine burns less fuel by providing power and torque when needed.
Standard productive economy mode delivers more fuel savings with minimal productivity impact.
New split-flow oil system uses multi-viscosity oil to improve fuel economy.
DESIGNED FOR OPERATORS
The next generation easily adjustable seat with updated styling and a revolutionary suspension system. It comes in three trim levels and can be equipped with a 4-point harness.
Sound-suppression, seals, and damping cab mounts decrease noise and vibration for a quieter work environment.
The seat-mounted electro-hydraulic joystick steering systemprovides precision control and dramatically reduces arm fatigue, resulting in excellent comfort and accuracy.
Electrohydraulic (EH) controls, parking brake, and Single Axis Lever (SAL) lift and tilt function allow for better handling and control management.
Smart ergonomic controls are easy to use, intuitive, anduser-friendly.
Touchscreen multi-function color display keeps operators focused.
The next generation of ride control works as a shock absorber, improving ride quality over rough terrain.
Inclined steps and convenient grab handles ease accessibility to the operating space.
Extended windows enhance visibility while convex and spot mirrors extend the driver's view on the sides and rear.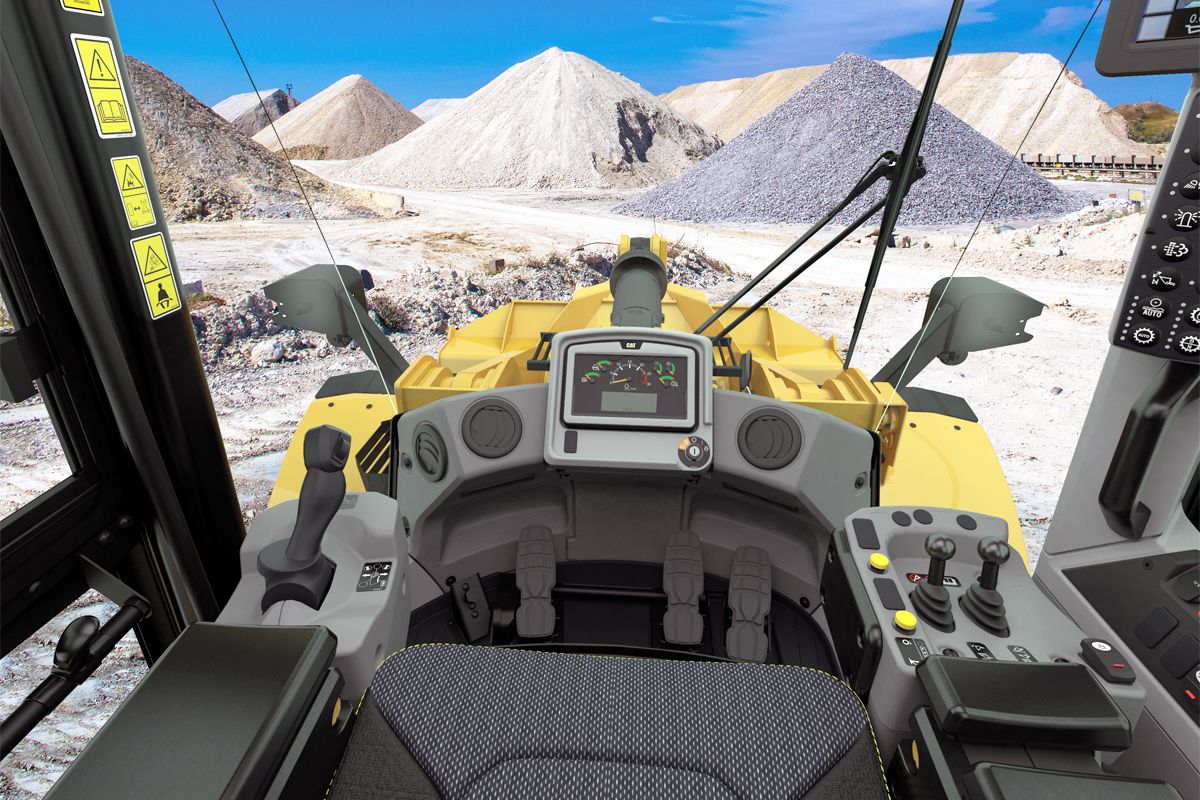 SAFELY HOME EVERY DAY
Cab access with wide door, optional remote door opening,and stair-like steps add solid stability.
Floor-to-ceiling windshield, large mirrors with integratedspot mirrors, and rear-vision camera provide industry leadingall-around visibility.
Computerized monitoring system includes several warningindicators.
Rear vision camera enhances visibility behind the machine, helping you work safely and confidently.
Optional rear object detection radar system warns you of an object in critical zone while going in reverse, enhancing job site safety.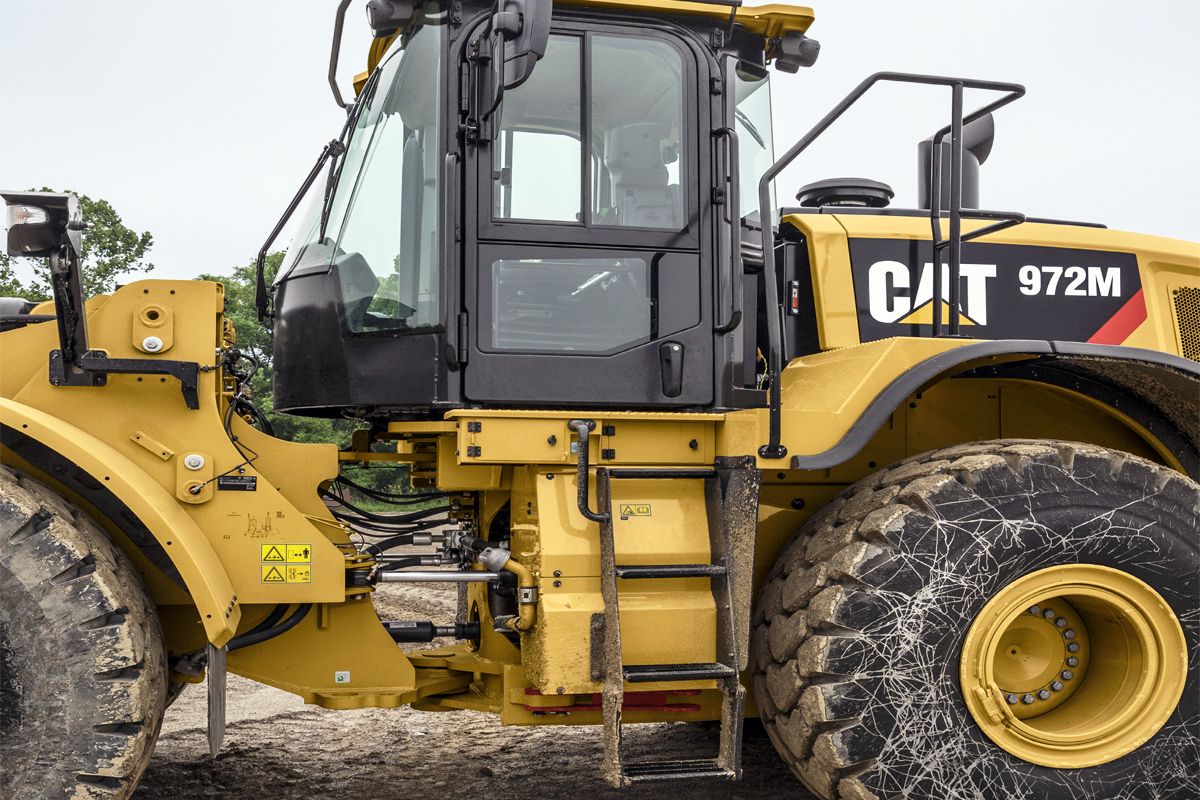 SAVE ON SERVICE AND MAINTENANCE
Extended service intervals including -
Engine oil and engine oil filter change interval up to 1000 hours(Tier 4 Final, Stage IV, and Stage V only)
Hydraulic filter change interval up to 1000 hours
Transmission oil change interval up to 2000 hours
One-piece tilting hood makes cab access fast and easy.
Electrical service centers enhance convenience and accessibility.
Access to fuel fill and daily maintenance points means lessservicing time is required.
Optional integrated Cat autolube system provides full lube system monitoring and diagnostic test visibility.
Remote flash support.
Longer tire life with on-the-go traction aids.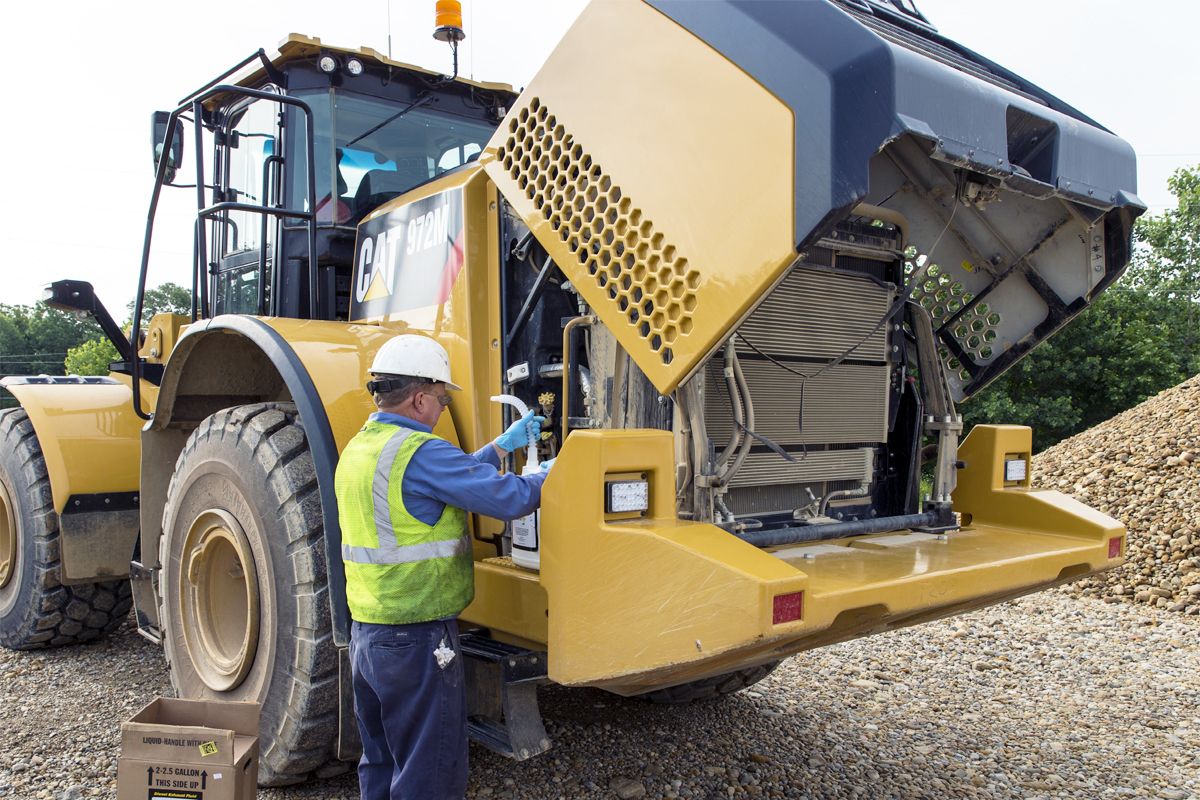 TECHNOLOGY THAT GETS WORK DONE
Developed to monitor, manage, and enhance your job site operations.
Payload provides accurate weighing* of the materials you are loading and hauling. Payload data is displayed in real-time to improve productivity and reduce overloading.
Detect enhances awareness of the environment around working equipment and provides alerts to help keep people and assets safe on the job site.
Link wirelessly connects you to your equipment, giving you access to essential information you need to know to run your business. Gain valuable insight into how your machine or fleet is performing allowing you to make timely, fact-based decisions that can boost job site efficiency and productivity.
Optional Advanced Productivity subscription providescomprehensive actionable information to help you manage and improve the productivity and profitability of your operations.

* Not legal for trade.
972M Standard Equipment
POWER TRAIN
Engine, Cat C9.3 meets Tier 3/Stage IIIA equivalent or Tier 4 Final/Stage IV emission standards
Cat Clean Emissions Module (CEM) with Diesel Particulate Filter (DPF) and Diesel Exhaust Fluid (DEF) tank and pump (Tier 4 Final/Stage IV models)
Fuel priming pump (electric)
Fuel/water separator
Precleaner, engine air intake
Economy Mode (selectable)
Transmission, automatic planetary power shift (4F/4R)
Torque converter, locking clutch with free wheel stator
OPERATOR ENVIRONMENT
Cab, pressurized and sound suppressed (ROPS/FOPS)
Viscous mounts
Multi-function 18 cm (7 in) color touch-screen display for rear vision camera, clock and machine parameters
EH controls, SAL (single axis lever) lift and tilt function
Steering, EH joystick, speed sensing with force feedback
Radio ready (entertainment) includes antenna, speakers and converter (12V, 10-amp)
Air conditioner, heater, and defroster (auto temp and fan)
EH parking brake
Beverage holders (2) with storage compartment for cell phone/MP3 player
Bucket/work tool function lockout
Coat hook (2)
Cab air filter
Ergonomic cab access ladders and handrails
Horn, electric
Light, two dome (cab)
Mirrors, rearview external with integrated spot mirrors
Post mounted membrane 16 switch keypad
2 receptacles, 12V
Seat, Cat Comfort (cloth) air suspension
Seat belt, 51 mm (2 in) retractable, with indicator
Sun visor, front
Wet-arm wipers/washers front and rear, intermittent front wiper
Window, sliding (left and right sides)
Cab tie-off
COMPUTERIZED MONITORING SYSTEM
With following gauges: Speedometer/tacometer; Digital gear range indicator; Diesel Exhaust Fluid (DEF) level (Tier 4 Final/Stage IV models); Temperature: engine coolant, hydraulic oil, transmission oil; Fuel level
With following warning indicators: Regeneration; Temperature: axle oil, engine intake manifold; Pressure: engine oil, fuel pressure hi/low, primary steering oil, service brake oil; Battery voltage hi/low; Engine air filter restriction; Hydraulic oil filter restriction; Hydraulic oil low; Parking brake; DEF low level (Tier 4 Final/Stage IV models); Transmission filter bypass
ELECTRICAL AND LIGHTING
Batteries (2), maintenance free 1,400 CCA
Ignition key; start/stop switch
Starter, electric, heavy duty
Starting and charging system (24V)
Lighting system: Four halogen work lights (cab mounted); Two halogen roading lights (with signals); Two halogen rear vision lights (hood mounted)
Alarm, back-up
Alternator, 145-amp brushed
Main disconnect switch
Receptacle start (cables no included)
CAT CONNECT TECHNOLOGIES
Link technologies: Product Link
Detect technologies: rear vision camera
LINKAGE
Linkage, Z-bar, cast crosstube/tile lever
Kickout, lift and tilt, automatic
HYDRAULICS
Hydraulic system, load sensing
Steering, load sensing
Ride control, 2V
Remote diagnostic pressure taps
Hoses, Cat XT™
Oil sampling valves
FLUIDS
Premixed extended life coolant with freeze protection to -34° C (-29° F)
OTHER STANDARD EQUIPMENT
Hood, non-metallic power tilting
Service centers (electrical and hydraulic)
Platform, window washing
Auto idle shutdown
Fenders, front with mud-flap/rear with extension
Ecology drains for engine, transmission, and hydraulics
Ether aid ready
Grill, airborne debris
Filters: fuel, engine air, engine oil, hydraulic oil, transmission
Fuel cooler
Grease zerks
Hitch, drawbar with pin
Precleaner rain cap
Sight gauges: engine coolant, hydraulic oil, and transmission oil level
Toolbox
Vandalism protection caplocks
972M Optional Equipment
POWER TRAIN
Axles: Automatic front/rear differential locks; Axle oil cooler; Extreme temperature seals; Seal guards
Fan, VPF (variable pitch fan), automatic and manual control
Radiator, high debris with wider fin spacing
OPERATOR ENVIRONMENT
Door, remote opening system
Cover, HVAC metallic
EH controls, SAL 3rd function - Additional roller switch for 4th function
EH controls, joystick lift and tilt - Additional integrated roller switches for 3rd and 4th functions
Filter, carbon fresh air
Mirrors, heated rearview external with integrated spot mirrors
Precleaner, HVAC
Precleaner, HVAC (RESPA)
Radio, AM/FM/CD/USB/MP3 Bluetooth with Satellite Sirius and XM
Radio, CB ready
Seat, heated air suspension
Seat belt, 76 mm (3 in) retractable, with indicator
Steering, EH wheel with directional FNR shifter and gear selector - Additional FNR with implement controls
Roof, metallic
Steering, secondary
Sun visor, rear
Windows, rubber mounted
Windows, with front guard
Windows, with heavy duty front guard
Windows, with full guards front, rear and sides
ELECTRICAL AND LIGHTING
Four additional auxiliary halogen cab mounted work lights or
Two additional auxiliary front HI LED and two additional auxiliary rear LED cab mounted work lights with 2 LED work lights in the radiator grill and LED front turn signals also includes replacement of the standard four halogen cab mounted work lights with four LED work lights (the standard offering and only roading light available is the halogen roading light)
Warning amber strobe beacon
Reversing strobes
External seat belt indicator light
Speed limiter - 20 km/h (Europe only)
STARTERS, BATTERIES, AND ALTERNATORS
Cold start - 120V
Cold start - 240V
CAT CONNECT TECHNOLOGIES
Link technologies: VIMS™
Payload technologies: Advanced Productivity subscription; Cat Production Measurement 2.0; Printer; Aggregate Autodig
Detect technologies: Cat Rear Object Detection
Machine Security System
LINKAGE
High lift
Extended capacity
Quick coupler ready
WORK TOOLS
Performance Series buckets
Fusion quick coupler
Forks, pallet
Forks, logging
HYDRAULICS
3rd function with Ride Control: Standard linkage; High lift linkage; Forestry linkage
4th function with Ride Control: Standard linkage; High lift linkage; Forestry linkage
FLUIDS
Premixed extended life coolant with freeze protection to -50° C (-58° F)
OTHER OPTIONAL EQUIPMENT
Cat Autolube System
Fenders, roading
Guard, power train
Oil change, high speed engine
Precleaner, turbine
Precleaner, trash
Wheel clocks
OTHER OPTIONAL CONFIGURATIONS
Aggregate Handler
Industrial and Waste Handler
Steel Mill