EASY TO OPERATE
Updated cab, with an Integrated Roll Over Protection Structure (ROPS), gives operators greater all around visibility to enhance safety and productivity.
Quieter interior, with improved pressurization, helps keep dust out for a cleaner operating environment.
Pilot hydraulic implement controls reduce operator effort and offer more consistent, precise and responsive operation.
Single handle control for all direction and gear selection.
Tiller bar control allows the operator to work more precisely in close areas.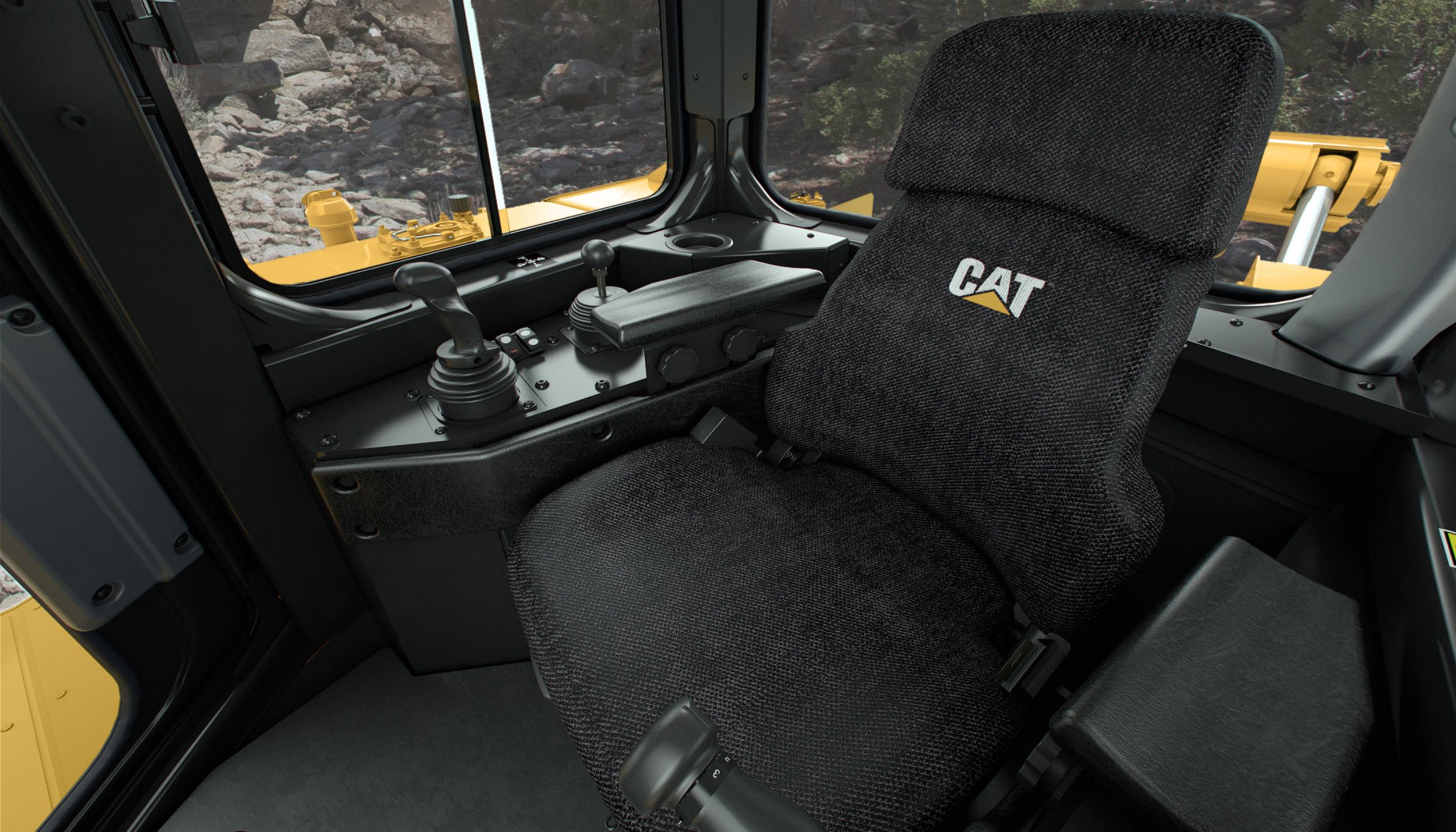 PERFORMANCE AND PRODUCTIVITY
Cat 3406 engine allows the D8R to doze through tough material.
Differential Steering maintains full power to both tracks for best-in-class turning, even with a full blade load.
Load Sensing Hydraulics continuously adjust hydraulic powerto maximize your efficiency; dedicated implement pump ensures adequate available hydraulic power.
Advanced Modular Cooling System has excellent cooling capacity with increased air flow, allowing the machine to work in the most demanding environments.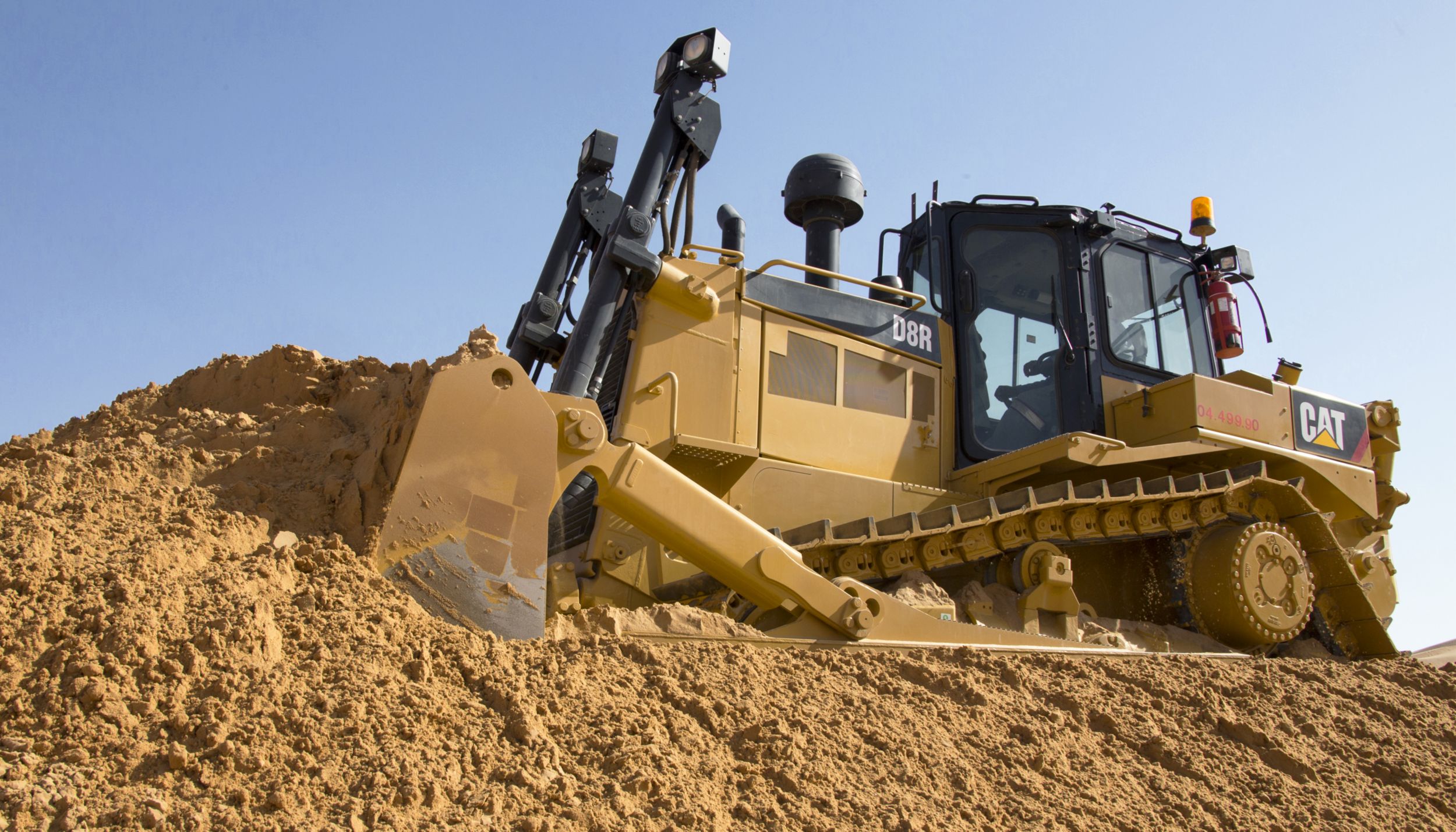 BUILT FOR LONG TERM PRODUCTION
Caterpillar elevated sprocket design isolates final drives from ground induced impacts.
Suspended undercarriage provides a smooth ride and better traction in uneven terrain.
More than 35 years of experience with elevated sprocket/suspended undercarriage design.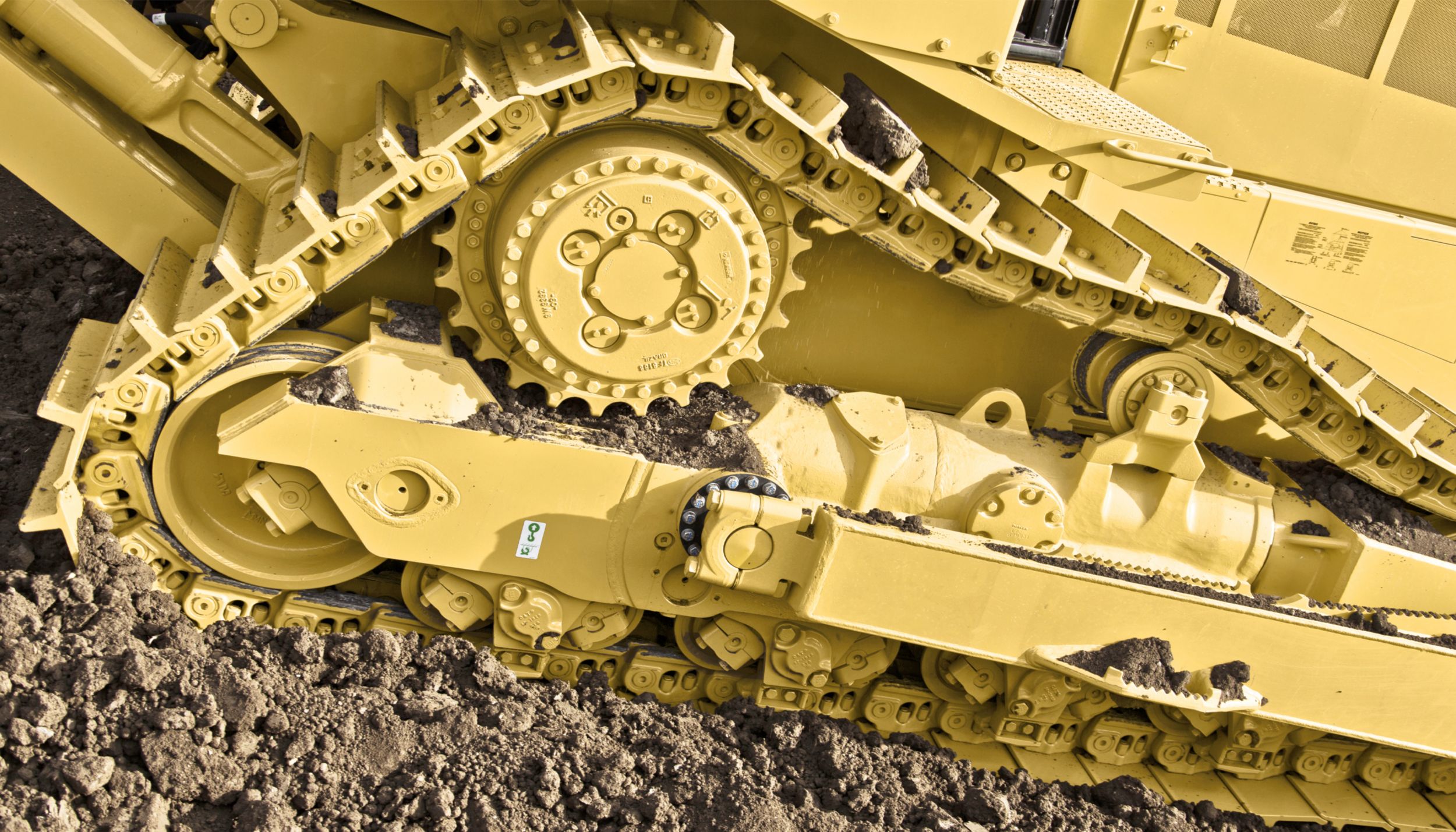 LOWER MAINTENANCE COSTS
Features like grouped service points, sight gauges, fast fuel fill and easy engine compartment access help make regular maintenance faster and more convenient.
Field proven mechanical engine features a modular design for ease of service.
Modular transmission components offer easy service access.
Individual radiator cores can be quickly replaced for ease of service.
Product Link™/VisionLink® connects owners to their equipment, providing access to machine data such as location, hours, and event codes.*
Certified rebuild* and remanufacturing* options to help you save on lifetime owning and operating costs.

* Not available in all areas. Please consult your Cat dealer.
PURPOSE BUILT SPECIALTY MODELS
D8R desert arrangement offers a package of options ideally suited to enhance machine performance in extremely sandy or abrasive underfoot conditions.
Copper nickel core radiator for added cooling performance.
Specially coated fan and radiator help resist abrasion.
Core protection grid.
Sealed bottom guard and added seals to help keep fine abrasive particles out of components.
Optional wear plates can be replaced to give you longer blade life when working in abrasive conditions.
D8R Waste Handler is ideally suited for building or closing cells, pushing trash or spreading cover.
Specialized guarding, striker bars and seals help protect the machine from impact and airborne debris.
Bottom and final drive guarding help prevent debris from wrapping around or damaging vital components.
The cooling system is designed for high debris environments, with easy access for cleanout.
Lights are mounted up and away from main debris area for protection, while still giving you plenty of light on the work area.
Specialized air intake precleaner helps deliver cleaner air to the machine.
Landfill blades and trapezoidal-hole track shoes help you optimize your waste handler for the job.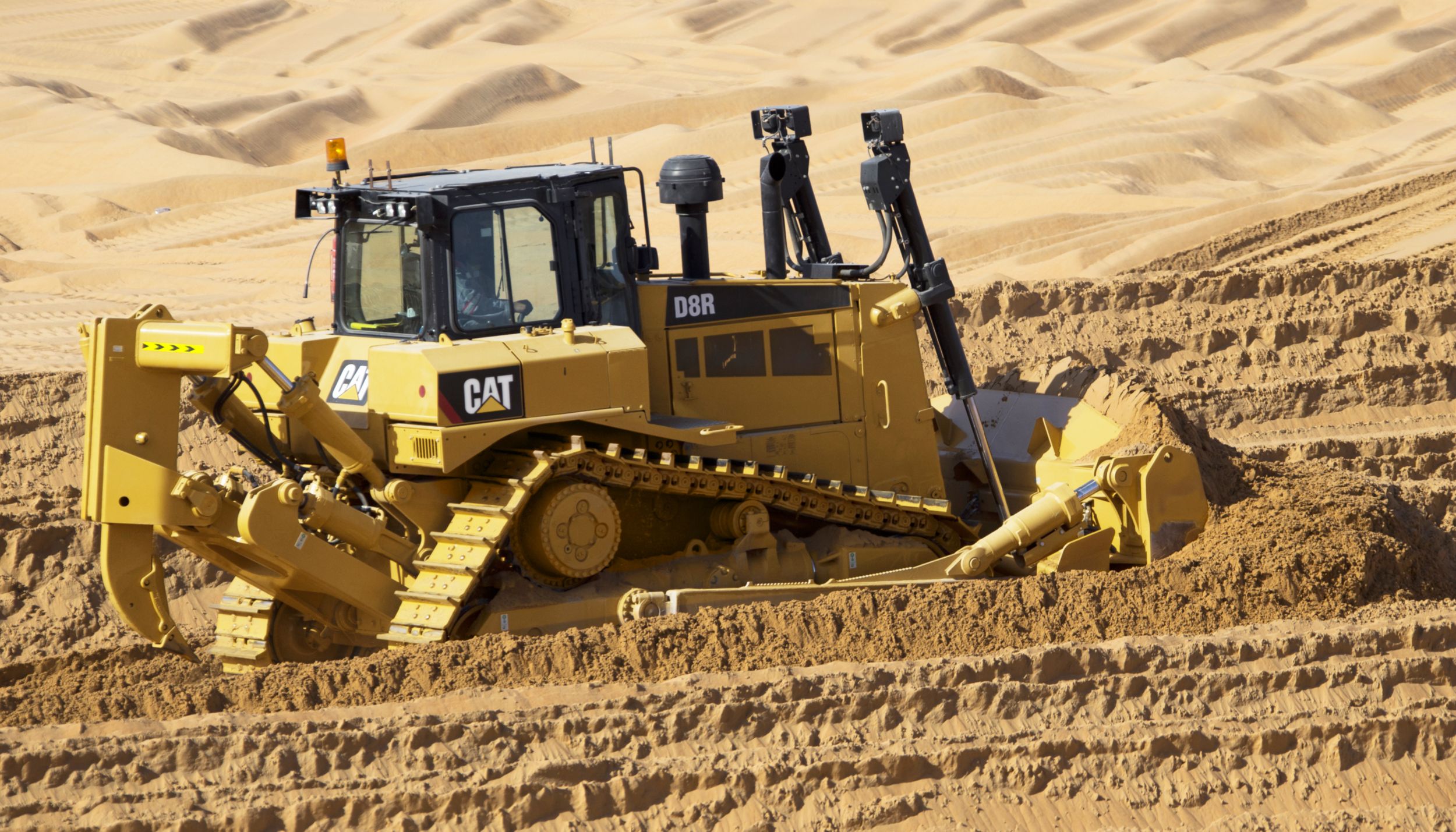 D8R Standard Equipment
ELECTRICAL
75 amp alternator
Back-up alarm
Forward warning horn
OPERATOR ENVIRONMENT
EMS (Electronic Monitoring System) with temperature gauges
Fuel level gauge
Retractable seat belt (76 mm/3 in)
Rearview mirror
POWER TRAIN
Decelerator
Engine doors
Fuel priming pump
Muffler
Prescreener
Torque divider
Powershift transmission (3-speed)
UNDERCARRIAGE
8-roller tubular track roller frame
Hydraulic track adjusters
Track guides
OTHER STANDARD EQUIPMENT
Differential steering with dual-twist tiller control
Independent steering and implement
Hydraulic oil cooler
Hydraulic valve – for blade and ripper
Mounting, lift cylinder
Blade lift cylinder – left hand
Blade lift cylinder – right hand
D8R Optional Equipment
TRACTOR ARRANGEMENTS
Standard
LGP
Desert Arrangement
Waste Handler Arrangement
TECHNOLOGY PRODUCTS
Product Link – PL321
Product Link – PL522
POWER TRAIN
Engine with thermal shield
High speed oil change
STARTING AIDS
Ether aid
Heater, diesel fuel
Heather, engine 240V
System, prelube
AIR PRECLEANER
Precleaner: – Standard – Turbine – Turbine with screen
ENGINE COOLER
Radiator: – AMOCS – AMOCS, high ambient and abrasion resistant – AMOCS, debris resistant – Debris and abrasion resistant
FAN SPEED RATIO
Fan drive: – Standard – Speed increase (high ambient) – Speed decrease
OPERATOR STATION
Integrated ROPS open canopy
Integrated ROPS enclosed cab
Vinyl or cloth covered suspension seats
Rear screen guards
GUARDS
Fuel tank
Heavy-duty radiator
Sweeps
Guards: – Bottom, heavy duty – Bottom, heavy duty, sealed
Grid, radiator core protector
Screen group: – Rear – Rear (canopy)
Guard: – Fuel tank – Rear transmission
Striker bars: – Front (suspended) – Front (non-suspended)
BULLDOZER
Semi-Universal blade
Universal blade
Angle blade
COOLING FAN
Fan, blower: – Standard – Coated – Ejector – Reversible
FUEL REFILL SYSTEM
Cover, fuel tank
Adapter, fast fuel
FINAL DRIVE
Standard
Standard, guarded
LGP
LGP, guarded
Standard, arctic
UNDERCARRIAGE
Basic, suspended
Positive pin retention: – Guarded – Arctic – Non-suspended
Non-suspended, guarded
CARRIER ROLLER
No carrier roller, suspended
Carrier roller, suspended
Carrier rollers: – Suspended, arctic – Non-suspended – Non-suspended, arctic
POSITIVE PIN RETENTION TRACK
Track pairs: – Extreme service (44 sections) (560 mm/22 in; 560 mm/22 in, trapezoidal; 560 mm/22, steel mill; 610 mm/24 in; 610 mm/24 in, trapezoidal; 610 mm/24 in, chopping; 660 mm/16 in; 660 mm/26 in, trapezoidal; 710 mm/28 in; 710 mm/28 in, trapezoidal; 965 mm/38 in, trapezoidal; 965 mm/38 in) – Moderate service (44 sections) (610 mm/24 in; 660 mm/26 in; 710 mm/28 in; 710 mm/28 in; 965 mm/38 in) – Super extreme service (610 mm/24 in; 660 mm/26 in, trapezoidal)
HYDRAULICS
Bulldozer tilt hydraulics: – Hydraulic, single tilt – Hydraulic, dual tilt
Lubricant: – Standard – High ambient – Arctic
ELECTRICAL
Lighting options of 4, 6, 8 or 10
Batteries: – Standard – Heavy duty
Lights: – Four – Six – Ten – Eight (sweeps) – Eight (sweeps and rear screen) – Ten (ROPS A/C)
OPERATOR ENVIRONMENT
Operator station: – Canopy – Cab (Standard; Arctic)
Air conditioner: – No air conditioner – Air conditioner (Under hood; ROPS mounted)
Seat: – Vinyl – Cloth – Cloth, air suspension
REAR ATTACHMENTS
Drawbar
Counterweight
Rippers: – Multi-shank – Single shank
Drawbar, rear, rigid
Ripper: – Single shank – Single shank, pin puller – Single shank, push block – Multi-shank
Counterweight, rear
Ripper single shank with striker bar
Ripper single shank pin and striker bar
Ripper multi shank with striker bars
Ripper single shank with push block and pin puller
Striker bar, rear
No rear attachment
OTHER ATTACHMENTS
Counterweight: – Drawbar – Additional
Fast oil change system
Paint, black hood and cylinders
PUSH ARMS
Bulldozer: – Push arm, single – Push arm, dual tilt
BLADES
8SU: – 8SU, with rock guard and wear plate – 8SU push plate – 8SU landfill wear plate – 8SU LGP – 8SU LGP landfill
8U: – 8U rock guard/wear plate – 8U landfill wear plate
8A
GROUND ENGAGING TOOLS
Tooth: – Multi-shank – Single shank – Single shank, deep ripping