DESIGNED FOR OPERATORS
Quiet cab, with an integrated Roll Over Protection Structure (ROPS) and 15° offset seat for greater all around visibility, enhanced safety features and productivity.
Work more precisely with single twist tiller control for direction/gear selection.
Optional electro-hydraulic controls on VPAT dozers aid response and maneuverability and enable GRADE technologies.
Save fuel, increase productivity with optional AutoShift mode – automatically downshifts for greatest efficiency.
Optional bi-directional control allows the operator to dial to preselected forward/reverse gears for reduced operator effort and improved efficiency.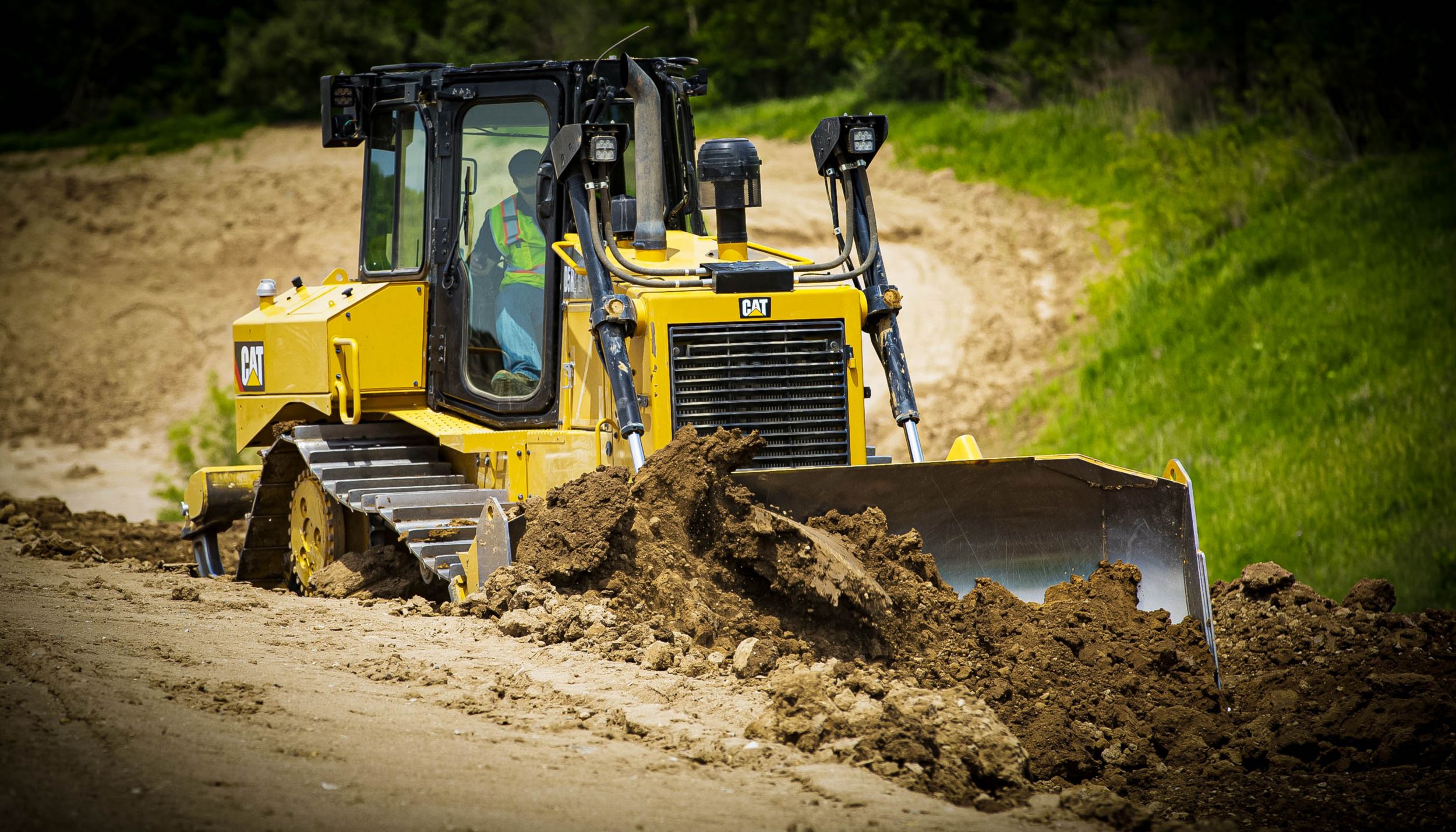 PERFORMANCE AND PRODUCTIVITY
Cat C7.1 engine gives you the power you need to doze through tough material.
Independent pumps provide simultaneous blade response and steering performance – greater precision and maneuverability.
Larger fan, updated aluminum bar plate cooling system with wide fin spacing for excellent cooling capability in high ambient conditions.
Forestry, landfill and cold weather arrangements offer added features and guarding to take on especially harsh environments.
TECHNOLOGY THAT GETS WORK DONE
Optional¹ GRADE technology features help operators of all experience levels get more work done in less time.
Cat GRADE with Slope Assist™ automatically maintains pre-established blade position without a GPS signal.
Cat Stable Blade complements the operator's blade-control input for attaining finish grades quicker with less effort.
Standard Slope Indicate displays machine cross-slope and fore/aft orientation right on the main display².
Versatile, scalable Cat AccuGrade™ is a dealer-installed grade control system. Choice of Laser, Global Navigation Satellite System (GNSS) or Universal Total Station (UTS) so you get the right level of accuracy to match your job requirements.
Factory equip your dozer for easy installation of an AccuGrade system with the AccuGrade Ready Option (ARO).
Product Link™ collects machine data that can be viewed online through web and mobile applications.
Access information anytime, anywhere with VisionLink® – and use it to make informed decisions that boost productivity, lower costs, simplify maintenance, and improve safety and security on your job site³.

¹Available on VPAT dozers with electro-hydraulic controls.
²Includes optional digital cab display monitor.
³Not available in all areas, please consult your Cat dealer.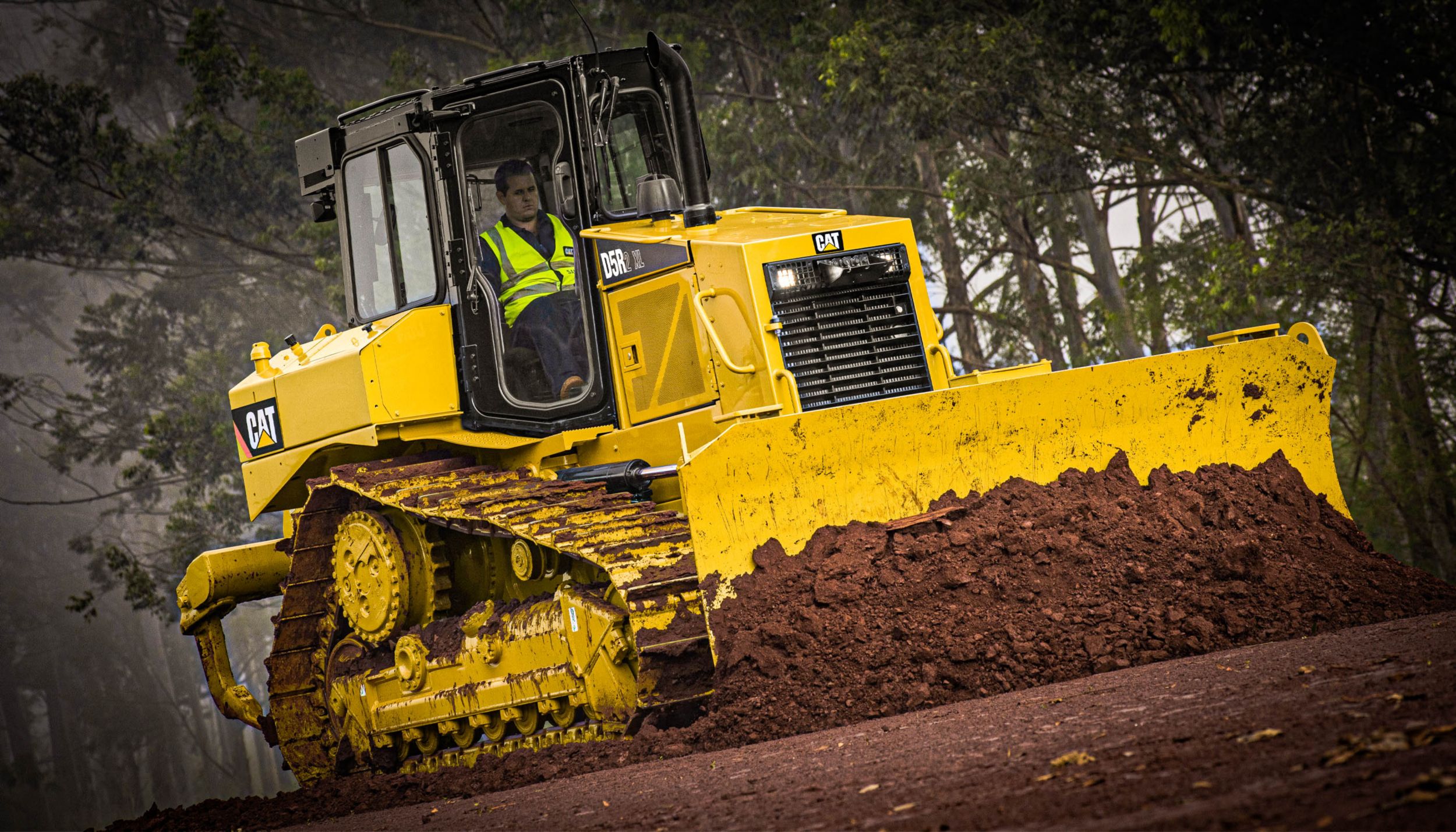 BECAUSE UPTIME COUNTS
Convenient regular maintenance due to grouped service points, sight gauges, and easy engine compartment access.
High efficiency fuel filters with water-in-fuel sensors add to fuel system robustness.
Fuel system up to B20 (biodiesel fuel) compatible.
Air conditioning condenser mounted externally on the back of the cab for better system performance, plus improved engine cooling and serviceability.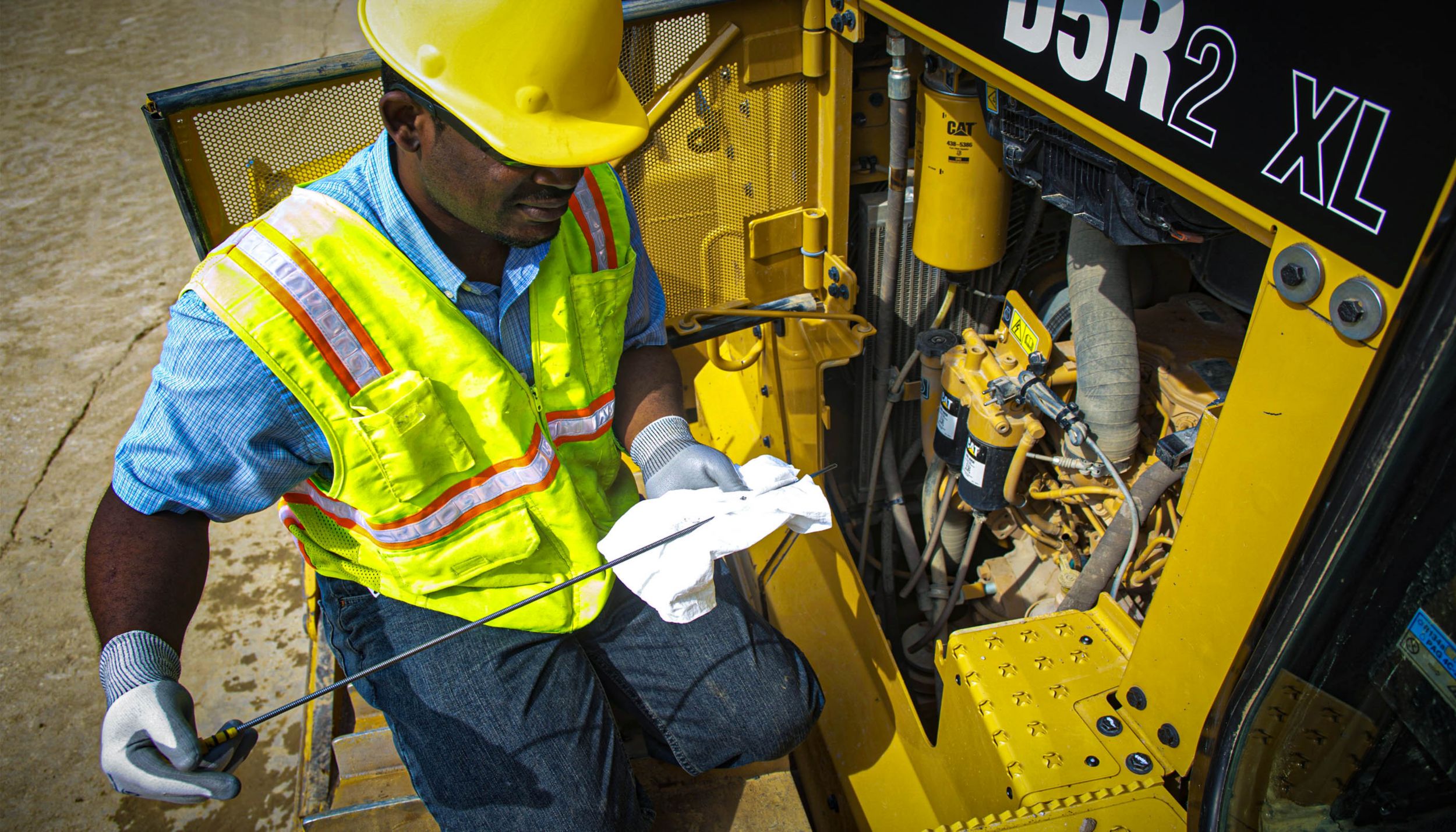 PURPOSE BUILT SPECIALTY MODELS
Forestry Arrangement is available with optional machine protection like sweeps, screens and added guarding to help protect the machine in harsh conditions. Cooling system is designed for high debris environments, with easy access for cleanout.
Cold Weather package features reversible fan and heavy-duty battery/alternator for cold starting. Arctic cab with dual pane glass, as well as optional heated suspension seat, offer greater operator comfort in extreme cold. Solid hood gives added protection against snow and ice, and oils and final drive seals are designed tostand up to cold conditions.
Waste Handler/LandfillArrangement offers specialized guarding, striker bars and seals help protect the machine from impact and airborne/wrapping debris. Cooling is designed for high debris environments and easy cleanout. Specialized air handling features help deliver cleaner air to the machine. Landfill blades and center-hole track shoes help optimize your waste handler for the job.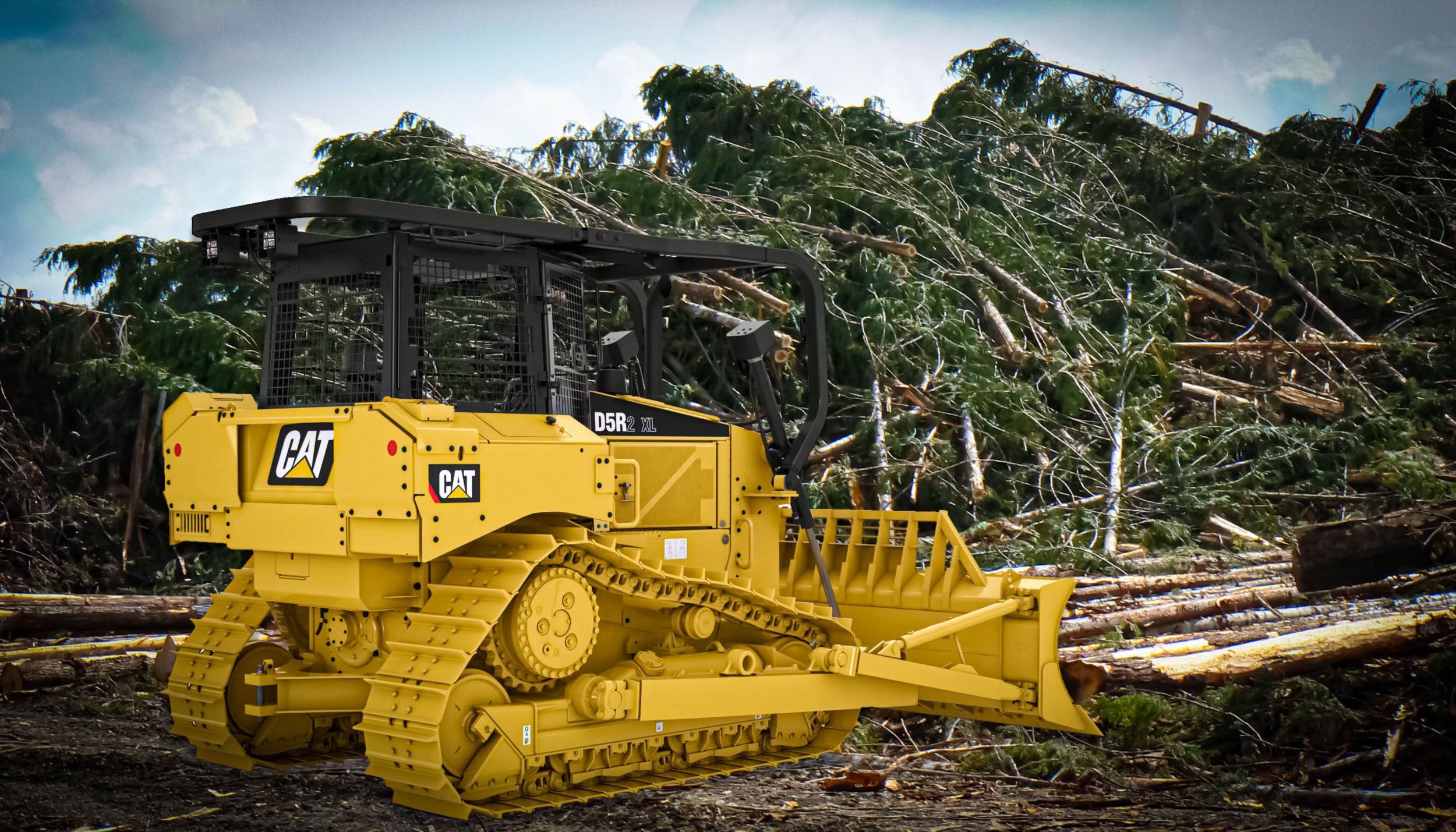 D5R2 Standard Equipment
Tractor Configurations
D5R2 LGP (Low Ground Pressure)
D5R2 XL
Power Train
Differential steering, electronically controlled
Meets China Nonroad Stage III emission standards, equivalent to Tier 3/Stage IIIA
Final drives, three-planet single reduction planetary
Fuel priming pump, electric
Fuel filter with water in fuel sensor/indicator and secondary fuel filters
Aluminum bar plate Air to Air After-Cooler (ATAAC)
Cat 7.1 Turbocharged Direct Injection diesel engine
Coolant, extended life
Fan, blower, direct drive
Muffler with mitered stack
Torque converter
Air filter with electronic service indicator
Aluminum bar plate radiator (6.35 fins/in)
Planetary transmission, electronic power shift 3F/3R speeds
Parking brake, electronic
Air cleaner, under-hood, with dust ejector
3000 m (9,843) altitude operation capability without de-rating
Undercarriage
Track roller frames, tubular
Electrical
Alarm, backup
Alternator (115 Amp)
Batteries, two maintenance free 12V (24V system)
Converter, 12V, 10 amp with one outlet
Connector, diagnostic
Electric start, 24V
Glow plug starting aid
Horn, forward warning
Lights, halogen (four)
Operator Environment
Armreset, adjustable
Decelerator pedal, suspended
Differential steering tiller-bar control with soft touch button gear selection
Cat monitoring system: Engine coolant temperature; Hydraulic temperature; Power train temperature; Fuel level; Engine speed, tachometer; Service hour meter; System warning lamps
Enclosed cab or open canopy, integrated ROPS
Coat hook
Cup holder
Foot pads, dash mounted
Hydraulic controls, pilot operated with electronic deactivation switch
Mirror, rearview
Seat, adjustable contour syspension
Seat belt, retractable, 76 mm (3 in)
Service brake pedal, suspended
Throttle switch, electronic rotary dial
Other Standard Equipment
Cat Product Link ready
Engine covers with perforated side enclosures
Engine hood, solid
Front pull device
Guards, bottom
Radiator door, louvered
Mounting, lift cylinder
Lift cylinders with lines
Hydraulics, load sensing, dozer lift and tilt
Oil cooler, hydraulic
Sampling ports: Engine oil; Engine coolant; Hydraulic oil
Vandalism protection: Cap locks fitted to battery box and fuel tank drain; Provision for cap locks for fluid compartments, battery compartment and engine side enclosures
D5R2 Optional Equipment
Power Train
Auto-Shift with kick-down and 5F/5R ground speed selection
Precleaner, turbine with screen
Fuel system, heated
Oil change system, high speed
Drains, ecology, power train
Radiator fan, reversible (cold weather)
Heater, engine coolant, 240V
Radiator core protector
Undercarriage
Track shoe, 840 mm (33.1 in), Extreme Service with trapezoidal hole (LGP)
Electrical
Battery, heavy duty
Lights, halogen (six)
Lights, LED (six)
Lights, halogen (four - sweep)
Operator Environment
Suspension seat, cloth cover with 76 mm (3 in) retractable seat belt
Suspension seat, vinyl cover with 76 mm (3 in) retractable seat belt
Screen, rear, cab or canopy
Mirror, additional internal
Screens, side, cab or canopy
Screens, door/front, cab or canopy
Technology Products
Cat Stable Blade
Cat Slope Indicate
Cat GRADE with Slope Assist
Cat Product Link, satellite, Pro-Series
Cat Product Link, cellular, Pro-Series
AccuGrade Ready Option (ARO)
Other Attachments
Hydraulics, lift/tilt/ripper
Ripper, multi-shank, straight or curved shanks (three)
Drawbar, rigid
Sound suppression, exterior
Guards
Guard, fuel tank
Guards, land clearing
Guard, radiator, heavy duty
Guard, transmission
Sweeps, forward protection
Bulldozers
Angle, mechanical tilt (XL)
Semi-Universal, hydraulic tilt (XL)
Variable power angle and tilt (XL and LGP)
Special Arrangements
Waste Handler
Forestry Arrangement
Cold Weather Arrangement