320D2 FM Standard Equipment
ELECTRICAL
115 Ampere alternator
4 Front working lights, cab top mounted
2 Front working lights, riser mounted
1 Left side working light, cab mounted
1 Rear working light, cab mounted
Horn
Product Link (PL 321 SR)
OPERATOR ENVIRONMENT
Purpose-built forestry cab with 8 lights and all scratch resistant polycarbonate windows
Seat, four-way adjustable mechanical seat with adjustable armrest, retractable seatbelt, headrest, and lumbar support
Side window with fresh air screen slide
Integrated seat, console and joystick type controls
Language display monitor with gauges
Warning information

Filter/fluid change information
Working hour information
Machine condition
Error code and tool mode setting information
Start up level check for hydraulic oil, engine oil and engine coolant

Full time clock on monitor (2 weeks)
Seat mounted joystick with extra functions for grapple
Fixed polycarbonate skylight with retractable sun shade
Interior lighting
Lower and upper windshield wipers and washer fluid tank
Positive filtered ventilation, pressurized cab with bi-level air conditioner, heater and defroster with manual control
Forced air fan
Behind seat storage tray with tie down points
CB radio mounts
1 Fire extinguisher mount
1 Attachment computer control mount
Secondary roof exit openable from inside and outside
2 Coat hooks
Ashtray with lighter
Literature holder
Cup holder
Neutral lever for all controls
Travel control pedals with removable hand levers
Washable floor mat
Radio/CD player (12V)
1 Converter/2 sockets – 12V-10A power supply
POWER TRAIN
Cat C7.1 with 24-volt electric starting and air intake heater
Automatic engine speed control with one touch low idle
Easy clean radiator compartment
Muffler
Two speed auto-shift travel
Water separator in fuel line
High Ambient cooling package 48° C (118° F)
Electric priming pump
Power modes (Eco and High Power)
UNDERCARRIAGE
Hydraulic track adjusters
Track type undercarriage with grease lubricated seals
Idler and full-length track shoe support
320D2 FM GF uses D5H HD Track with PPR2
320D2 FM LL uses 323D2 L Track
OTHER STANDARD EQUIPMENT
Heavy-duty upper frame with catwalks, bottom guards, heavy-duty side doors
Core hydraulic lines and controls with standard main valves on upper structures
Door locks, cap locks and Cat one key security system
Automatic swing parking brake
Travel alarm
Counterweight
Right front corner guard
Regeneration circuits for boom and stick
High performance hydraulic return filters
Capability of installing additional valves, pumps, circuits
Cat Bio-oil capability B20
320D2 FM GENERAL FORESTRY ARRANGEMENT ALSO INCLUDES:
Forestry cab
Hydraulic tilt 457 mm (18") riser
High Wide Undercarriage (HW)
Heavy-duty recoil springs
Heavy-duty track roller frame
Heavy-duty travel motor covers
Heavy-duty swivel guard
Forestry heavy-duty upper frame with catwalk
Heavy-duty bottom guard
Heavy-duty side doors
Right front corner guard
Travel alarm
320D2 FM LOG LOADER ARRANGEMENT ALSO INCLUDES:
Forestry cab
Hydraulic tilt 812 mm (32") riser
Heavy-duty HEX long undercarriage (HD/LC)
Heavy-duty recoil springs
Heavy-duty track roller frame
Heavy-duty travel motor covers
Grapple rotate hydraulic arrangement
Heavy-duty swivel guard
Forestry heavy-duty upper frame with catwalk
Heavy-duty bottom guard
Standard duty side doors
Right front corner guard
Travel alarm
SAFETY AND SECURITY
Cat one key security system
Door and compartment locks
Signaling/warning horn
Fire wall between engine and pump compartment
Emergency engine shutoff switch
Secondary roof emergency exit
Battery disconnect switch
Cap locks on fuel and hydraulic tanks
Lockable tool box
Travel alarm
ROPS, OPS, FOPS certified forestry cab
320D2 FM Optional Equipment
FRONT LINKAGE: FOR GENERAL FORESTRY
Reach Boom
Processor Boom (straight)
Reach Stick
Reach Stick, Harvester
Bucket Linkage CB1 Family
FRONT LINKAGE: FOR LOG LOADER
Curved or Straight Boom
Reach Stick
Bucket Linkage CB1 Family
HYDRAULIC PACKAGES: FOR GENERAL FORESTRY
Feller Buncher
Grapple Saw
Rotating Grapple
Harvesting Head
Bucket
HYDRAULIC PACKAGE: LOG LOADER
Ground Saw Slasher
Grapple Saw
Rotating Grapple
Harvester Head
AUXILIARY HYDRAULIC LINES: FOR GENERAL FORESTRY
Medium and High pressure line groups for Boom and Stick
ENGINE/POWER TRAIN
Auto Reversing Programmable Fan
Prefilter, air
Cold Weather Starting Aid
Extended Life Cooling with 50% concentration of protection –34° C (–30° F)
UNDERCARRIAGE (TRACK SHOES)
600 mm (24 in) Double Grouser Shoes with Trap Holes
700 mm (28 in) Heavy-Duty Double Grouser Shoes with Trap Holes
700 mm (28 in) Heavy-Duty Triple Grouser Shoes with Trap Holes
ELECTRICAL
Maintenance service lights for pump and battery compartment
HID lights for Boom
OTHER OPTIONAL EQUIPMENT
Pump, Vacuum (Hydraulic)
Rubber Guard for Boom Foot
Right Front Corner Fuel Tank (additional 409 L – 108 gal)
Heavy Counterweight for General Forestry (weight added)

Option 1 – 1060 kg (2,337 lb)
Option 2 – 2120 kg (4,674 lb)

Hood Protection Guard (for Processor and Feller Buncher configurations)
Cab Riser: Log Loader or General Forestry

Hydraulic tilt 457 mm (18") riser
Hydraulic tilt 812 mm (32") riser
PERFORMANCE AND PRODUCTIVITY
Cat C7.1 delivers exceptional power and fuel efficiency unmatched in the industry.
Automatic engine speed control activates during no- or light-load conditions which reducing engine speed and minimizing fuel consumption.
Electronic controls govern the fuel injection system, and feature improved filtration, ensuring reliability of fuel injection components. The number of fuel filters is reduced and change Intervals extended to maximize profit.
Cat C7.1 offers a completely new and improved cooling system. Standard cooling fan is directly driven from the engine. Optional programmable reversible fan allows for radiator blowout, increases service intervals and optimizes engine operating temperatures. Optimum fan blade pitch is calculated based on the target engine speed, coolant temperature, and hydraulic oil temperature.
Forestry designed hydraulics give power, efficiency and controllability unequaled for high performance in all forestry applications.
Boom and stick regeneration circuits save energy during boom-down and stick-in operation increasing efficiency, reducing cycle times and pressure loss for higher productivity and increased fuel efficiency.
New improved swing drive system provides 20% higher swing torque.
Hydraulic system offers precise control reducing operator fatigue.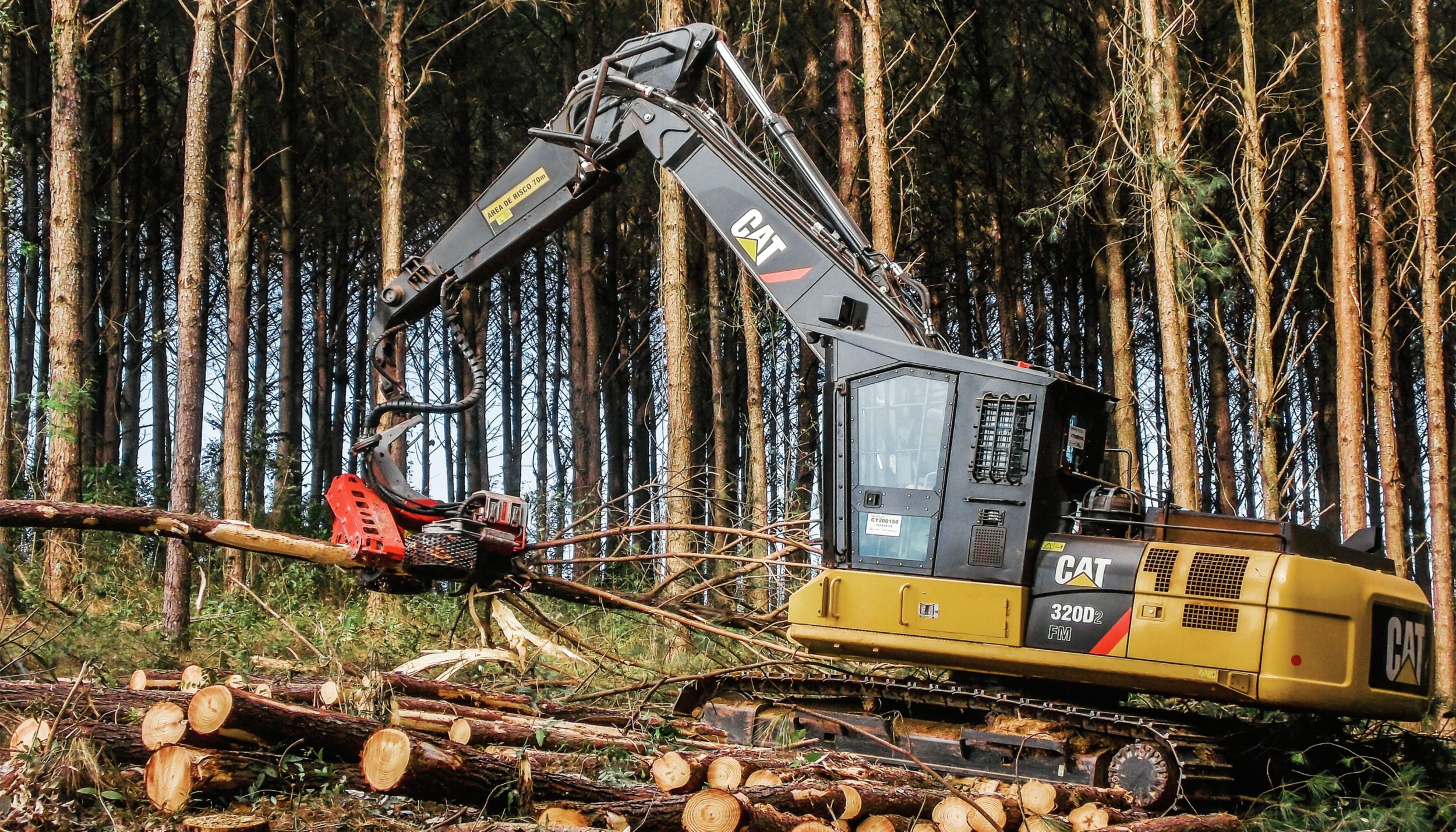 LONG TERM VALUE AND DURABILITY
Outer frame utilizes curved side rails, which are di-formed for excellent uniformity and strength.
ROPS certified box-section channels improve upper frame rigidity under the cab.
Inverted U-channels span the width of the main frame and are formed, rather than fabricated, for superior strength and reduced weight.
Boom tower and main rails are constructed of solid, high-tensile strength, steel, and reinforced at boom foot.
Swing drive area is reinforced into the main frame rails supporting high stress loads such as those encountered in grapple saw or harvester applications.
Advanced, reinforced, purpose-built car body stands up in the toughest forest applications.
Upper structure weight and stresses are distributed evenly across the full length of the track roller frame.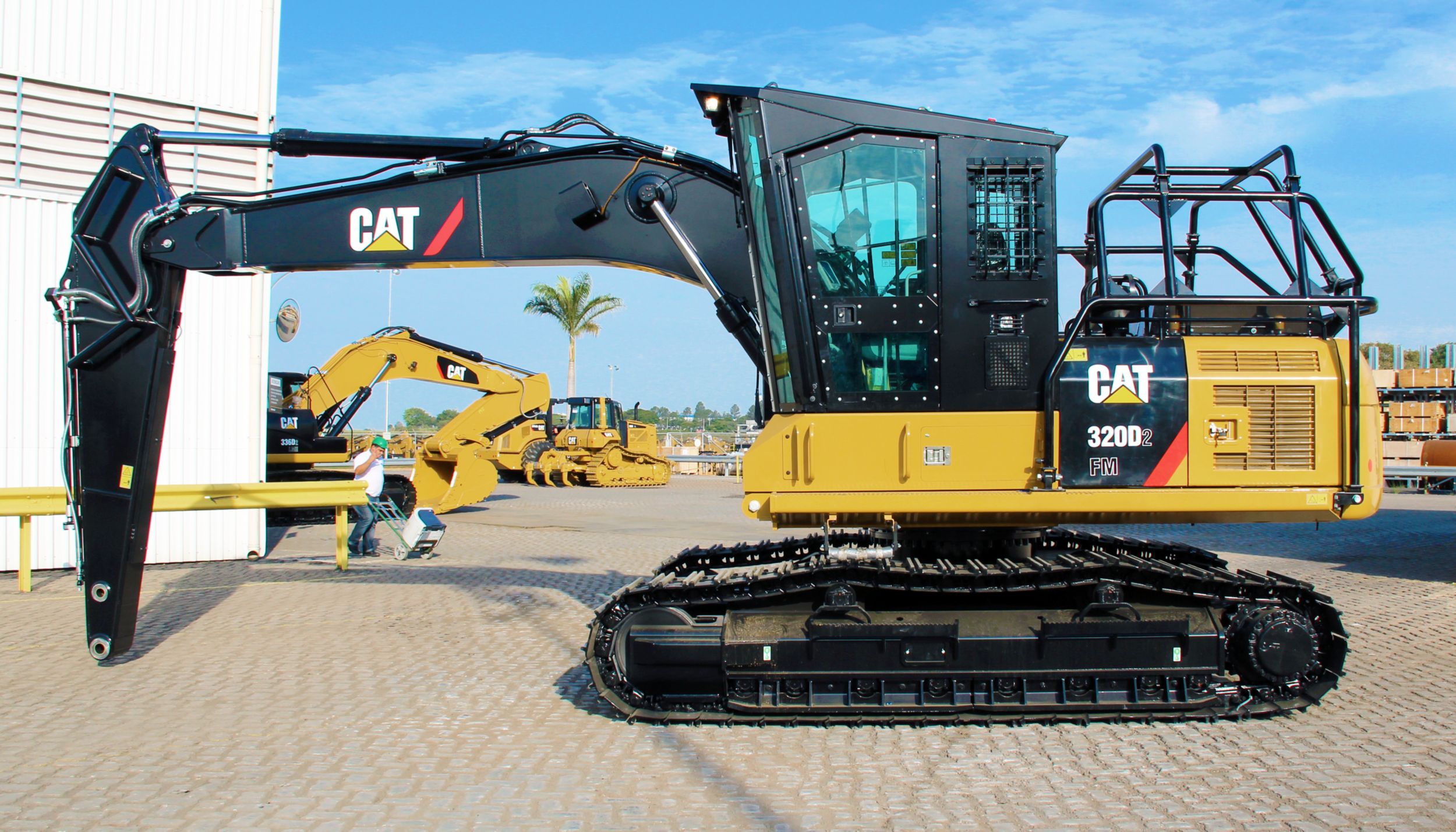 OPERATOR COMFORT AND CONTROL
Workstation is spacious, quiet and comfortable, assuring high productivity.
Controls, joysticks and an ergonomically designed seat are strategically placed to reduce operator fatigue.
Equipped with warning lamp and buzzer for critical engine oil pressure, coolant temperature and oil temperature. Filters and fluid change intervals are available in the main menu.
Multi-Information Display contains information important to the operator and is 40% larger with four times the resolution of the previous model.
Comfortable air suspension seat provides a variety of adjustments to suit the operator's size and weight including fore/aft, height settings. Wide adjustable armrests and a retractable seat belt are also included.
Joystick controls have low lever effort and are designed to match the operator's natural wrist and arm position. The operator can operate joystick controls with an arm on the armrest and the horizontal and motions reduce operator fatigue. Exclusive proportional control and push buttons are programmable to operator personal preferences, allowing maximum productivity.
Consoles feature a simple, functional design reducing operator fatigue, easing switch operation and providing excellent visibility.
Forestry cab is designed with heavy-duty guarding, meeting all ROPS/FOPS/OPS requirements.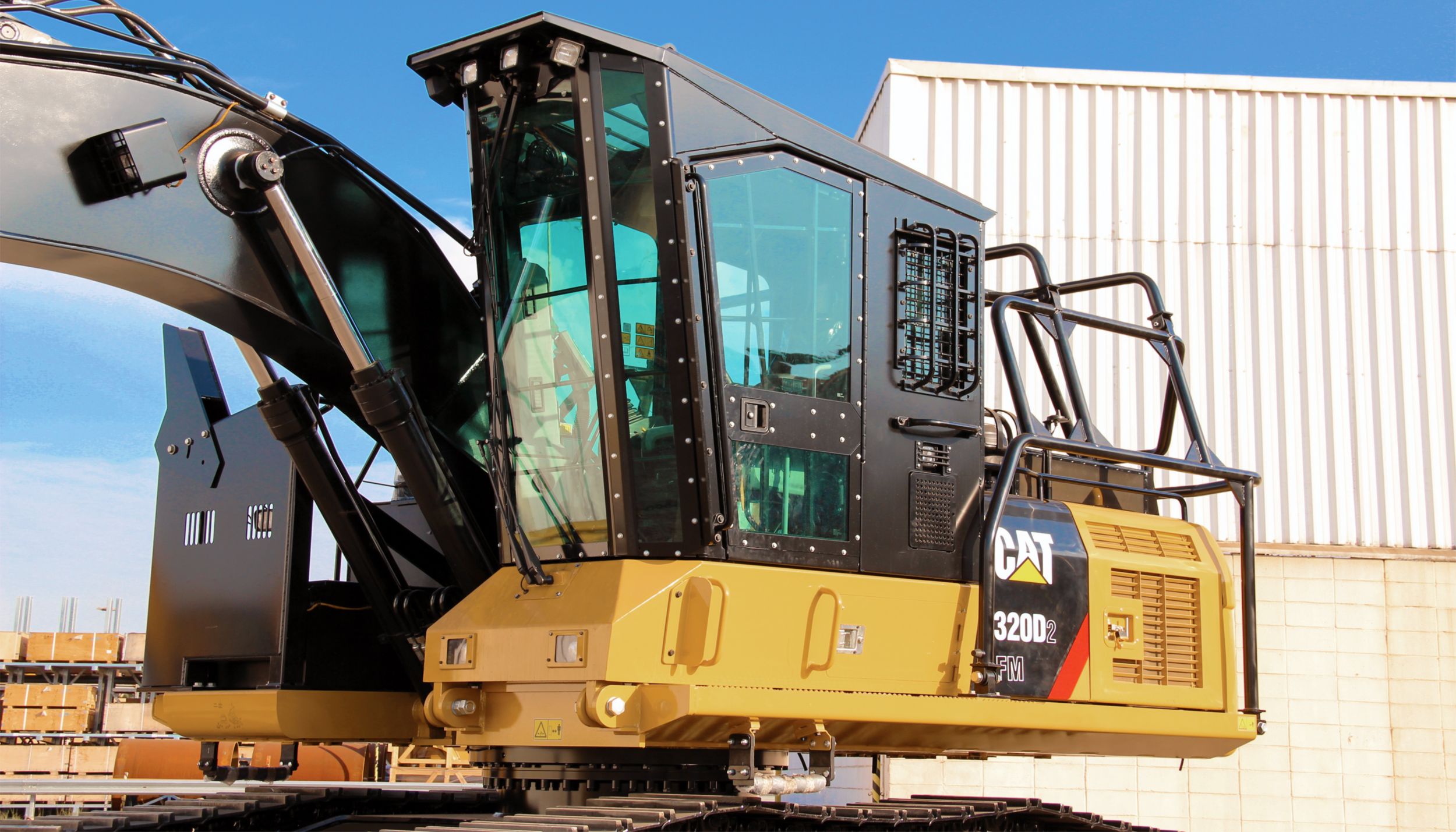 OPTIONS TO MEET YOUR NEEDS
Cat Log Loader is purpose built for forest applications. Straight boom design and matched stick provide optimum reach and lift performance.
Grapple Saw and Slasher configurations provide flexibility for processing trees to meet a variety of requirements.
Cat GF machines can be equipped with bucket, thumb, stump pullers and clearing grapples to fit a wide range of forest road and site preparation jobs.
Can be configured as a Feller Buncher with auxiliary pump, and line groups for hot saw hydraulic requirements.
Harvester hydraulic and linkage attachments allow configuring as a harvester or road side processor.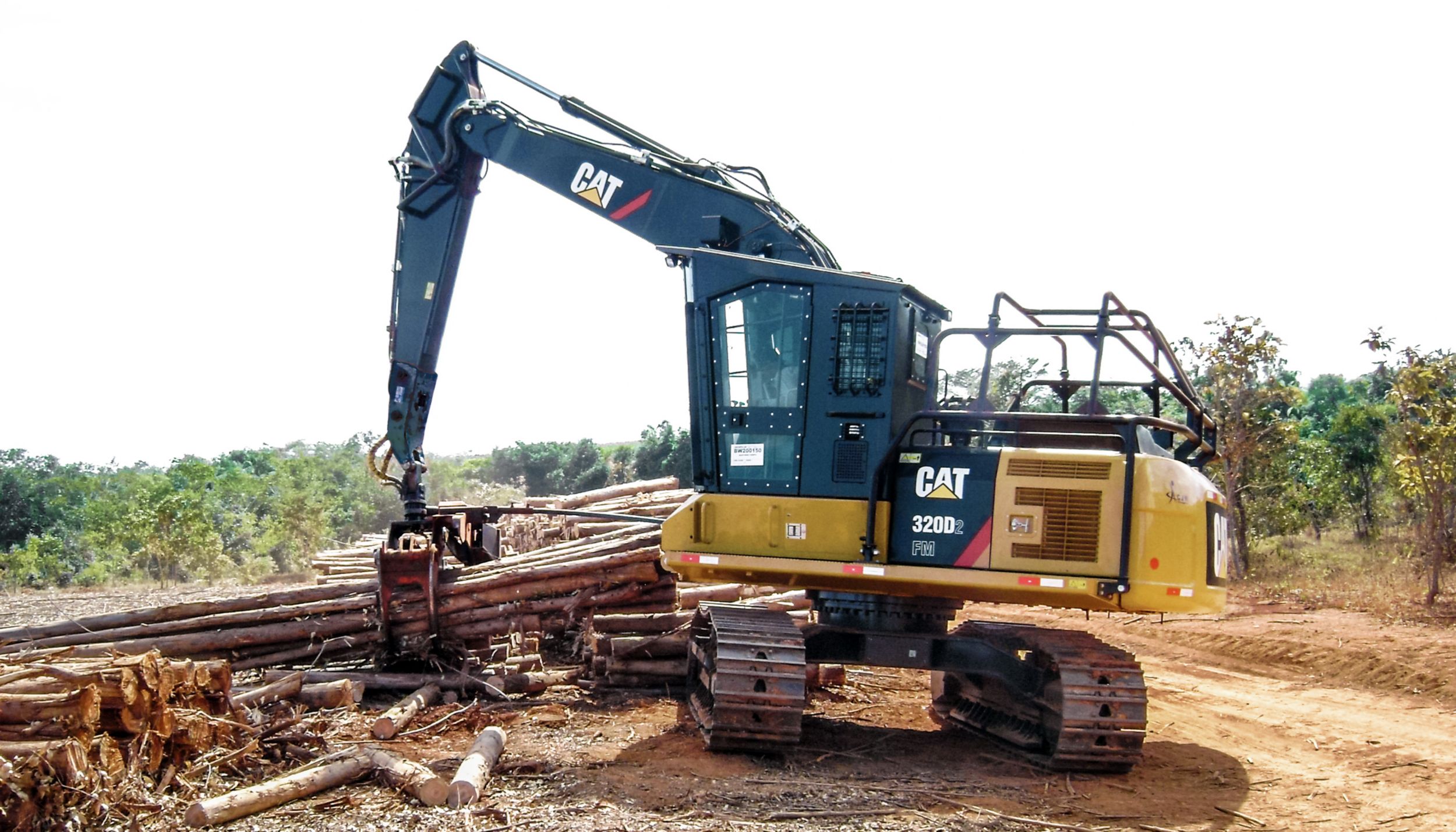 HEAVY DUTY CONSTRUCTION
Log Loader model comes standard with Heavy-Duty/Long undercarriage using standard 320D2 L Excavator 191 mm (7.5 inch) pitch link assemblies and rolling components. New double saddle mounted Carrier Rollers have been added to increase undercarriage life.
Heavy-duty carrier rollers with dual supports assure superior endurance.
Heavy-duty track rollers stand up to the toughest forest applications with greater sealability, higher resistance to deformation and greater load carrying capacity.
10% larger bushing diameter extends external bushing wear life.
15% increase in link height increases link wear life.
36% wider bushing strap improves bushing-to-link retention.
Engine radiator fan is completely enclosed by fine wire mesh guard, reducing the risk of an accident.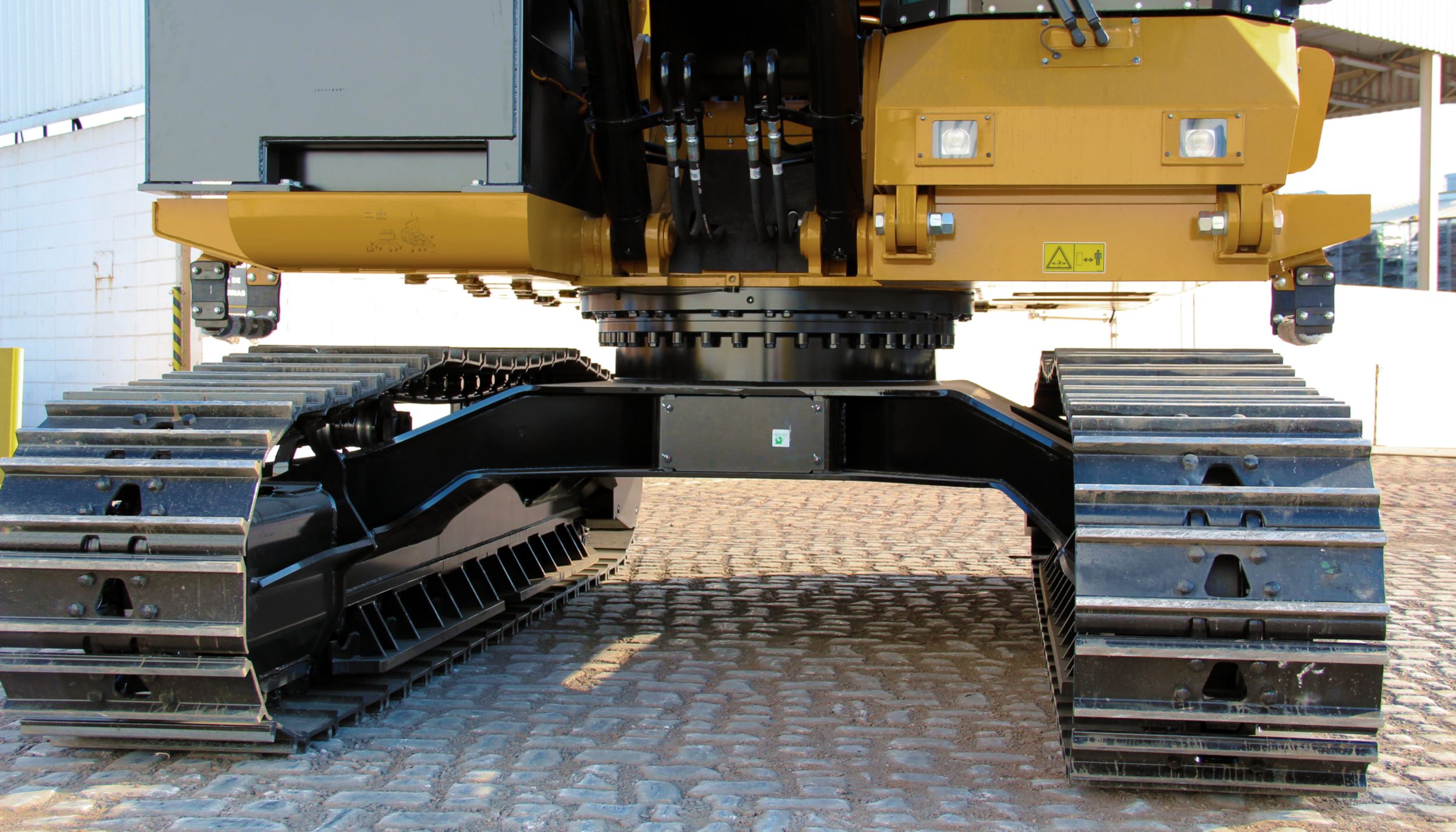 BUILT-IN SAFETY FEATURES
Standard full length track shoe support guards help protect rollers and provide increased rigidity to track links in rough underfoot conditions.
Purpose-built ROPS/FOPS certified cab for the toughest forestry applications.
Windows are made from impact resistant polycarbonate.
One fresh air window with screen is standard.
Heavy-duty 6mm (0.24 in) access doors are standard on the General Forestry model.
HD latches and larger hinge pins keep doors in place.
Smooth door profile enhances machine appearance, and sheds debris.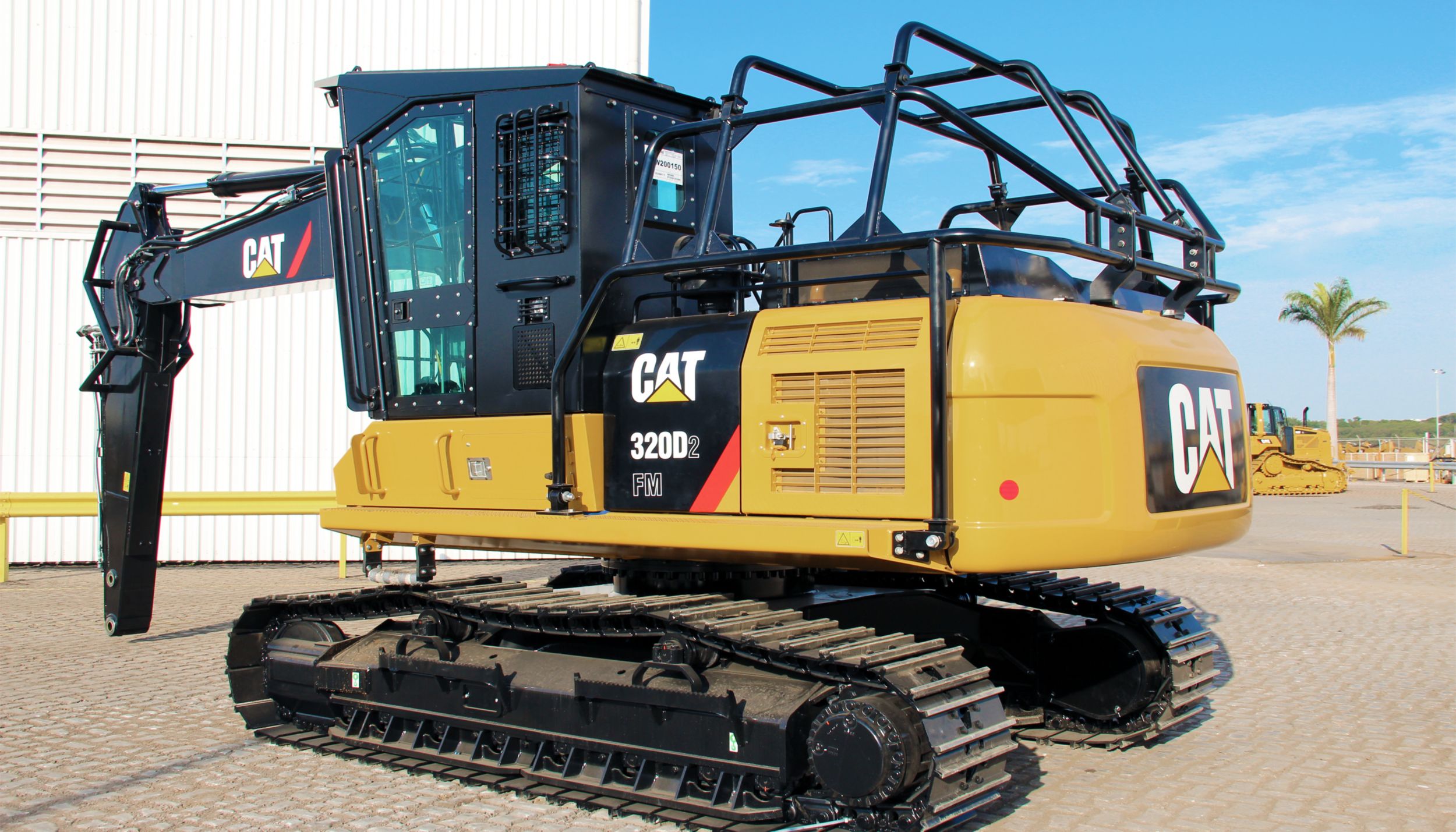 TOP-TIER SERVICE AND SUPPORT
The 320D2 FM was made with the service technician in mind. Service locations are easily accessible at ground level allowing quick and efficient maintenance.
Air filter features a double-element construction for superior cleaning efficiency. When the air cleaner plugs, a warning is displayed on the monitor screen inside the cab.
Service doors on the side and rear allows ground-level access to the pump and, pilot filter, radiator, oil cooler and air-to air aftercooler.
Equipped with S•O•S sampling ports and hydraulic test ports for the hydraulic system, engine oil, and for coolant.
A test connection for the Cat Electronic Technician (Cat ET) service tool is located in the cab.
Service and maintenance intervals have been extended to reduce machine service time and increase machine availability.
Hydraulic tilting cab and riser provide easy service access beneath cab. Cab can be left in tilted position to make transport easier.