RELIABILITY YOU CAN COUNT ON
Cat® C7.1 engine offers a combination of proven electronic, fuel, and air systems.
Utilizing rigorous component design and machine validation processes results in unmatched reliability, durability and high uptime.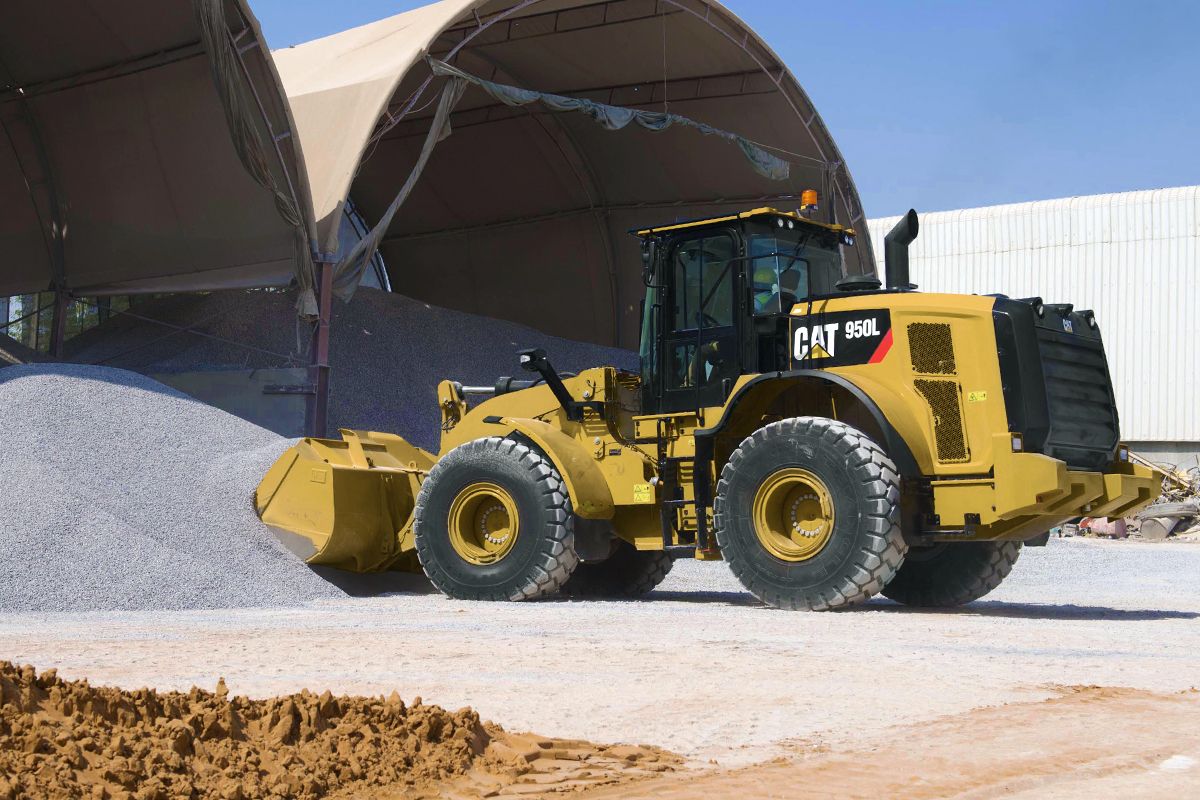 LONG TERM VALUE AND DURABILITY
Tough countershaft powershift transmission and axles handle extreme applications.
Improved hydraulic hose routing reduces potential hose wear.
Full flow hydraulic filtration system with additional loop filtration improves hydraulic system robustness and component life.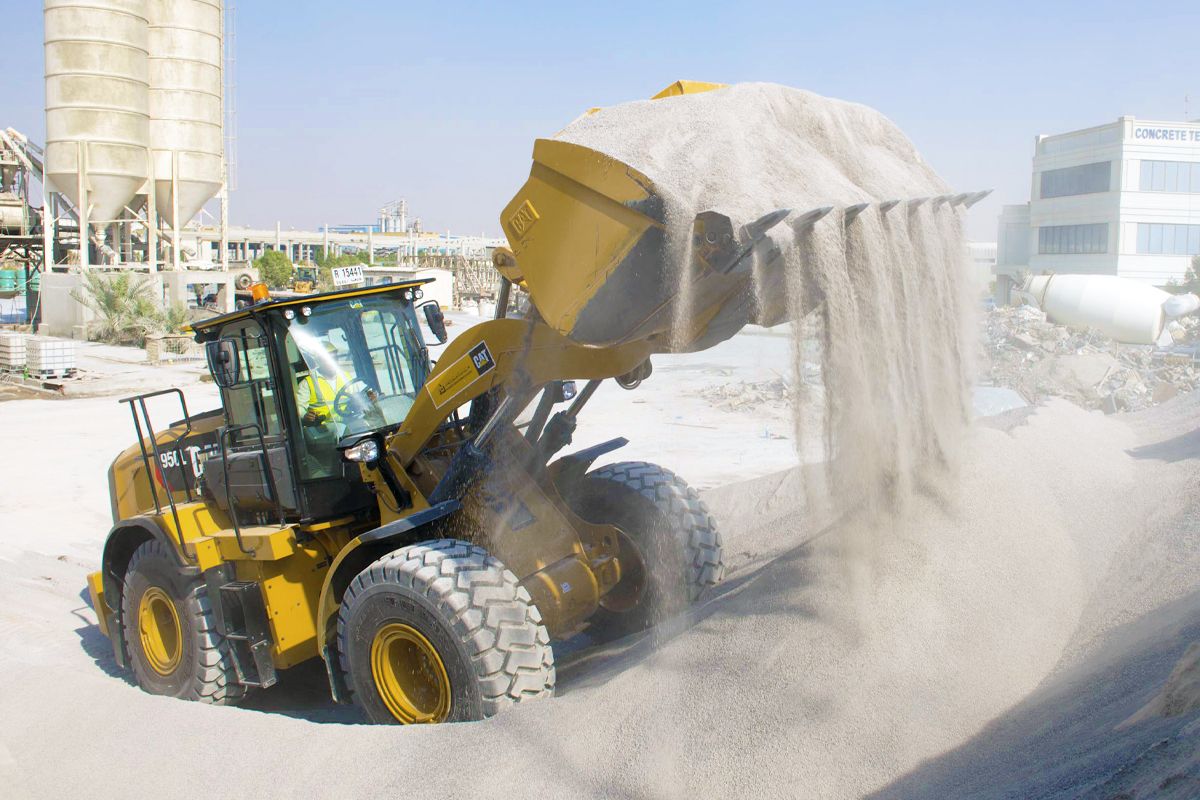 BUILT TO PERFORM
Engine power increased by approximately 22% improves machine performance and response (compared to H Series).
Lock-up clutch torque converter, combined with lock-to-lock shifting, delivers smooth shifts, fast acceleration and speed on grade.
High capacity torque converter results in greater digging efficiency.
Z-bar linkage provides high breakout force at ground level.
Optional high lift linkage offers increased hinge pin height to load more easily in a variety of applications.
Easy-to-load Performance Series Buckets feature a wider mouth and curved side plates that improve material retention (fill factor) and decrease cycle times.
Optional fully automatic traction control system (differential locks) improves performance in the pile and poor underfoot conditions.
DO MORE WITH LESS FUEL
Up to 10% lower fuel consumption than H Series.*
Power dense engine burns less fuel by providing power and torque when needed.
Performance Series Buckets feature a longer floor that easily digs through the pile resulting in lower fuel consumption.
Load sensing hydraulics result in proportional flow for implement and steering on demand.
Standard productive Economy Mode provides maximum fuel savings with minimal productivity impact.

* Actual results may vary based on factors such as, but not limited to, machine configuration, operator technique, machine application, climate, etc.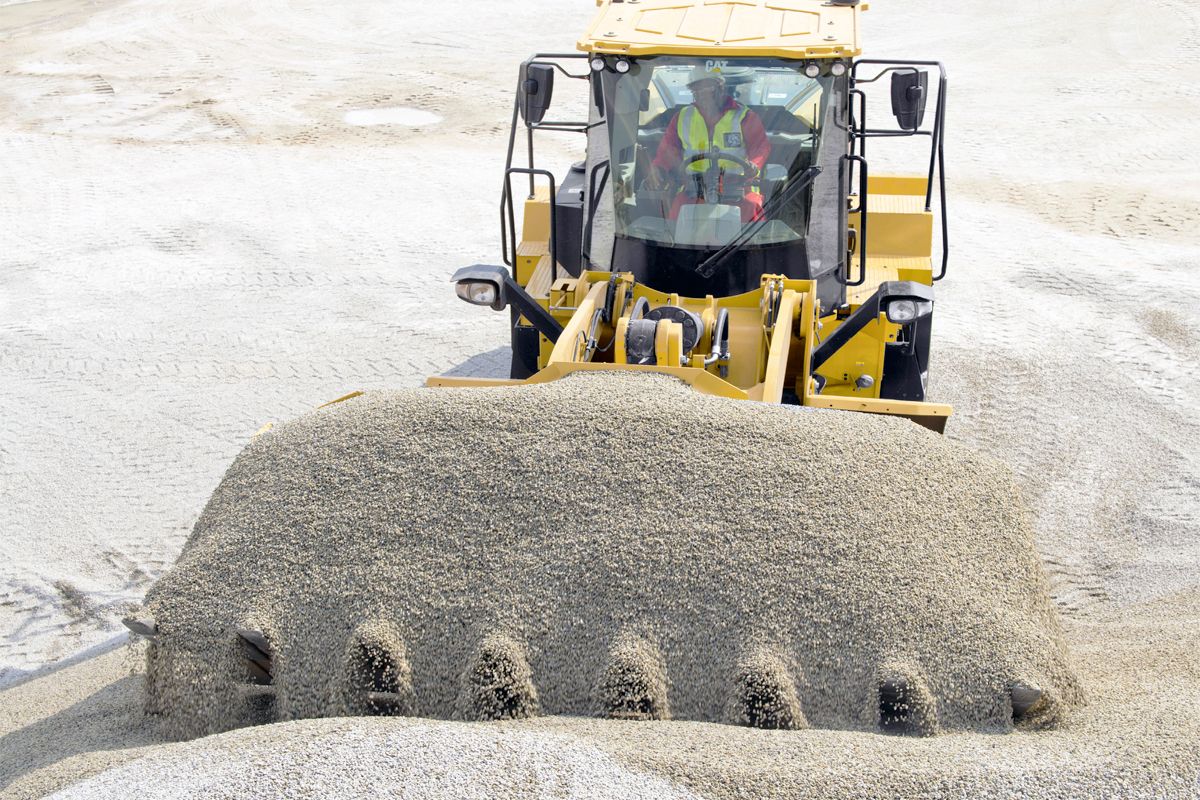 DESIGNED FOR OPERATORS
New best-in-class operator environment provides unmatched comfort, visibility, and efficiency.
Intuitive, ergonomic controls keep operators focused on their work.
Optional new ride control system with dual accumulators provides excellent ride quality and lowers cab vibrations.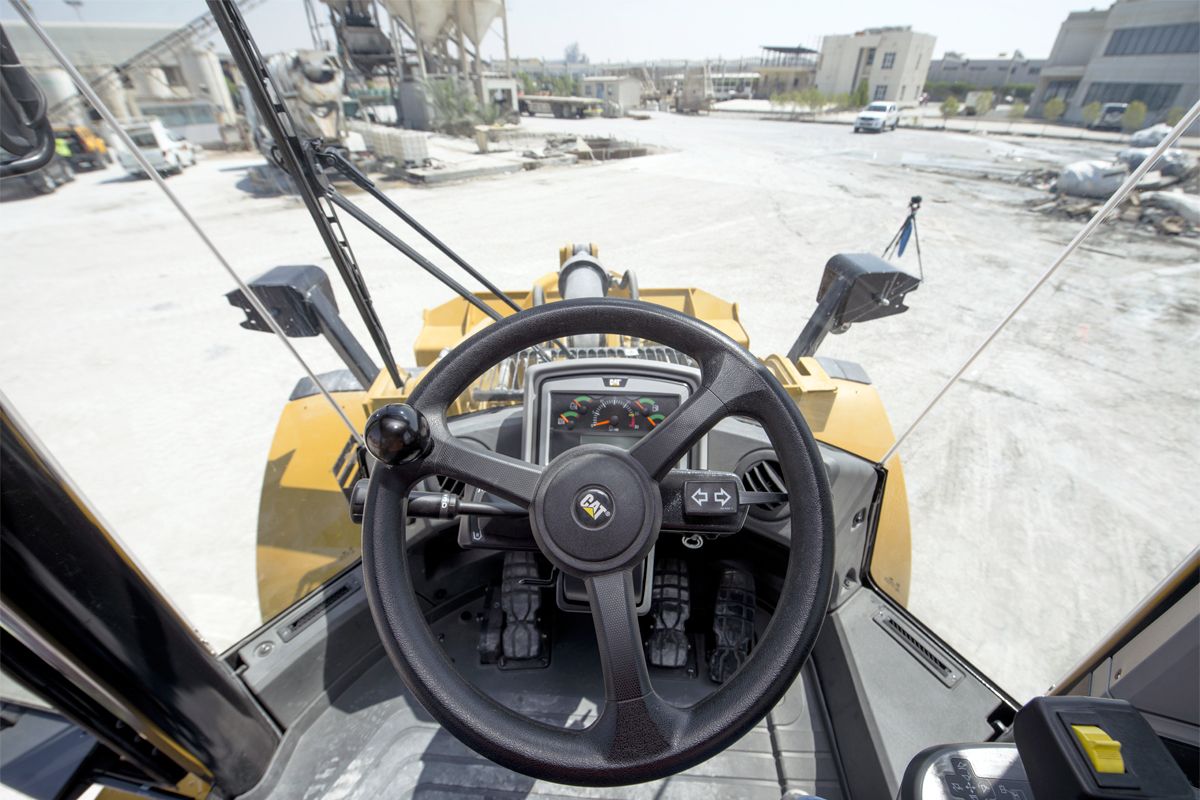 ENSURING A SAFE JOB SITE
Excellent cab access with wide door and stair-like steps.
Floor to ceiling windshield, large mirrors with integrated spot mirrors and rear vision camera provide industry leading all-around visibility.
Robust, repositioned grab bars provide safe access to platforms.
SAVE ON SERVICE AND MAINTENANCE
One-piece tilting hood with side and rear doors; hydraulic and electrical service centers make access fast and easy.
Safe ground level access to fuel fill, oil fill, filters and daily maintenance points means less servicing time required.
Optional, fully integrated Cat Autolube system provides full lube system monitoring and diagnostic test visibility.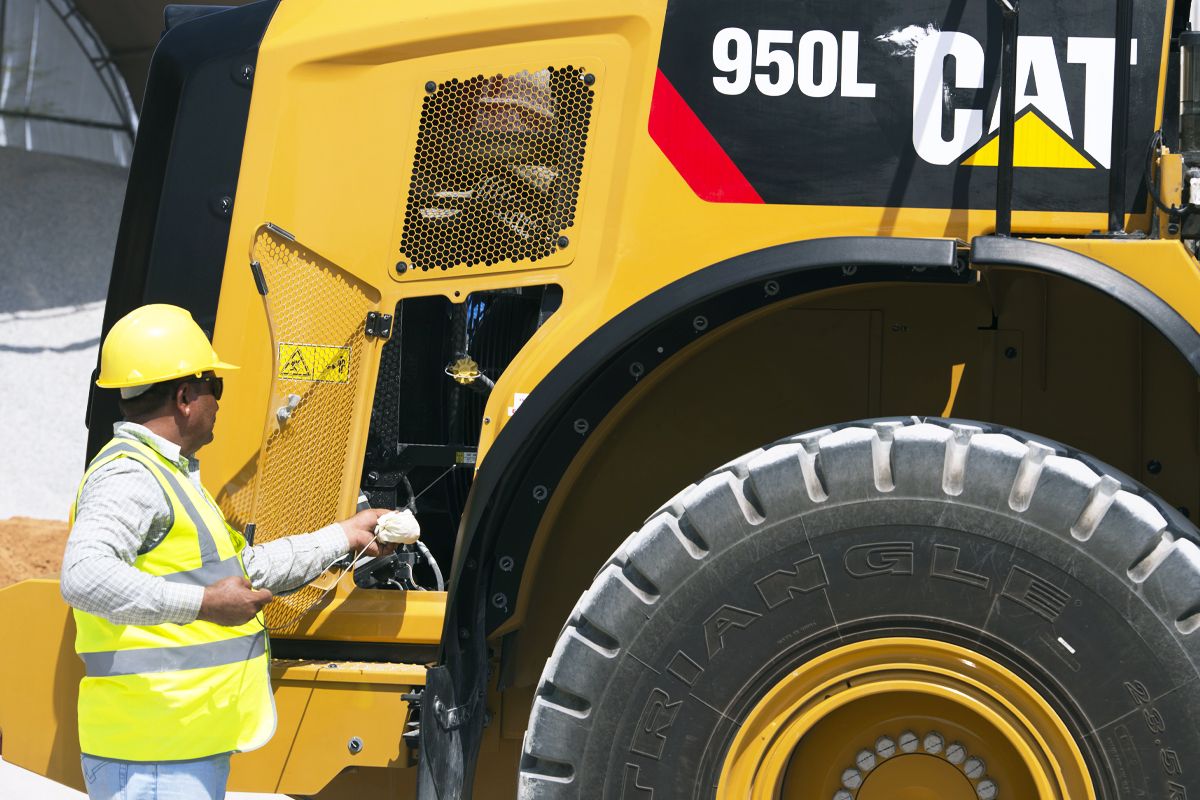 TECHNOLOGY THAT GETS WORK DONE
Monitor, manage and enhance job site operations.
Cat LINK Technologies: VisionLink® enables owners to access data wirelessly to monitor machine health, utilization and location.
Cat DETECT Technologies: Integrated rear vision camera enhances visibility behind machine to help operators work safely. Optional Cat Rear Object Detection increases operator awareness of the working environment which enhances site safety.
Cat PAYLOAD Technologies: Optional Cat Production Measurement 2.0 brings simple and accurate on-the-go payload scale allowing operators to deliver exact loads and work more efficiently. Advanced Productivity subscription provides comprehensive actionable information to help you manage and improve the productivity and profitability of your operations.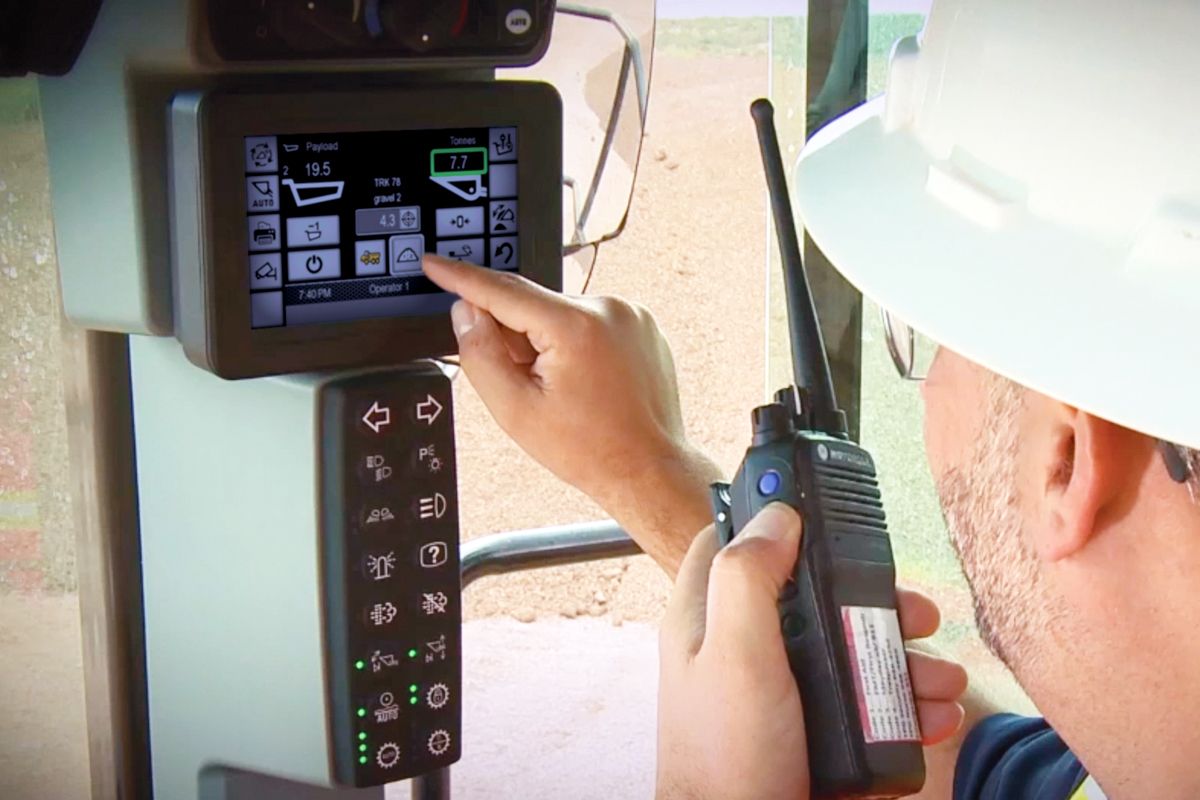 950L Standard Equipment
POWER TRAIN
Engine, Cat C7.1 meets China Nonroad Stage III and India Bharat Stage III emission standards, equivalent to Tier 3 and Stage IIIA
Fuel priming pump (electric)
Fuel/water separator
Rain caps, engine air intake
Economy Mode (selectable)
Transmission, automatic countershaft power shift (5F/3R)
Torque converter, locking clutch with free wheel stator
Switch, transmission neutralizer lockout
Axles, open differential front and rear axles
Brakes, full hydraulic enclosed wet-disc with Integrated Braking System (IBS)
Brake wear indicators
Parking brake, disc and caliper
Fan, radiator, electronically controlled, hydraulically driven, temperature sensing, on demand
OPERATOR ENVIRONMENT
Cab, pressurized and sound suppressed (ROPS/FOPS)
Viscous mounts
Rear vision camera within multi-funciton 18 cm color LCD touch-screen display (capability for displaying machine status, setting and health parameters)
EH controls, SAL (single axis lever) lift and tilt function
Steering wheel
Radio ready (entertainment) includes antenna, speakers and converter (12V, 10-amp)
Air conditioner, heater, and defroster
EH parking brake
Beverage holders (2) with storage compartment for cell phone/MP3 player
Bucket/work tool fuction lockout
Coat hook
Cab air filter
Ergonomic cab access ladders and handrails
Horn, electric
Light, two dome (cab)
Mirros, rearview external with integrated spot mirrors
Post mounted membrane 16 switch keypad
Two receptacles, 12V
Seat, Cat Comfort (cloth) air suspension
Seat belt, 51 mm retractable
Sun visor, front
Wet-arm wipers/washers front and rear, intermittent front wiper
Window, sliding (left and right sides)
COMPUTERIZED MONITORING SYSTEM
With following gauges: Speedometer/tachometer; Digital gear range indicator; Temperature: engine coolant, hydraulic oil, transmission oil; Fuel level
With following warning indicators: Temperature: axle oil, engine intake manifold; Pressure: engine oil, fuel pressure hi/low, primary steering oil, service brake oil; Battery voltage hi/low; Engine air filter restriction; Hydraulic oil filter restriction; Hydraulic oil low; Parking brake; Transmission filter bypass
ELECTRICAL AND LIGHTING
Batteries (2), maintenance free 1,400 CCA
Ignition key; start/stop switch
Starter, electric, heavy duty
Starting and charging system (24V)
Lighting system: Four halogen work lights (cab mounted); Two LED stop, turn tail lights; Two halogen roading lights (with signals); Two halogen rear avision lights (hood mounted)
Alarm, back-up
Alternator, 145-amp brushed
Main disconnect switch
Receptacle start (cables no included)
CAT CONNECT TECHNOLOGIES
Link technologies: Product Link
Detect technologies: rear vision camera
LINKAGE
Linkage, Z-bar, cast crosstube/tilt lever
Kickout, lift and tilt, automatic (adjustable in cab)
HYDRAULICS
Hydraulic system, load sensing
Steering, load sensing
2V
Remote diagnostic pressure taps
Hoses, Cat XT
Couplings, Cat O-ring face seal
Hydraulic oil cooler (swing out)
Oil sampling valves
FLUIDS
Premixed extended life coolant with freeze protection to -34 degrees C
OTHER STANDARD EQUIPMENT
Hood, non-metallic power tilting
Service centers (electrical and hydraulic)
Auto idle shutdown
Fenders
Ecology drains for engine, transmission, and hydraulics
Grill, airborne debris
Filters: fuel, engine air, engine oil, hydraulic oil, transmission
Grease zerks
Hitch, drawbar with pin
Precleaner rain cap
Sight gauges: engine coolant, hydraulic oil, and transmission oil level
Toolbox
Vandlism protection caplocks
950L Optional Equipment
POWER TRAIN
Axles: Automatic front/rear differential locks; Axle oil cooler; Ecology drains; Extreme temperature seals/ Seal guards
Fan, VPF (variable pitch fan), automatic and manual control
Radiator, high debris with wider fin spacing
OPERATOR ENVIRONMENT
Cab tie-off
Cover, HVAC metallic
EH controls, SAL 3rd function
EH controls, joystick lift and tilt - Additional integrated roller switches for 3rd function
Filter, carbon fresh air
Mirrors, heated rearview external with integrated spot mirrors
Precleaner, HVAC
Radio, AM/FM/CD/USB/MP3 Bluetooth
Radio, CB ready
Seat, heated air suspension
Seat belt, 76 mm retractable
Roof, metallic
Steering, secondary
Sun visor, rear
Windows, rubber mounted
Windows, with front guard
Windows, with full guards front, rear and sides
ELECTRICAL AND LIGHTING
Four additional auxiliary halogen cab mounted work lights or
Two additional auxiliary front HI LED and two additional auxiliary rear LED cab mounted work lights with two LED work lights in the radiator grill and LED front turn signals also includes replacement of the standard four halogen cab mounted work lights with four LED work lights (the standard offering and only roading light available is the halogen roading light)
Warning amber strobe beacon
Reversing strobes
STARTERS, BATTERIES, AND ALTERNATORS
Cold start - 120V
Cold start - 240V
CAT CONNECT TECHNOLOGIES
Link technologies: VIMS
Payload technologies: Cat Production Measurement 2.0 (Cat payload system); Printer, Cat Production Measurement; Aggregate Autodig
Productivity: Cat Advanced Productivity (optional VisionLink subscription add-on for Cat Production Measurement 2.0)
Detect technologies: Cat Rear Object Detection
Machine Security System
LINKAGE
High lift
Forestry
Quick coupler ready
Autolube
WORK TOOLS
Performance Series buckets
Fusion quick coupler
Forks, pallet
Forks, logging
HYDRAULICS
Ride control
3rd function with Ride Control: Standard linkage; High lift linkage; Forestry linkage
FLUIDS
Premixed extended life coolant with freeze protection to -50° C
OTHER OPTIONAL EQUIPMENT
Cat Autolube System
Fenders, roading
Guard, power train
Precleaner, turbine
Precleaner, trash
Platform, window washing
Cold weather package: Transmission filter bypass; Fan pump bypass; Jacket water or engine block heater; Ether aid ready
OTHER OPTIONAL CONFIGURATIONS
Industrial and Waste Handler
Forestry
Port and Harbor