HOW TO USE PROPER MOLDBOARD TIP ANGLE
Proper use of the moldboard tip on your motor grader can increase your machine productivity and cutting edge life, plus help prevent machine damage. The top of the moldboard can be tipped ahead of or behind the cutting edge. This helps position the cutting edge at its proper angle to obtain the desired cutting and rolling action on the material. Maintain a rolling action on the material to reduce the horsepower you need to finish the job. Tip the moldboard forward to cut hard material or perform light finishing work.  
After cutting into the material, tip the blade backward to create a rolling action in the material being graded. Tip the moldboard backward to create a lift and throw action, which is useful when spreading material.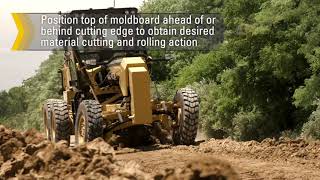 Estimated watch time: 2 minutes