HOW TO POSITION THE GRADER FOR ROAD MAINTENANCE 
To keep your machine as stable as possible when maintaining a road surface, your motor grader's mainframe should be straight. Keep the drawbar and circle centered under the frame. For the widest possible pass width on the travel surface, keep the moldboard angle as square to the frame as possible. If material starts to flow around the leading end of the moldboard, or if the rolling action dies, increase the blade angle. 
We know you want to stay productive, but make sure you keep your speed low enough to prevent machine bounce. Keep a distance between the windrow you are working with and the inside of the front tire. To prevent sidewall damage from sharp rocks, keep the front tire clear of and never run over windrows. 
Make sure the moldboard is discharging materials safely outside of the rear tandem tires. If necessary, slightly shift the drawbar to the discharge side.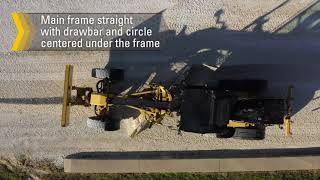 Estimated watch time: 2 minutes