Caterpillar Marine is working with 60 Cat Dealers and 20 MaK & EMD dealers globally to ensure our customers' enduring success. Our product offerings include diesel & dual fuel propulsion and auxiliary marine engines, as well as complete marine generator sets. In addition to power generation, we offer after treatment solutions and complete Fuel Gas Handling Systems.
To ensure maneuverability, propulsion and control throughout your vessel we offer Conventional Propeller Systems in a Controllable Pitch layout and Azimuth Propulsion Systems in  Controllable and Fixed Pitch layouts as mechanical, electrical or hybrid driven solutions.
Our technology enabled solutions offer complete integrated monitoring, safety and control systems through total analysis of vessel data to further increase uptime and efficiency.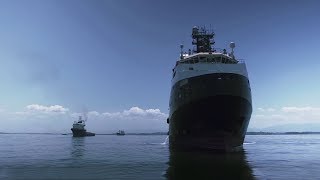 Discover why Caterpillar Marine customers like Harley Marine Services say EPA Tier 4 Final engines with SCR technology are the better choice, by far.