How did two Cat® hydraulic excavators, a wheel loader, a track-type tractor, a vibratory soil compactor, and two mini excavators transform 734 cubic meters (960 cubic yards) of sand into the world's tallest sand castle? Go behind the scenes of "Sand Castle" to find out.
The latest in the Built For It™ Trials, a series of Caterpillar short films, "Sand Castle" documents the construction of the castle, which at 12.59 meters (41 feet, 3.67 inches) was confirmed by Guinness World Records as the tallest ever created.
This behind-the-scenes video offers a close-up look at the power and precision of the Cat equipment that built the sand castle and highlights the talented team of machine operators and sculptors who made it a reality. It follows the action for 15 days, as trucks delivered 49 loads of sand to the construction site in the Caminho Niemeyer square in Niterói, Rio de Janeiro, Brazil.
Watch "The Making of Sand Castle" to see just what went into the creation of this towering work of art, made possible by Cat equipment.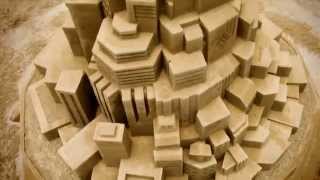 What does it take to build the world's tallest sand castle? Find out when you go behind the scenes of the latest Cat Built For It Trials.